Linn have announced that their Exakt technology is now available in a compact standmount loudspeaker for the first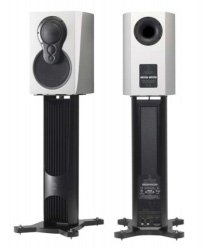 time with the launch of their Exakt Akudorik loudspeaker.
The Exakt Akudorik shares the same technology as its bigger brother the Exakt Akubarik.
The power supply and four channels of 100w Linn Chakra amplification is housed in the central column stand for the speakers and is mounted in a suspension module to minimise vibration. The connection between the amps and the loudspeaker is via a recessed 8-way connector which caries the analogue signal from the amps to the drive units with the connection being completely invisible so no cables are visible.
The cabinet of the Exakt Akudorik has a rear ported, four-way design featuring a 6 ½" bass driver and Linns3K array housing the ½" super-tweeter and 3" mid range units.
The bass driver uses a doped paper cone with a symmetrically balanced motor assembly.
The Exakt Akudorik is constructed using similar methods to the Akubarik using a composite construction of steam moulded layers of MDF and birchwood. The speakers are finished by hand in a range of finishes including 6 real wood vebeers in standard or high gloss options or more than 200 high gloss colours.
The Akurate Exakt system featuring the Exakt Akudorik loudspeaker is priced at £17 500 with the Exakt Akudorik loudspeaker being available separately for £13 500.