Majik digital streamers have been an integral part of Linn's range since their introduction in 2009. Now, Linn's streaming product has been completely reimagined to deliver a new look, an all-new feature set and, most importantly, a boost in performance.
Gilad Tiefenbrun, Linn Managing Director said, 'Recent years have seen the rapid expansion of Linn's product portfolio, both in terms of category and technology, creating exceptional new products that have enabled more and more people to bring Linn quality sound into their lives. Now, with the brand new, next-generation Majik DSM, we have the perfect one-box solution to offer the ideal first step into authentic hifi. It remains a powerful combination of network music player, pre-amp and power amp in a single enclosure, and this update gives it a unique combination of connectivity features to transform the sound from every source.'
Performance
Drawing on over 10 years' experience in developing network music players, improvements have been made throughout the product to enable new Majik DSM to outperform both its predecessor. Updates to the DAC implementation, power amplification and volume control are all underpinned by a new, higher power processing platform.
The DAC architecture is derived from the development of Linn's Katalyst technology, including improved upsampling, a lower noise reference voltage and an ultra-low jitter clock for better timing accuracy throughout.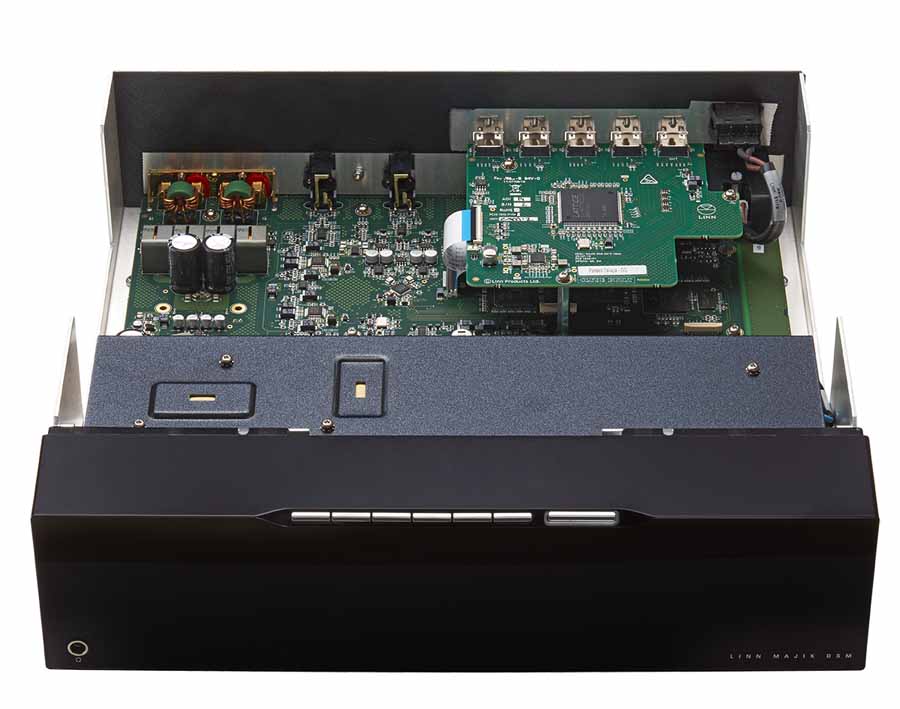 Class D Amps
The bespoke, Linn-designed Class D power amplifiers offer better performance thanks to lower noise and distortion and more efficient signal conversion. New Majik DSM also benefits from digital volume control which removes a lossy component from the signal path for lower noise and distortion. It also features Linn's Space Optimisation technology, which optimises performance for an individual room and speaker.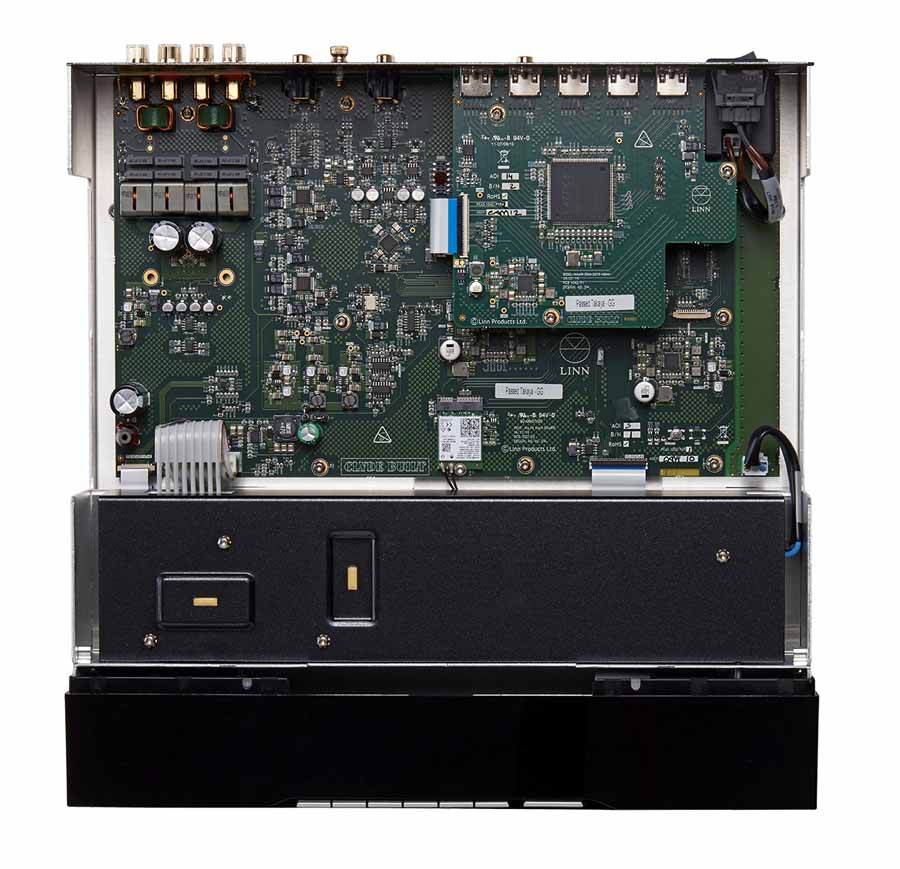 Connectivity
Majik DSM is designed as an entertainment hub as it contains all the analogue, digital and wireless connectivity needed to connect any source, from TV to turntable.

Four HDMI 2.0 4K-compatible inputs make it a central point for AV sources. A flexible analogue input is configurable to either Moving Magnet (for turntables) or Line Level (for other analogue sources). The phono stage benefits from a hybrid architecture derived from Linn's reference Urika II phono stage, combining digital and analogue processing to precisely implement the RIAA curve.
A Type-B USB port allows high res audio to be played directly from a PC, enabling Majik DSM to function as a standalone DAC.  In-built Wi-Fi enables the highest quality streaming with the convenience of no wires, while Bluetooth provides a simple way to get started playing music wirelessly with the minimum of set-up.
For personal audio, there is a ¼" headphone jack on the front panel with the integrated headphone amplifier specifically designed to power high quality, audiophile-level headphones.
Styling
Taking design cues from Selekt DSM, Majik DSM's styling and tactile interface are designed to invite interaction.
Six customisable smart buttons offer personalised and immediate access to pinned content directly from the product; this can be audio from any source, whether that's a favourite track, a new album or a music source such as a radio station, streaming service or turntable.

The menu button provides comprehensive control and feedback via a new larger and higher resolution monochromatic display. A Linn remote control is also included, and Linn's dedicated apps – Linn App and Kazoo – provide full control of the product from the most frequently owned devices.

Pricing
Linn Majik DSM £2950 and is available in black finish.