Following the hugely positive coverage of their Munich debut last year, Living Voice contacted us to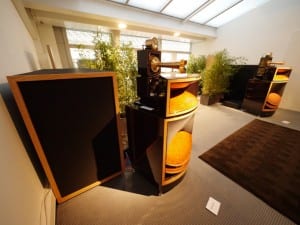 tell us about their system for this year's High End show. They'll again be featuring the Vox Olympian/Elysian and you can find them on the second floor of Atrium 4, Room E220 (A4 2.OG E220).
"We'll be playing a wide variety of musical delights via the Vox Olympians in a system including the CEC TL0.3 transport, KSL Kondo DAC, M77 pre-amp & Gakuoh monoblocks, along with an additional system using our OBX-RW loudspeakers" they told us.
Without a doubt their room was one of the highlights of last year's Munich High End and will be one to make a beeline for this year.