Having received critical acclaim from the likes of Zane Lowe, Daniel P Carter, NME, The Line Of Best Fit, Clash, Loud & Quiet, The BEAT, Kerrang! and DIY, and with a string of renowned live shows supporting the likes of The Rolling Stones and Frank Carter & The Rattlesnakes in their wake, now LOOM have released their highly anticipated self-titled debut album via Silent Cult Records.
Two years in the making, LOOM's 10 track self-titled debut features the bands previous singles 'Nailbender', 'Hate', 'Lice' and 'Bleed On Me' along with eight brand new tracks.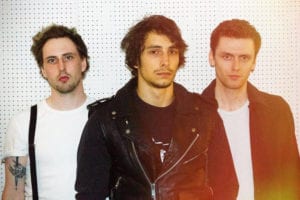 The tracklisting is as follows:
1. Lice
2. Hate
3. Get A Taste
4. Leopard
5. Salt
6. Seasick
7. Bleed On Me
8. Nailbender
9. Barbed Wire
10. Slowly Freezing Heart
Alongside the release LOOM have also announced three new UK live dates alongside Black Peaks. They will be playing the following shows:
4th July – La Belle Angele, Edinburgh
5th July – Sugarmill, Stoke On Trent
6th July – Forum, Tunbridge Wells
LOOM's new album is out now via Silent Cult Records.