Marantz have announced they've launched a dedicated headphone amplifier, the HD-DAC which uses Current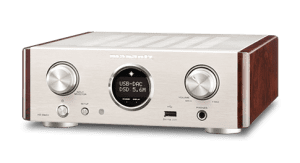 Feedback amplification technologies from their' high-end Premium 11 Series.
The HD-DAC1 can drive high-impedance headphones of up to 600 ohm and incorporates three-level gain control, Marantz HDAM modules, a high current DAC (CS4398), and its fixed and variable RCA outputs.
There's inputs for optical and coaxial digital inputs as well as a USB-B port enable you to stream music directly from your PC or MAC. iDevices can also be connected via the USB port on the front. There's an analogue input included too. The USB-B works in asynchronous mode to support not only 192 kHz / 24bits high-resolution audio but also the DSD 2.8MHz and 5.6MHz.
To safeguard quality when connected to a computer, Marantz have built in extended isolation around the USB-B input to "eliminate the chance of high frequency noise generated by the computer entering the HD-DAC1". Then there's a jitter remover and Dual Clock for accuracy.