Marantz has just launched their SR5014 and SR6014 Ultra HD 4K AV receivers which they say "deliver audiophile-quality sound alongside the latest array of video technologies".
Marantz SR6014
The SR6014 features high-current discrete power amplifiers on all channels to deliver 185 watts of power per each of the nine channels. Marantz's proprietary Hyper Dynamic Amplification Module (HDAM) circuitry provides "optimal fidelity and maximum dynamic range of high-resolution files" . With low impedance drive capability, the SR6014 offers operational stability with a wide range of speakers.For home theatre applications, the SR6014 supports an array of multi-dimensional audio formats, including IMAX Enhanced, Dolby Atmos, DTS:X, and DTS Virtual:X. The SR6014 features 11.2ch processing power,using an external stereo amp in combination with the internal 9ch amplification makes a full 7.2.4 or 5.2.6 immersive experience possible. Both the SR6014 and SR5014 add Dolby Atmos Height Virtualization Technology to give users a three-dimensional listening experience without the need for dedicated height or surround speakers. Listeners can configure up to seven channels for a 7.1 setting while the technology adds virtualized height effects.
Latest HDMI Technology
The new SR Series includes eight HDMI inputs, with one located on the front panel for quick connections. Each input supports the latest in video and picture formatting including, 4K Ultra HD 60Hz video, 4:4:4 Pure Color sub-sampling, Dolby Vision, HLG, High Dynamic Range (HDR10), 21:9 video, 3D and BT.2020 pass-through and HDCP 2.3 copy protection standard.
Both the SR6014 and SR5014 support eARC (Enhanced Audio Return Channel), which allows lossless and object-based audio transmission like Dolby TrueHD and Dolby Atmos from TV apps using a single HDMI cable, which gives users the power to easily enjoy better and more immersive surround experiences from their TV audio. The addition of Auto Low Latency Mode (ALLM) ensures Xbox One users have a more responsive and immersive gaming experience when connected with selected TV models that also support ALLM.
Music Streaming And Voice Control
Using HEOS Built-in, the new SR series receivers cover a wide range of streaming services as Spotify Free and Premium, Amazon Music, Tidal, TuneIn Internet Radio and more plus they work with leading voice agents like Amazon Alexa, Google Assistant and Apple Siri. Using a compatible smart voice speaker or phone, users can use their voice to stream music directly to the SR-series. With additional HEOS Built-in components, like HEOS-capable speakers or other Marantz electronics with HEOS Built-in, listeners can play all their music in one room or many. Other voice commands include the ability to switch between connected components, adjust volume, pause, mute, play a previous or next track, and more. Further convenient streaming options are given by the support of AirPlay2 and Bluetooth.
Audyssey MultEQ XT32 Room Calibration
With Audyssey MultEQ XT in the SR5014, and Audyssey MultEQ XT32 room calibration in the SR6014, listeners can optimize their listening experience, providing the setup for any room. With the supplied measurement microphone, Audyssey analyses each speaker's output (including subwoofers) at up to eight measurement locations and generates precision digital filters to optimize each channel for the correct frequency and time domain response. MultEQ XT32 operates with a 512 steps filter resolution making the Audysseycalibration even more precise than the already MultEQ XT version.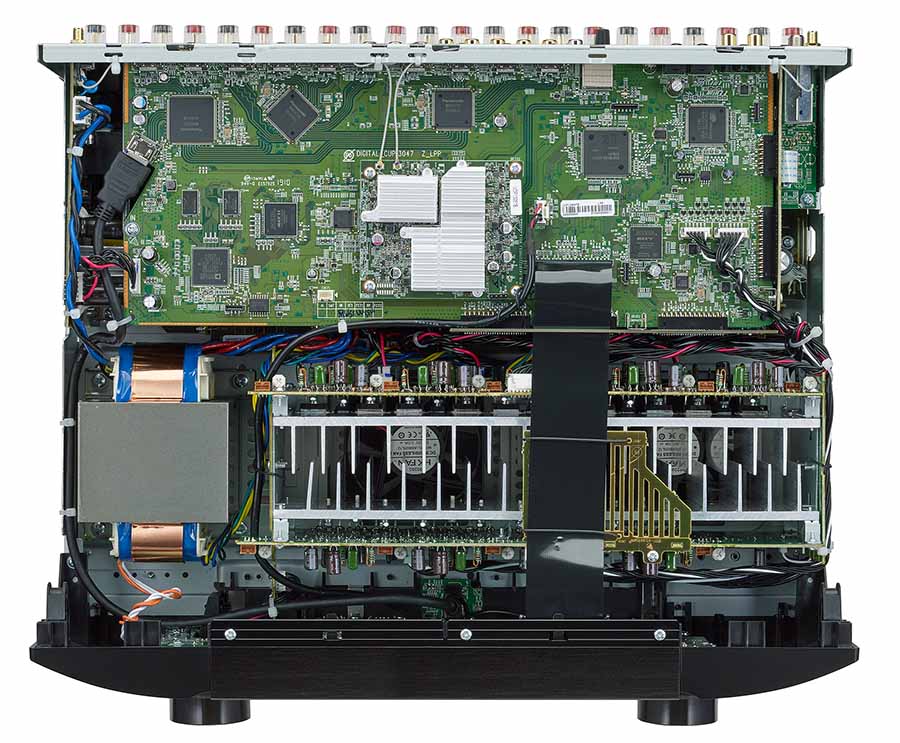 Audyssey Dynamic Volume also smooths out disruptive jumps in volume (such as TV commercials), letting listeners enjoy lower output levels while still enjoying clear dialogue and overall performance. Audyssey Dynamic EQ provides full-range clarity at any listening level, and Audyssey Low Frequency Containment in SR6014 uses advanced psychoacoustic algorithms to deliver more full-range balance, including deep bass, without disturbing neighbours or people in other rooms of the home. Audyssey Sub EQ HT provides individual DSP tailoring of each subwoofer in a dual subwoofer setup for deeper bass with improved definition. With the Audyssey MultEQ Editor app available for purchase in the dedicated stores, the user can view and adjust settings for detailed tuning.
Phonostage
The unit also has an Integrated Phono Input and the SR series can also decode up to 24-bit/192-kHz ALAC, FLAC and WAV lossless files as well as DSD 2.8MHz and 5.6MHz tracks. Vinyl lovers can easily connect their turntable to the SR series' phono input. Both models feature an advanced phono stage with HDAM. New for the 2019 AVR models, the SR series feature HDMI Multiple Input Assign, which allows users to listen to multiple audio sources while maintaining the same video content on-screen. All Zone Stereo Mode—a.k.a. Party Mode— is now storable on "Smart Select," so both Main Zone and Zone 2 will initiate music playback in sync by simply pressing the "Smart Select" button on the remote, app or third-party controllers. The new series also features HDMI Auto Input Rename, which automatically renames HDMI inputs to the source devices, including "PS4" and "Apple TV," reducing wasted time naming inputs.
A new DSP downmix routine does allow to enjoy native multichannel audio playback in the mainroom, while listening to the same source in a second zone in stereo. Internal amplifiers can be assigned to drive the speaker in the second zone or active speakers or external amp can be connected to the zone pre-outs. Further, the 2ch downmix can be wirelessly streamed to connected HEOS devices in the eco-system. After a firmware update end of 2019, users can easily connect their Bluetooth Headphones to the receivers.
Price And Availability
The SR6014 and SR5014 will be available in black or classic silver-gold finishes for £1,249/€1.399/$1,499 and £849/€949/$999 respectively.