McIntosh, who have been making home entertainment audio products for 70 years, has announced the C2700 Vacuum Tube Preamplifier.
Following a long line of McIntosh vacuum tube preamplifiers comes the new C2700 Tube Preamplifier. Using their vacuum tube topology, the C2700 also features McIntosh's advanced DA2 Digital Audio Module technology to combine digital music capabilities with vacuum tube performance.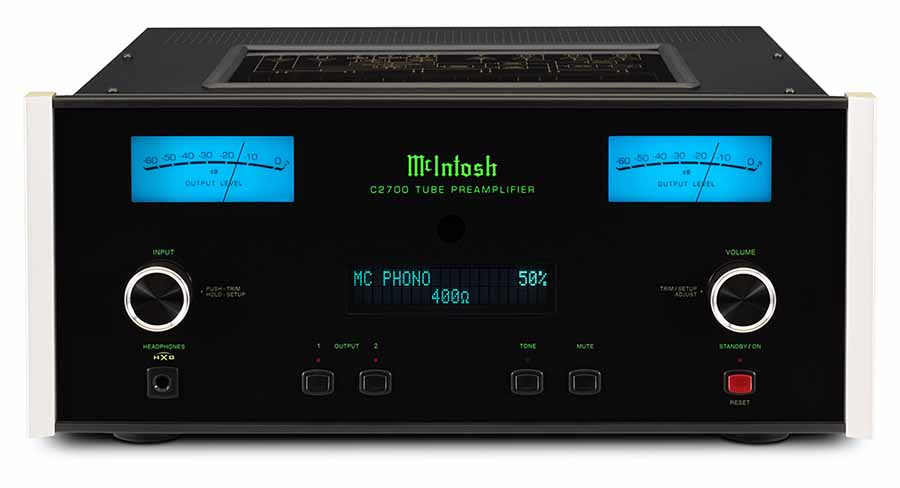 DA2 Digital Audio Module
The successor to McIntosh's DA1 Digital Audio Module, the DA2 features an expanded set of capabilities. The DA2 offers 7 digital inputs including all the same connections found on the DA1 (2 coaxial, 2 optical, 1 USB and 1 MCT) plus a new audio-only HDMI Audio Return Channel (ARC) connection. TVs with a compatible HDMI (ARC) output can be connected to the C2700 to enjoy TV sound through a home audio system. Popular multi-channel audio formats from Dolby® and DTS® are supported and will be converted to 2-channel audio for proper playback. The C2700 remote can control the TV's power and volume when CEC communication is enabled in both the preamplifier and the TV. Besides these new HDMI (ARC) features found in the DA2, its USB input has increased DSD playback support up to DSD512 compared to the DSD256 limit of the DA1.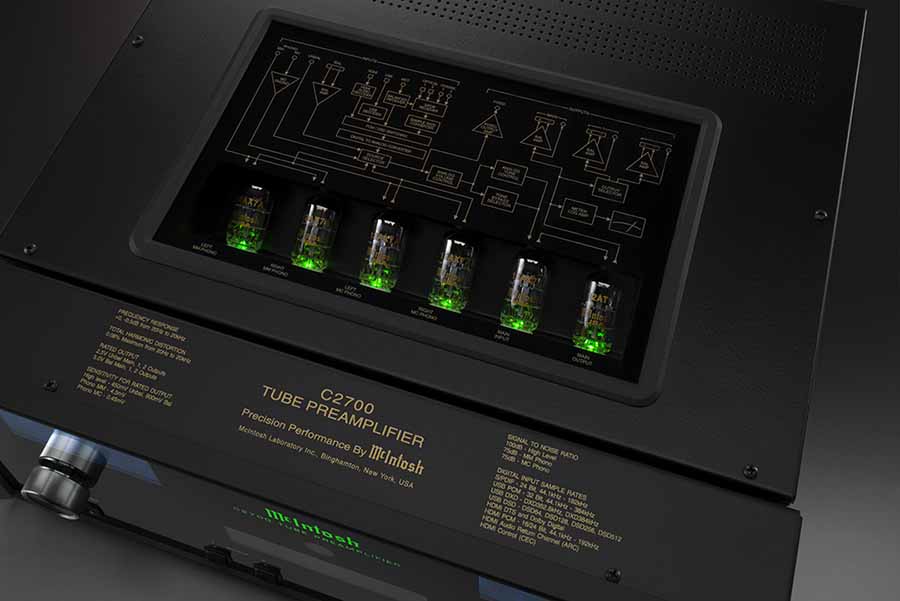 The DA2 is powered by a Quad Balanced, 8-channel, 32-bit Digital-to-Analogue Converter (DAC) that, says McIntosh, has improvements in both dynamic range and total harmonic distortion compared to the DA1. The coax and optical inputs in the DA2 can decode digital music up to 24-bit/192kHz for playback of high-resolution audio. Finally, the DA2 has a McIntosh exclusive MCT input that offers a secure DSD connection to any of their MCT series of SACD/CD Transports.
Analogue Connections
For analogue music, the C2700 has 9 inputs comprised of 3 balanced connections, 4 unbalanced connections, along with 1 Moving Coil and 1 Moving Magnet phono inputs for connecting a turntable or two. With a total of 16 inputs, the C2700 has "a virtually infinite number of inputs" to connect music sources. The C2700's dual chassis design keeps the analogue and digital sections separate to prevent signal corruption. Outputs include 3 variable balanced and 3 variable unbalanced plus 1 fixed unbalanced connection.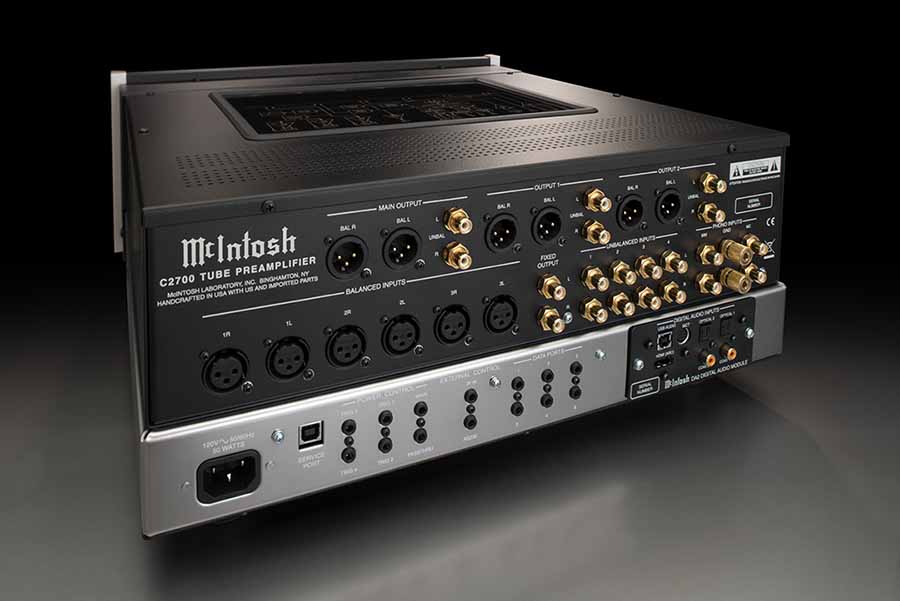 Bass and treble tone controls are included and can be adjusted in 2dB increments. The ¼" headphone jack is powered by McIntosh's High Drive Headphone Amplifier which, they say, can power almost any pair of headphones; Headphone Crossfeed Director (HXD®). Home Theater Pass Through allows the C2700 to be integrated into a home theater system. Power Control ports easily turn other connected McIntosh components on and off, while the Data Ports can send remote control commands to connected source components.
McIntosh Styling
All the C2700's audio technology is packed inside the classic McIntosh design highlighted by a black glass front panel backlit by direct LED lighting, blue meters, rotary knobs, an illuminated logo, aluminum end caps and a polished stainless steel chassis. The 6 vacuum tubes can be viewed through a glass panel located on the top of the preamplifier. It can be paired with an assortment of amplifiers, CD players, turntables, tuners, media streamers, room correction devices and speakers to complete a home audio system.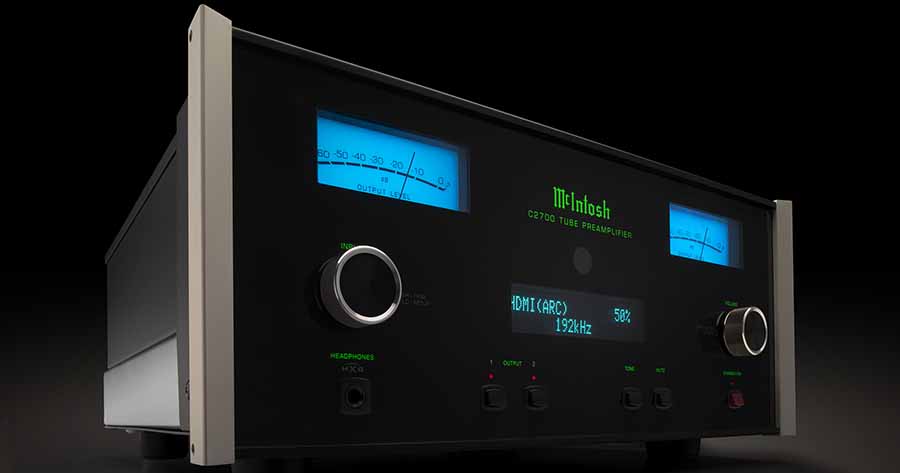 Pricing and Availability
USA SRP is $8,000 USD and will begin shipping in August. UK price is £10,495 GBP and it will be available in September.