McIntosh, who were founded in the USA in 1949, have announced the MC1.25KW Quad Balanced Power Amplifier. McIntosh told us: "The MC1.25KW is our newest and one of our most advanced amplifiers. Redesigned from top to bottom, it replaces the venerable MC1.2KW as our most powerful single chassis monoblock amplifier. A simple glance at the 158 pound (71.7 kg) MC1.25KW is enough to convey its power and performance capabilities, but when you hear it – then you'll truly understand what it can do".
The MC1.25KW outputs 1,200 Watts of pure power into a single channel with a total harmonic distortion of 0.005%. This power is fully available to 2, 4 or 8 Ohm speakers via McIntosh's Autoformer™ technology. They claim that: "A pair of these amps can anchor a home audio system that can rival nearly any stereo system in the world".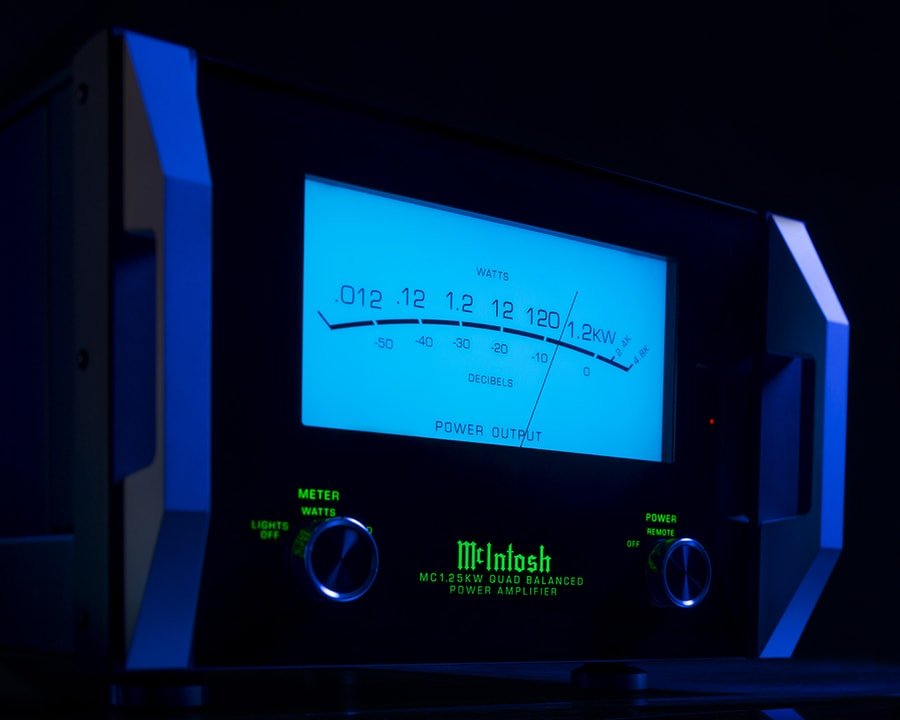 The company say they have made plenty of updates and enhancements in the MC1.25KW including a 50% increase in filter capacity. The top of the amp showcases an updated industrial design that will fit right in with current McIntosh products or those made decades ago. The audio Autoformer and power transformer remain located just behind the front panel but are now contained in new glass topped enclosures. In between them is new circular glasswork housing the amplifier's name badge that is adorned with a decorative trim ring. Towards the rear of the unit are 4 McIntosh Monogrammed Heatsinks™. They connect to advanced high current output transistors and the heatsinks are capped with ventilation trim plates made from aluminium and are finished to match the front panel handles. All of this sits atop a polished stainless steel chassis which rests on 4 new redesigned feet that feature a chamfered edge. Other updates include an updated power transformer, heavier gauge internal wiring, upgraded circuit components, and the addition of an eco-friendly power management system that will turn the amp off after a set amount of time when no input signal has been detected. The AC receptacle has been re-positioned to provide additional clearance so a wider assortment of power cords can more easily be used.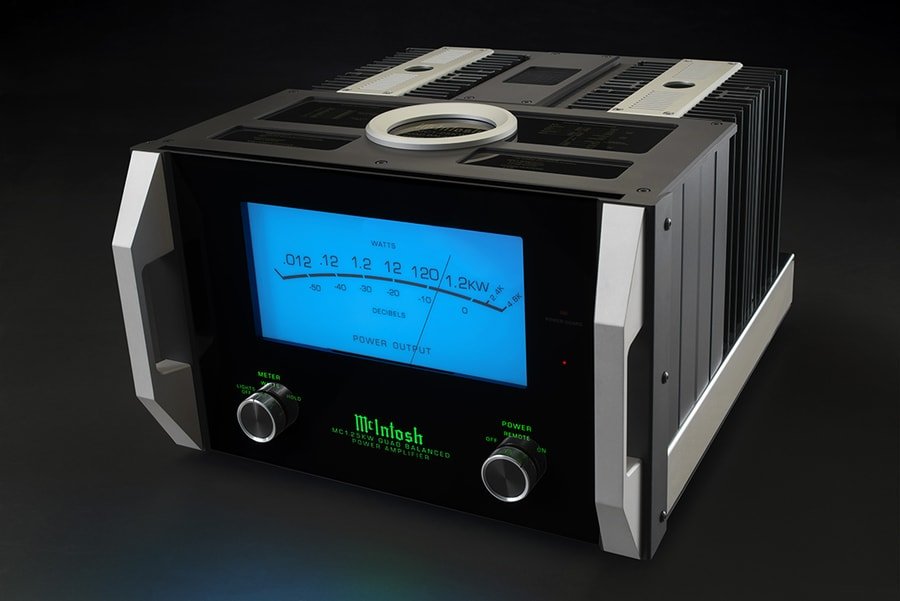 With all the changes and improvements made in the MC1.25KW, one thing that hasn't changed is the large, fast responding 11" (27.9 cm) blue Watt meter that accurately shows the amp's power output. Also unchanged is the signature black glass front panel with control knobs, illuminated logo, and aluminium end caps with handles. The front panel and meter have new direct LED backlighting for improved appearance and colour accuracy. Other exclusive McIntosh features included in the MC1.25KW include Power Guard®, Sentry Monitor™, Quad Balanced design, Power Control and our patented Solid Cinch™ speaker binding posts. Both a balanced and unbalanced output are included to make bi-amping or tri-amping speakers easier; they can also be used to send the audio signal to a secondary system if the preamplifier does not have enough outputs or to connect a powered subwoofer.
Pricing and Availability
Orders for the MC1.25KW can now be placed with shipping expected to begin in November. Suggested retail price (VAT, shipping and any customs duties related to current standards of individual countries are excluded): $12,500 USD UK price £29,995 per pair