McIntosh has announced the RS200 Wireless Loudspeaker System.
The RS200 Wireless Loudspeaker System is McIntosh's 'next generation' home audio wireless speaker. Designed for a modern streaming lifestyle, it is designed to play music streamed from handheld devices, stored online or a local computer, or played from legacy audio sources.
Drivers And Subwoofer
The RS200 offers 650 Watts of total power that is delivered to 8 drivers consisting of two 4" x 6" woofers, four 2" midranges and two ¾" tweeters. In addition, a subwoofer output is included to connect an external powered subwoofer to further enhance low frequencies. As the RS200 can be placed in a variety of locations with unique sonic characteristics, a 3-position EQ switch allows the EQ to be set based on the specific room and the user's listening preferences.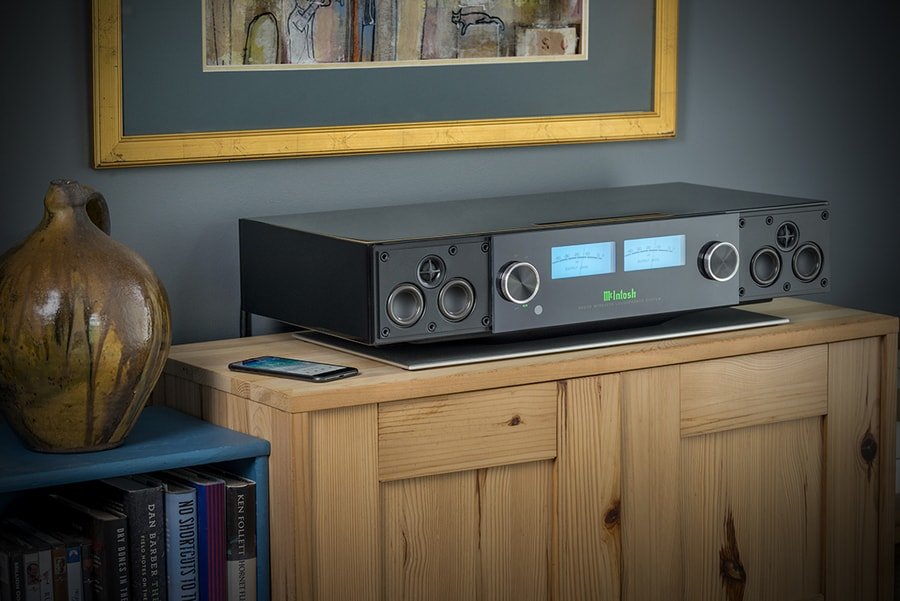 Streaming Options
The RS200 comes with several streaming options, including: Apple® AirPlay® 2; Bluetooth® 5.0 with support for AAC, Qualcomm® aptX™ HD for hi res playback and Qualcomm aptX Low Latency for improved audio transmission speed to deliver sound in sync with visual media; DTS Play-Fi® whole-home wireless audio; and DNLA support.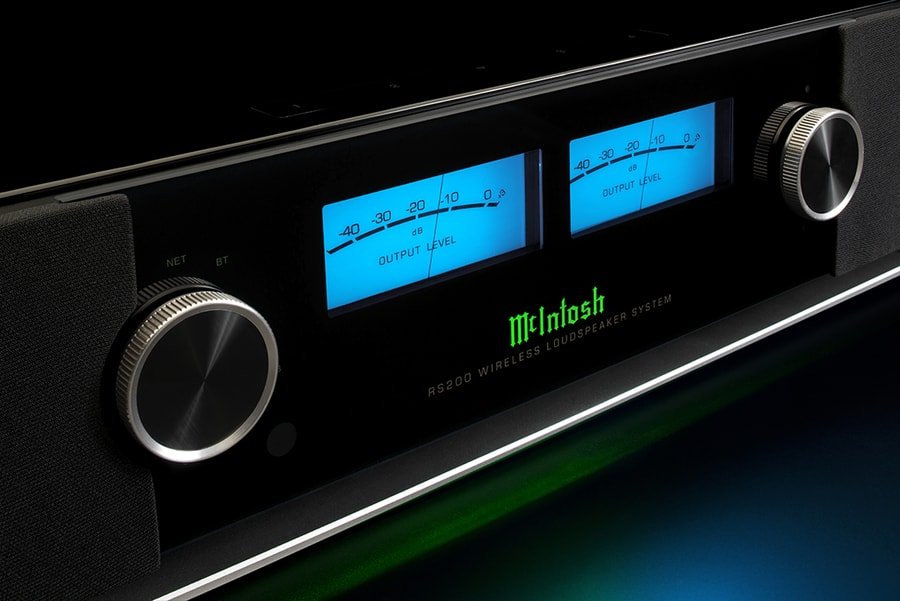 For non-streaming applications, it has an audio-only HDMI input to connect to TVs that have Audio Return Channel (ARC) capabilities; an optical input to connect TVs without ARC as well as other digital sources; a USB Type-B input to play music from a Macintosh or Windows computer; and a 3.5mm AUX input for connecting analog sources. For home theater sound, connect a pair of McIntosh Play-Fi compatible RS100 Wireless Speakers (sold separately) to use as surround speakers.
Apple AirPlay 2 And Amazon Alexa
AirPlay 2 is an Apple technology designed to control home audio systems and speakers in any room, from an iPhone®, iPad®, HomePod™, or Apple TV®. It offers multiroom audio, Siri voice control, and enhanced playback. The RS200 is also an Amazon Works With Alexa certified product. Simply speak to a third-party Alexa control device to operate the RS200 from any room. (The RS200 does not contain any listening capabilities and relies entirely on an Alexa control device for voice control.)

Play-Fi from DTS has built-in interfaces for many leading streaming services including Amazon Prime Music, Pandora®, Qobuz, SiriusXM®, Spotify® and TIDAL to name just a few. Up to four favorite Play-Fi streaming services can be stored via the preset buttons on the top of the RS200; once configured, quickly play the saved streaming services directly from the cloud without needing a mobile device by simply pressing the preset buttons. Users can also stream audio from wired devices connected to the RS200 to other Play-Fi devices on the same network via Play-Fi Line In Broadcasting. And Play-Fi's Critical Listening mode allows high resolution audio files to be sent to the RS200 with no transcoding or downsampling.
Classic McIntosh Design
The RS200 features classic McIntosh design elements such as a black glass front panel, illuminated logo, control knobs, and a pair of fast responding blue Watt meters.
Suggested retail price is $3,000 USD or £3,495 in the UK.
READ MORE HIFI NEWS WITH HIFI PIG