McIntosh Laboratory has launched an all-in-one system, the new MXA70, which comes complete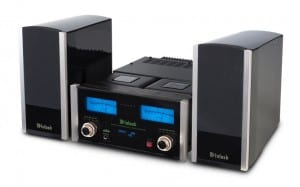 with speakers and takes full advantage of the latest McIntosh technologies.
The MXA70 is hand-built in McIntosh's Binghamton (NY) factory. It contains a 50-watt McIntosh amplifier, in-house aluminium loudspeakers and a dedicated headphone amp. Also included is a McIntosh DAC with four digital inputs. First unveiled at CES 2014, the MXA70 is available for the first time in the UK from Jordan Acoustics, McIntosh's UK distributor.
The speakers, finished in high-gloss piano-black, have been designed in- house to complement the electronics and feature drivers housed in a custom-cast vibration-controlling aluminium cabinet. The wide-bandwidth speakers have a 19mm titanium-dome tweeter with a 100mm treated-paper bass/midrange unit. The speakers are rear-ported.
The MXA70 includes the same dedicated headphone amplifier found in the recently launched MHA100 head amp. The system employs a new adaptation of McIntosh's autoformer technology, which offers three selectable headphone impedance ranges:
8-40; 40-150 and 150-600 ohms.
The MXA70 also features McIntosh's new Headphone Crossfeed Director (HXD) technology, which is said to allow recordings played through headphones to image like conventional speakers.
The internal McIntosh Digital Engine offers four digital inputs (coaxial, optical, balanced digital AES/EBU and USB), allowing decoding at up to 32-bit/ 192kHz resolution for maximum analogue fidelity. The MXA70 upsamples digital signals to 192kHz with 32-bit resolution, before the D/A process begins. Two analogue inputs (including balanced) have also been appointed.
The amplifier is a Class A/B complimentary-symmetry design featuring ThermalTrakTM output transistors. Further features include tone controls, plus McIntosh's Power Guard® technology: a waveform-comparison circuit that continuously monitors both input and output signals, dynamically adjusting them when necessary, in order to avoid potentially damaging clipping.
Specifications
Amplifier
Amplifier power output: 50 watts per channel with both channels operating into 8 Ohms
Total Harmonic Distortion: 0.005% maximum from 20Hz to 20kHz
Inputs
One high-level unbalanced (stereo) One high-level balanced (stereo) Four digital (see Digital Section)
Outputs
One set of stereo speaker terminals (8 Ohms)
One headphone (1/4")
One preamplifier (stereo)
Digital section
One dedicated USB One coax
One optical
One AES/EBU
(McIntosh Digital Engine is 32-bit/192kHz, USB 2.0 asynchronous)
Tone controls
5-step Bass Boost control
Headphones
Headphone power output: high selection 1W; normal selection 250mW Headphone output impedance: 8-40, 40-150 and 150-600 Ohms
Loudspeakers
Driver complement (per speaker):
One 100mm (4-inch) treated-paper bass/midrange One 19mm (3/4 inch) titanium-dome tweeter Frequency response: 60Hz – 45kHz
Crossover frequency: 2,000Hz
The MXA70 sells for £5,995 and is available now.