As European amps continue to expand in size, and as this amp is rather small by some American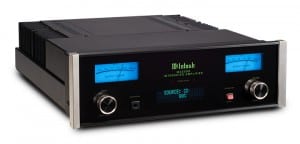 standards, this £5000 McIntosh MA5200 100W per channel integrated is perhaps a McIntosh which might contend well in the European market place. With 9 inputs, including 1 Moving Magnet phono and 3 digital inputs that will decode digital music at up to 32 bits and 192kHz, it deserves to: as well as being exceptionally well-equipped and capable, it is a very musical all-in-one amplifier.
McIntoshes are very American both in terms of design cues and in terms of size. Visually it will happily sit alongside any Mac made over the last fifty years – it has the distinctive black fascia with blue dials and a shiny green logo, like it or hate it.
By American standards, it is quite svelte at 48 x 15.1 x 44.3cm but its depth and width might trouble many Euro equipment racks. It weighs a hernia-inducing 17 kilos, so frequent moving is not desirable. On the other hand, this unit (in common with several competing offerings) provides scope for considerable rationalisation as it could credibly replace a preamp, power amp, DAC and phono stage, and accordingly save on all the associated cables, isolation, racking etc. It also supports multi-room implementations. Put that way, £5000 seems reasonable if not fantastic value. Judgement on fantastic value will depend on the sonics.
First impressions
Opening the rather hefty box produced the first surprise and it was a good one – typical of the thought that has obviously gone into this kit. Lifting the amp out of its shipping carton revealed that it had been attached by two screws to both a cardboard base and a rigid MDF base which secured the amp completely against the tender mercies of couriers during its transport. A cheap but highly effective way of preventing needless returns to base. Other manufacturers might take note.
So how about first impressions? Let's get the gripes over first. It is very much a Mac – very American, and I mean that well. It is very muscular but some design aspects jar; the level and source selectors look and feel so plasticky that using them does not give the confidence that the amp's visual cues offer. I imagine it is the same feeling that Aston drivers used to have when they wallowed in lovely leather seats and discovered switchgear from the Ford parts bin plonked on their dashboards. With a £5000 amp, tactility matters and there really is no excuse not have squeezed a few cents extra spend on some better parts. This is, after all, the main interface with the user, especially as the remote is a seriously hideous piece of lightweight plastic. This must particularly matter when you are fighting the likes of Devialet for business. In fairness, I should add that neither the switches nor the remote failed to do what was required of them; my complaints are all about what goods at this price level should feel like.
Under the hood
The controls are actually quite sophisticated. Not only do they turn, but they can also be pressed or clicked to navigate the user menu. Reading through the manual, which is well written and comprehensive, you find instructions for a bewildering array of settings such as activating the S/PDIF inputs for the built-in DAC, applying home theatre throughput or setting up comms for a multi-room system. The built-in DAC has a built-in Windows driver which allows simple access through a USB connection. The S/PDIF options are set through the menu where one of the five line-level inputs (4x RCA, 1 x XLR or RCA) is deactivated. All these inputs can be named. In addition to the line level inputs, there is an in-built MM phono stage and a pre-out/main-out loop with metal jumpers. Helpfully there is a 6.3mm headphone socket on the front. The speaker terminals are chunky and are standard rather than multi-tapped.
Let us look first at the pre and power amplifier sections. Sadly, this Mac is m

ade without the proprietary autoformers for which the marque is renowned. Instead, McIntosh has deployed new circuitry called Dynamic Power Management or DPM, designed to intelligently adapt to varying loads. In all fairness, I cannot claim to have presented anything difficult enough to this amp to comment on the effectiveness of this circuit. Living in a built up area and not wanting an ASBO, the limits of my testing were such that this amp never broke a sweat, less still challenged any of my speakers.
How does it sound?
Forget the clichés about American amps, this is not a brute, but nor is it polite. Many amps are voiced to impress in the showroom but then blare and grate rather after some time listening. Or they are just too mellow to stir the soul. What this amp does so well is to let the music come to the fore and simply provide the power when it is needed.
In the interests of brevity, as I lived with this amp for a month and played it every day, I shall not list all the music I tried on it. I applied all the standard tests – female voices, male voices, organ, large orchestral pieces, chamber orchestra, piano, drums and guitar through FLAC, redbook and vinyl.
Like all McIntoshes I have ever heard, the MA5200 generates a credible and large soundstage – you really do get the sense of the concert hall, the cocktail bar or the rock concert. But it is also very well balanced indeed. It comes across with a fluidity and smoothness which makes it very easy to listen to for long stretches.
The treble never obtrudes and the bass is always well rendered without veering towards the flatulence that sometimes comes with big amps, but this is no window shaker, unless you want it to be. It plays good recordings well with only a small suggestion that the top and bottom ends could go further but it also has a tendency to make poorly recorded music more listenable – it tames slightly edgy modern (digital) recordings and it renders sometimes flabby 50s and 60s (especially classical) recordings well. It is not the last word in detail retrieval, nor in resolving transients but what it puts out is recognisably music.
The most impressive thing about the MA5200 is just how self-effacing it is: It is a Jeeves of an amp, shimmering about in the background, quietly ensuring that the music is given every opportunity to show itself at its best, and keeping all those reserves of power for when they are really needed. If you are not looking at the amp itself, it is easy to forget that it is in the musical chain. It just sounds good and this is helped by the consistency across the line stages, the DAC inputs and the phono stage which all behave with a similar tonality and integrity. This amp is very easy to live with and I can see why Mac buyers have such brand loyalty – in technological terms, it really is "fit and forget" – no tweaking, no perpetual chase for upgrades, no "voicing" – just listen to the music.
I used the MA5200 with both a pair of Sonus Faber Grand Pianos and a pair of Bastani open baffle speakers alternating between runs of Skogrand Ignis Purist cable and my normal Electrofluidics cable. I also borrowed a pair of Spendor BC1s from a friend to try out on the MA5200. Again, consistency of sound proved to be the order of the day, even with speakers as coloured as the SFs. I tried a pair of elderly Sennheisers on the headphone output and can report that late night listening will not be a chore.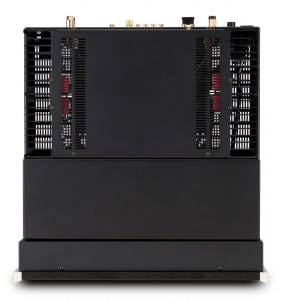 Turning to the built-in DAC, I simply could not differentiate between the two S/PDIF inputs. To my ears, they had the same tonality. The asynchronous USB input had marginally clearer resolution than the coax input from my streamer but that might just be down to differences in cabling. (I understand that the DAC circuitry in the MA5200 is substantially the same as that in McIntosh's rather more expensive units, so that the consumer here is getting the benefit of some rather tasty trickle down technology.)
As an experiment, I ran my satellite box through the DAC and will happily report that using the MA5200 as a stereo TV amp with my Sonus Fabers delivered by far the best audio I have ever heard from my TV, far, far better and clearer than the dedicated AVR amp and 5.1 speaker system!
In comparison to the V1 DAC in my Naim rig, I could not honestly say much more than that the V1 was marginally better resolved and had more "bite" i.e. it sounded typically Naim and that the Mac sounded typically McIntosh. But would I spend £1250 on a separate V1 if I kept the MA5200? Probably not. In my opinion, you would have to find quite a lot of money more conclusively to beat the Mac's DAC.
I'm afraid I was much less taken with the standard 47 K ohm MM phono stage, but then I listen to vinyl more than any other medium. For "residual" vinyl users it will do the job with a good MM or HOMC. It does its job adequately but compared to any of my outboard phono stages, even the humble Dynavector P75 Mk III, it falls quite short.
Tonally the MM input shares the MA5200 sonic signature but it was not fully up to the job on dynamics, soundstaging and separation for serious and extended vinyl listening. It might, of course, be that McIntosh's own turntables and cartridges mate better with this amp than the ones I had at my disposal.
I tried my Reference Fidelity SUT with my Zu Audio Denon 103 into the MM input and it sounded a bit clearer, more dynamic and differentiated more of the instruments and voices than either the MusicMaker MI or my Ortofon Black MM, but if you listen to a lot of vinyl, you will probably need to plan on using a discrete phono stage. The good news is that a good one really sings – my Whest PS30RDT came through dynamically and clearly with a line input, as did my Electrocompaniet.
Conclusion
I have long been a fan of McIntosh kit and the MA5200 does nothing much to disappoint. For me, the McIntosh MA5200 is an excellent amplifier, with a quality DAC and a no fuss approach to presenting music. The amp is very tolerant of supports, cables and sources and requires only simple set up and precious little tweaking. Set it up in an hour or so and off you go.
If I were in the market for a £5000 all-in-one amp, I'd be perfectly happy to take the MA5200 and pair it with a good pair of loudspeakers. As for sources, you could get going with only a laptop. It is an outstanding amplifier with a fantastic sound quality and a build quality (despite my quibbles regarding the knobs and the plastic fantastic remote control) far better than much of what is produced in the UK.

Build quality – 9/10
Sound quality – 8./10
Value for money – 7/10
Overall – 8/10
Price: £4,995
Author – Peter Stanton-Ife