Back in September 2017, McIntosh announced their new handheld MHA50 Portable Decoding Amplifier. Now, it is finally shipping and available to buy.
The MHA50 includes wired inputs for Apple® iOS devices as well as Android devices that are compatible with USB On-The-Go technology plus Mac® and Windows® computers. It can also wirelessly connect to these devices via Bluetooth® 4.1 with aptX™ technology that ensures you receive the highest possible sound quality from your Bluetooth source device. Featuring a 32-bit digital-to-analogue converter (DAC), it decodes music files from almost any digital source and outputs audio that is superior to what your device alone can produce. It supports 32-bit/192kHz hi-res audio, DSD256 and DXD384 files as well as asynchronous USB audio. Its 3,000 mAh rechargeable battery provides up to 6 hours of playback on a single charge when connected via Bluetooth; playback can last even longer when using the wired connections.
Comparably sized to smartphones, the MHA50 is compact and lightweight for easy portability with a bevelled case that fits comfortably in your hand or pocket. Its design features a glass front panel with a touch sensitive volume control knob inspired by the classic knobs found on countless McIntosh products. It's built primarily from durable extruded aluminium which also has some inherent noise shielding properties to help block external interference. Two gain settings allow the MHA50 to work with all types of headphones from small in-ear models to large over-ear studio type designs like the McIntosh MHP1000 Headphones​ (sold separately); it can drive headphones with impedances ranging from 8-600 ohms. Headphone Crossfeed Director (HXD®) brings added dimension to your music in a natural sounding way and can be easily turned on and off depending on your preferences. All audio is output via a gold plated 3.5mm jack. This jack can also connect to a pair of powered desktop speakers, allowing the MHA50 to serve as a desktop DAC.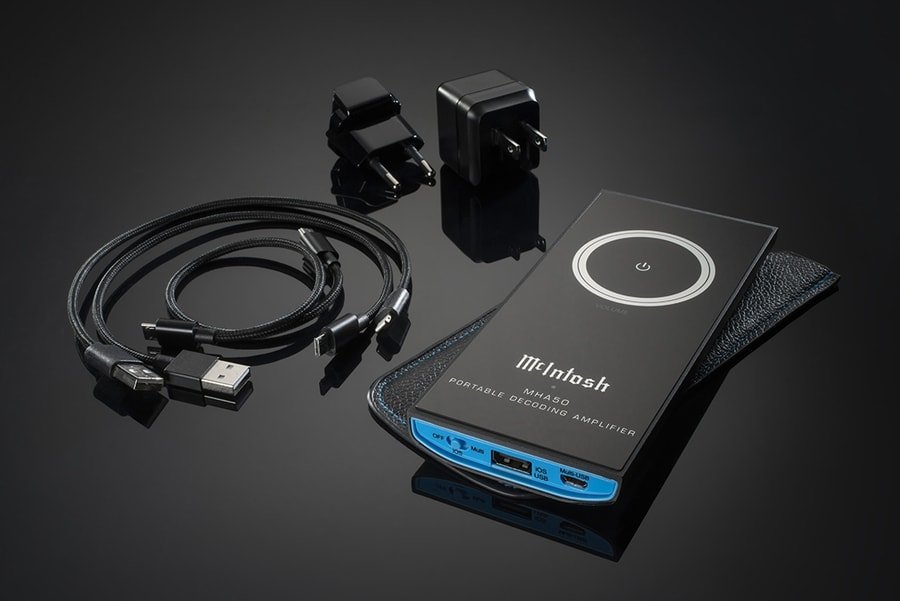 The MHA50 comes complete with three USB adapter cables to connect various devices, a leather carrying case, and a wall mount charger with USA plug and adaptors for Europe and Japan. Price is £895.
READ MORE HIFI NEWS WITH HIFI PIG