McIntosh Laboratory has launched McIntosh Music, a high-quality 24/7 audio stream "dedicated to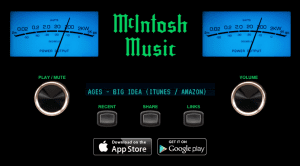 bringing music aficionados the best tunes from across the decades" direct to their PC, tablet or phone. The service is freely available either as a direct stream from the McIntosh Music website, or via a free app for both Android and iOS devices.
The McIntosh Music stream is controlled via a very McIntosh interface, complete with the famous illuminated power output meters. The web version features a sliding volume control and pause/mute function, plus a number of additional functions, including links to the main McIntosh website and social media pages, a 'share' facility and scrolling track information, akin to an RDS display.
The apps add increased functionality including enhanced graphics, album artwork and direct links to Amazon, enabling users to directly purchase music featured on the service by simply tapping the album art.