The N1A/2 from Melco is intended to improve on the originals sonic performance, particularly for those using USB DACs. It can store a whole library of your music on its on-board drives and costs £2099 as tested. Dan Worth plugs it into his network and assesses its attributes. 
Melco was originally established in 1973 – Maki Engineering Laboratory Company.  Mr Maki – one of the true original audiophiles and founder of Melco still remains Chairman of the company today and at 84 years old is still an avid audiophile. In 1973 Melco were producing high end Japanese hand crafted turntables and valve electronics. Manufacturing and turn over was very successful indeed.
Difficulties with computers in the 70s meant printing boards took a very long time and at this time you could not use a PC for anything else while printing, due to a lack of processing power. Melco created a Print Buffer to fix this problem and sold these on to other companies under the name Buffalo Systems which soon became the largest Japanese IT peripherals manufacturer. To this very day Buffalo Systems is a household name, I myself have had many Buffalo hard drives and NAS solutions over the years and even had one running just a few years ago as my main music library.
Melco/Buffalo have an enormous engineering department and pre-production laboratories, which is where each and every Melco is hand made, utilising renowned Japanese precision techniques and quality components.
It's hard to believe but Japan has no basic PC awareness, it is very much a closed market and consumers never even had the privilege of owning the famous ZX Spectrum or Commodore 64!  Certainly no BBC Micro. So no essentially there was no basic knowledge of PC by any class other than engineers. PC was always function specific hence word processors, SEGA and Nintendo.
So when streaming products started to arrive from Linn, Naim etc. nobody had the ability to set them up. No one had any skills in this area and the high-end audio shows of recent years within Japan were riddled with folk who had to phone through to the UK in order to get step by step instructions on how to link the renderers to a music library.
Chinese peripherals such as Qnap and Synology etc are not easily available in Japan due to the nature of the closed market. Buffalo Systems had the foresight to begin working closely with Linn in order to suitably create modified versions of Buffalo's IT NAS solutions for audio use.
Detailed investigations showed that the basic architecture of an IT NAS was not entirely suitable for high-end audio playback.  So a new architecture was proposed. Lots of R&D and testing later, Melco as we know it today was born using the name of its Buffalo forefathers.
The immediate hardware difference was the redundant use of the data switch in the signal path to the Network Player, inclusion of a dedicated 'PLAYER' port and low jitter precisely structured data flow. Along of course with software filtering to keep unwanted data which causes unduly wanted crosstalk away from the renderer for optimum sound quality. A Melco will also restructure data from external sources such as streaming services or even other network NAS drives with the intention of improving sound quality…so TIDAL and Qobuz etc should work far better.
The 'Local Player' on a Melco also allows users to connect to an external DAC and this will be the main content of this review, although I have an Innuos and an Aurelic here which will be attached and their performance compared in relation to playing from an ordinary NAS drive and also from the Innuos' internal SSD library storage.
An external USB CD drive can also be attached to the rear of the N1a/2 for ripping disks as well as having the software ability to move existing libraries across the network via a computer or via a transfer option within the Melco's on screen menu from the front panel via a USB storage device.
The ability to use the Melco without any remote control or app via its front panel to play local files from its internal drive array is also a very welcomed feature, much the same as using a standard CD Player without remote and navigation is very easy. An attached CD drive also allows for the direct playing of discs on the fly with all data reclocked and managed by Melco's proprietary software and hardware to ensure a very pleasing reproduction of media quality. I don't spin many discs preferring the ease of use with an app and also the sound quality of the hard drive based files over CD direct, so I do recommend ripping, but for a quick listen of a new album it's a fantastic feature to have onboard.
The Physical Unit
A unit from Melco will arrive in a double box and very well packaged internally. The physical unit itself in my case was in silver with a brushed silver aluminium front.
The front panel hosts a power button on the left and an OLED screen in the centre, controllable via the four right hand buttons for menu and local music library navigation.
The rear of the unit features two Ethernet sockets, one in and one out for an external music player/renderer. No less than four USB 3.0 sockets are available on the N1a/2, one on the front panel for high speed file transfer to the onboard music folder and three at the rear for 'Easy Backup, Easy Expansion, Easy Play and Easy Import'. Along side the three rear USB 3.0 ports is a Neutrik USB 2.0 socket for connection to outboard DACs, utilising USB 2.0 is still a more stable platform for the majority of the DACs available on the market currently and for the foreseeable future, although one of the rear USB 3.0 ports on the backside will support any new USB 3.0 based DACs.

Differences Within The Mark 2 Product
Over the first incarceration of the N1a, there are many hardware changes which result in a more advanced sonic platform, making the Melco N1a/2 a great all in one server and player. As well as the aforementioned Neutrik USB output for DACs Melco have also added a high-performance capacitor bank and noise suppression unit, better grounding and isolation properties for the internal drives and also the chassis itself to minimise micro-vibrations to the delicate audio signal.
The player will support all popular audio files types and bit rates for PCM and DSD far beyond what is readily available to consumers today, making it future-proof for many many years to come. Along with the 6TB of internal storage configured with two specially selected drives of 3TB a piece, allowing users to use them as a combined amount of the 6TB, split into two mirrored 3TB drives for maximum redundancy in Raid 1, or Raid 0 which maximises latency, giving a full 6TB of usable space leaving the user to add their own form of redundancy with either an attached USB hard drive for backup or the use of a Network Attached Storage device (NAS). These options combined with the ability for USB external backup gives users incredible flexibility in setting up the system to best suit their requirements.
Myself, I settled with a Raid 0 configuration, after listening to all three options I felt that the Raid 0 setup had sonic benefits over the other two, now they weren't revolutionary but they were clear to hear and the gains in sonic ability outweigh the fact I would require additional storage for backup. I would however need to have a backup of my music for safety as I am using a Raid 0 configuration, which I have already on a NAS drive in Raid 5 configuration with a drive spare also.
Installation
Connecting up the N1a/2 is as simple as plugging in an Ethernet cable, USB to DAC or in my case the Hydra Z clock and a power cable. The Hydra Z, DiDiT 212SE DAC and Mytek Brooklyn DACs which I connected were all recognised immediately without any issues and a quick navigation through the onboard software using the front mounted hardware buttons and OLED screen played music files instantly which I copied across using my Mac.
Once I had a complete front end chain and music playing I added around a terabyte of music which I had on an external drive. A simple USB connection to the front panel and some quick on-screen navigation to the import option choosing an external USB drive, quickly copied across the drives contents. Most NAS drives are fairly slow when transferring files, especially when writing but the N1a/2 made short work in comparison to build my music library, which I based on the simple file structure of the Innuos, 'CD Quality', High-res' and 'Compressed'. Once copied I had no issue navigating the front panel to play whatever I wished.
Apps
There are many apps recommended for use with the N1a/2 or in fact any of the units Melco offer, for either Android or iOS devices. After trawling through the recommended options and other suggestions made by current users I opted for BubbleUPNP on my Android tablet, being clearly the best for function and usability, allowing me to choose the chosen renderer or player as the N1a/2 with a separate selection for the music source, this can be selected as the Melco's own internal drives, any associated network storage libraries such as a computer or NAS even a tablet that may contain music libraries (note – the tablet has to be the one that you are using as a Melco remote) Tidal and Qobuz are also available when selecting the onscreen library as 'Local and Cloud' opening up the cloud options for the online streaming services. There is no native support for Spotify but in all honesty any hardcore music enthusiast is going to favour the higher quality streaming services over Spotify. Swapping from the N1a/2's internal library to that of a streaming service is incredibly simple and all features such as search, what's new, trending, genres etc are available to the user as a complete desktop version of the software packages.
If I had my choice I would MUCH rather prefer the option of the Squeeze-lite platform installed on the Melco, I would MUCH prefer the use of iPeng, which would also include the use of Spotify for its already established and great music playlists available. iPeng is undoubtedly a far better remote and platform for control of an all in one streamer, such as the Innuos I have, navigation is simpler and the Innuos also builds its library instantly when powering on from a complete shutdown, the Melco takes longer to rebuild the library after shutting down. Another peculiarity that I found was that if I selected any music to play from the hardware buttons, using the internal onboard player direct I couldn't then use an app thereafter, I had to shut down, power up, allow for the libraries to rebuild again and then fire up the app as my first point of control to enable it to work. Yes, the unit will be used only with the app the majority of the time but for any users experiencing the same issue, it just seems like 'that's the way it is' so remember these steps so that you don't begin to think the unit has an issue or that your not networked correctly.
Manufacturers note: a new firmware update is imminent, this will allow the library to rebuild itself instantly in the future.
The Sound
After conducting the review for Innuos' Zenith MK2 player/server I ended up buying the unit and is a benchmark against the performance of the Melco which functions in a somewhat similar manner. My initial impressions were that the Melco, although easy to use doesn't have the visually impressive interface of Innuos' own InnuOS software, even the apps aren't as pretty and informative as say iPeng which runs off the back of the Squeeze-lite embedded software on the Innuos, which is my preferred software/app configuration even now after many weeks of use. But all that is swiftly put to one side when hearing the sonic performance of the N1a/2 for the first time.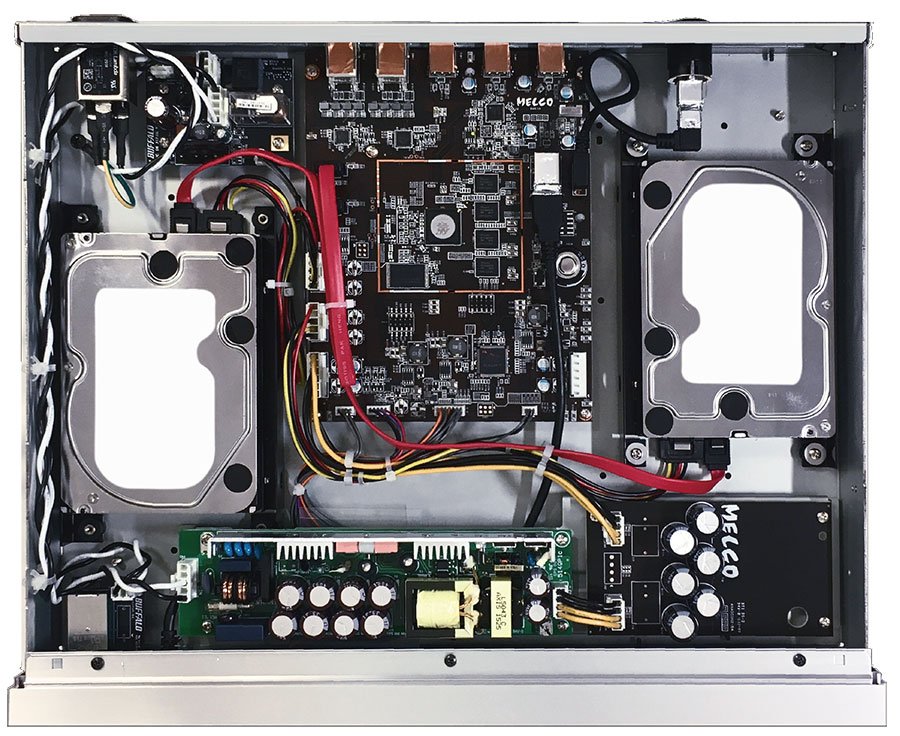 I was quite happy with the Innuos but found my modded Mac mini to offer a more natural and dynamic performance, the Mac really is a one of kind with completely passive cooling and is stripped down to its bare bones both hardware and software wise, with the addition of an incredible power supply made by Paul Hynes. Attaching the Mac to the 'Streamer' output of the Innuos also enhances performance due to the direct attached library and linear switch facility.
Listening to the Melco puts the sound on a whole new level of realism, drama and expression. The concern that the drives were mechanical and not solid state soon fell to the side of the road and there are concerns to the way that SSD's retrieve their information in a high-end audio products anyway, which is why Melco/Buffalo create their own proprietary SLC SSD's for their high end N1z and remain confident in specially selected mechanical drives for their other models.
I first played Beth Hart and Joe Bonamassa's album 'Don't Explain', I was presented with a vocal prowess of such distinction and purity that I literally sat up in my seat saying 'that sounds like magic!' All other comparisons with the Innuos soundwise left my mind and the N1a/2 sat clearly in the commanding role in my system. Bonamassa's performance throughout the album conveyed more texture and emotion in his methods and string work pinged into freer space in an almost rejuvenated manner as if he had just gotten over a cold and got his mojo back. A more informative placement of the stage where the two were performing and a fuller picture of delicate intricacies and rhythms made for a more playful interpretation of the same album which I'd grown to love over recent months, delivering more personality and emotion than I had previously heard with either the Innuos or Mac.
I had a similar experience with Damien Rice and Derrin Nuendorf, which I played soon after, depicting leading edges to strings that I felt were now a little somewhat muted even on the modded Mac in comparison. I've spent quite a lot of effort on the crossovers in my limited edition Ayon loudspeakers and have also made recent modifications to my Gamut power amp which have given me a more tangible richness in texture and tonality, filling out notes with a more robust accuracy. Adding the Melco to this recipe has further enhanced these aspects with more detail within the additional tonal qualities which I've managed to render from the music as a whole, showing the importance of a great source in he chain is still of massive importance. The music for me with the N1a/2 now sounds more complete, accurate in tone, colour, placement and naturalness and overall coherence.
Vocals are so much more beautiful now in my system, yes it has been a combination of the whole, but doing many A/B tests with my other front end sources in my own time and with others who have come over for a listen, the differences are not subtle. One extremely picky friend of mine even went as far as saying 'can I bring the missus over to have a listen, so she can understand why I'm spending all this money to get my system right?' He was of course joking but the Melco really seemed to strike a chord with him and he's usually the type of person to criticise equipment rather than appraise it's plus points first, if you knew him this statement alone would ensure you looked into a Melco product.
As I was saying…vocals, damn the vocals! A wonderfully liquid and exquisite sound is produced from the Melco on vocals. Where the Aurelic Aries has a fluid ultra clean vocal, the N1a/2 has a richer and more sultry presentation with a vocal placement that sits bang on the correct plane, in front of other band members and never forward.
Sinead O'Connors 'I Put A Spell On You' did exactly that, the vocal is projected well from centre stage, having roots in a more recessed position than its projected output feeling almost real. The same powerful tones bellowed from Celine Dion and Andrea Bocelli's 'Prayer' with the masculinity of his power and endless breath combining in real harmony with Celine's own power and control, leaving me with goosebumps at one o'clock in the morning after an eight and a half hour listening session with a bottle of something tasty.
Norah Jones' sultry voice still took me on further into the morning before I gave in for the night, wrapping her wonderful tongue around my brain and just pulling me further into the platform the N1a/2 had constructed before me in my listening room. All the while tapping my feet to the riffs and rhythms of her accompanying band.
A new day and a new set of goals, I was finding myself wanting listening to music a whole lot more, my system seemed to now have a passion that I sometimes felt it lacked, very minimally and I am being very picky but enough to take the sweetness off the crumble. It felt like it had ripened and matured just enough to please my palette and gave more flavour to the music.
Today however I wanted to explore some other genres I enjoy listening to a little more infrequently than my love for acoustic and maybe take the system out of its comfort zone. I thought to myself at the time and I remark back to myself as I write this, that it only seems like I really want to push the boundaries of a piece of equipment, or my entire system in fact, when a piece of kit comes along that shines so brightly and really put it through its paces, not just being satisfied by the staples of its presentation.
My system really isn't geared up for Rock music, I don't have large paper cones and horn tweeters, nor do I have the distance to be able to sit so far back that electric guitar feedback at high levels doesn't make my ears bleed. So on this basis I can't realistically criticise the Melco for not turning my gear into something it's not.
What this test did prove for me was that the level of information the Melco could present was strong, I could clearly ascertain more scope on layers of distortion, vocals, drums and cleaner guitar notes, there was also less smearing between them. Many genres of Rock sounded fantastic such as Soft Rock, Rock n Roll and the Blues and RnB combinations, but the accidentally created distortions pioneered by the likes of Ike Turner in the 50's and explosive narratives of late the 70's through early 90's groups such as Led Zeppelin, Van Halen and Nirvana etc still didn't cut much ice on my system. I did have a great experience with Princes 'Purple Rain' but then who doesn't right?
I have always since a teenager enjoyed Dance music, I grew up in a great era for it and my system has the energy and impact to reproduce it quite well, again it's no PA rig but what it does offer is a level of detail that a lot of high end PA systems don't, that combined with great control, strong soundstaging and enthusiasm goes an awful long way. With the N1a/2 in my system I really could hear right into the recording. Good mastering with this genre has so much inner detail and micro dynamics to be released that for anybody to refute this genre as not good enough for critical testing of a Hifi is just ignorant. The multitude of layering is wasted on today's modern youth, listening to about 20% of the remaining material after it has been compressed many times and fed through an MP3 player.
The Melco also shone when it came to scale and dynamics, I was able to increase the volumetric display of the system more than usual as control and imaging was better, but on the flip side I ended up using a lower volume than normal due to the rush of structuredestroying transients. Needless to say I was incredibly impressed by the hand the N1a/2 lent to the stability of the systems tolerances as a whole.
It's safe to say that I like this product very much and a quick overview to inform any potential interested party on the likes of Classical and Opera which I don't listen to an awful lot, was emotional. The amount of resolution that the Melco can produce at this price point is few and far between I'd say, around £2000 in terms of CD players wouldn't even begin to cut it unless fishing around the secondhand market for a bargain.
The 'Habanera' from act 1 and the 'Toreador Song' from act 2 of Carmen is undoubtedly two of the most well known versus from any Operatic performance and through the N1a/2 over my other sources sounds glorious. Venue acoustics are clearly depicted and harmonics convey all the drama of the performance so convincingly. The dramatic and dynamic impact of the backing to the lead musicians and expressive vocal hits hard with an intensity that remains really very controlled, conveying a mass of vocalists rather than a smeared mess which doesn't resemble the live performance at all and the slight warmth in the upper bass/lower mids of the Melco really allows for great character to come through. The same important factors are reflected in the few classical pieces I listened too, allowing large orchestras to have a contrast of instrumental tone rather than a mass of noise smearing the prominence of foregrounds.
Like the Innuos, the Melco N1a/2 has a 'player' or 'streamer' Ethernet output, where the user can connect an additional streamer such as the Aurelic Aries or the likes of in the same system, or in fact for another room, via a long cat5/6/7 cable. Also like the Innuos, this option gives software and hardware benefits. Any player (audio or video) that requires an Ethernet cable to playback networked libraries and streaming services will benefit quite substantially in sound quality taking the streaming bridge to new levels of performance across the board.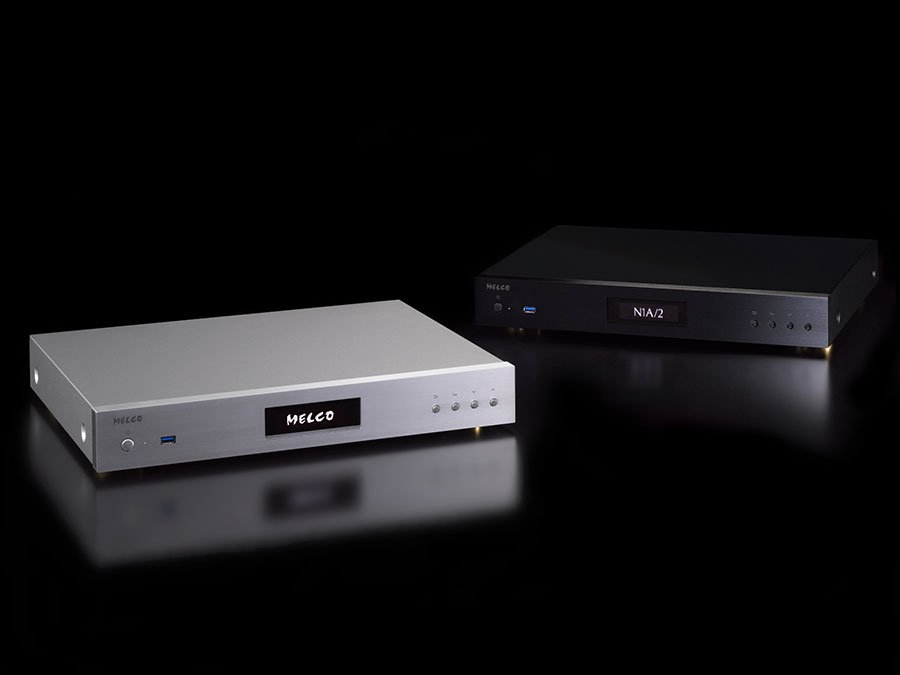 I connected the Aries and also an Amazon Fire TV as I already have a Cat7 cable running through to an adjacent room, allowing me to play uPnP files and attain better sound quality from the AFTV (which also has an aftermarket linear).
The additional performance from Aurelic's Aries was clearly discernible with a quieter background allowing for more intricate details to stand out more. Undertones and decays were especially more palpable and the additional richness in colour to the Aries was very much welcomed in conjunction with its clean presentation, making bass notes a little rounder and fuller. My modded Mac also thrived on the back of the Melco along with allowing me to have a very localised system rather than using the external switches and multiple Ethernet cables, but I still felt that the Melco on its own did a better job in its standalone form, so rest assured the Melco N1a/2 although having the external 'player' feature doesn't require an additional streamer to work at its best, it's simply an additional feature that one may wish to make use of.
Conclusion
The N1a/2 from technology giants Buffalo Systems, dubbed with the owner's original brand name Melco is an absolute triumph of engineering for its price. The N1a/2 has no off the shelf parts apart from its hard drives which are selected for sonic performance. Everything else is proprietary and specifically for Melco's audio playback devices, which is no doubt why they sound so terrific. Being of Japanese heritage combines attention to detail and sublime engineering which evokes big smiles when the unit is powered up for the first time.
I would like to see a more universal platform software-wise or at least the option to run Squeeze-lite so that iOS users can use iPeng and Android users Orange Squeeze. This would enable Melco to boast Innuos style operating with their own next level of sonic performance. The BubbleUPNP app works best out of the options available and although its menu structure is great, playback is a little less comprehensive attractive at times. So a proprietary app or the integration of iPeng would solve any issues I may have had.
Feature wise the Melco is outstanding and sound wise it's just sublime, a real rich and full sound with fantastic amounts of detail retrieval, it's dynamic and has a very large soundstage that images superbly and most importantly connects the music with the listener.
With the ability to play files locally from the N1a/2's internal storage, from any network attached storage device, USB flash drive, external HDD or USB CD drive, its integration is comprehensive and pragmatic.
I feel the Melco N1a/2 is an audio bargain for what you receive and I only speculate for now what the higher spec'd models will offer.
AT A GLANCE

Build Quality – Nice standard styled good built piece of Hifi
Sound Quality – Excellent, rich, full bodied, highly detailed sound
Value For Money – very good value For Money indeed!
Pros
6TB possible music library
Exceptional sound per pound
Great feature rich software
Hardware navigation buttons with OLED screen
Plenty of USB's
Ethernet out for clean additional players – audio or video
Clean linear power
Looks like a piece of Hifi
Cons
More mechanical vibration than I would have liked
Needs better app in my opinion
Price: £2099
Dan Worth