Dominic Marsh plugs in the Purple Rain series of speaker cables from Polish manufacturer Melodika (€71.00 for 2.5m pair). 
Here we have you another cable maker emerging from our Polish cousins in the shape of Melodika, founded in the year 2010.  Unlike most others though, they not only sell you the finished product, they will also sell you cable off the reel and the plugs to go with it, so the budget conscious audiophiles that can wield a soldering iron can build their own cables and save some cash.  Melodika also have a small speaker range in their catalogue consisting of 2 floor standing models, 2 stand mount models, a subwoofer and a "dual mode" surround speaker.  I notice the driver arrays for these speakers look remarkably similar to those found in the early Roth Audio models sold here in the UK.
The cables are manufactured in Poland by one of their largest cable manufacturers to Melodika's exacting specifications.  The majority of their products seem to be centred around this "Purple Rain" design in various gauges and configurations for producing interconnects (analogue and digital), loudspeaker cables and power cords and also various AV connections.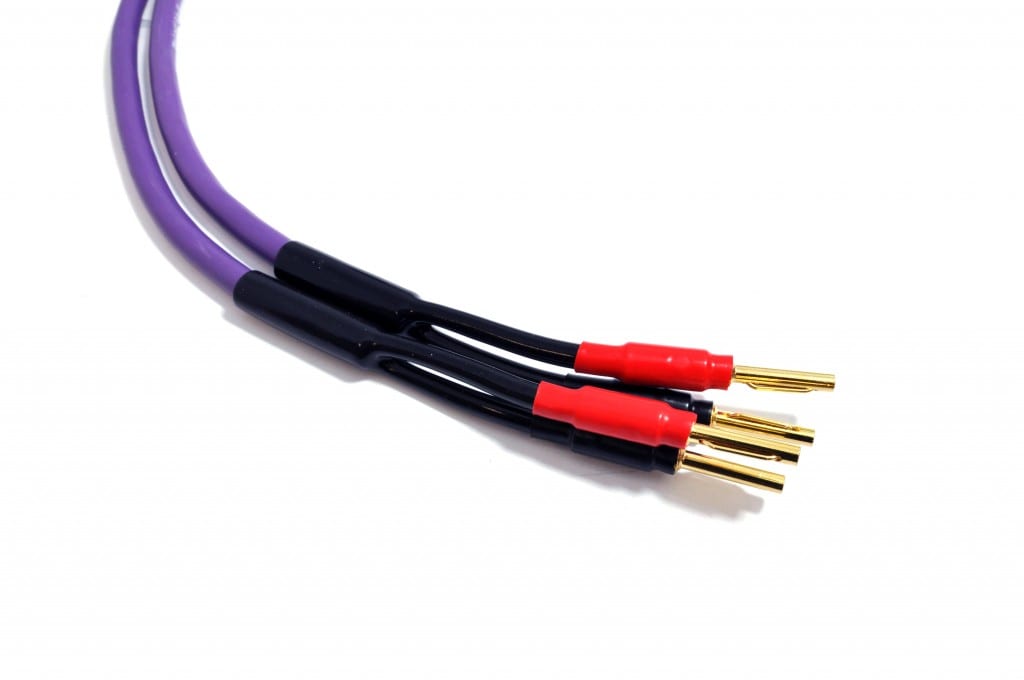 CONSTRUCTION
The pair of speaker cables provided for the review were 2.5 metres in length, fitted with gold plated "Z" type 4mm banana plugs.  The model designation (All their cables have one for precise ordering) is MDSC4025 priced at €71.00, although that price varies depending upon the country where the purchaser resides.
Metallurgy of the Purple Rain series is Oxygen Free Copper (OFC) of 99.99% purity so their website informs me and, unusually, more than one diameter of wire is utilised with 110 strands of 0.15mm and 1 x 0.85mm, presumably to utilise the best sound attributes of both gauges as gauge thickness also has an effect on sound quality. Insulation is by way of 2 layers of PVC sleeving, giving it a tough outer coat to enable the cable to be used in professional installations where the cables are likely to be buried in walls or under floorboards.  The colour of the outer sleeve is commensurate with its name of course, being a nice shade of purple which either pleases or not, according to personal taste.
Outside diameter is around 11mm and internal construction is by twisted pair cores bound inside a single sheath, bifurcated at each end of the cables into two short tails of around 7cm with a rubberoid 'boot' at the junction.
SOUND QUALITY
Fresh out of the packaging they sounded rather thin in the bass registers and that seemed to throw a spotlight onto the treble registers which had a glossy polish to them.  Within a matter of only a few hours though they filled out in the bass and the treble was less prominent from then on because of that transition, so I would advise letting them run in for a while before the first listening session.  Once that initial burn in was completed they sounded well balanced, so I began my listening sessions with these cables.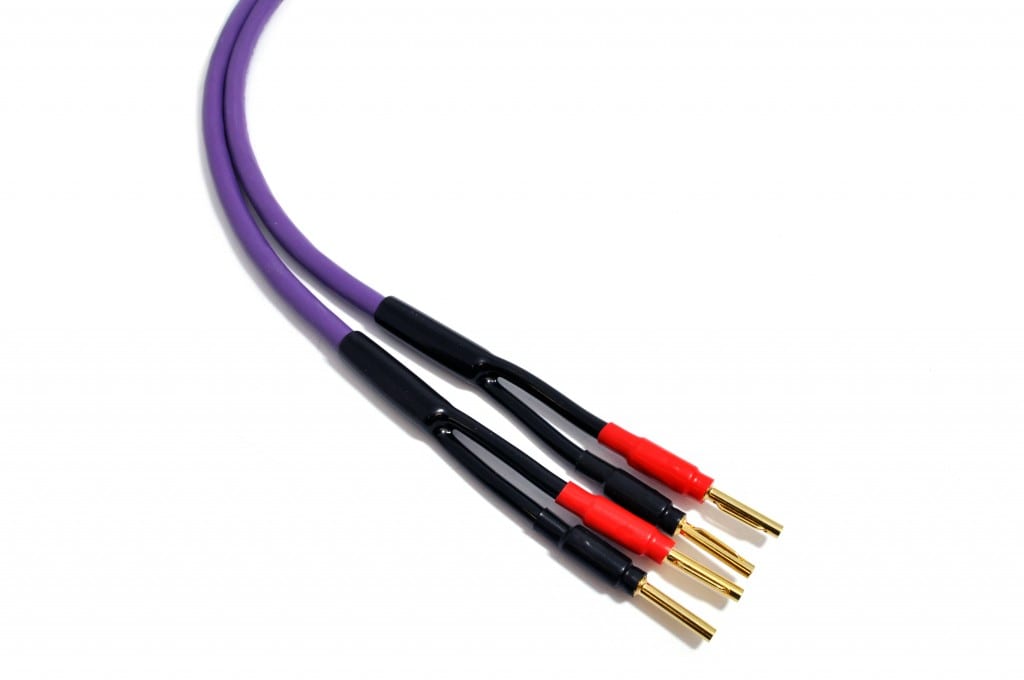 Considering their relatively modest cost, there wasn't any aspect of their performance that I could throw any real criticism at.  Sure, they couldn't quite render the high treble registers as other more expensive cable confections can muster and I wouldn't expect that level of performance from the Melodikas anyway, but nonetheless what treble was there was clean, insightful and free of any hash.  Midband was uncoloured and also very clean, much to my surprise as that is one area that inexpensive cables seem to fall down on, with congestion and fog hanging over the sound, but not so at all with these Melodika Purple Rain cables, they were refreshingly clean and articulate. Bass was taut and controlled rather than full bodied and fleshed out down in the lowest of bass registers and I'm pleased to report that I heard no boom or overhang either.
I played Fink's "Wheels Turn Beneath My Feet" live album and noted that the venue ambiences for each track should all sound different because they were each recorded at different locations, but the Melodika Purple Rains couldn't quite capture that particular distinguishing essence from this album, as although I could hear the venue ambience as a whole on the album, the individuality of the various ambiences was lost.  Let me say that too is no criticism of their performance, as the cables that can capture and fully recreate that trait cost some 15 times more than the Melodikas.  In the track called "Sort of Revolution" we can hear the drummer driving down hard with his Floor Tom strikes which does reverberate powerfully around my listening room and really does show up any loose or flabby bass immediately when it occurs.  The drive and impact of those drum hits were delivered with enough weight, although that anticipated resounding energy I expected was a tad diluted and less powerful than more expensive cables can deliver.  Still a credible and noteworthy performance from what is after all classed as a 'budget' level cable.
Next to be played was Roger Waters "In The Flesh" CD which again is also a live recording.  I love this album as the recording is full of tonal richness and coupled with great musicianship thrown in for good measure.  One of my favourite tracks is called "Perfect Sense" which by the way is the track Sony chose to include on their SACD only demonstration CD to showcase the format and rightly deserved to be included too I say, as the tonal colours are simply superb to listen to.  The Melodika cables left nothing at all out of this CD and there are a lot more instruments hiding in there than a first hearing would lead you to believe, so listen carefully.  In "Perfect Sense" for example there is several background noises running concurrently; cicadas and what sounds like heavy breathing, hi-hat cymbals and other weird noises, plus cat calls and whistles from the audience too and any cable that cannot give those will displease me.
CONCLUSION
So  what conclusions can we draw from this review?  Firstly, I like them, not for what they can't do, but for what they can do.  They do not offend in any way, so top marks on that score.  Next, they have a clear and lucid mid-band and that area of the sound more than any other will come to the fore with inexpensive cables, but not with the Melodika Purple Rain.
Free of fog or congestion, they compliment female vocals well  and demonstrate how you can find rich timbres in the female voice.  Bass, while not plumbing the lowest registers managed to stay controlled and taut.  Treble didn't climb to the topmost rungs of the treble registers either, but in some systems that could be a blessing in disguise.  Note I didn't write the words "rolled off" because that would suggest the treble tapered off quite early up the scale, but that was not the case as they could recreate cymbals and triangle very accurately with no bloom or sheen.
In short then, the Melodika Purple Rain speaker cables managed to tick an awful lot of boxes along the way with me and when you also take into account the relatively modest cost, plus you can buy the same cable un-terminated form to build your own, makes it rather a worthy candidate to be included in any shortlist within that same price range.
Build quality: 7.7/10

Sound quality: 8.7/10
Value for money: 8.9/10
Overall: 8.4/10
For:  A good sounding budget cable that has no real vices to mention.  Available un-terminated for DIYers
Against:  Colour won't appeal to some tastes.
Dominic Marsh