Meridian Audio has announced the introduction of their new-design G65 Surround Controller.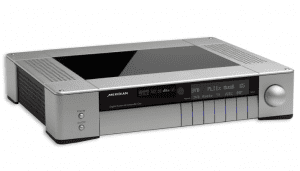 Meridian's G65 is the definitive surround processor of the company's G Series and in conjunction with the Meridian HD621 it allows connection of a diverse range of audio and video sources with unified control over time alignment, bass management and surround sound processing. The latest in the G Series line of components, G65 builds on the achievements of Meridian's flagship 800 Series, with entirely new circuitry developed specifically for the product. 
Sitting at the heart of a Meridian Digital Theatre, the G65 is designed to drive Meridian DSP Loudspeakers as well as providing balanced analogue outputs for conventional systems. "Unique Meridian technologies include Smart Source, which automatically selects the correct settings for optimum listening, whilst Meridian's Apodising upsampling system is said to improve audio quality and can correct problems in an original digital recording. Meridian Room Correction smooths out the low-frequency reverberation on a room to improve clarity and imaging for a more immersive experience". 
Full installation configuration is achieved by running Meridian's proprietary Windows-based MConfig application, connected to the G65 via a serial or USB link, or direct from the front panel. A comprehensive back-lit learning/programmable MSR+ remote is included. 
UK Price: £4,500 – £6000(with HD621)