Merrill Audio Advanced Technology Labs, LLC has announced the Taranis Stereo Power Amplifier with Ncore Technology with a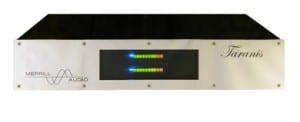 price of $2,500.  The Taranis Stereo Power Amplifier is powered by the same NCORE technology as the $12,000 VERITAS Monoblocks and provides "very high value to audiophiles on a budget looking towards the VERITAS as the ultimate Audio power amplifier, in a cost effective stereo package" say Merrill.
Named after the Celtic God of Thunder, Taranis Stereo Power Amplifier will deliver 400 watts into 8 ohms and 600 watts into 4 ohms with S/N of 120db, and THD better than 0.005%.
"A full differential state of the art, ultra-fast input stage with 100k input impedance that is custom developed for the Taranis provides 26db of gain. With a high current drive, the input stage gives the output stage superb musical speed and detail" the company say.
The Taranis Stereo Power Amplifier is full featured with a steel chassis to limit EMI/RFI interference in and out, an LED power meter for each channel, LED indicators for power on, ready, clipping, over current and fatal error, silver plated pure copper speaker posts allow for bananas and spades,  Gold plated IEC from Furutech and Cardas silver over copper XLR inputs.
Upgrade options available are Stillpoints Ultra Mini Riser footers, Waveform Fidelity power cords and Synergistic Fuses.