MITCHELL ACOUSTICS USTREAM ONE BLUETOOTH STEREO "TRUE WIRELESS" SPEAKERS REVIEW
Mitchell Acoustics uStream One is made by Mitchell Acoustics who are headed up by Paul Mitchell, a professional musician and previously known as part of the management team of the British HiFi brand Mitchell & Johnson.
The Mitchell Acoustics uStream One system consists of two bookshelf or stand-mounted active speakers which feature True Wireless Stereo (TWS) Bluetooth 5.0 technology to connect to each other with no cable between the two. They come with the promise of being easy to set up and use. The pair of speakers cost £499 and come with remote, power cables and power adapters for each speaker, RCA cable and 3.5mm jack cable.
The uStream One also work with Amazon Alexa/Google Assistant, however as I refuse to partake of such witchcraft, I didn't test this option.
DESIGN AND CONSTRUCTION
The pair that we had sent for review arrived well packaged. They have a good weight to them and feel solid. The finish is a lovely high gloss white and this combined with the rounded corners gives the speakers an understated modern look. The remote is a standard black plastic type and the soft-touch controls on top of the speakers fit flush to the cabinet surface without interfering with their design.
The glossy white finish is complemented by the copper colour of the bass driver, which sports the Mitchell Acoustics logo. The uStream One wireless speaker system features custom-designed Clarit (pronounced the same as 'clarity') drive units. The 4" Clarit designed woofer has a magnesium alloy diaphragm, metal alloy voicecoil and spider, and a 566g front and back neodymium magnet set. The same bespoke technology drives the 2" tweeters. The amplifiers in these active speakers are class D from Texas Instruments. The Mitchell Acoustics uStream One are designed in Britain and manufactured in China.
GETTING CONNECTED
The Mitchell uStream One have a good choice of connection options. These include a Stereo L + R RCA connector for a line source, a Digital Optical connection, a 3.5mm Line-In connector and a USB connector. Of course, the main connection intended to be used with them is Bluetooth 5.0, which enables pairing with your phone to stream your chosen music provider, YouTube music, or internet radio.
SETTING UP
The uStream One speakers are identical, there is no physical master and slave or left and right designation, so this makes things really easy. I just put them where I wanted them and plugged in the power cable for each, switched on around the back, and then pressed the power button on the top. They then talk to you to tell you that they are on and go to Bluetooth by default. By pressing the TWS (True Wireless Stereo) button on one speaker, it then connects to the other, telling you that that is what is going on. Once you have pressed the TWS button on one speaker, that automatically becomes the master, so if you are using AUX, Line-in or Optical connection, that must be to that speaker. USB connection does not work with the TWS connection and so sound will just come from the speaker that is connected by USB.
Mitchell Acoustics say that the uStream One work best on speaker stands, however, they will work happily on a bookshelf or any suitable furniture. Being designed for the smaller modern home, I started them off placed either side of the TV, so that they could multi-task and be used both for music and to enhance the TV sound.
Our usual TV speakers are the Acoustic Energy Aego 3 2.1 system, which features two dinky satellite speakers on either side of the TV and a neat sub that sits on the unit under the TV. It is quite a budget option at £199 but serves its purpose very well. This is wired in with an optical cable, so it made sense to put the (somewhat larger but by no means obtrusive) Mitchell speakers in place of the Aego 3 satellites and plugged in with the same optical cable from the TV, (the uStream One doesn't come with an optical cable).
This immediately caused an issue, there was a problem with speech and lips not syncing, which we didn't have with the Aego 3. Not an insurmountable problem though, the connection options allowed me to use the headphone out from the TV into the 3.5mm stereo jack into the speakers and the lip-sync issue was solved.
SOUND QUALITY
I did think that these would be a great all-rounder of an active loudspeaker but they just didn't seem to work for me for use with the TV. With optical connection there was the syncing issue, which wasn't there with the 3.5mm jack input, however, neither really delivered on sound with TV shows or movies, with any voices coming over as thin and too high pitched, a bit like the little people in the TV had been on the helium. Perhaps this could be helped by using one of the new, tiny, micro subwoofers that are being seen on the market. This could come as an add-on purchase from Mitchell themselves and would probably sell well as a complete system for AV use. I did try playing around with the different EQ settings but still couldn't get a TV sound that I really enjoyed.
Streaming Tunes
With the speakers in the same position, either side of the TV, I switched to Roon on my Amazon Fire 8 HD via Bluetooth connection to the uStream One. I also used the Music EQ setting on the speakers. It is worth pointing out at this juncture that the TV and our usual TV speakers sit on a low IKEA unit rather than 'proper' HiFi furniture, but again, this is likely to be a situation that the speakers will be used in the real world. I kicked off with the Daft Punk classic album 'Alive 1997', which was recorded live at a gig of theirs and perfectly captures the feel of the gig. It is a real favourite of ours and kicks some serious bass right from the start with 'Da Funk'. Again, something seemed to be lacking and I just wasn't getting the bass I would expect from the French robots. I moved on to Primal Scream's 'Screamadelica', which is another favourite album with the first track 'Movin on up' giving a speaker a good all-over workout in vocal, guitar, piano and bass. The bass was still quite undefined but tops and mids were overall pretty good, crisp and clean.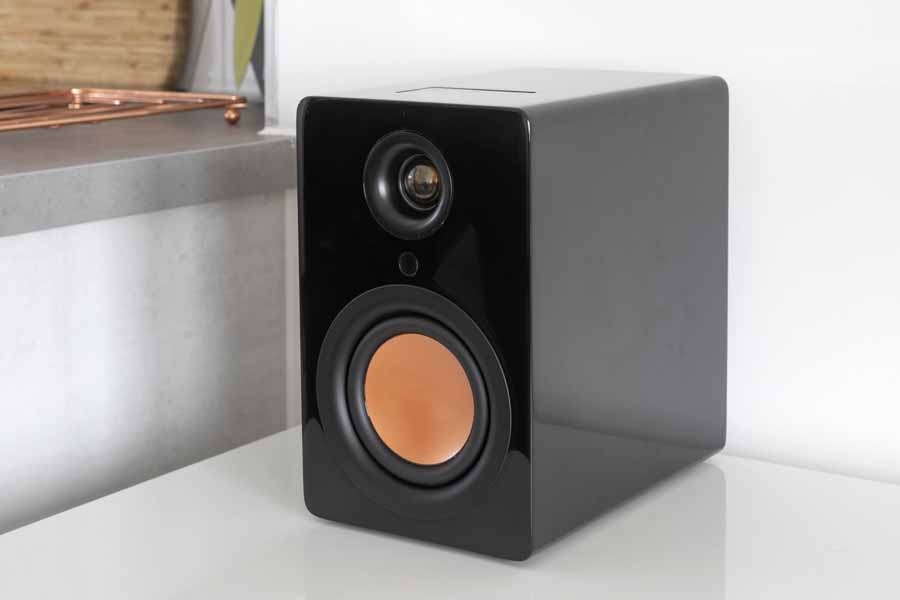 On their website, Mitchell are keen to point out that the most popular way that the world streams music is via YouTube, which can be streamed by Bluetooth, so it seemed sensible to switch to YouTube for the next part of the review. YouTube isn't really something I would usually use for listening to music but there is a never-ending supply of tunes, particularly a lot of live gigs and DJ sets. I fired up my Huawei laptop and connected, once again really easily, to the uStream One via Bluetooth, and started exploring.  First up was a bit of Avicii with one of his biggest DJ sets live from Portugal and then the grandmaster himself, Carl Cox, at the Space 2016 Closing Party, a nine-hour plus set. I really wasn't feeling the atmosphere so I decided to move the speakers from their spot on the IKEA unit and get them onto some proper stands.
Stand To Attention
Putting them onto our Solidsteel loudspeaker stands I noticed an immediate improvement in sound, proof, if anyone needs it, that what you plonk your speakers on does make a difference. Things immediately tightened up and there was much more in the bass department, which was obviously needed for listening to Mr Cox in Ibiza.
Tops and mids were even more improved in their clarity and whilst not quite a 'close your eyes and you could be there' the sound was much more enjoyable and engaging.
As YouTube is not my usual music source I swapped over to Amazon Music from the Fire tablet, another popular source of streamed music.  'Insomnia' from Faithless is a classic that doesn't date. The uStream One system obviously likes being on proper speaker stands as I felt that I wasn't missing anything, the tune came over as expansive and atmospheric.
'Rez' by Underworld is a tune with a lot going on that can sound a bit messy but I was impressed with the definition from these little speakers. They also coped well with 'Energy Flash' from Joey Beltram, giving that deep and dark techno ambiance.
A dip into the world of Amazon Music had me listening to a selection of 70s tunes including 'Mr Blue Sky' by ELO, the Eagles 'Hotel California' and Queen's 'Bohemian Rhapsody'. Overall it was very enjoyable and the Mitchell brothers seemed to work well with the different genres with music being very listenable, fun and much more engaging than using a single Bluetooth speaker. I also switched back to Roon and Qobuz to the tracks that I had tried whilst the speakers were on the IKEA unit and the sound was much improved from previously.
Sound-wise overall I would say that imaging is good with instruments well placed. Soundstage is not massively wide but the uStream One manages to convey a bigger sound than their size would make you think possible. Bass is a little lacking, but then I am a bass junky, again a little compact sub option would work, however for small speakers they are decent in the bass department, and once on stands, it is tight and controlled. Tops and mids are clear and detailed but with no harsh brightness.
CONCLUSION
The Mitchell Acoustics uStream One are a stylish looking and compact wireless speaker system that have a nice quality weight to them. They perform well for music, not so great as TV satellite speakers, and really do need to be on proper speaker stands to get the best from them – which will of course add to their cost.
They are very easy to use and would suit people that prefer to source their music from a phone, tablet or laptop using Bluetooth to stream but that want a two-speaker stereo set up rather than the ubiquitous single Bluetooth speaker. They would make a nice simple system for a small room or bedroom system, perhaps a first system for a teenager, with the option to add a CD player or streamer. A matching compact micro-subwoofer would be a great addition to have available with them.
I have given these a three heart rating but I would say they are actually a three and a half, almost a four. I think the market that they are aimed at would want more versatility from them and would want them to work well as TV satellite speakers as well as for music for the price that they are. They also really do need reasonably good stands to get the most from them.
AT A GLANCE
Build Quality:
Great finish, they look and feel high quality. The remote is a bit cheap and plasticky.
Sound Quality:
Not great using with TV. Much better for music with a well defined and engaging sound and greatly improved when using dedicated loudspeaker stands.
Value For Money:
At just shy of 500 quid these are competing with a lot of Bluetooth speakers but they are well made and do the job better than a single speaker for the music listening experience. For the price though I would expect them to also work well as TV satellite speakers.
We Loved:
High-quality finish and they look stylish. Good build quality. Easy to set up. Easy to use.
We Didn't Love So Much:
Using as satellite speakers for the TV they came over as a little 'tinny' with voices sounding thin. EQ settings: didn't really find one to suit general TV, stick to using them for music.
Price: £499
Elevator Pitch Review: A well built, easy to use compact speaker system for small room music listening, designed for people that like to stream using Bluetooth but want a two-speaker stereo setup.
Linette Smith
Supplied by Mitchell Acoustics
Review Equipment: Solidsteel SS6 loudspeaker stands, Roon, Qobuz, Amazon Music, YouTube. Google Pixel 3XL, Amazon Fire 8 HD, Huawei MateBook D 15
SPECIFICATIONS
Rated Output Power: 35W woofer x 2, 15W tweeter x 2 W, 1 kHz,0.5 % THD (IEC) per unit
Dynamic Power: 100W for the pair together
THD (Total Harmonic Distortion): < 0.5% at 1W 1KHz
Impedance: 8 ohms
Frequency Response Range: 20Hz – 20KHz
Signal to Noise Ratio: > 70dB
Amplifier: Class D Texas Instruments
Bluetooth Chipset: Action Technology Version 5.0 with True Wireless Link
Digital Inputs: OPTICAL x 1 (Rear)
Analogue Inputs: RCA x 2, 3.5mm jack x 1, USB x 1
Speaker Drivers: 106mm bass driver, 38mm treble driver
Diaphragm: Magnesium Alloy bass driver
Voice Coil: Proprietary design voice coil with 20oz (566g) neodymium magnet
Dimensions: (W x H x D) 150mm x 237mm x 230 mm
Weight: 3.3 kg each speaker
Country of Manufacture: China
Power Supply: AC 110-230V, 50/60 Hz
Accessories: 3m AC power cable, Remote control handset