Mitchell and Johnson's trio of CD Player, Amplifier and Streamer cost a total of £947 which puts them very much in the budget category but can they satisfy sonically? Dominic Marsh finds out for Hifi Pig. 
Very little gets me more excited than budget components being sent to me for review.  Let's be honest, when cost is no object it isn't an impossible undertaking to design and build something good if not exemplary yet when the budget is pared to the bone, if a manufacturer can not only get it right but elevate that product above the herd we can only admire and applaud their achievement.  That's not to say what arrives will be a potential "giant killer" product as I have long since given up on that notion because the products hailed as such rarely ever live up to the hype they are lavished in the cold light of day.
Not everyone has a bucketful of cash to spend on high end esoterica, so scouring the world seeking out those little gems that offer great sound at a great price has been one of my missions running in the background.  It has not been an easy task I will admit and much to my surprise many manufacturers have been rather hesitant in responding to my requests for review samples.  Wonder why that is?
One company that thankfully did respond was Mitchell and Johnson, who were to send something over the early part of last year in fact, but due to their pressures of work and my own pressures of work it was not actively followed up, that is until around a month ago when I did a re-scan of my diary entries during a catch up session.  I sent another email off as a reminder and not one but three items from their product range were submitted for review in super quick time.
But, with three components submitted for review, it means a lot of work evaluating their performances, both as a complete system and of course paired with other components, so I beg your patience if this review expands considerably from the norm.
I will also forewarn you that I will quite often be using phrases like:  "At this price point", "Within this price band", etc., I am sure you get the picture.
CONSTRUCTION
These units are best described as of functional build quality and given their price points it is not difficult to work out there was a fine line in the budget workings out how much would be spent on outward appearance, yet the end result is rather pleasing and not unattractive, in fact my wife remarked on their rather nice appearance – something she normally doesn't do.  The faceplates are 5mm thick brushed aluminium, more than ample for the task, inset function buttons below the displays also work as they should, although their small size and flush fitting is an annoyance and raised buttons would be much easier to operate.  Rotary turn and push knobs for volume and menu selection, and the streamer in particular has a good quality full colour display panel, although the displays for the CD player and amplifier is rather plain and basic, so what more would you need besides?
The units all measure  430mm wide, 320mm deep (including speaker terminals and the streamer's  wireless aerial) while the amplifier and CD player are just under 80mm high, the streamer measures a little more at 85mm high.
CDD201V CD player

As stated previously, the front panel is made from 5mm brushed aluminium on the review sample, also available in a black finish option.  To the centre of the front panel is a large display panel measuring 142mm long x 42mm high, set into which is the CD drawer.  The drive appears to be a super slim drawered  CD-ROM drive rather than a dedicated audio CD drive, the giveaways being a lightning fast yet very smooth open and close operation and a very long seek time reading the Table Of Contents on the disc.  Once the Table Of Contents (The innermost 'tracks' on a CD) track has been found, the player takes an inordinate 19 seconds to actually produce sound.  Thereafter though track selection is as fast as any other CD player with no delays.  The display itself consists of two rows of LED numerics, the top row showing the function selected as in "PLAY", "STOP", "REPEAT" etc., the bottom row showing the track number selected and time elapsed.  I am baffled why Mitchell & Johnson have used 3 digits for track numbering when 2 are more than adequate as I know of no CD that has more than 99 tracks anyway and just as baffling is why playing time elapsed has been awarded 6 digits when again I don't know of any CD that plays for longer than 99 minutes duration, the extra digits making for a cluttered display.   I would much rather see a track number saying a plain "6" for example than "006" and time elapsed as say "18:09" rather than "00:18:09". 

If I can just revert back to my comment about the small flush mounted front panel buttons which annoy, with the CDD201V player there is also a small delay between pressing (fumbling) with the button and the desired action being initiated and many is the time I have pressed the button more than once which cancels out what I wanted the player to do.  So I soon got used to the notion of only pressing the button once, then leave it alone and let the player do what it wanted in its own time.
The CD player is supplied with a basic remote control, although the remote supplied with the streamer has the amplifier and CD functions incorporated into the one same remote, so that is a good reason to buy the whole ensemble together.
Connections are made via a pair of fixed output RCA line out connectors, an SPDIF digital RCA output socket and a TOSLINK connection.  To the far left of the chassis rear is a standard 3 pin IEC mains inlet.
SPECIFICATIONS
Output Level
1.8V +/- 2dB @ 1KHz 0dB
Signal to Noise Ratio
>80dB (LINE, IHF-A)
Frequency Response
20Hz – 20KHz
Digital Outputs
OPTICAL (TOSLINK) 1, COAXIAL (RCA) 1
Channel Balance
>20dB
Separation
>60dB
Digital to Analog Converter
Mediatek MTK1389DE
Dimensions
(WxHxD) : 430 x 80 x 283 mm
Weight
6.3 kg
Price at time of review:  £249.00
SAP201V Amplifier
Moving on to the amplifier now, this unit shares the same width and depth as its stable mates although the height is the same as the CD player while the streamer is slightly taller.  There is the central front panel display for functions, plus a row of push button function controls.  To the left of the front panel is a mini 3.5mm stereo jack socket for a line level input and a quarter inch headphone socket.  To the right of the display is a large rotary control for volume, plus pushing the control repeatedly cycles through bass, treble and balance functions and a default reset option.  To the far right is a push button on/off power switch, above which is a blue LED to show power is applied which turns red in standby mode.

To the rear we find an IEC mains inlet socket, a single set of four speaker terminals which will accept 4mm banana plugs, spade connectors or bare wire.  To the right of those is a TOSLINK and an SPDIF digital RCA input socket, then a set of  line level RCA socket inputs for TV, AUX, NET-PLAYER, CD, and a  PHONO stage connection (moving magnet), so there is a good selection of input options.
Rare at this price level is a built-in digital to analogue convertor in the shape of a Wolfson Micro WM8761 DAC chip, so too is a phono stage that accepts moving magnet cartridge input. 

SPECIFICATIONS
Rated Output Power
40 W at 8 ohms, 2 ch driven, 1 kHz, 0.8 % THD (IEC)
50 W at 4 ohms, 2 ch driven, 1 kHz, 0.8 % THD (IEC)
Dynamic Power  150W
THD (Total Harmonic Distortion)
0.08 % (1 kHz 1 W)
Damping Factor
60 (Front'1 kHz'8 )
Input Sensitivity and Impedance
250 mV/47 k(LINE)
6.5 mV/47 k(PHONO)
Output Level and Impedance
250 mV/47k(REC OUT)
Phono Overload
60 mV (MM 1 kHz 0.5 %)
Frequency Response
20 Hz-50 kHz/+1 dB-3 dB (LINE)
+14 dB, -14 dB, 100 Hz (BASS)
Tone Control
+14 dB, -14dB, 10 kHz (TREBLE)
+0 dB, -14 dB (BALANCE)
Signal to Noise Ratio
>85dB (LINE, IHF-A) 61 dB (PHONO, IHF-A)
Dimensions
(WxHxD) : 430 x 80 x 283 mm
Weight
6.3 kg
Price at time of review:  £299.00
WLD+211T Streamer
This unit again mirrors the CD player and amplifier front panel layout, with the exception being a full colour central display and a USB input port.
It is equipped to receive wireless signals from a mobile device or a PC or via an RJ45 Ethernet LAN connection.  So you can listen to any of the music tracks stored on your computer or network attached storage (NAS) drive, giving you access to your entire library without the need for any other device.  If you own an Android or iOS device you can download the free UNDOK remote control application allowing you to browse all of your music from your mobile device. In addition to all this, the WLD+211T can stream your favourite tunes from Spotify via the Spotify Connect app (Spotify subscription required).
Linking to my PC wirelessly to the WLD+211T streamer was a simple straightforward matter and that thrilled me, as other wireless devices I have had for review seemed to concentrate solely on mobile phones and tablets running Android or Apple iOS and given all my stored music is on my desktop computer it has been rather frustrating at times.  That of course meant I could stream music for as many hours as I wished without worrying about battery power endurance issues from a mobile device.
Again, astonishing at this price level, we find a DAB and FM tuner included and with many thousands of internet stations to choose from, there is bound to be some stations you will enjoy listening to online.  They are thankfully listed in numerical and alphabetical order so if there is a particular station you wish to find, using the large front panel rotary control to scroll through makes it not too difficult a task.  It took me a good 10 minutes of high energy knob twiddling to find my local radio station Pirate FM.   It was a targeted setting up challenge more than an innate desire to listen to what was being transmitted on that station, as I never generally listen to it.

SPECIFICATIONS
Total Harmonic Distortion (THD)
0.02 % (1 kHz 1 W)
Frequency Response
20Hz-20KHz, +/ -3dB
Signal to Noise Ratio
>83dB (A)
Digital Output
optical TOSLINK connection,  COAXIAL RCA
Analog Output
RCA/phono stereo left and right connections
Tuner
DAB (Band 3) DAB+ with additional AAC+ codec
FM
Internet radio (requires network connection)
Frequency Range
FM 87.5 – 108 MHZ
DAB 174.928 – 239.200 MHz
Network Connection
Wi-Fi 802.11b/g – WEP, TKIP, WPA, WPA2, WPS security
RJ-45 Ethernet jack
USB
Audio playback from USB (USB port is NOT Apple compatible)
Universal Plug n Play
Full uPnP support. Windows Media Player compatible.
Fully DLNA compatible. Apple compatibility with DLNA software application.
Windows Media Audio and iTunes playlist compatible.
Music Streaming
FLAC 1.5 mbit/s upto 24-bits/48k
WAV 1.5 mbit/s upto 24-bits/48k
AAC upto 576 kbit/s
MP3 upto 320 kbit/s
WMA upto 384 kbit/s
RealAudio upto 96 kbit/s
SPOTIFY CONNECT music service (subscription required) using Spotify Connect app.
App Control
UNDOK app for iPhone or iPod Touch and Android
Remote Control
Brushed aluminium remote handset which also operates SAP201V amplifier and CDD201V CD player.
Dimensions
(WxHxD) : 430 x 80 x 283 mm
Weight
6.3 kg
Price at time of review is £399.00
SOUND QUALITY – AS A COMPLETE SYSTEM
Well, if you have just parted company with the grand total of £947.00 for this system and taken it home, what has your money bought?  The first bonus is you have is no worries about matching and "synergy" which will be a great relief to many I am sure.  Of course, no speakers are included in this package, but I have to hand a few pairs of stand mount speakers and I have averaged out the sound qualities across all of them because there was noted some common themes amongst the speakers being used.  It should also be noted that they cost as much as this system, so it's not likely they would be paired with it. I have also added a couple of likely candidates that are worth an audition to use with this set of components.
Nothing to do with the sound of course but good to mention at this point in the review, all three units have blue LED power on indicators that draw attention to themselves by their brightness.  The LEDs turn to red when in standby mode, a lot less bright thankfully.
I believe I can sum up the sound of this system in just one word – ENTERTAINING.  "High Fidelity" in the strictest sense of the words it isn't, but the system does keep you entertained with its bouncy and snappy performance and it's not until you put it side by side with a system from a higher calibre that you get to realise where the holes in its performance are to be found, none of which cause any real concerns, especially so in this price bracket.  The sound is larger than life and I cannot describe it better than that for you I'm afraid.  The treble and midrange in particular reaches out to you quite readily and with good detail, yet listen closely and subtle ambience cues for example that you know are in the recording are not there, even though the treble region is rendered in spades.  Deep bass with heft and weight too is somewhat diluted and seemed rather anaemic, set into the background almost and it is probably due to that 40 watts per channel power rating of the amplifier, so of course I pressed into service some other amplifiers with increased power on tap for comparison and more about this later on in the review.  However, you could happily crank up the volume and it all held together pretty well with an increase in volume level without the amplifier shouting at you or showing any signs of distress or distortion and it still maintained that bouncy vibrancy throughout the volume range.
The loading time from a CD being inserted into the player's drawer to it playing music irritated the life out of me to begin with, but someone once told me that if you sit on a rusty nail for long enough the pain eventually diminishes and goes away.  I have no intentions of putting that philosophy to the test thank you very much.  Having said that, as time went on I was less annoyed by the CD player's long seek time, so there must be some truth in the rusty nail story.  The front panel buttons never did stop annoying me though as I don't think I have large fingers to begin with and coping with the delay after pressing as well, but I did eventually find a technique that worked for me and thank goodness the remote control handset replicates most of the functions that needed a physical button press for, with the exception of the CD eject button.
I couldn't detect any sound differences between using the line level RCA connections and via the digital output of the CD player into the amplifier's built in DAC using a coaxial connection.
The real star of this set for me was the WLD+211T streamer which was an easy job in setting up and simple in use too.  A few moments wait on start up as it establishes the connection to the PC via wireless link and once connected it identified the PC's disk drive location and directory, you then select which album you want to play and away it goes, the large rotary/push button doing a grand uncomplicated job, aided by that good sized clear colour screen too.   Sound quality was very good through the complete Mitchell and Johnson system, but paired with other components it shone.
I had in for review a while ago (Reviewed in Hifi Pig, March 2016)) some speakers from TAGA Harmony, the B40 stand mounters which were priced at £320.00 for the pair which may have suited this system rather well.   Not evaluated by me personally, some say the Q Acoustics 3020 speakers give a great performance and the price is attractive too at circa £189.00 a pair.  Another great pairing would be the Monitor Audio BR2's priced at £230.00 a pair, with the stronger bass output from the larger driver complimenting the amplifier's performance well.
CDD201V CD PLAYER SOUND QUALITY  – STANDALONE
Swapping out the CDD201V player to my own resident CD player and connected to the SAP210V amplifier, the sound really did open out and fill in.  Ambience especially took on solidity and clarity that quite took me aback at first, depth of soundstage went from feet deep to yards deep in one leap and the bass output as well took a massive step up.  Given my CD player has a price tag that dwarfs the CDD201V's, it comes as no surprise.  It also tells me that my initial judgement about the amplifier's power output rating being solely responsible for a lack of bass power may have been a bit premature as it seems the CD player was evidently contributing to this trait.  All is not lost however, as I then used the CDD201V purely as a transport into 2 other external DACs, one in the shape of a Primare i32 amplifier with the optional DAC board fitted and the other in the shape of Roksan's new K3 DAC.  The results were amazing, a true night and day experience, but let's not get carried away by that, given the price differences involved.    It does say though that if you are searching for a transport, then this component  would be well worth a serious  audition and at this price point I am not aware of any serious competition to it.
SAP201V AMPLIFIER SOUND QUALITY – STANDALONE
Away from its stable mates, the amplifier let loose its true character.  The vitality and bounciness was still there, but the bass output from a signal fed in that had full bass included, really came to the fore.  There was more heft and power now, but it was wrapped in a firm tautness  so the leading edges had a crisp delineation with no following overhang either, although the very lowest bass registers still lacked drive and impact.  A good example of that difference was listening to "Anonymus II" track on the Focus III album.  This track has plenty of raucous energy for any system to contend with and the first element to suffer is the bass, both the bass guitar and the kick drum which all too readily get overshadowed and lost in the mix while at the same time blurring the cymbals.  Focus were famous for playing a Flute in their compositions and many a system manages to mangle that into a screeching wail that hurts your ears but the SAP201V managed to stay the right side of listenable, as I thought it's lively personality would set off the screeching, but no, it fared very well in fact.  At 6 minutes 18 seconds into this track the pace slows right down to a great slow bass guitar solo, which slowly picks up the pace, joined soon after by the guitarist with single chord strums and then by the drummer on kick drum and high hat.  The kick drum has to have a thump to it you can feel and that thump has to have shape and contour to it as well, which is very hard to describe in words, but once heard it is never forgotten.  Sadly, the CDD302V CD player missed out on these subtleties, the bass just not meeting my criteria, yet ably handled by my resident player into the SAP201V amplifier, which, at its price point (there it is again) is truly remarkable.
The diminutive Pro-Ject MAIA amplifier has a lower power rating, has Bluetooth, costs more at £399.00 and sounds a lot smoother than the SAP201V but that has small size in its favour.  Faced with a choice, I would pick the SAP201V for its lively presentation and zippy delivery.
As more of an aside, I connected up a pair of Roksan K2 TR-5 speakers that Roksan have kindly loaned to me to the SAP201V amplifier and boy, did this amplifier make the Roksan TR-5's dance.  Again, not in a true high fidelity sense of course, but a VERY entertaining listen indeed.  I also have here a pair of Axis voicebox stand mount loudspeakers which originate from Australia (Loaned by Dan Worth), that also came alive and danced when coupled to the SAP201V amplifier, despite trying several high end amplifiers with them for a good match.  Again, synergy it wasn't, but it shows how the sprightly verve of this amplifier isn't going to be suppressed or tamed and I was grateful  for that nonetheless.
WLD+311T STREAMER – STANDALONE
I can happily report that I was very pleased with every aspect of the streamer.  At long, long, long last I could play high quality music direct from my PC to it with no fuss, angst or pain involved and no need whatsoever to use a mobile device.    And I like the price band it occupies, which I cannot find a competitor to rival it.  Brilliant, I want one!
CONCLUSION
Right, I don't really need a recap on my findings regarding the pricing of these components do I?  Thought not, so I will therefore sum up my take on this Mitchell and Johnson ensemble.
I wasn't that enamoured by the front panel push buttons, but I also am aware that even a small change to raised buttons will affect pricing, so put your fingers on a diet Dominic or use a rubber tipped stylus if you really cannot control your fingers.  The CD player's long seek time is part of the package, so get used to it or spend a lot more on a deck that is faster read loading.  That's not a big list of gripes is it?
On the plus side, the streamer is a total peach in every aspect, the amplifier has enough bounce and vitality to entertain you for many hours and the humble 40 watt power rating is very deceptive as well, so that could also be money well spent and the CD player is a bit of a wolf in sheep's clothing when there is a good sounding transport lurking in there waiting to be discovered.  There are a lot worse ways to invest £947.00 in the world of hifi these days and with the right speakers attached, you probably won't be in too much of a rush upgrading from this system in the future either.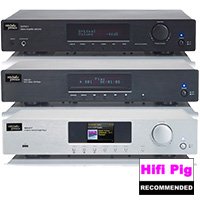 Build Quality:  Above average for the price and not unattractive either.  Liked the brushed aluminium front panel and the superb colour display on the streamer.  Did I mention the small flush mounted front panel  buttons perchance?
Sound Quality:  It has small sonic flaws in strict hifi terms of course, which are easily liveable with. Treat the system as pure entertainment and you won't go wrong.
Value For Money:  Incredible bang for the buck with few (if any) rivals at the price.
Dominic Marsh