Bryston has announced the introduction of the Model A subwoofer, the first sub in the Bryston lineup not anchored by multiple 8-inch bass drivers. The Model A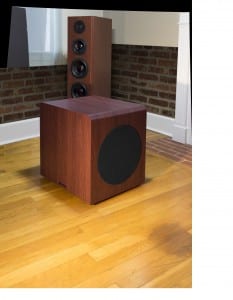 subwoofer utilises two opposing long-throw 10-inch woofers anchored to a décor-friendly compact enclosure, making it easy to position out of sight.
The Model A subwoofer has a 400-Watt internal amplifier isolated within its own chamber and mated to a pair of 10-inch drivers in an opposing configuration.
"Bryston had a very specific goal in mind with the conception of the Model A subwoofer," reported sales VP James Tanner. "Our Model T subwoofers are a taller column form factor, and our dealers  felt that they needed a high-performance, smaller, discreet subwoofer solution to accommodate some room designs. The Model A subwoofer delivers superlative performance from a compact enclosure," Tanner added.
The Model A subwoofer's control panel offers access to crossover, phase, and level adjustments. ¾ inch MDF cabinet with internal bracing features dual rear-facing ports that deliver extended low frequencies without unwanted "chuff" even under high-output conditions. The Model A subwoofer is available in Boston Cherry, Natural Cherry and Black Ash. Special order finishes are available as well for an upcharge. Rubberized aluminum leveling feet and a heavy gauge AC line cord are included.
The Bryston Model A Subwoofer has an MSRP of $2000 each and is available now from authorized Bryston dealers.