ModWright KWH225i Hybrid amplifier costs £8500 and is distributed in the UK by Elite Audio. Janine Elliot takes this valve/solid-state hybrid for a test drive.
When I picked up the ModWright Instruments amplifier for review, I did wonder if the company was made up of a Mod and Wright, just as Harbeth and Spendor were the names of the husband and wife teams (Harwood/Elizabeth and Spencer/Dorothy). Whilst Mr Dan Wright is the CEO and chief design engineer of the company founded by him in 2000, there is no Mrs Mod. Rather "Mod" refers to the earliest (and continuing) role of the company, that of modifying existing equipment, such as Sony and Oppo SACD and DVD players with valve analogue stages and improved power supplies. What really makes ModWright stand out for me, though, is the marriage of valve and solid-state technology in their own amplifiers. We are used to hybrid cars combining the best of batteries and combustion engine, and ModWright similarly sees the virtue of combining the musicality of valves with the speed and power of solid-state. In the hybrid KWH225i up for review here, there is a valve preamp section and 225W (8ohm) solid-state power stage. Music to my ears, reminding me of my, and many other audiophile's, first "hi-end" system of valve ARC preamp and Krell transistor power.
Having begun with the 'Truth' series of modifications, this led to ModWright making products from the ground up; Their 9.0 series of preamplifiers in 2003, and then a phono stage and later a balanced tube line stage, the LS 36.5. Their first amplifier was the KWA 150, still available in their Signature Edition, with a single voltage gain stage, a circuit first developed by Alan Kimmel, who created the Mu valve stage (also evident in ModWright equipment). Dan was educated as a Mechanical Engineer and began his journey in audio like many as an enthusiast and hobbyist. "As many companies begin, ModWright started in my basement," he told me, though he now distributes equipment globally, all handcrafted in the USA in their production facility in Amboy, Washington. His interest in audio lies somewhere in the middle of SS and tube audio spectrum, hence his love of hybrid designs. "I prefer tube circuits for line-level applications, such as source, preamp, phono, or any voltage gain stage. I prefer SS components anytime that current is being amplified." His love of tubes extends to all his phono stage designs and similarly, he prefers to have digital sources with tube analogue stages; in his first 'Truth' modification series he added tube stages to make them more natural sounding. Oh, and in his spare time he is a hobbyist potter.
The KWH225i comes in at £8500 and represents the culmination of many years of solid-state and tube partnerships, and follows on from the successful KWI 200, their first integrated amplifier. Indeed, the KWH225i is very similar in appearance. However, apart from looks, the new model adds the tube preamp, has more power, a completely new and modular internal design and better build quality. Where the KWI200 was a MOS-FET design the 225i combines the BJT (Bipolar Junction Transistor) based output stage of their Reference KWA 150SE amplifier. Notably missing in this integrated amplifier is a DAC option. Dan felt that as the technology changes so much and so quickly it would be a limiting factor; "One can easily buy any DAC to use with the KWH 225i and replace that DAC when technology changes without needing to replace the integrated amplifier." Clever thinking. He does, however, give the option for a phono stage. This is a MM/ high-output MC, SS based phono card that is a low-cost option. They do, however, also manufacture the PH 9.0 and Reference PH 150 standalone tube-based phono stages with external power supplies.
CONSTRUCTION
For those who like separate pre and power amplifiers, the ModWright should still be of interest, and any combination that saves on expensive inter-cabling is even more desirable. This is a particularly heavy unit, weighing in at 64lbs, and available in silver or black, using the same basic box frame as is used in other products in the line-up – another money-saving attraction. Similarly, the chunky remote is a standard unit seen in other ModWright products. The general construction is excellent, notably the blue side fins and substantial cut-out top that for ventilation and cooling, but which also permits you to peruse the excellent build quality inside, with massive toroidal transformer taking centre stage. The back of the unit has a cut-out coloured blue with space for the two ECC88 (or 6922/6dj8/7308) illuminated valves to appear from an open cage at the rear. Unlike many who put the valves at the front for show, the valves here are visibly less important. Maintaining the theme of "blue" are two large LED displays at the front showing source on the left and volume level on the right, and like other models from the ModWright stable the central "MW" logo has a backlight. Next to the two LEDs are freely moving knobs; the left one operating relays that select the inputs, and the right one the volume control that goes from mute to 99. Under the left LED is the recessed on/off button. This is the only power switch; there is no hard-to-get-at rocker switch on the rear, hurrah, but that does mean if you actually want to securely switch off the unit, rather than put it into standby, you need to turn it off at the mains.  Turning on takes around 45 seconds to go through the start-up and stabilization sequence. Indeed, the amplifier has multiple levels of circuit protection – DC input, thermal overload, and DC output. Should there ever be problems it will display "00" and "P5" ("OOPS"!) across the two LEDs. Under the right LED is a home theatre bypass (HT/BP) switch. At the rear are four inputs including one XLR, plus a pre-out RCA connection should you need it, and the HT/BP RCA sockets. With the mains socket centrally placed, the two 5-way loudspeaker binding posts are far left and right, helping to isolate the speaker cables from the mains cable. The cover plate can be removed for installation of the optional phono-stage board, and when in situ the channel selection indicator adds "P1" to the list. The remote control is a chunky, heavy metal affair operating all functions, though some buttons including "phase" and "Bal" do not work. This is a universal remote for other equipment in the ModWright line-up, and the only part of the package I personally didn't like. The owner's manual is particularly good, typical of hi-end American HiFi, though it fails to include pictures of the front and rear, which would be useful, especially if you have the unit in a rack and can't get to see the sockets easily! I have spent many hours fiddling behind HiFi relying on knowing from pictures that the CD input, for example, is the fourth row of sockets along! In terms of operation, this is a very quiet Class AB amplifier working in Class A all the way up until 25W, and a zero global negative feedback design. At 64lb it is very heavy, and with the three feet at the extremes of the box, some may find their racks too small in depth to fit the amplifier.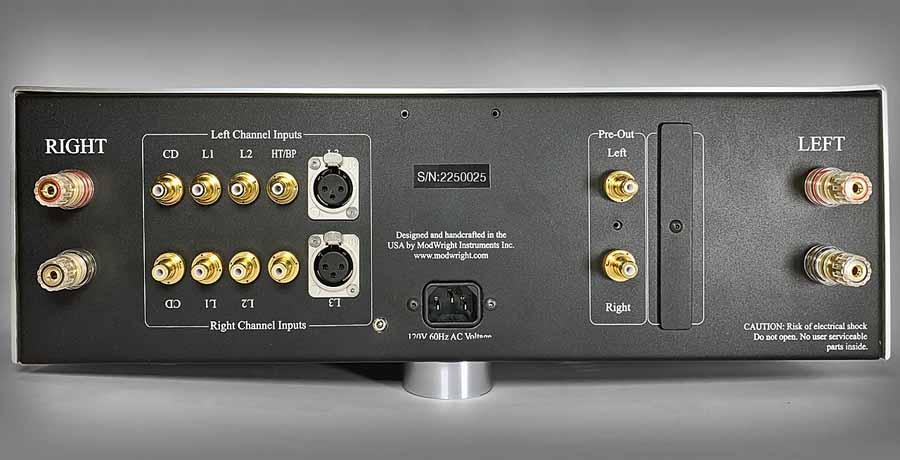 THE MUSIC
Listening to this amplifier, after running it in for a few days, was a real pleasure, particularly with classical and jazz music. Liszt's Piano Concerto No. 1 (George Bolet) was so open and spacious both L/R and front/back. It sounded as musical as I would expect from the very best valve amp, the ECC88's doing their thing in the preamp stage. The Graham Audio LS5/9's were agile and almost as full-sounding as the bigger BBC LS5/8's (from which this BBC speaker was designed to replicate in a smaller box). I generally avoid playing this digital recording in favour of my vinyl alternatives, but this really performed well with the KWH225i having authoritative pianoforte and a very forward and clear top end (especially the fourth movement triangles, almost grating in my ear as they were just so loud!). Turning to the Dave Brubeck Quartet 'Live at the Kurhaus 1967 mono recording  (Fondamenta/Devialet) I felt no loss of depth and soundstage, the amplifier giving a polished and detailed rendition of this lesser-known Brubeck performance. I really enjoyed the playing, particularly the percussion from Joe Morello, with its solid kick drum and precision cymbal. Music really flowed freely. Next on the playlist was Genesis 'Selling England By the Pound' (24/192). I rarely find Genesis sounding good on any equipment, so welcomed to see what the ModWright would do. "Moonlight Knight" has speedy percussion and positive vocal lines with detailed instrumentation. The bassline was full, more so than with my resident power amp, giving lots more energy to the performance. Indeed, the ModWright had plenty of power in reserve should I need it – the amplifier never sounding stressed with anything I played – and it could still be tender when it needed to be, such as at the very end of this song. "Firth of Fifth" is one of my all-time favourite tracks, one that I grew up with in my youth, adoring its extensive fast classical grand piano introduction. The ModWright gave a clean and energetic performance here, making way for the vocal interjection complete with guitars and percussion. The amplifier was always very good with vocals, and it showed with Peter Gabriel's singing here. Moving on to Johnny Cash 'American IV – The Man Comes Around' and the title track, suddenly the ModWright revealed a masculinity that showed the amp was in control and nothing would be lost in performance. I have used this track in a number of reviews, largely to show off the speed and detail of the vocals and guitar. The acoustic guitar was clear and fast with Mr Cash's distinctive voice coming across with great feeling and pain (the words in much of the album are about death!) Overall, the KWH225i was incredibly clean and open with life-size imaging and feisty transients.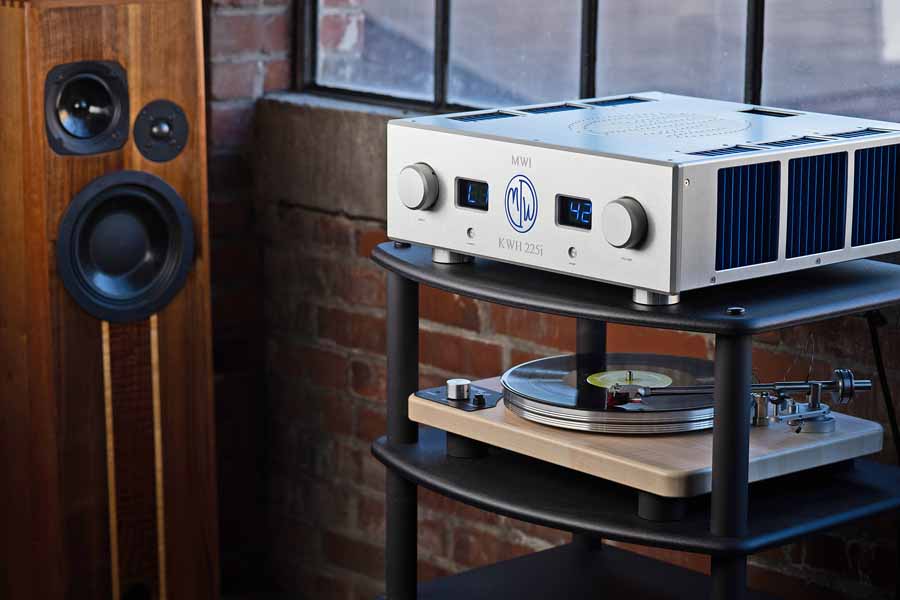 On to vinyl via my valve Manley Steelhead and London Grammar's 'Truth is a Beautiful Thing' and the track "Rooting for You". The vocals were beautiful, though an OTT digital reverb made it rather too sickly for my liking. The KWH225i is very honest, not hiding anything at all, and that reverb was just too big, exacerbated by the generous bass from the amplifier. The transients were punchy, especially the lower octaves, and all frequencies were as I expected them to be, from the lowest to the highest, the latter performed with great agility and honesty. Normally I prefer to go the separate pre-power route, but this integrated showed just how good it could be and having the preamp use valves was definitely the right move. The London Grammar album has a particularly strong bass end, and if I were to find any fault in the amp it would be the lowest frequencies could be just a little too strong. Turning the wick down I listened to Louis Armstrong 'All the Time in the World'. The bass was a lot more settled down and Louis' distinctive voice came over above the strings really well. This 44/16 copy did, however, sound rather "digitised", showing the KWH225i is not going to hide anything! Mark Knopfler's equally distinctive vocals in "Border Reiver" ('Get Lucky') was equally powerful and honest. This song has a very spacious country style opening, a tale about the life of a lorry driver at the end of the '60s, Mark having witnessed lots of drivers preparing their loads close to his home. This was no heavyweight or clumsy performance, despite the somewhat energetic lower bass. "You Can't Beat the House" is a simple bluesy number which had more energy than I was used to hearing from it, though the detail from the lowest bass to top ride cymbals was perfectly positioned and levelled. Only at times did that double bass ("upright bass") sound a little too pronounced. Having watched films about ELO on catch-up tv recently I thought I'd put on my favourite album from Jeff Lynne, 'On the Third Day'. Much of his music is inspired by the Beatles; the repeating bowed violin and cello rhythms in "King of the Universe" allowed the amplifier to reveal the deft electric performance from the Electric Light Orchestra. The detail in terms of positioning and focus made for an enjoyable listen. "Dreaming of 4000" was similarly wide awake with the immediacy of the strings and percussion making for a very telling performance with flawless timing.
Winter was beckoning as I reviewed the ModWright and I was wishing Spring to arrive as soon as possible and so what better way to end than Schumann's Spring Symphony No. 1 (Berlin Philharmonic Orchestra, Herbert von Karajan). This is a typically forceful Schumann performance giving the KWH225i a chance to pull its punches. This amp really does do classical music well, painting a picture of flowering meadows yet still a hint of the cold winter in its temperate blasts, a work inspired by the springtide of love for his new wife Clara. The sonic picture was particularly good, particularly on the famous third movement. Even at lower listening levels, the ModWright gave a succinct performance, but at fortissimo, the amplifier gave a stunning performance of flawless timing and engagement.
CONCLUSION
The idea of a hybrid valve and solid-state amplifier might not be new but what made this amplifier so very special for me was how well the two gelled giving a highly musical yet detailed performance and always in control. If you have muscles to lift it, then this monolith of an amplifier will just make you smile at every phrase of music you listen to. This is American muscle but with feeling.
AT A GLANCE
Build Quality: Excellent build quality, but heavy!
Sound Quality:  Excellent all-round performance in terms of speed and musicality, only that the bass can be a tad too generous at times.
Value for Money: £8500 might seem a lot for an integrated, but this is a separate valve pre and SS power in one box, making for an excellent return on your investment.
Pros:
Clean and open sound
Excellent noise floor
Very fluid performance
Excellent build quality
Cons:
Bass can get rather excited
Price: £8500
Janine Elliot