Swedish manufacturer Monolit-Speakers make some interesting looking loudspeakers…made out of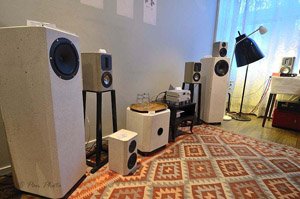 concrete.
Their latest loudspeaker based loosely on the Visaton Solo 50 but in that concrete housing is their first floorstander and comes with crossover components, cables and terminals supplied by Mundorf.
The whole loudspeakers measures 972cm x 282 x 352 and weighs in at 75kg standing on FPH dampers which the company says are absolutely necessary on wooden floors.
Price is around €2800 plus €350 for special colouring and polishing.
However, the company also produces three other loudspeakers – the A1.1 standmount, the single drive M1.1 and a desktop loudspeaker, the C Box.