I love Hifi shows and have attended the major and minor shows around the world since the 1970's, but one show has always eluded me, until this year that is. It was time to pluck up my courage and German language O'level skills to make my way to Munich for the show that everyone is talking about these days. Whilst some major shows around the world have either closed-down, and others can't decide whether to move to Birmingham or somewhere else, this show stays firmly rooted to the southern German town. And, like a scene from 28 Weeks Later, hundreds and hundreds of determined audio-infected humans marched from all directions with great determination into the venue holding the annual event. It was hard to believe that so many people had such a passion for audio let alone would traverse so many countries to all join-together with one simple wish to see and hear the best in audio, for Hifi is truly still alive and well.
Whilst homegrown images of lederhosen, great German beer and even Alpen horns were never far from view, this was a gathering of the best of the best from all parts of the world, showing that we all can live and connect with each other. Brexit just seemed irrelevant during this entente-cordiale, and it surprised me just how many manufacturers are out there claiming to have the best in amplification, loudspeakers, DACs or whatever. I might have only been there for three days, but I still had no time to listen, let alone even to view, to everything that was there on show. Whilst Germany might be embarrassed to owning up to inventing MP3 this was no compressed exhibition and covering 29,000 metres in this Bavarian town is the show the organisers (The High-End Society) should be very proud of.
As well as the majors showing their latest products, some brilliantly delivered on the press day, there were some amazing products on display that took my interest and warrant my report. One of the first visits I made was to the PMC room showing off the new £45k Fact Fenestria loudspeaker. A gigantic array of four 6.5" long-throw piston drivers set as a pair of two with their own transmission line from each pair, hence two ports at top and bottom of the speaker. Coupled with this 75mm mid and 19.5mm soft dome tweeter this was better that I had heard PMCs before, and I have been listening to PMC since Peter Thomas's initial foray into transmission line speakers in BBC engineering before leaving the Corporation – as other notables have done – to start up his own loudspeaker manufacturing company. 'Fenestria' means "window" and this new loudspeaker from PMC is a completely new design philosophy including crossover and cabinet, the latter sharing its design with the tuned mass pendulums as used in tall buildings to prevent damage from earthquake.
There were a number of very large loudspeaker designs (and even massive full-length woofers!) at the show with some reaching over €100,000, even from lesser-known brands. This speaker at £45k, was one of the best at any price, though I doubt I shall be able physically to get the 80kg units into my home for review. Due for release in September, so time for me to do some body building.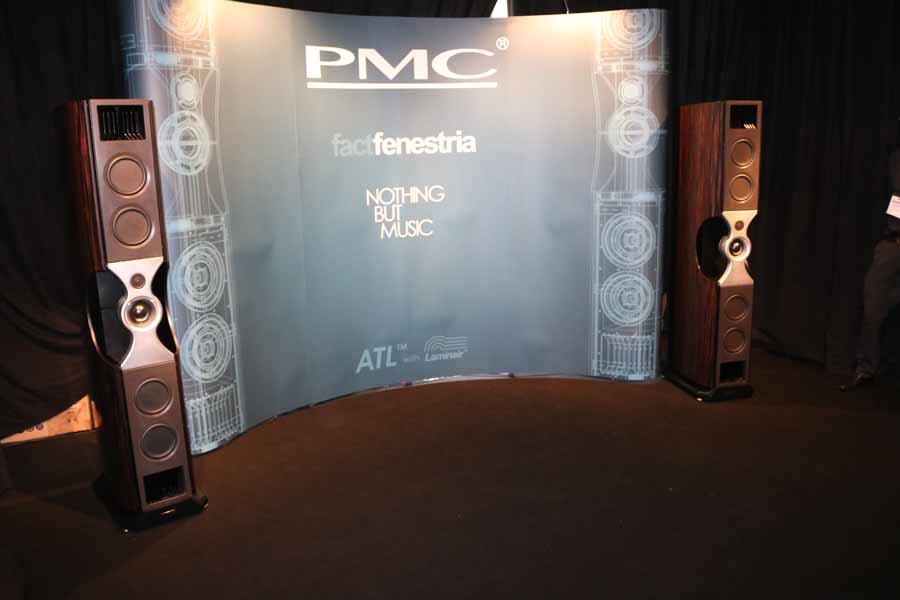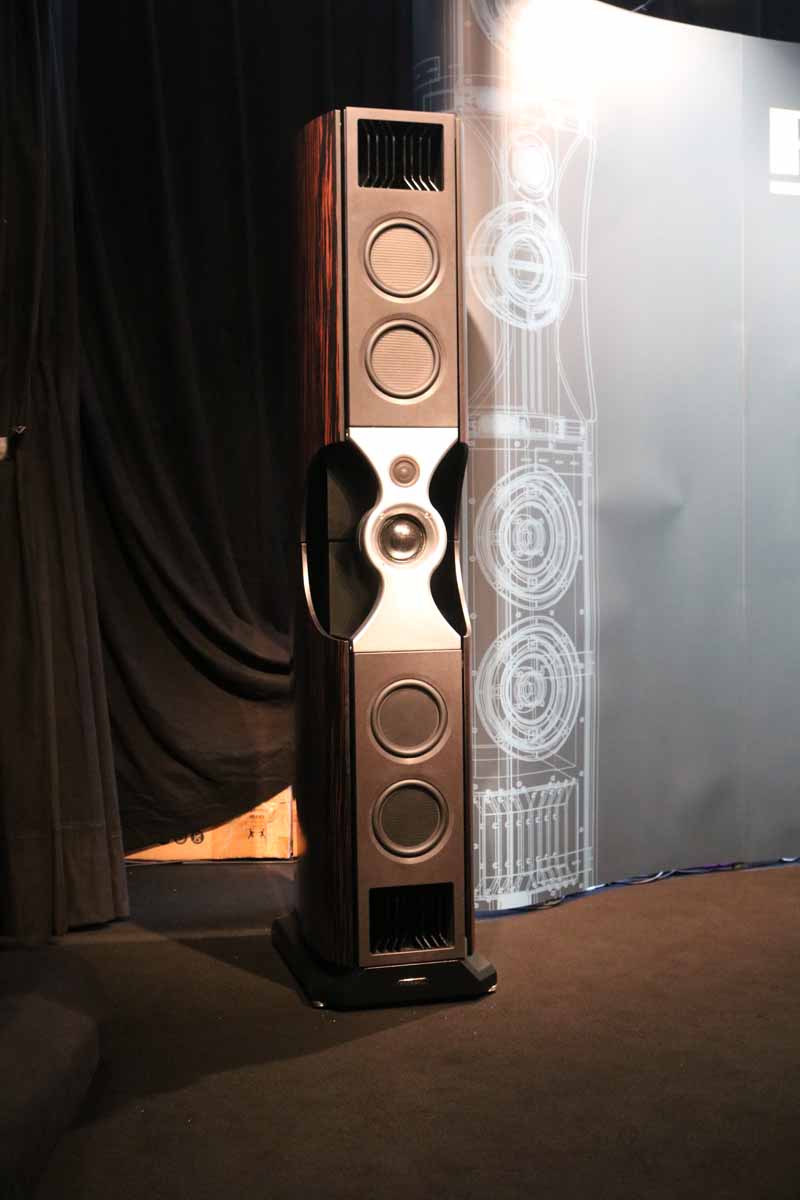 Whilst PMC had their flagship speaker on show, so also did the Fink team with a new "more affordable" loudspeaker; their coffin-shaped 'Borg'. Whilst the tennis player with the same name might still be able to lob a few aces, Fink also hope this, based on the WM-4, will be a top shot. This speaker uses a 10.25" bass/mid paper cone and an AMT (air motion transformer) 25µm pleated Kapton diaphragm, the two speakers having a crossover frequency of 1600Hz, outside of that critical 3k area essential for vocals and violins to sound natural. Each loudspeaker has four switches on the rear to tailor precisely to your imperfect listening environment. Available at €24,000, Borg is considerably cheaper than their previous WM-4. Appearing at their press review was Marantz Europe's brand ambassador, the flamboyantly dressed Ken Ishiwata, one of the most influential figures in today's hi-end audio industry. He was there to discuss his love of the company's loudspeakers. Indeed, he heard an early prototype (it was known internally as 'the washing machine', hence the initials "WM" on their earlier incarnations) and asked Fink to create a properly finished version which he could use to demonstrate his electronic designs, and which became the WM-3.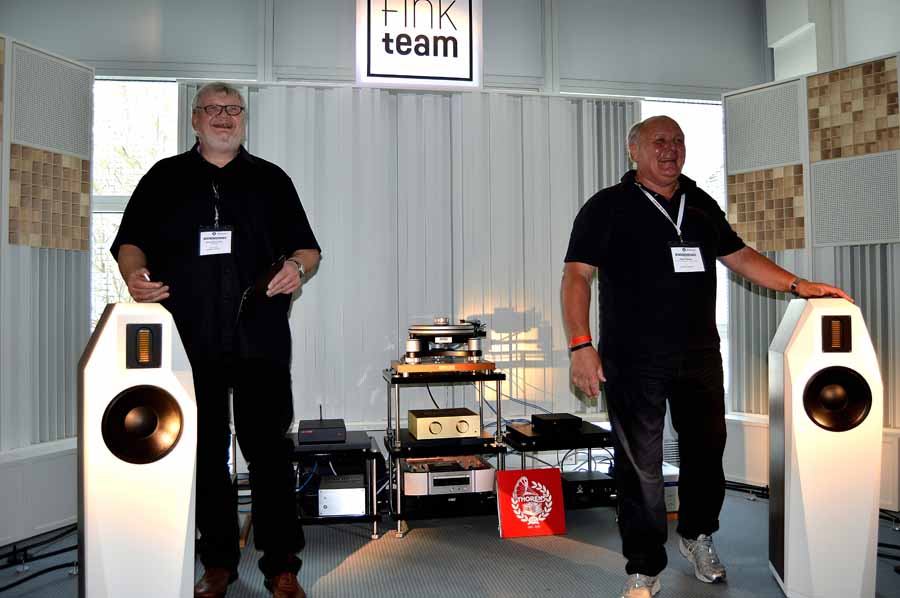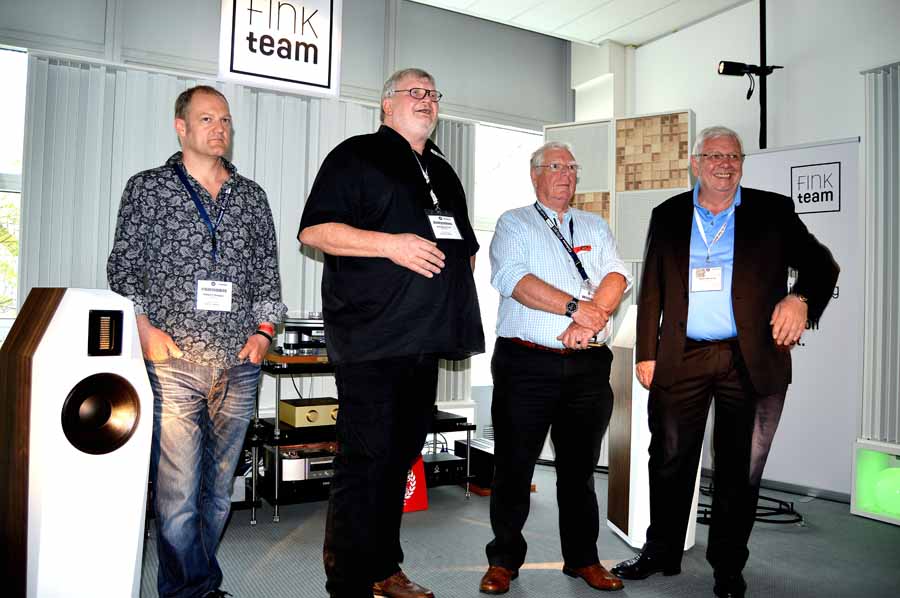 Whilst there were hundreds if different speakers in Munich, some of the best to be heard were old designs, and reincarnations of them, such as the BBC LS5/8s courtesy of Graham Audio in Tim de Paravicini's room. He was busily entertaining with his modified reel to reel and playing previously unheard Elvis in rehearsal. Epic! With visitors bringing in their own reel-to-reel recordings to play, perhaps I should have brought in a copy master of my previously unheard latest album. Perhaps next year.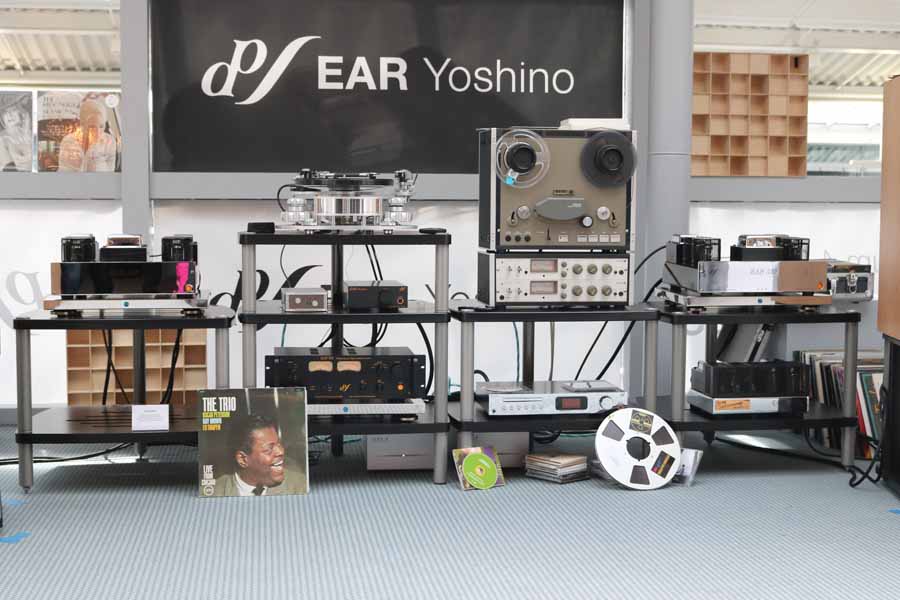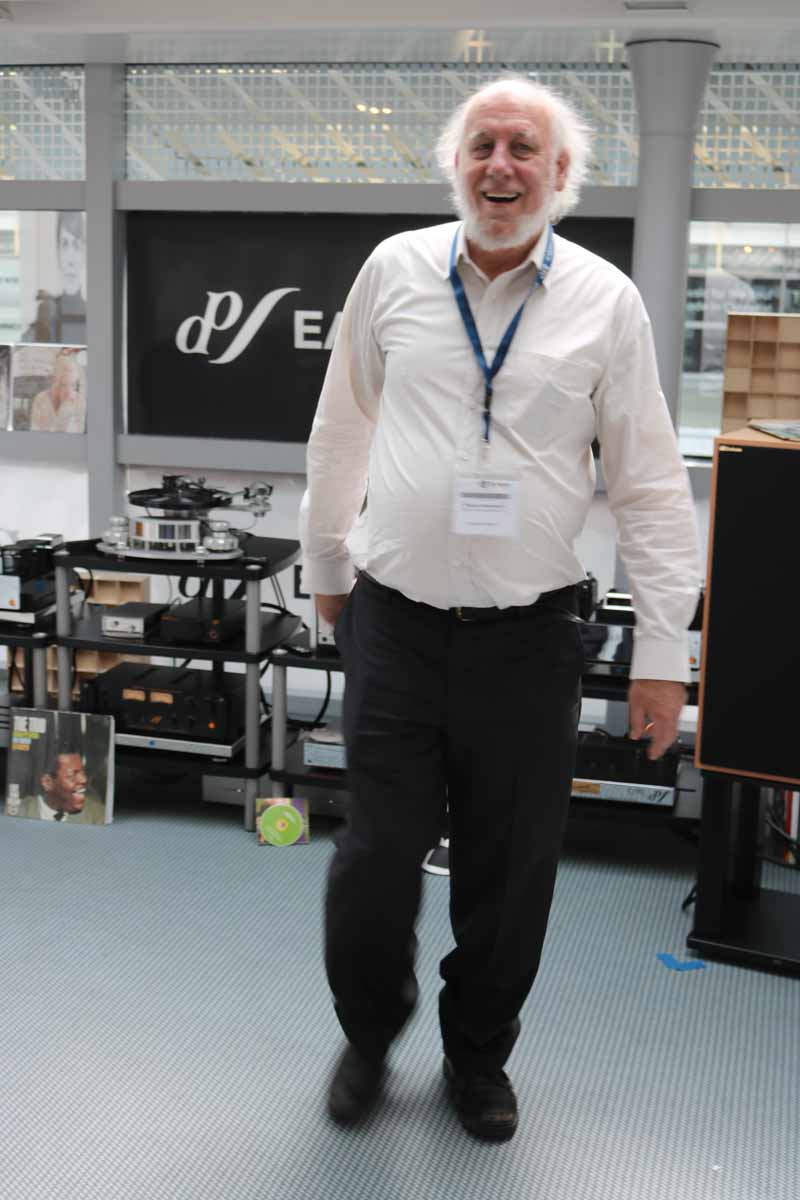 Indeed, reel to reels were a big feature of the show with a number of old Studer and Revox machines being demo'd, and more exciting for me, two new machines being shown off. The first was a traditional looking bullet-proof style, the Ballfinger M063H, available in several guises from playback only and recording options, though at £26,000 is not for the wallet-shy audiophile. Ballfinger is the first manufacturer of new analogue reel-to-reels in the digital age and using modular architecture so that components can be replaced, modified or added, including the option of belt or direct drive.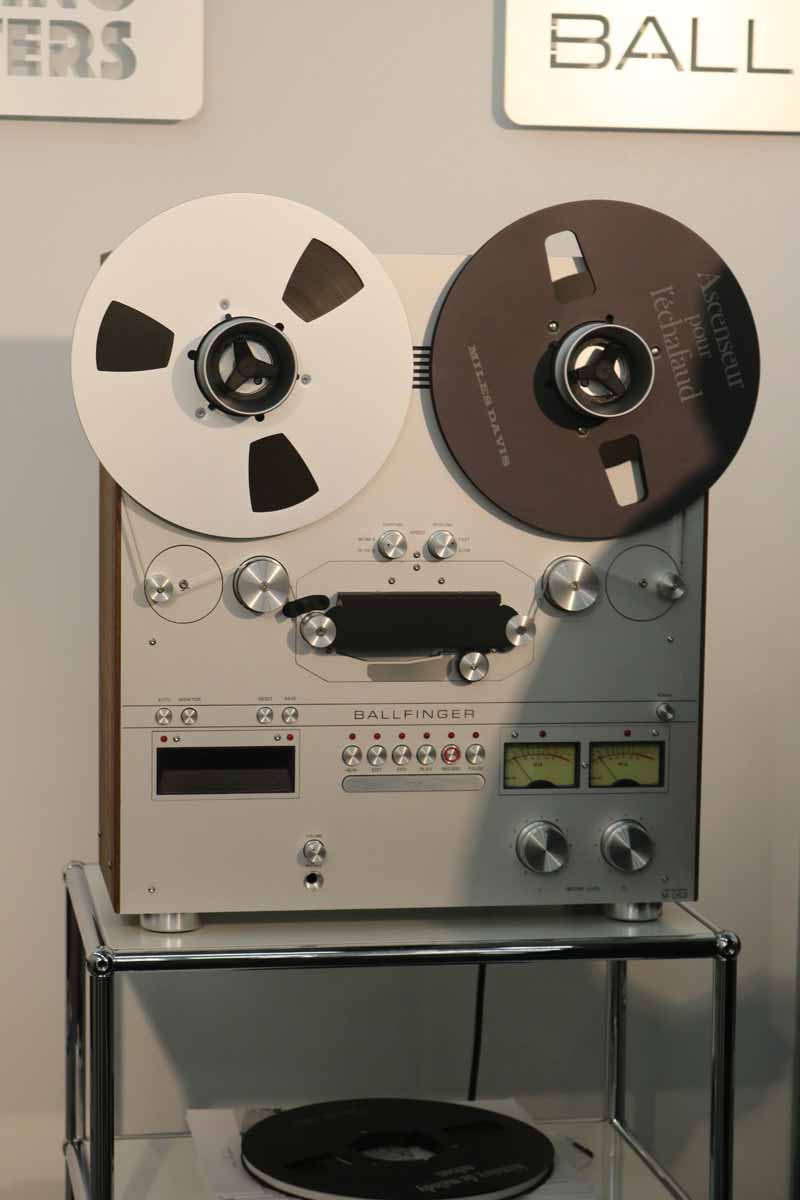 The other manufacturer I was keen to visit was unlike any reel to reel I had seen before, and a pure work of art worth having whatever the price. The GQT Portable Recording Device Number 1, from Kostas Metaxas is actually based on a Stellavox machine; known as the poorman's Nagra, but no less a machine. Stellavox, now permit Australian born Kostas to use their mechanisms in this work of art, with Kostas replacing the heads on the Stellavox SM8, turning it into work of art, available in any colour and CCIR or NAB. This portable unit might not be quite as portable as, to quote Kostas, a "bog standard conservative" tape recorder, but I would be proud to show this off more than any of my own 15 bog standard reel to reels in my collection.  Metaxas and Sins (M&S) was set up in 1981, and he constantly produces artistic designs that are functional; from beautiful looking loudspeakers to their Phonographic Perambulator Number 1 (looks too good to call it a turntable) and futuristic headphone amplifier in the shape of a skull (the Marquis Memento Mori). It was great to see them all in real life, and his stand was one of the many that I was eager to visit in my short stay in Germany.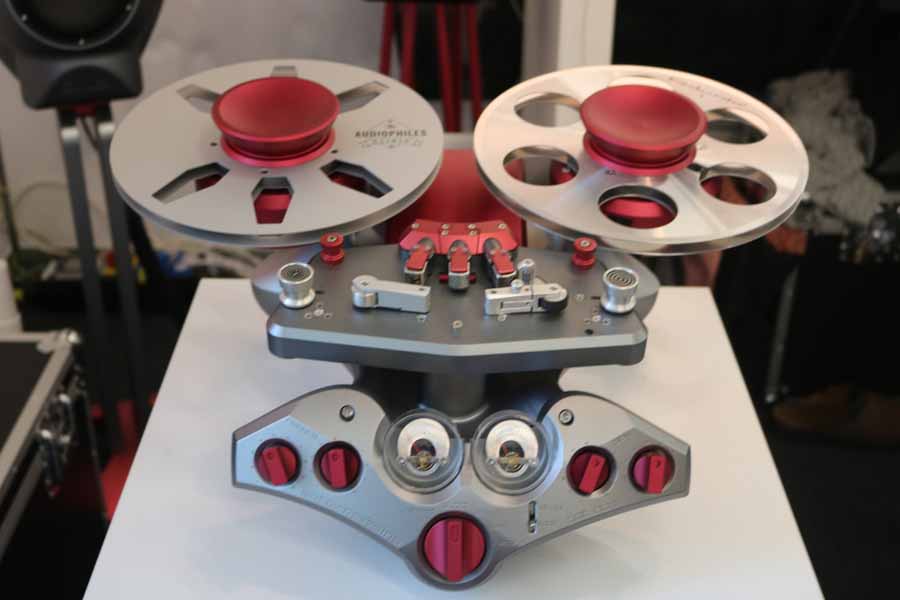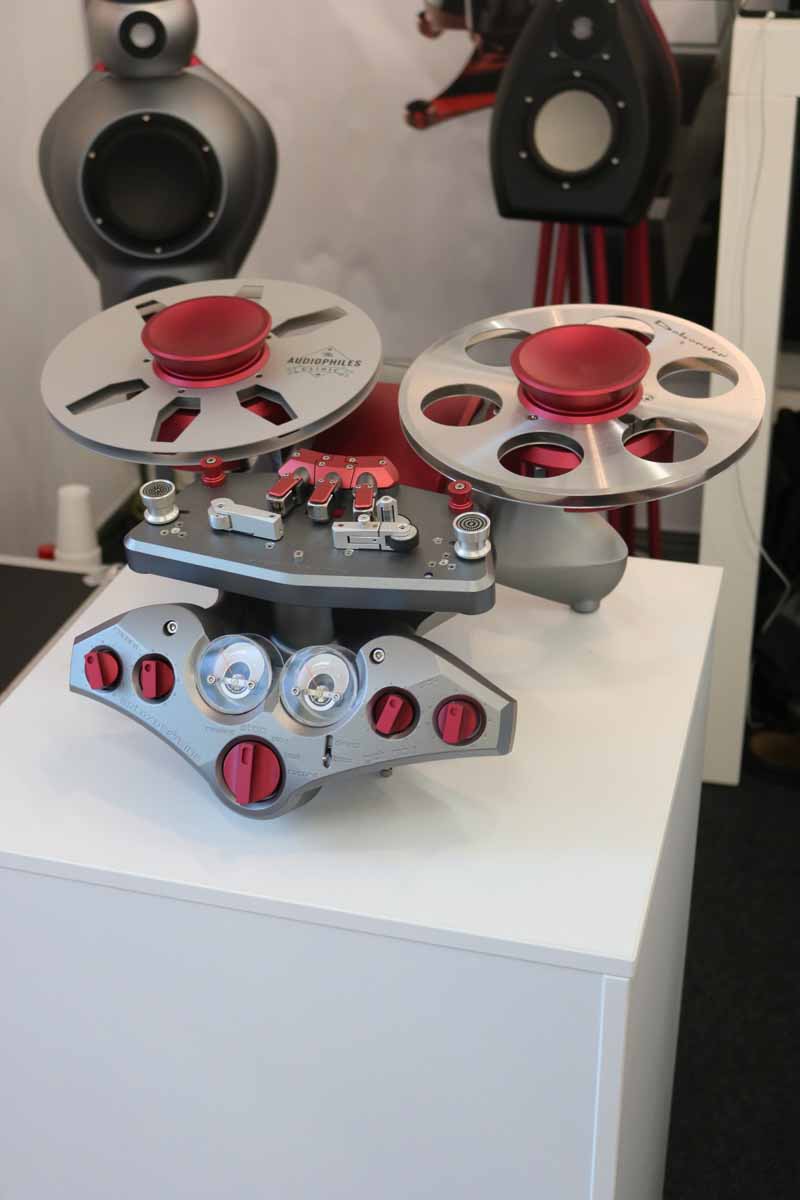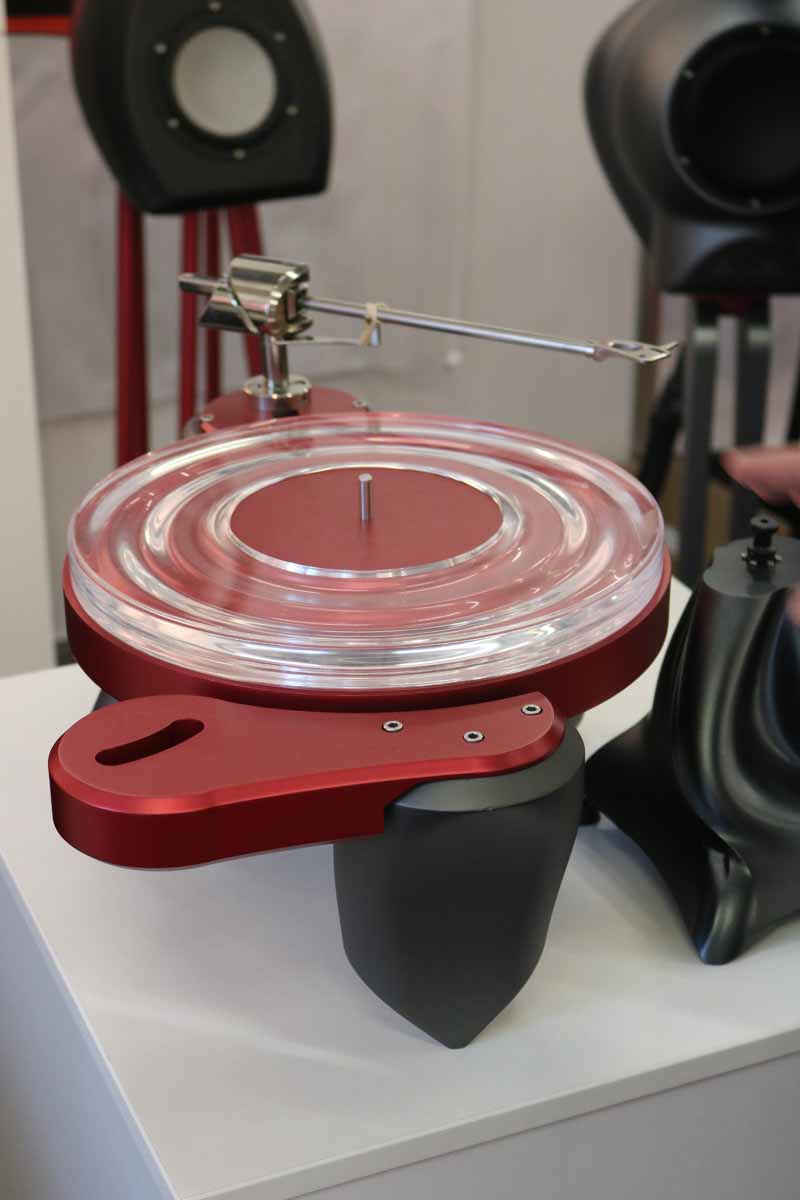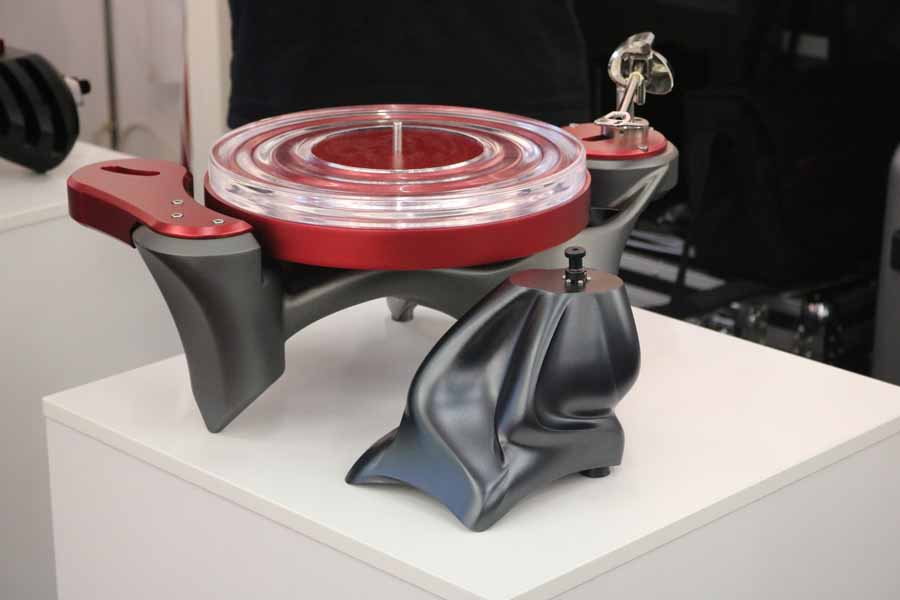 To quote everything at the show would be impossible, but there were a few others worthy of mention. Firstly with SME now having acquired the Garrard audio brand, and Loricraft, the service agent for repairing antique 301's and 401's, I hoped they would show an original or SME-modified idler-driven 301, but they were more interested in showing off their new £14,950 Synergy turntable. This represents the first time they have offered an integrated turntable option, combining a new turntable design, the Series IV arm, Ortofon MC Windfeld Ti cartridge and Nagra-designed phonostage. All is connected with Crystal cable mono crystal silver wire, all of which has been factory configured ready to start playing.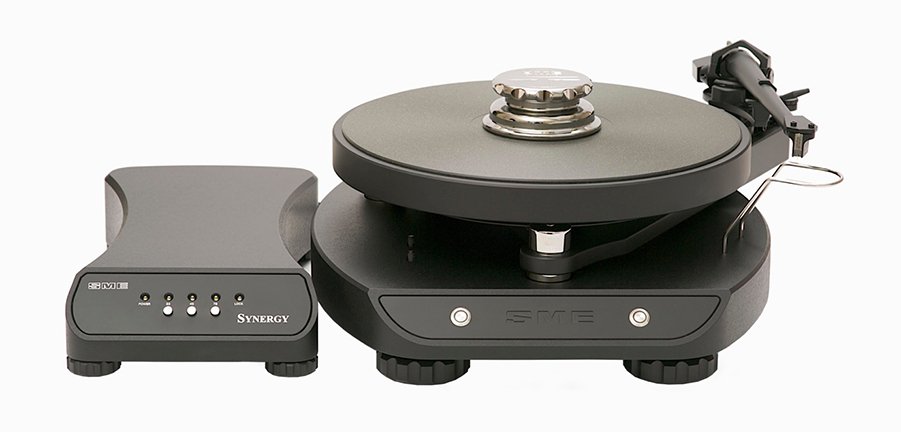 Another turntable I just had to visit was the new £2385 turntable from the Well Tempered Lab. This design deploys a coloured golf ball (yes, available in any colour) suspended in a viscous fluid at the pivot point of the arm, removing the need for traditional uni-pivot or knife-edge designs. This allows perfect damping with the arm being suspended on a wire in the silicone fluid and being twisted provides the anti skating. Such a simple idea that one could imagine having been put together in a school science lesson, but it works!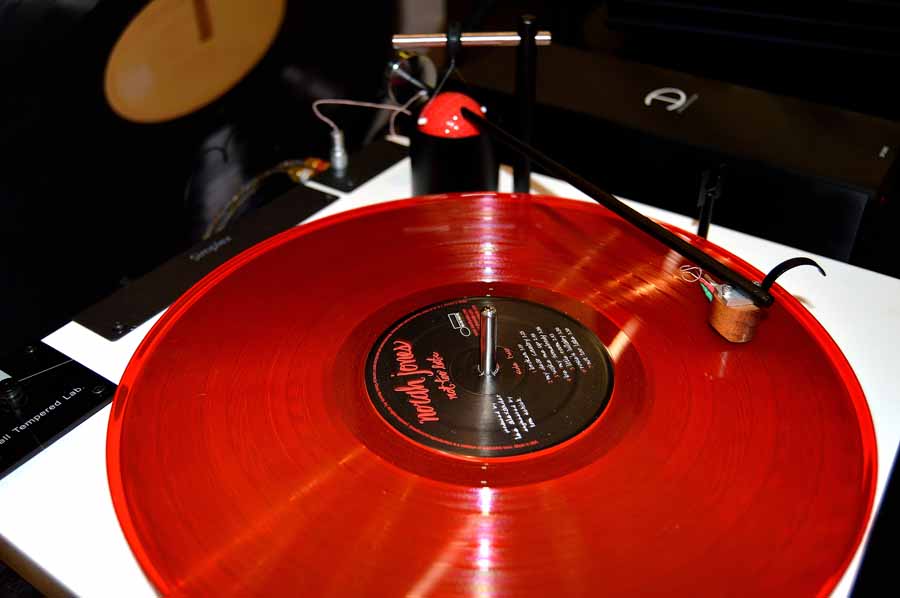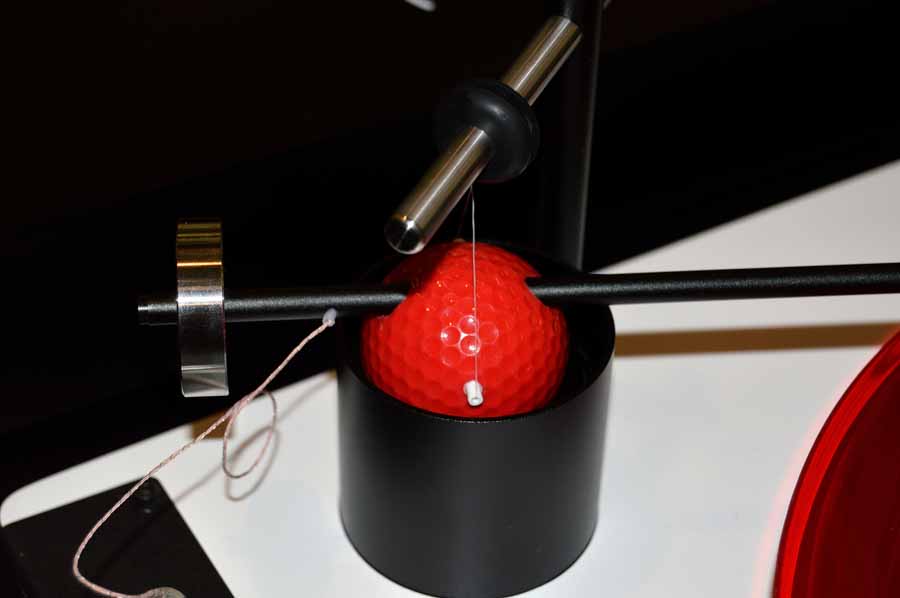 Of course there were many headphones on show. I love Meze headphones having reviewed and owning their 99 Classic.  Antonio Meze, lead designer and founder of Meze Audio was proud to show me their Empyrean – the first Isodynamic Hybrid Array Headphone made in collaborated with Rinaro Isodynamics, Antonio telling me this was the first dual shaped voice coil array. The flat two-sided magnet driver is egg shaped, covering all of the area open to your ears on this over-ear design, and with a carefully shaped element with highs and mids operated at the lower end of the "egg" carefully positioned opposite your ear, and bass spreading around the rest of the surface area. I was very impressed with what I heard, and at 35Ω and 100dB/1mW works well with less powerful head amps and DAPs, unlike most Planar designs. Antonio told me this exciting product was "born from passion, curiosity and innovation", and it is certainly a step up from their much cheaper 99. This open planar magnetic headphone will be available in the Summer of 2018 at around 3000 Euros. They also had on demo their new Rai Penta IEM.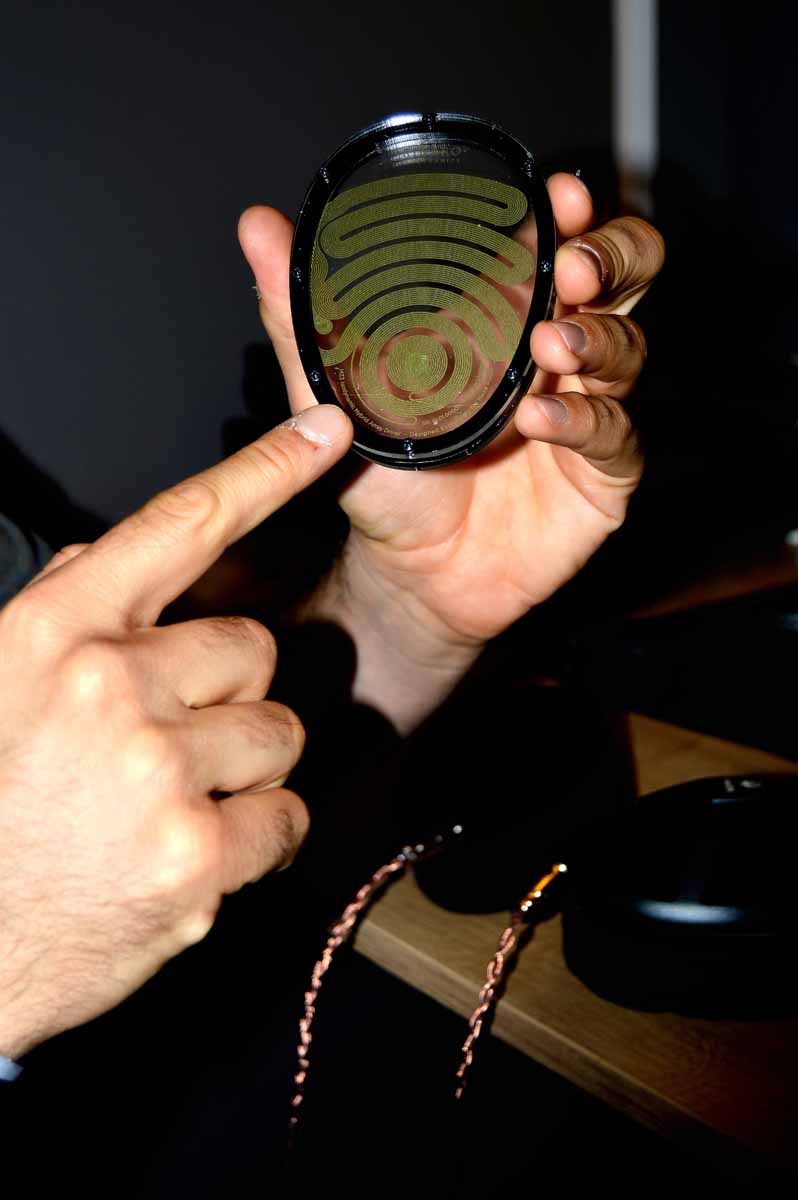 CD was still alive and well at this show, with Japanese company CEC taking my interest with their novel belt driven transports. With sales of records, CDs and reel to reels on offer this was an exciting time, if only my case had room to fit more inside. Reel to reels were just too big and heavy for me, though one company really excited me; Italian company Hemiolia Records had a collection of Studer reel to reels on show to playback their exciting series of Italian operatic tenor Luciano Pavarotti's live concerts, which the great singer had had recorded and then took them home after the concerts he performed. Hemiolia asked the wife of Pavarotti if they could take the masters, restore and reproduce them in a beautifully packaged collection of metal-spool tapes. As well as 1/4 " tapes Hemiolia have also launched a series of Master Cassette recordings. Yes, cassettes are back again, made using Studer A810 and A721 machines. Yes, it was just like visiting the 1970's again. All I needed now was a few cassette tape machines on sale and to be wearing flares.