Mytek have announced the Brooklyn AMP +, a major upgrade of the Brooklyn AMP sound, designed in New York and manufactured in the USA.
Mytek told us: "Brooklyn AMP+ retains the same type of sound as the Brooklyn AMP, with dynamic and precise transients and even and extended frequency response, but with way less low level distortion and cleaner natural, analog like character with deeper, larger soundstage".

Faster Transistors
Brooklyn AMP + features new faster transistors, cutting the so-called "switching dead time" to low nanoseconds and faster and higher, 650kHz carrier clock. They both contribute to improved low level detail and lower distortion. In addition, the output filter frequency has been increased two-fold for lighter highs and to better accommodate difficult loads.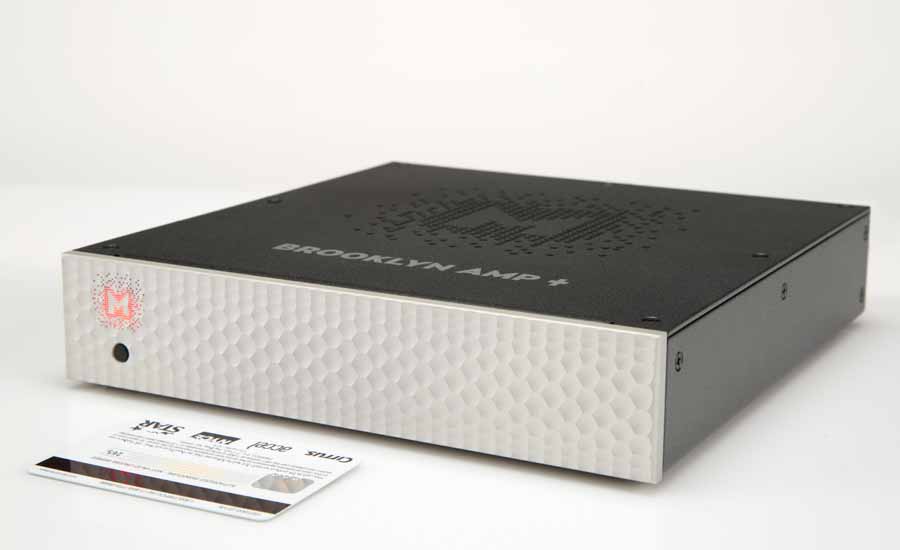 Class D
Brooklyn AMP+ is a reference power amplifier with the signature Mytek sound. Its dual-mono design proves a well executed Class D circuits can challenge the best Class A. The amplifier is packaged in miniature 1/2 rack enclosure and it's small enough to fit in a briefcase, yet powerful to drive the largest speaker systems. It's designed to be used as a regular stand-alone power amplifier or to complement Brooklyn DAC for complete modern digital streaming and vinyl playback system.

Brooklyn AMP Is Discontinued
The previous model of "Brooklyn AMP" has been discontinued and replaced with this new "Brooklyn AMP+" . Existing Brooklyn AMP owners can upgrade their units to Brooklyn AMP+ specs for $500.
Specifications
POWER RATINGS AT 1% THD:
at 16 Ohm – dual mono 2 x 130 W
at 8 Ohm – dual mono 2 x 250 W
at 4 Ohm – dual mono 2 x 300 W
at 2 Ohm – dual mono 2 x 400 W
Peak – dual mono 2 x 1200 W
OUTPUT SWING: 70 Vp / 140 Vpp (unloaded)
SNR: >121 dB
FREQUENCY RESPONSE -3dB: 10Hz – 30kHz
THD REGULAR USE: <0.01%
PROTECTION CIRCUITRY: Short circuit protection, DC protection, under voltage protection, temperature protection, overload protection
DAMPING FACTOR: >400
DC POWER ON TRIGGER: 12VDC minijack
WORLDWIDE POWER SUPPLY: 100-240VAC 50/60 Hz
DIMENSIONS: WxDxH=8.5×9.5×1.74"; =216x241x44mm
WEIGHT: 6lbs, 3kg
WARRANTY: 2 years
FINISH: Silver or Black Frost Matte
Price
BROOKLYN AMP+
$2495 / 2495€
BROOKLYN AMP+ & DAC+
$4295 / 4295€