NAD MASTER SERIES M33 STREAMER/DAC/AMPLIFIER REVIEW
Costing one pound shy of £4000 the NAD Master Series M33 amp certainly looks to be very feature-rich. How does it perform? Dan Worth finds out for HiFi Pig.
A POTENTIAL SWISS ARMY KNIFE OF AN AMP? 
I must admit, when I received the M33 I was shocked at how lightweight it was in comparison to its boxed weight. After man-handling the delivered box into my listening room and beginning to unpack it, I had an instant appreciation for how substantial the packaging protecting NAD's flagship M33 Master Series actually is. In all honesty, I hadn't read up on the unit prior to receiving it – I generally don't, as I think it's best not to have any preconceived opinions of a review product.
After working my way through the packaging's multiple top flaps and removing the substantial inner carton's bullet-proofed cardboard ceiling, lifting the M33 out was a doddle. I literally straddled my legs and braced for a back-breaking removal of the M33 and almost fell backward when my expectations were greeted by a much more modestly weighted unit. This is not down to a lack of quality materials or build quality, it's simply down to the lack of huge and unnecessary power transformers in NAD's design, which incorporates Purify Audio's 'Eigentakt' Class D amplifiers. The M33 isn't exactly light but it's deceptive in comparison to its size.
The M33 has a very distinctive front panel with a huge screen and large volume knob. Its casework design is a great match for any modern home entertainment system with its black and aluminium accents, and will look beautiful in a cabinet or next to a large tv screen.
The rear of the M33 has a wealth of inputs and has clearly been designed by a very thoughtful team of engineers to incorporate every wired and wireless connection needed – with 2 future proof MDC expansion card slots too.
The underside of the M33 has 4 conical feet which go to a blunted point. Thoughtful from an isolation standpoint, but I did consider potential scratches on my nice bamboo shelves. I needn't have worried, and as I dug through the individual accessory containers inside the main box I found 4 matching shoes for these spikey feet – excellent! "Going to have to be careful when lifting the chassis to pop these underneath" I said to myself. However, when I offered foot to shoe prior to install they actually magnetically attracted to each other – again, massively thoughtful!
Also included is a remote control, aerials for WiFi and Bluetooth AptX HD, ethernet cable, power cable, and literature. 
OVERVIEW OF NAD's M33 MASTER SERIES
There's a lot of different aspects to NAD's M33 Master Series compiled together into the 'all in one streaming amplifier'. First of all I'll expand on that sentence by saying there's more to the M33 than the simple amplifying of a digital online streaming source. The M33 has every digital input one would want integrated through its 32-BIT/384kHz ESS Sabre DAC – albeit its shortfall of not allowing for a USB input focused on taking a digital signal from a PC or a Mac. Now in this day and age it seems expected of such a device to offer this amenity, but from NAD's point of view would this really enhance the experience of the M33? The answer is a debatable one. The M33 can already stream internet radio, Tidal, Qobuz and Spotify Connect, alongside Airplay 2 and Bluetooth AptX HD for such duties as YouTube from say an iPad or related iOS device. It will also stream any audio content the user can cast from Android devices. And if that wasn't enough then simply install BluOS onto your Windows PC or Mac to integrate and control playback of files stored locally.
Furthermore, an option through BluOS will stream files from a connected hard disk or flash drive through its rear USB A port, which will also charge a smartphone or tablet device – you could simply attach a USB dock and have this sat on your entertainment unit for a very neat solution. There's also the ability to stream local files from a NAS drive through the M33's wired Ethernet or WiFi connections adding a platform for users' own library files. So I think I can safely say that NAD have you covered and the direct link from computer to M33 is really not necessary.
Alongside all of the integrated digital aspects of the M33's front end, NAD has also implemented an entire analogue section for users to utilise. The M33 adequately supplies inputs for both RCA single-ended and fully balanced XLR source devices, allowing users to connect any additional analogue output source such as a CD Player, FM Tuner, cassette deck, or any analogue output from an MP3 player or television, etc. To complete the analogue section of the M33 there is a phonostage that will accommodate both MM and MC cartridges. The RIAA eq for phono is optimised in the digital domain through analogue to digital conversion and therefore can utilise the onboard room correction software from Dirac Live which is a handy feature.
And just to top things off the very thoughtful guys at NAD have even included twin subwoofer outputs and a dedicated headphone amplifier which will very respectably drive headphones with low or high sensitivities.
BlueOS – FEATURE RICH AND INTERACTIVE
NAD uses Bluesound's BluOS operating system as its digital platform for control and playback of all configurable inputs and media supported by the M33. Overall BluOS is a fantastic platform to use. Its simply designed menus, features and GUI combine practicality with functionality.
NAD do include a physical remote control alongside app control from any iOS or Android device, Windows or Mac-based computer. The front screen on the M33 is not just a pretty view of what's currently playing either, it's actually a fully interactive touchscreen. A physical volume knob also graces its fascia, and top centre is a capacitive touch button to put the M33 in and out of standby mode.
I've used many Bluesound products in my time. I started with a Node, then a Vault and moved on to the 2nd generations of these products, and although not in any of my current systems I have found great fondness with the full-sized Pulse streaming speaker which lives on top of a kitchen cabinet with an old iPhone 6s Plus on the wall as a control point.
FULLY AUTOMATED AND SMART HOME INTEGRATION WITH ALL LEADING BRANDS
Being a BluOS based system, if a slightly more elaborate one, the M33 has a further trick up its sleeve  – it can act as part of an entire home integration package. For those who are looking toward a more high-end option, the M33 serving as the main room's star performer alongside its Bluesound partners in other areas of the home (with say a Vault 2i for local file storage) would allow for a real premium feel to the household's multi-room audio system. This option gives users the ability to move rooms with the sound following them or playing throughout the entire home simultaneously, and, more importantly, in sync – through app control, select zones, and multi-room party modes, I was even able to control playback of the M33 through my Apple Watch! The ease and flexibility of the system become quickly apparent, with the M33 integrating beautifully from the main listening space and the premium sound now obtainable from Bluesound and their partners such as Roksan, Peachtree, Dali, and Monitor Audio.
BluOS also allows control from Amazon Alexa or Google Assistant devices. Through Airplay 2, control is also possible with Siri. The M33 is fully compatible with all the leading smart home systems from leading companies like Apple, Crestron, Control4, Lutron, KNX and many others. This means that along with lighting, window blinds, HVAC, and security, users can seamlessly control the BluOS multi-room music eco-system from a common interface. All integrations are certified for reliable operation. The BluOS Apps for iOS and Android tablets and phones, as well as desktop control from Windows and Apple OS are available free-of-charge and are updated regularly.
MDC SLOTS FOR FUTURE COMPATIBILITY 
NAD has gained a reputation in recent years for future-proofing its designs with upgradable card slots. An optional DSD MDC card will be available for users to playback the highest bit rates possible today. Other options of MDC compatibility will be introduced as the technology moves forwards.
PLENTY OF JUICE ON TAP
The M33 is a bit of a monster when it comes to power delivery, with an output of 200 watts into 8ohms and 380 watts into 4ohms, speaker selection seems somewhat limitless. Now I hear you say "you said that NAD's implementation was thoughtful? What's thoughtful about that much power when it comes to my electricity bill?". "Furthermore, I don't need that much power and I'd rather not pay to not use it either". I hear you! However, NAD isn't using conventional amplifiers. They're not using a power-hungry non-efficient class A technology, not even the more affordable class A/B which switches after the first couple watts of class A to class B. They are using a Class D-based amplifier and one that is technically more advanced than the previous M32. Again I hear you say "Class D has been around for a while now and yes it's very economic, so what's different in the M33?".
PURIFI AUDIO 'EINGENTAKT' 
There has been a lot of talk amongst audiophiles recently about Class D. The Eigentakt (meaning self-clocking) analogue Class D modules are self-oscillating and load invariant. It was developed by Lars Risbo and Bruno Putzeys whose names will be familiar to those who know a little about Class D amps. The measured performance speaks for itself, and the correlation to sound quality is noted to be immediately apparent. The associated power supplies work less hard, can deliver transient peaks instantaneously, and can replicate the power output of large A/B amplifiers but without the large power transformers.
B&O was one of the first to implement Class D technology into other brand's amplifiers. These include Jeff Roland, TACT/Lyndorf, TEAC, and Primare (which had a particularly good design). Unfortunately, even at its best with the Hypex and NCore modules, Class D could still be considered a colder sound more often than not, but, in my opinion, it would take great user integration to forge a good relationship and sonic signature that was ultimately pleasing. I know a few people who managed this with huge success – Hifi Pig's own Editor Stuart runs a pair of Merrill Class D mono-blocks into a big pair of Avantgarde DUO XDs with great success – in fact, these are the reference amps used for most speakers he has in for review.
It was previously a bit of a task to find good synergy within a system that was based around Class D amplifiers. NAD does all the hard work for you here. They have analysed and tuned the sound until they feel it has the coherence they endeavored for and with the Eigentakt modules sounding as unimposing as they do NAD's technicians were able to impart a sound which they could tailor to their tastes.
DIRAC LIVE – TURN YOUR ROOM INTO A CUSTOMISED LISTENING SPACE 
Dirac Live is a digital room analysis software and equaliser, which will listen to your room's acoustics and considers your seating arrangements to discover what anomalies your room has which are affecting the sound you hear.
NAD has included a calibrated microphone which you can place in one single spot on the sofa for pinpoint accurate listening and eq determinations, or appropriately adjusting the sound for yourself and the family if all snuggled up on the sofa together and saved as presets depending on when and who is listening. I think this adaptiveness is a very useful feature.
They have built into BluOS a portal to Dirac Live where a full lifetime subscription can be purchased for $99. The full version will sweep and address all frequencies within the room through test tones and then configuring the sound so that is best for your space.
Although in my personal opinion the full software is a much better fit when equalising a room, a free version is available to deal with room anomalies up to the 500hz point, which in many cases will work wonders. Most anomalies are confined within this region and for integrating a subwoofer well and getting an overall better bass response the free version could be all that's required. As I said, personally I prefer the full version as many of us have hard floors and furniture, with more absorbent soft furnishings being minimal. Therefore, unwanted high-frequency room reflections can plague the listening room and cause timing errors.
THE SOUND 
The first thing to note is that you will need to be very patient and for a good couple hundred hours for the M33 to come on song and sound at its best – it is certainly a little thin sounding until everything beds in. Another important note to mention is that it's very much best to leave the M33 in standby mode when not in use – don't worry about power consumption, the M33 will use very little electricity in standby, plus it gives you an excuse to use the pretty cool touch-sensitive capacitive on/off button on top of the front facia. Or you can switch it off via the app or voice commands – pretty cool, eh?
My first impressions were that this amp does indeed sound similar to other Class D amplifiers I have heard. Streaming music from Tidal via the BluOS app on my iPhone sounded good. The M33 is very transparent, it's clean and grain-free but at the same time holds good tonality throughout notes and has a notably richer feel to textures than many other Class D implementations I've heard. The sound isn't bright (even through my all ceramic-based speakers) nor does it sound analytical and reveals good texture in decaying guitar notes that give a good deal of realism to a performance.
A touch of sparkle in the top end is a nice way of describing treble performance. With sharp leading edges and great spatial cues. The M33 displays a great soundstage and instrument placement is clearly definable, with vocals shining proudly even in busier music. I enjoyed quite shocking height to the soundstage and with great recordings was given realistic singer height, which just reinforced the rest of the soundstage's shape wonderfully well.
I spent some time listening to Spotify, which always has better playlists in my opinion, if not a sacrifice in resolution when compared to others. However, the NAD made great work of lower bit-rate material, with even the internet radio sounding perfectly acceptable for non-critical listening.
There's a healthy bass-line from the M33 which carries a beat tremendously well – the inclusion of two subwoofer outputs will enhance bass performance further if so desired. I hooked up a REL S/510 and was very happy with its integration and overall performance. The additional weight given across the frequency range took the M33's sound to the next level for me. My speaker setup is kind of optimised to my room, so rest assured that even without an additional subwoofer or two the M33 will replicate these results for you with the addition of faster and tighter bass which the Eigentakt modules deliver.
Dynamically the M33 can turn on a dime. It can be subtlety inoffensive one minute and slam into action the next. The ability of this is no doubt handled in big part by the Eigentakt modules combined with the fast power supply NAD has implemented.
To confirm these thoughts I decided to hook up my own front-end streamer, re-clocker and DAC – Xodos xo|one, Audiobyte Hydra Z, and Bricasti M3 via both sets of analogue inputs, balanced XLR and single-ended RCA as the M3 has both outputs on simultaneously.
Knowing this combo very well and switching between both balanced and unbalanced inputs on the M33 did actually confirm how impressive the Eigentakt amplifier is and does indeed get out of the way, albeit running through the conversion processes within the M33. I'd be interested to explore one of NAD's standalone power amplifiers using the Eigentakt modules to really single out their performance with other kit.
Through Bluetooth and Airplay 2 sound was good but not as sharp and detailed as the onboard devices. I found Airplay being a little more enhanced than Bluetooth, but the new AptX HD standard is a notable upgrade over previous versions. If using a television with the M33 I'd strongly suggest the eARC HDMI hard-wired connection method rather than Bluetooth. Bluetooth often causes lip-syncing issues ii find. Some televisions have an audio delay feature to correct this and not all channels or tv sources will reflect the delay programmed in. eARC is a far more stable solution and again it is very thoughtful of NAD to include this on a two-channel amplifier.
I plugged a solid-state hard drive in on USB and was very impressed with this. Although I have a NAS on the network I would be wholeheartedly pleased with a USB hard drive feeding my local files through the M33.
I use a Bluesound Pulse 2 speaker in the kitchen on most days. With BluOS in control, the Pulse 2 Speaker and the M33 work perfectly together. It's great whilst going from room to room to be able to have a seamless continuation of what I was listening to. An entire array of Bluesound or BluOS associated products throughout the home would no doubt be the sensible option and incorporating the M33 as the heart of the main system. I didn't use it often, but I did try the Amazon Alexa to control the BluOS functionality within the M33 ( even at louder volumes she still hears you.)
Whether it is your phone in your pocket, an Apple Watch, a computer or laptop, a device such as an Alexa or Google Home, the included remote or fully functional touch screen on the front of the M33, you're never too far away from being able to have complete control over your music, and I really like this.
CONCLUSION 
NAD has brought music lovers the flexibility to obtain more enjoyment and control over their music than ever before. The M33 has to be one of the most thoughtfully implemented, well thought out, and feature-rich product in audio to date. I personally haven't come across anything more complete in terms of hardware and software.
Its stylish looks and that reasonable footprint will sit complimentarily in any modern space. Whether you simply have a large television which you stream through or a more elaborate setup, music lovers, gamers, and film buffs alike will be happy with this 2 (2.2 including sub outputs) channel amplifier.
Every streaming service is catered for, local files are embraced, analogue devices are given thought, and home integration with other Bluesound and BluOS smart devices, home cinema setups, and streaming devices, NAD opens up a world of options for high-end listening and multi-room home integration. Along with the multitude of control options, the M33 is as high-spec as it comes right now.
Include the option for upgrades with the addition of NAD's MDC cards and the future is bright! Combine all this with an exciting, captivating sound and the NAD M33 could be just what you and your home were looking for.
AT A GLANCE
Build Quality:
Good quality materials and aesthetics. The isolation feet are a fantastic touch. With a large vibrant touchscreen, capacitive on/off button, and great layout the M33 is a premium looking and feeling product.
Sound Quality:
Enveloping, engaging, and dynamic. Fast yet delicate. Great vocals and with ability to utilise room correction through Dirac Live, essentially tailored to suit you and your listening space.
Value For Money:
For a unit that will give you years of pleasure and combining everything you ever need in one box and further-proofed through MDC upgrade cards a very worthwhile investment.
We Loved:
The abundant features
The BluOS control App
The integration with smart devices
The multi-room features
The touchscreen and aesthetics
The engaging, dynamic sound
Tight and tuneful bass
Encapsulating sound stage
Easy positioning
We didn't Love so much:
Returning it
Price: £3999.00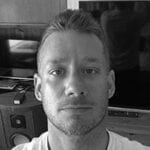 Dan Worth
SPECIFICATIONS
AMPLIFIER SECTION
Rated output power (ref. 20 Hz-20 kHz at rated THD, both channels driven): >200 W into 8 ohms >380 W into 4 ohms
Rated output power, Bridge mode (ref. 20 Hz – 20 kHz at rated THD): >700 W into 8 ohms
Input sensitivity: 865 mV (ref. 200W 8 ohms, Volume maximum)
THD (20 Hz – 20 kHz): <0.003 % (1W to 200 W, 8 ohms and 4 ohms)
Signal-to-Noise ratio: >98 dB (A-weighted, ref. 1 W out in 8 ohms)
>120 dB (A-weighted, ref. 200 W out in 8 ohms)
Clipping power: >210 W (0.1 % THD 1 kHz 8 ohms)
IHF dynamic power: 8 ohms: 260 W, 4 ohms: 520 W
Peak output current: ≥25 A (in 1 ohm, 1 ms)
Damping factor: >800 (ref. 8 ohms, 20 Hz to 6.5 kHz)
Frequency response: ±0.2 dB (20 Hz -20 kHz)
-3 dB at 60 kHz
PREAMPLIFIER SPECIFICATIONS
LINE IN
Input Impedance (r and c): 47kΩ/180pF
Input Sensitivity: 280mV (ref. 500mV out, Volume Maximum)
Maximum input level 20Hz-20Khz: 2 Vrms/8 Vrms (low sensitivity mode)
Tone Controls: Treble: ±10dB at 10kHz Bass: ±10dB at 100Hz
Max Output Signal: 4Vrms (ref. 0.1% THD)
PREOUT
Maximum output level: 9 Vrms (ref. 0.1% THD)
Signal-to-Noise ratio: >120 dB (A-weighted, ref. 2 V out)
Output impedance: 100 ohms
SUBOUT
Maximum output level: 1 Vrms (ref. 0.1 % THD 100Hz)
Signal-to-Noise ratio: >102 dB (20 Hz-20 kHz, ref. 1V out)
THD+N: <0.005 % (refer 1.1 V 20 Hz-200 Hz)
Output impedance: 680 ohms
PHONO
Input sensitivity: MM: 1.2 mV, MC: 100 µV
Input impedance (R and C) >MM: 56 kohms/100 pF, MC: 100 ohms/280 pF
Signal to noise ratio (ref. 2 V Preout A-weighted), MM: >92 dB, MC: >76 dB
THD+N (ref 2V Preout 1kHz): MM: <0.003 %, MC: <0.02 %
RIAA response accuracy MM/MC: ±0.2 dB 20 Hz -20 kHz
HEADPHONES
Output Impedance: 2ohms
Output power:>100 mW/32 ohms
BluOS SECTION
AUDIO
Supported audio file format: MP3, AAC, WMA, OGG, WMA-L, ALAC, OPUS
Supported high- resolution audio file format: FLAC, MQA, WAV, AIFF
Sampling rate: up to 192 kHz
Bit depths: 16 – 24
CONNECTIVITY
Network connectivity: Gigabit Ethernet RJ45, Wi-Fi 5
Supported network file share protocol: Server Message Block (SMB)
USB: 1 x Type-A port for connection to USB memory stick (FAT32 or NTFS formatted) and supported peripherals
Bluetooth quality: aptX HD 5.0
Bluetooth connectivity: Two-Way (Receive and Headphone modes)
USER INTERFACE
Supported operating system**: Music playback from network shares on the following desktop operating systems: Microsoft Windows XP, 2000, Vista, 7, 8 to current Windows Operating Systems and macOS versions**
Mobile Application: Free BluOS Controller App available for download from the respective App stores of Apple iOS devices (iPad, iPhone and iPod), Android devices, Kindle Fire and Windows or macOS desktops
Front panel: 7-inch full colour touch screen
Remote control: HTRM 2 remote control
POWER CONSUMPTION
Auto Standby ON: <0.5W
Idle Power: <40W
DIMENSIONS AND WEIGHT
Dimensions WxHxD: 435 x 133 x 396 mm (17 1/8 x 5 1/4 x 15 5/8")
Net Weight: 7kg (21.4lb)
Shipping Weight: 4kg (40.6 lb)