Naim has launched the NaimUniti 2, the successor to the NaimUniti, at the Munich High End show. This new edition of Naim's original all-in-one player has a 70W per channel amplifier whereas the original had just 50W. It boasts a new CD player section with a new tray and transport and a new Burr Brown PCM1793 DAC.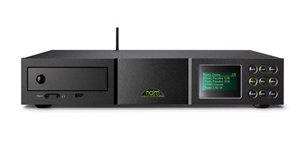 Other design modifications are also said to improve the quality of the Uniti 2 including additional regulator lifting capacitors, a new lower load capacitance crystal within the clock, a lift to the Wi-Fi antenna and new rectifier diodes on the digital power supply..
The NaimUniti 2 comes fitted with 24bit/192kHz high-resolution streaming functionality as standard and inherits the larger front panel display window of its big brother the SuperUniti. The Uniti 2 comes complete with CD player, multi-format tuner (DAB/FM/Internet radio).high-resolution (up to 24bit/192kHz) digital stream player, iPod/iPhone/iPad dock, MP3/USB-stored audio player, digital to analogue converter and a 70W integrated amplifier.