The GoV2 Bluetooth speaker, from London based Cambridge Audio, has now arrived in a new range of colours.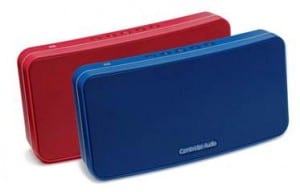 Previously available in either black or white you can now enjoy in choice of stylish Red or Blue finish.
The Go's allows music fans to enjoy their favourite songs anywhere. Whatever device you are playing your music from, you can enjoy Go wirelessly.
The Go also includes NFC technology (Near Field Communication) for even simpler, one-touch Bluetooth pairing. And support for aptX Bluetooth for the highest quality playback.
Bbattery life is up to 18 hours playback from a single charge. It can also charge your portable devices (phones, tablets etc.) using the convenient USB port on the back of the product.
Measuring just 237mm (W) x 123mm x (H) x 60mm (D) – the Go uses a high efficiency, DSP driven digital amplifier to drive a high spec speaker system with twin mid-range divers, twin tweeters and a large rear-firing ABR (Auxiliary Bass Radiator).