There's a new forum on the block aimed  at providing hi-fi and music enthusiasts the opportunity to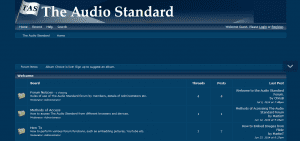 discuss their passion, develop friendships and offer or receive technical help and support.The name of the new forum is The Audio Standard.
In the best traditions of forums, everyone is free to join and enter into the lively debates and whether you prefer valves (tubes) or solid state; speakers or ear-ware; and whether they are objectivists or subjectivists, you will be made to feel welcome and your contributions valued.
"The love of music will always be the focus" says Martin Taylor an administrator on the site and continued "no matter the genre; classical or hardcore are equally welcome!"
All the best with the new forum from the Hifi Pig team.