Yesterday saw the launch of the all new FREE Hifi Pig Magazine. The magazine will be a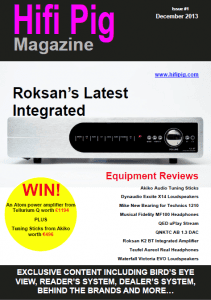 digest of the months reviews presented in a handy PDF format PLUS we'll be adding lots of exclusive to the magazine content.
In this months 60 page launch edition we've got nine great reviews, a dealer's system profile, a reader's system profile, a great Behind the Brands interview with Randy Kunin of Randall K Designer Hifi and much more.
Initial feedback from the trade and Hifi Pig readers has been phenomenal and we are really proud of what we've been able to achieve.
You can also WIN A TELLURIUM Q ATOM POWER AMP WORTH £1194 PLUS AKIKO TUNING STICKS WORTH €496 too!

DOWNLOAD theDecember edition of the FREE Hifi Pig Magazine