Slovenian company Erzetich got in touch with Hifi Pig to tell us all about their new high-end headphone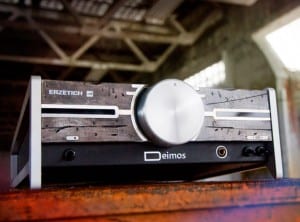 amplifier, the Deimos .
"Despite the rough, 19th century industrial look, with an aged linden wood faceplate and milled thick aluminum parts, there's a gentle soul inside. This 6.5-kg-headpone amplifier sounds balanced and precise and makes an important visual statement on your desk – no wonder it was a great success among visitors at this year's Munich High End Hi-Fi show" says the company's press release with the company's CEO and founder Blaž Erzetič commenting
"I've rediscovered the music with Deimos, This is a supercar among headphone amplifiers. Every album I listen to on it is a spectacle on its own. Visually, we studied a lot the exterior, too, to make this machine not only an ear-, but also an eye-candy";
Due to the complexity of manufacture, Erzetich plans a very limited yearly production of this completely hand crafted, headphone amplifier;
·  dual mono class-A
three separate power supplies (two for analog, one for digital)
43000 uF smoothing capacitors per channel
digitally controlled 64-steps relay-based volume attenuator
gain boost switch
RCA and XLR inputs
superior quality RCA connectors
Neutrik gold plated XLR connectors
chassis made of steel, aluminum, wood and acrylic
Deimos will be available at the beginning of 2015 for around 4,000 EUR but Erzetich will start accepting preorders with a special discount in late September.