"A truly great earphone design does more than deliver accurate musical reproduction" says the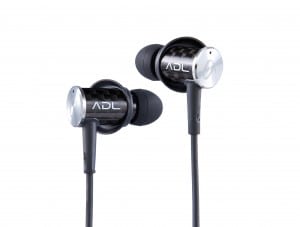 press release from Alpha Design Labs and continues "It should create an intimate emotional connection with the listener, and accomplish this with superb comfort and style". With that in mind Alpha Design Labs (ADL) have launched the EH-008 earphones.
The earphones dual dynamic drivers are treated with Furutech's renowned Alpha process and are said to offer incredibly high resolution throughout the full range of sound reproduction. A powerful 8mm low-to-mid frequency driver is positioned in a bass chamber located directly behind a high-frequency titanium film driver.
The inner and outer housings of the EH-008 are designed for driver stabilisation and damping.
ADL EH-008 key features
• Dual dynamic drivers
• Alpha*-treated 8mm driver for mid-to-low frequencies
• Alpha*-treated 5.8mm driver for high frequencies
• Inner housing constructed from ABS resin for driver stabilisation
• Outer housing constructed from carbon fibre
• Rubber outer seal ring with silicon cover
• Diamond-cut aluminum end plates
• XS / S / M flexible rubber earpieces included
• 1.3m cord with 24k gold-plated stereo Alpha*-treated 1/8" (3.5mm) angled plug.
Available now with a UK retail price £175 (including VAT)