Magico announces a new addition to the award winning S-Series line – the S7.
The S7 is a full range, 3-way design, floor standing loudspeaker that incorporates new tweeter, midrange and bass driver designs which are derived from the M-Project loudspeaker.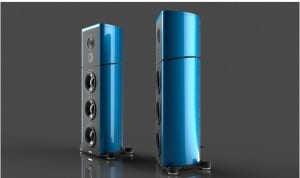 Towering over other S-Series models, the acoustic suspension enclosure of the S7 features curved aluminum side panels that are machined in-house from half-inch thick aluminum extrusions which are sixteen-inches in diameter. Internal bracing is carefully positioned throughout the enclosure to minimize resonances and create an ideal operating environment.
The S7 houses three new 10-inch bass drivers that have extremely powerful magnets and ultra- stiff aluminum cones. The excursion rate of the voice coil is measured at 15-mm linear movement and produces clean sound pressure levels up to 120dB @ 50Hz / 1-meter.
The midrange driver (6-inch) in the S7 brings a new benchmark of measured performance to Magico. The cone material is formulated using Arkema Multi-Wall carbon nanotube and XG Sciences C-750 Nanographene which combined is 20% lighter and 300% stiffer than previous cone material designs. The underhung neodymium base motor system uses two extra-large magnets which provide an ultra-stabilized magnetic field for the pure titanium voice coil to operate within.  The driver operates in a purpose built sub-enclosure made of a proprietary polymer material that was first introduced in the S3.
The S7 incorporates a new (1-inch) tweeter that features a diamond-coated beryllium diaphragm with optimized geometry, created using Finite Element analysis modeling tools. This purpose built tweeter has extra-long excursion movement and uses a neodymium based motor system that is customized to match the sensitivity and power handling capabilities of the S7 while maintaining ultra-wide dispersion characteristics and ultra-low distortion measurements.
All five drivers in the S7 are acoustically integrated using Magico's exclusive Elliptical Symmetry Crossover topology that includes state-of-the-art components from Mundorf of Germany.
Specifications
Sensitivity:                                          89dB
Impedance:                                        4-Ohms
Frequency Response:                    20 Hz – 50 KHz
Recommended Power:                 50-1000 Watts
Dimensions:                                       56" (142cm) H x 20" (48cm) D x 25" (63cm) W Weight: 300 lbs.
The S7 starts shipping in July and is brought to these shores by Absolute Sounds, Magico's exclusive UK distributor. Retail prices range from£58,000 to £64,000 per pair, depending on the specified finish (a range of automotive-quality paint options is available if desired).