McIntosh Laboratory has reissued two classic amplifiers that retain the aesthetics of their era, while sporting modernised internals for contemporary system integration.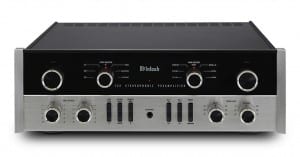 The C22
First issued in the 1960s, the reintroduced C22 preamp maintains the retro McIntosh design but has been modernised to deliver performance equal to any other McIntosh pre. The 2015 C22 features electromagnetic input-switching to provide a reliable, noiseless and distortion-free operation: distortion levels of all types are typically less than 0.08%.
The C22 boasts 10 inputs, including two balanced and six unbalanced, plus Moving Coil and Moving Magnet phono inputs; the latter offering selectable resistance and capacitive loading to enable a wide range of cartridge and turntable combinations.
The C22's outputs comprise one set of balanced and three sets of unbalanced connections, while further features include (bypassable) bass and treble controls, plus a power control, enabling a complete McIntosh system to power up/down using the front panel or remote.
The MC75
Originally launched in 1970, the reintroduced MC75 mono vacuum tube power amplifier delivers modern performance standards in a classic design.
At the MC75's heart lies McIntosh's patented Unity Coupled Circuit design, which provides "low distortion, an extended frequency response and long tube life".
Balanced and unbalanced inputs combined with power control, allow seamless matching with all contemporary McIntosh preamps and processors and a Sentry Monitor tube protection circuit ensures the MC75 will have a long and trouble-free operating life. The MC75 offers 75 watts into a 2, 4 or 8 Ohm speaker with less than 0.5% distortion.
The C22 is priced at USD $6,000; the MC75 is USD $3,750. Both are available in non-EU regions now. The C22 and MC75 will not be available in the European Union due to current power management and standby power requirements.