Pete Grzybowski, President & Owner of Triode Wire Labs, a small boutique company specializing in audiophile power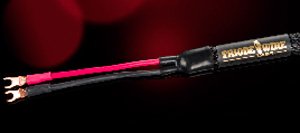 cords & speaker cables in the US contacted us about Triode Wire Labs' new line of speaker cables and the launch of their updated website.

The speaker cables will be making their global debut July 26-28 at the Washington, DC Capital Audiofest in the Triode Wire Labs room.
The speaker cables feature deep cryogenic treatment, compression die forging attachment of connectors and completely passive "ground plane" noise reduction technology in all the models.
Standard connectors include "top of the line" Cardas pure copper milled spades as well as Cardas CAB banana plugs. All cables are hand crafted in the USA with a 30 day audition trial.
Prices start at $499 USD for a 6 ft. pair.