News of a previously unreleased recording by any of jazz's 'holy trinity' is a reason to get excited. Now two have come along in the space of a few months, for hot on the heels of Verve/Impulse's chart-topping Coltrane release comes this precious lost treasure from the prime-era of Thelonious Monk, featuring a previously unreleased recording of his most critically acclaimed Quartet (with whom he also recorded 'Criss-Cross' and 'Monk's Dream') live at Old Fellow Palæet, Copenhagen in 1963.
With the original tapes recently saved from a skip, some 55 years later the recordings have now been faithfully restored, mastered and cut using Gearbox's legendary all-analogue process (even using the exact same lathe as Blue Note did back in the day). The result reveals a window into a performance that shows Monk in his prime, just one year before he would go on to become one of only 4 jazz artists to ever appear on the front cover of TIME magazine.
Monk's approach to the piano is inimitable, unmistakable and at times idiosyncratic, to say the least – much like the man himself. His playing on this night features many of the artistic, rhythmic and altogether 'far out' traits that brought him so much love across his career. There are countless recordings of Monk, but here his quartet, which features the near-mythical saxophonist Charlie Rouse, bassist John Ore (who later went on to play with Sun Ra) and heavy-hitting drummer Frankie Dunlop, can be heard reimagining and exploring Monk's classics in a way that can't be experienced anywhere else.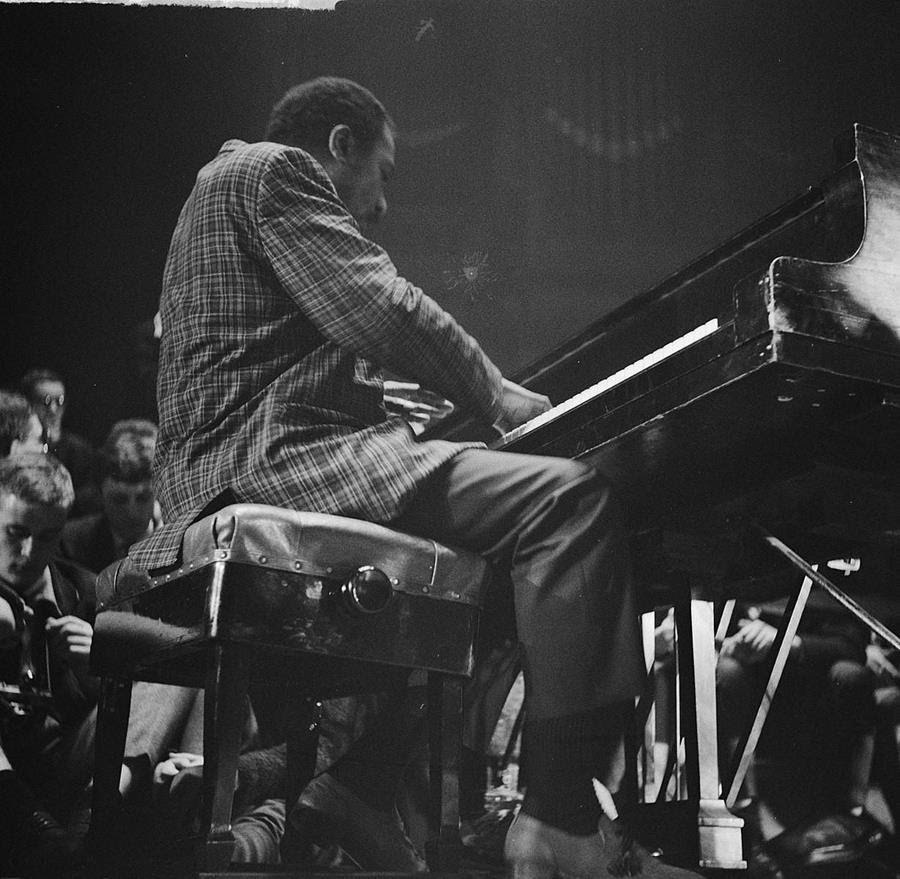 Tracks such as 'Nutty' make masterful use of space and melody. Charlie Rouse's solo is a clear demonstration as to why Monk is considered by many to be the best accompanist the jazz world has ever known. Whereas tracks such as 'Monks Dream' and 'Bye Ya' see the quartet displaying how tight their bond with one another really is, with Rouse altering dynamics and taking the lead, whilst Ore and Dunlop really dig in and seemingly foresee Monk's unpredictable shifts and turns, intertwining with one another with effortless cool. There's a reason that this is considered to be the definitive Monk quartet.
Lost recordings of this calibre aren't common, especially when it comes to the major players like Monk, making this a rare treat for audiophiles, enthusiasts, historians and music lovers of all kinds. This is one of Gearbox Record's biggest releases to-date, and one that sits close to their hearts. Speaking about the release, Darrel Sheinman of Gearbox Records says:
"The original tape was a Scotch broadcast tape amongst a collection of delights we bought from a Danish Producer who had literally picked them from a skip some 20 years ago. He was going to use them to sample and remix during the acid jazz heyday but didn't have time.
This album represents several years of hard work: firstly, to source the tape and clear the Monk-related rights issues, then to create a special all-analogue recording which is analogue all the way from the source to the stock on the shelf. AAA: means Analogue recording, Analogue mix, Analogue master – no digital in the path. We felt this was the only way to produce probably one of the best Monk renditions we have ever heard."
Liner notes on this release have been written by both Ethan Iverson of The Bad Plus notoriety, and estimable jazz writer Stephen Graham. The collector's edition of the vinyl (ltd. to 500 copies worldwide) will also come with a previously-unpublished, signature-embossed 30 x 30 print of Monk by famed British journalist and photographer Val Wilmer. The record will also be pressed on audiophile, transparent vinyl and comes in a vintage style tip-on, hand-numbered sleeve. There will also be a standard vinyl/CD release and the album will exist on all digital streaming platforms as well.
Mønk features:
Thelonious Monk: piano
Charlie Rouse: tenor saxophone
John Ore: double bass
Frankie Dunlop: drums
Tracklisting:
A1 Bye-Ya
A2 Nutty
B1 I'm Getting Sentimental Over You
B2 Body and Soul
B3 Monk's Dream