What's the first thing you think of in connection with an audio show?  I'm betting it's not a deckchair, hammock or croquet lawn.  But then again, The North West Audio Show at the De Vere Cranage Estate is not just any audio show.  It's not (yet) the UK's biggest, but there can be no doubt that it is the best.
Arriving on a beautiful Friday afternoon, I opted for the safe option of a deckchair rather than a potentially disastrous hammock and spent an hour just lazily watching the world go by.  But one does not come to an audio show to lounge elegantly on the lawn,  which is just as well as it was abundantly clear when the show opened at 10.00am on Saturday morning that there would be no further opportunity to do so.  This year featured more exhibitors than ever and even with a day and a half at my disposal, I was going to be hard pushed to fit them all in.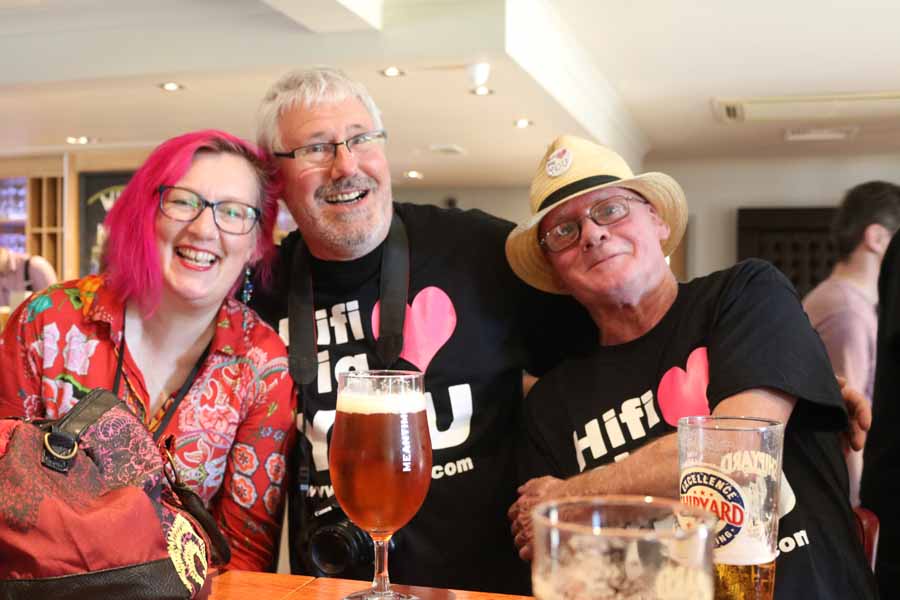 My brief was to write up my five favourite rooms, not an easy task given that there were more than sixty exhibitors to choose from.  Chatting to people (some of whom were even sober) throughout the event, it was evident that opinions differed as to which were the "best" rooms.  So, the rooms I am going to feature are not necessarily the five best but are those that made me smile at what I was hearing, stay a bit longer, and in some cases return several times.  Also, they are not ranked in preference as I don't think that would be fair.
Chasing The Dragon
I visited here early on but was lured back later by the promise of a presentation by company boss, Mike Valentine.  Mike's highly-entertaining talk took us from his early days as a BBC boom operator to the ethos of the Chasing The Dragon record label, using vintage valve microphones and removing as much as possible from the recording chain to minimise loss and distortion.  A recording of Clare Teal singing It's Too Darn Hot with The Syd Lawrence Orchestra, played firstly on CD then direct cut vinyl and finally the actual master tape, vividly showed the differences in quality that each format was capable of. Mike went on to demonstrate the importance of capturing the air around the instruments, whether it be a solo drum kit, a big band or a small chamber orchestra.  In the Chasing The Dragon Room, the hifi mattered but the music mattered most.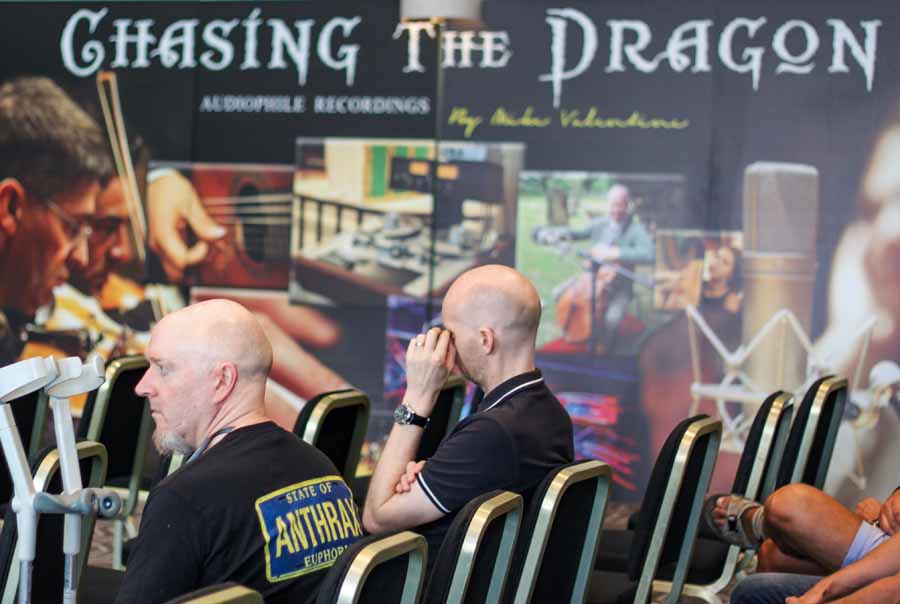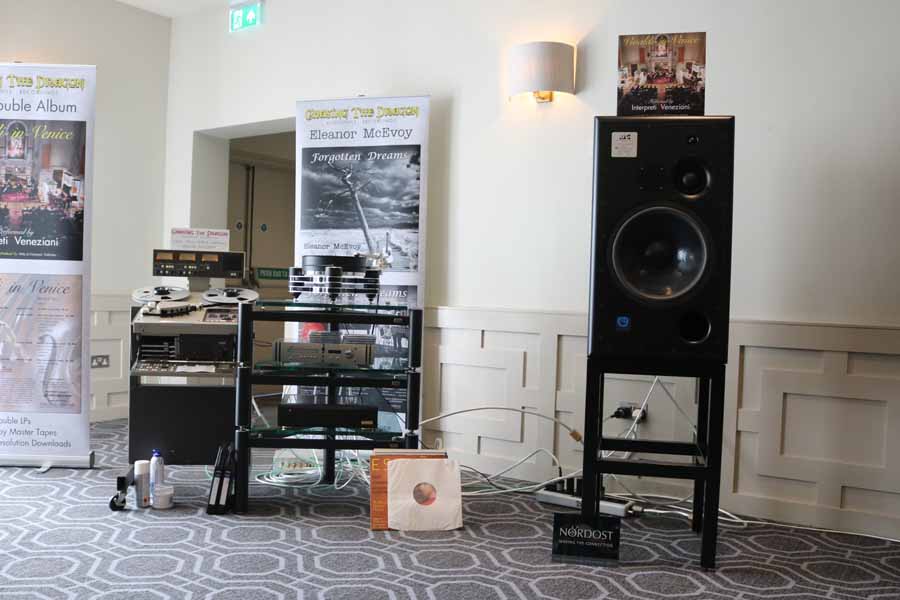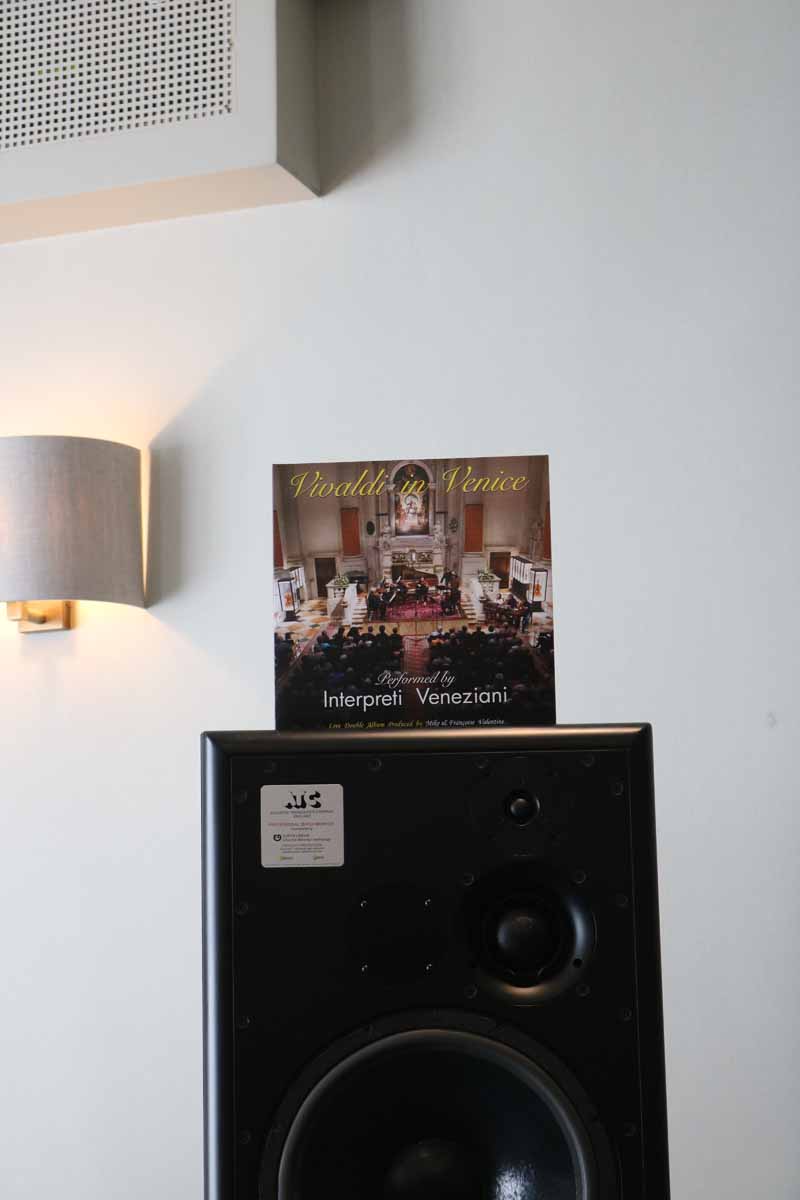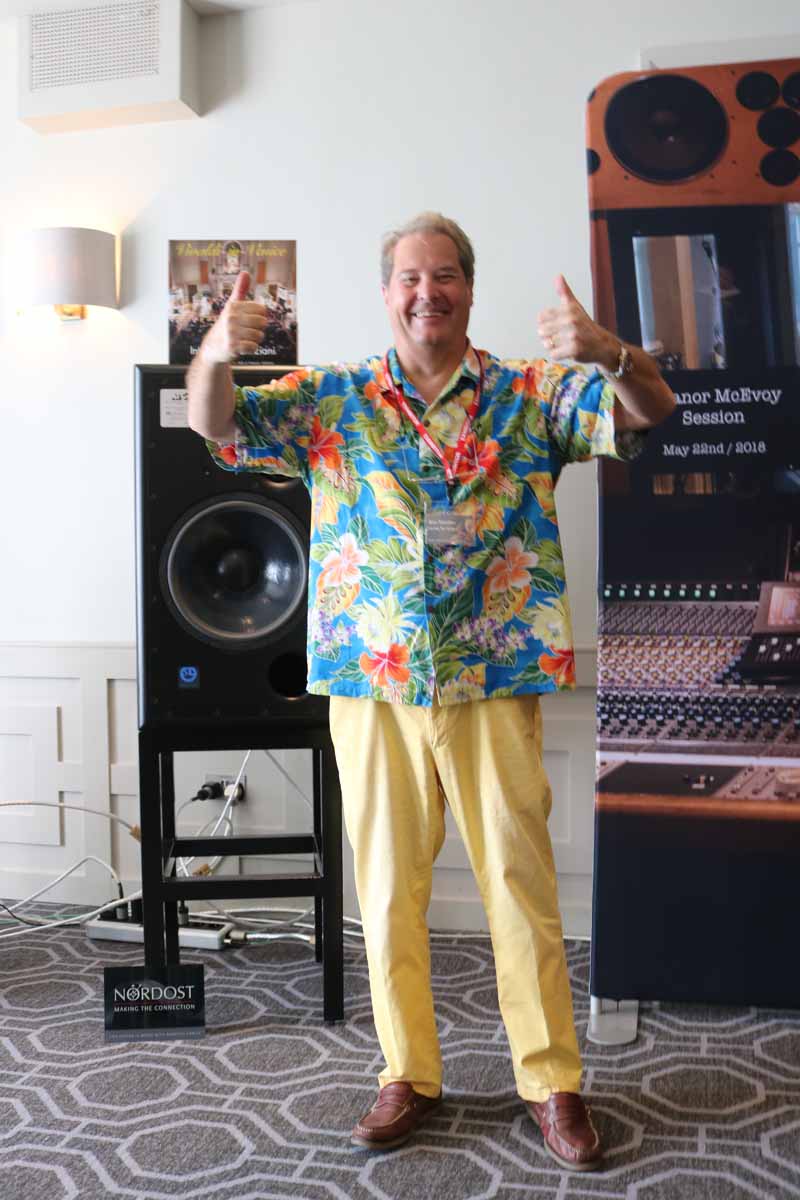 Audio Note UK
Clair Teal might have been singing It's Too Darn Hot over in the Chasing The Dragon room but with temperatures topping 30 degrees at 3.00pm out in the open air it was literally too darn hot in Audio Note's bedroom where French Canadian cellist Vincent Belanger entertained us by playing with himself (stop sniggering at the back). Having previously recorded two cello parts, one playing from the left speaker and the other from the right, Vincent performed a live third part.  Was it possible to tell the live performance from the recorded ones? With eyes closed, not so much.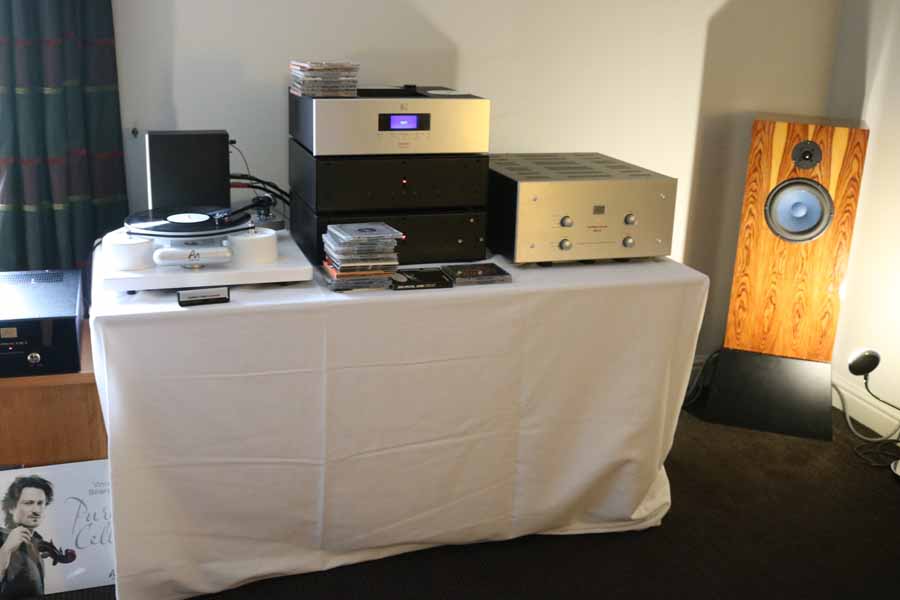 Aeron Audio
Not many exhibitors can bring their offerings with them as aeroplane carry-on luggage but Aeron's Laurence Lau probably can.  His system consisted of three tiny boxes, none much bigger than a cigarette packet, and a couple of pairs of not much bigger speakers.  The electronics consist of the C-101 pre/headphone amp/DAC and the P-101 stereo amplifier.  The HDP-1 wireless audio adapter acts as a wireless/Bluetooth receiver. The BlackRosa HY-1s were playing when I visited.  They have a front profile not much bigger than a sheet of A5 paper but, made of aluminium and weighing in at 5.5kg each, are impressively solid.  The smaller HY-0.5 was also on show.  It was impossible not to be impressed by the sound coming from these little boxes and the finishing of all the products is first class. Great sound too; Laurence's music choice was a little on the polite side (Ane Brun, I think) but the system delivered it with authority and finesse.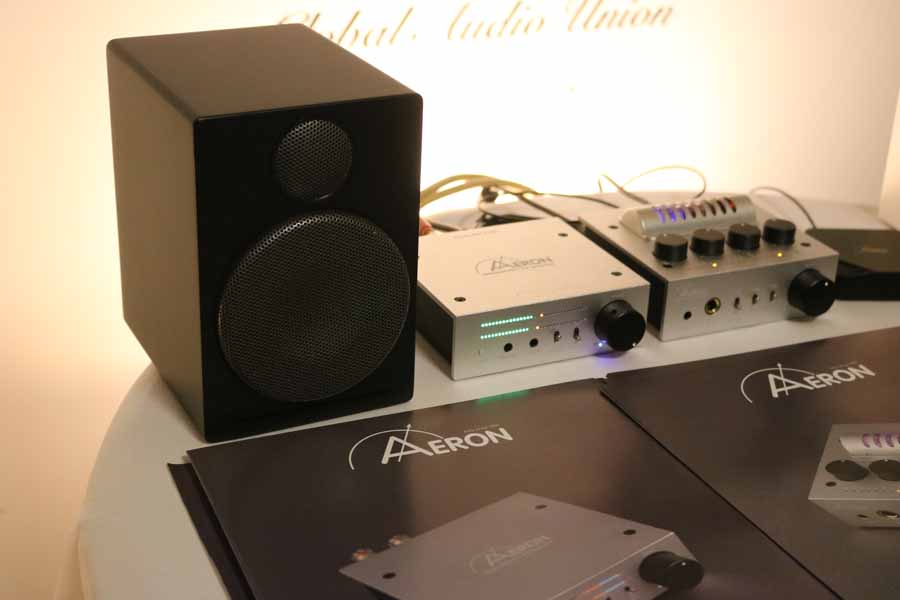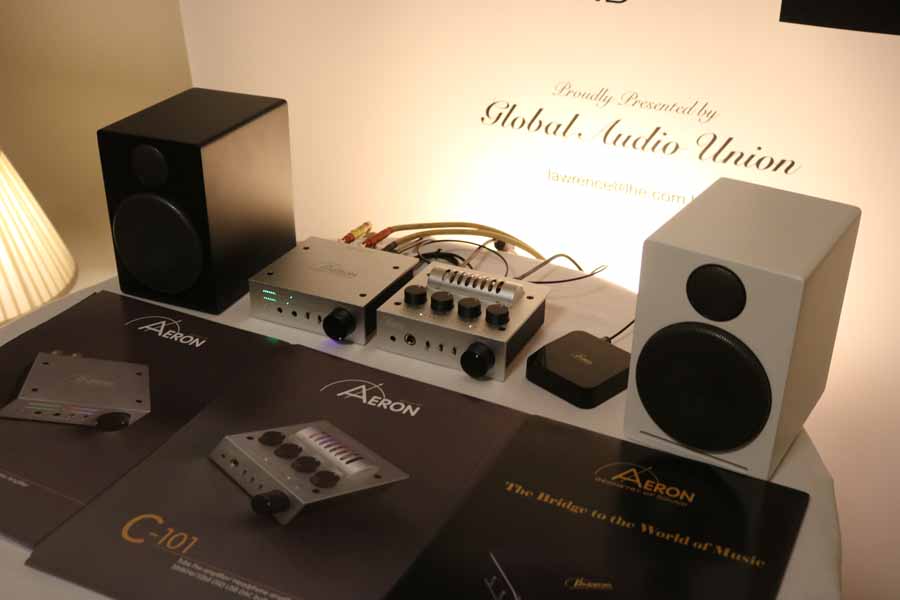 Computer Audio Design (CAD)
I wasn't paying too much attention when I wandered into the CAD room.  I snapped off a few photos and slipped into a seat in the second row and immediately began to enjoy the music. The last few seconds of the unfamiliar jazz track faded away and Leonard Cohen's familiar voice filled the room, and I mean FILLED the room.  But where was it coming from? It couldn't possibly be from those tiny Boenicke speakers on their spindly stands.  It couldn't be, but it was.  I actually laughed out loud; my notes simply say "Boenicke- Bloody Hell".  The soundstage was phenomenal, the depth and clarity unbelievable.  How much of this was the CAD electronics, how much was the Boenickes, how much the Quadraspire rack system?  I couldn't say and I didn't care but I came back to this room five times to make sure I hadn't imagined it.  I did say I wouldn't rate the rooms but – don't tell anyone – this one was my favourite.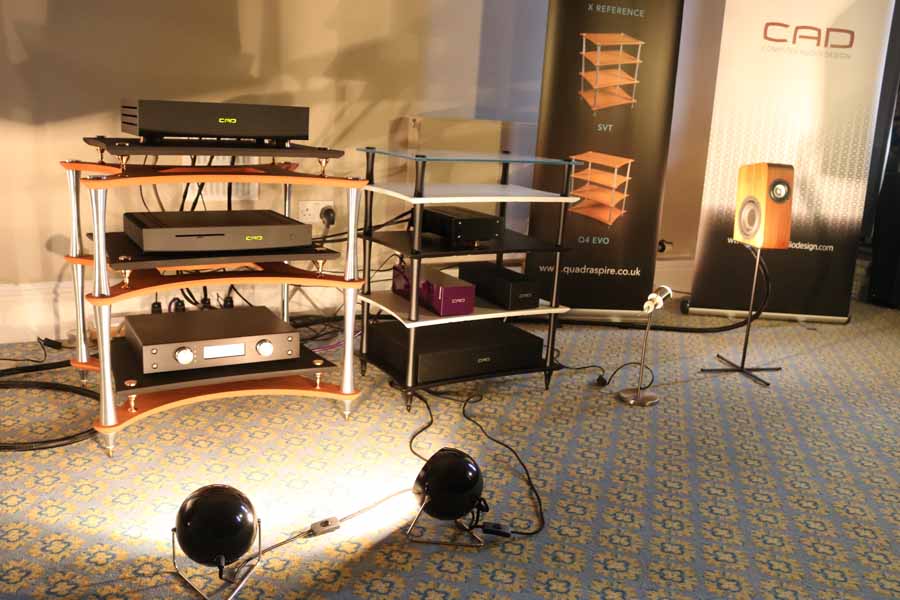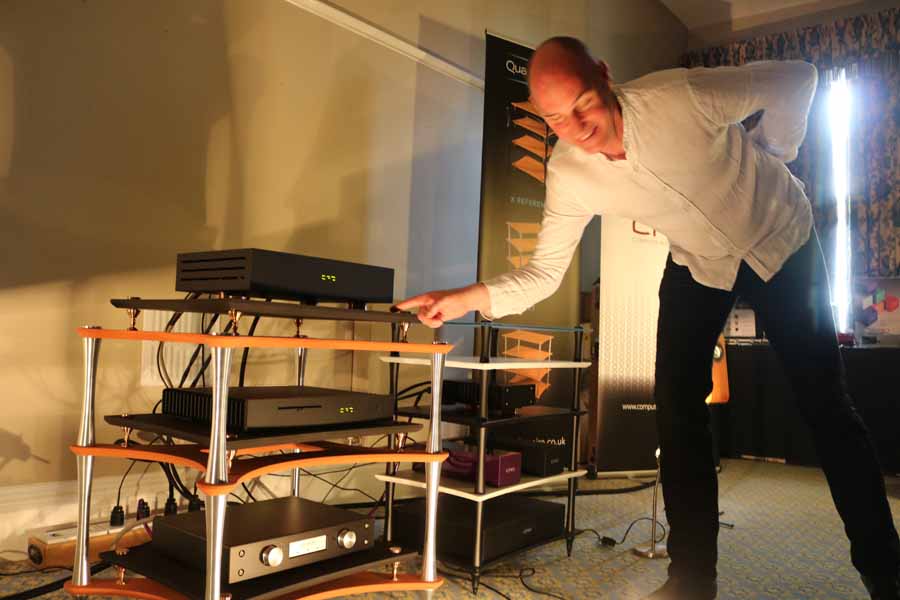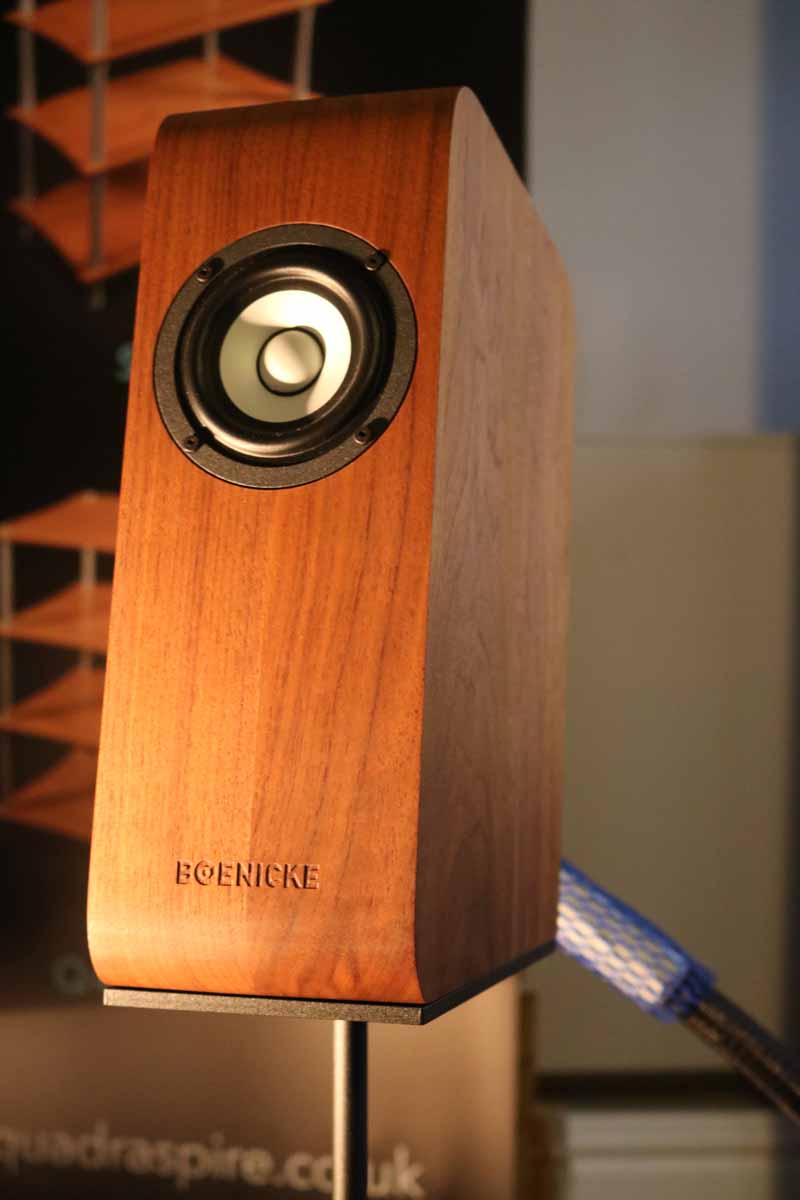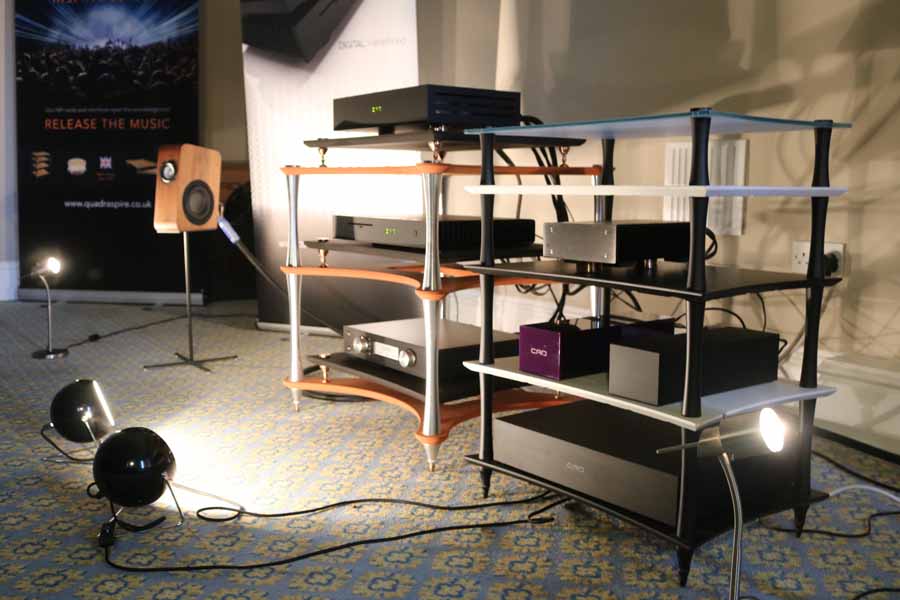 GPoint Audio
Save the best until last, they say.  GPoint's room qualified as my best of the show (even if it wasn't my favourite) and far from saving the best until last, it was the first room I visited.  The JoSound EcoJo speakers attracted a lot of attention.  On a return visit to the room later in the day I discovered that the speaker cabinets are constructed from compacted hay which is extremely dense, inert and heavy.  Donna Summer's I Feel Love was a real highlight, no big disco bass boom here but tight and dry and dynamic.  The system was fronted by a J.Sikora turntable and Riviera Audio Laboratories amplification.  Sunday saw the JoSounds replaced by a pair of Diapason Dynamis speakers which were no less impressive.  Truly aspirational hifi even if I could only aspire to own it with the help of a major lottery win.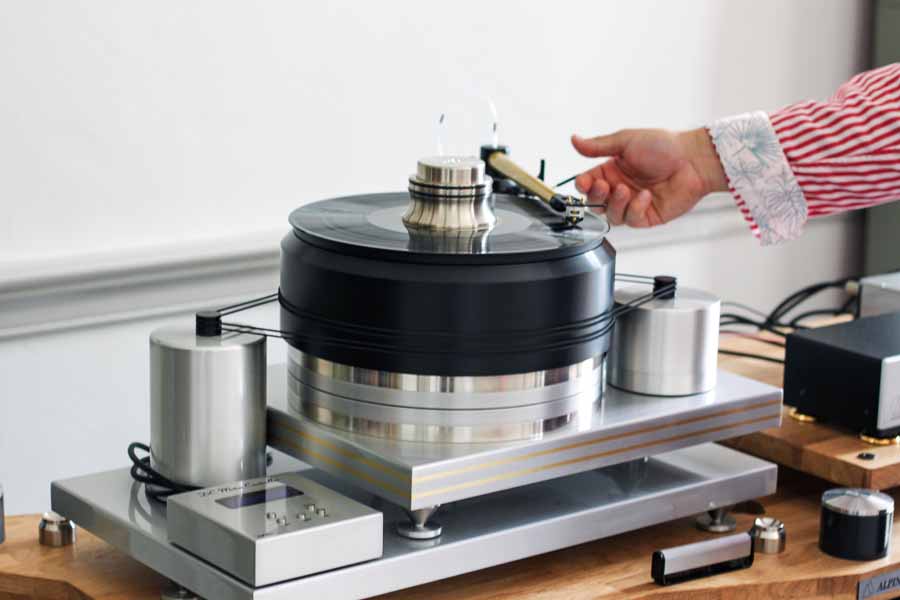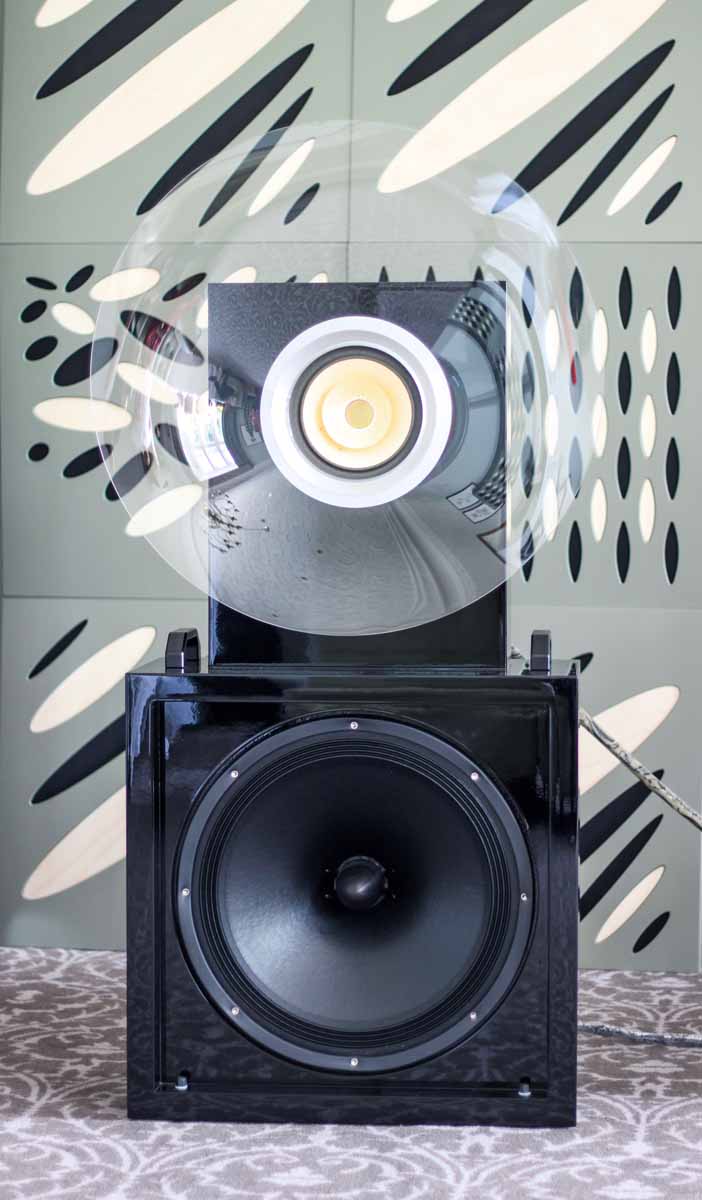 So, that was my five favourite rooms but in all honesty, many more are deserving of a mention. A quick shout out then to Kralk Audio for both the TB12s in their own room and the new BC30/4s in the Missing Link & Vinyl Passion Room; the very intriguing AcouPlex isolation sheet in the Auden Distribution room and the little KEF LSX speakers in the Chord room which gave a very convincing account of themselves playing music streamed via airplay from an iPad.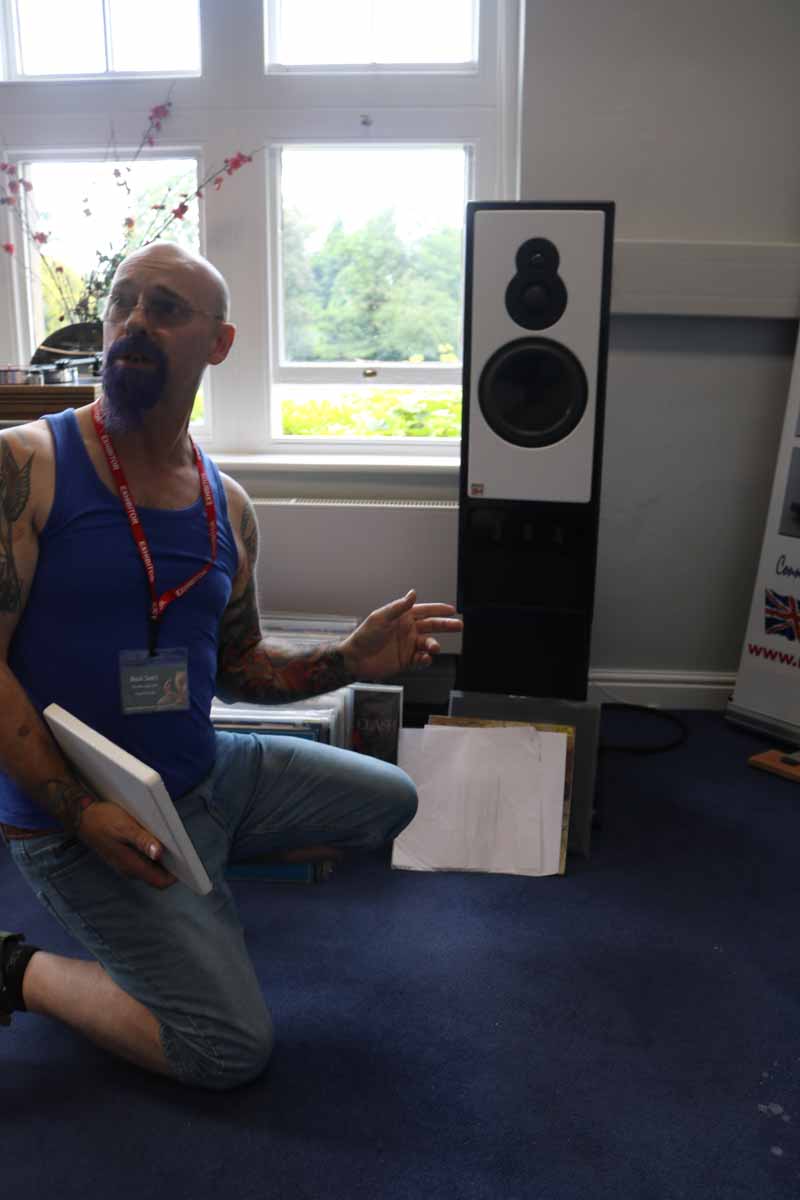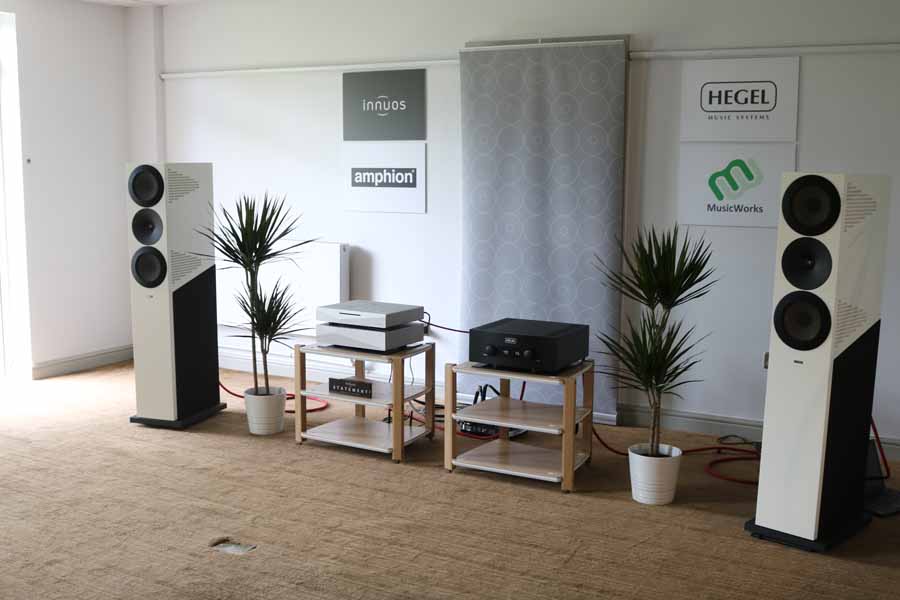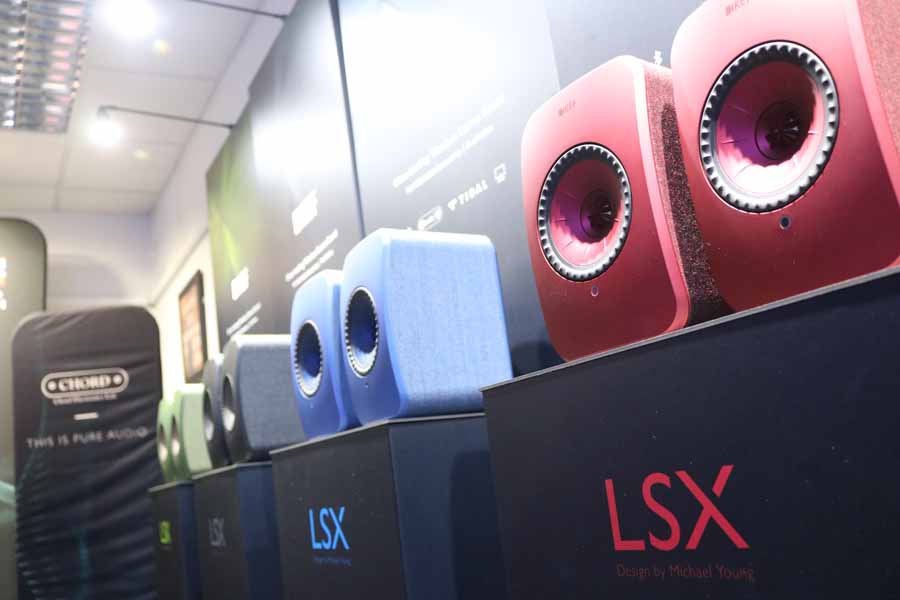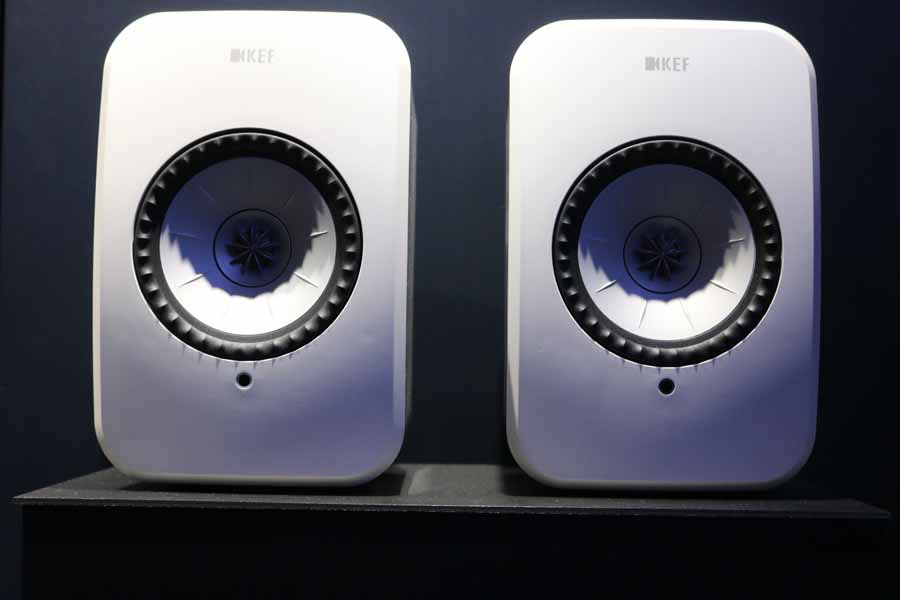 My weekend at The North West Audio Show was made complete by the people I met, industry professionals and punters alike.  Good as well to see lots of HiFi Pig tee shirts in the bar.  Actually, that gives me an idea for another day – a Hunter S Thompson-style exposé: Beer And Clothing In Cranage.  Could be a best seller?
John Scott
More From North West Audio Show 2019