The full and final report from this year's fantastic North West Audio Show Held at the De Vere Cranage Estate in Cheshire. In this report, we'll walk you through the whole of the show with lots of information (over 9000 words) and tons of pictures. ENJOY!
The buzz on social media prior to this year's North West Audio at the De Vere Cranage Estate was palpable showing that it is rapidly becoming THE show to be seen at in the UK for both exhibitors and visitors alike. In the days running up to the show I was chatting to Kris, the organiser of the show, and tickets claimed (I can't say sold as the event is absolutely free for visitors) were well up on last year. What I like about the show, as well as all the great audio kit on demonstration, is that you feel like you are attending something special and where care and attention have been taken to ensure everything runs smoothly. Kris and his team are fantastic hosts for the show and make everyone feel welcome and special – certainly not the corporate feel you get from some shows and events. North West Audio Show 2019 is welcoming and fun, with exhibitors working hard to ensure that everyone has a good time.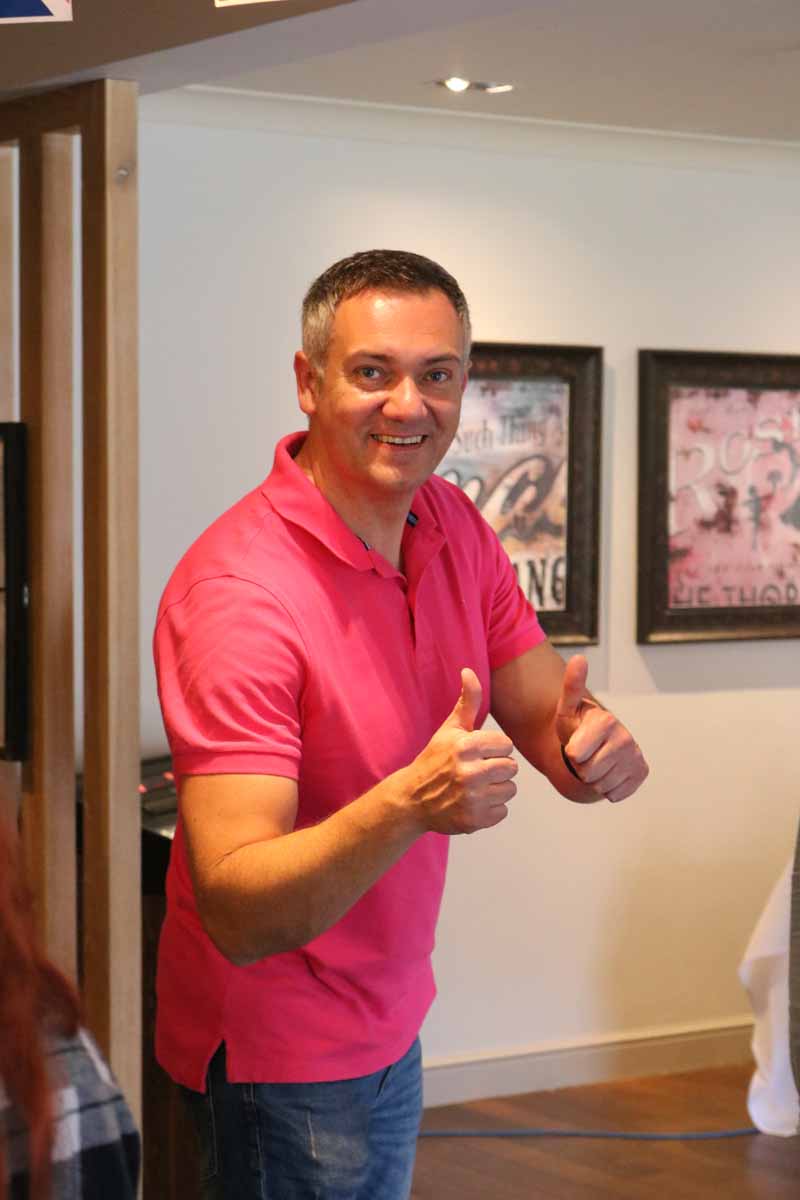 It's little touches that mean so much at a show like this and one thing that stood out for me was Kris's inclusion of a free eighties jukebox in the bar – nice touch! Took me back to the days of my underage drinking in the Ring O' Bells in Barnsley (I still can't listen to Hotel California without hearing the click, click, click where the record would stick until someone banged the top of the machine). Another nice touch was a free glass of Bucks Fizz on arrival.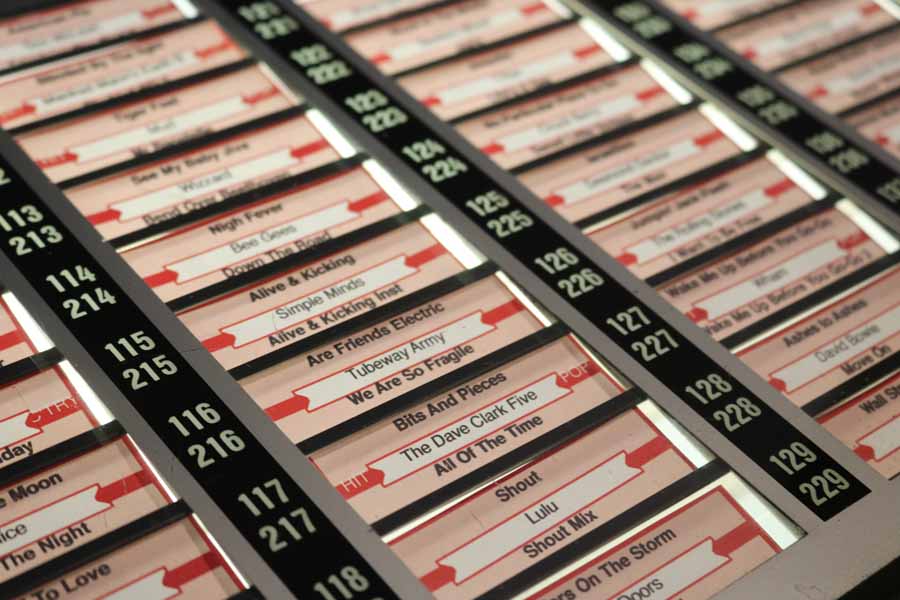 We were promised great weather and we weren't disappointed and it was great to see a good mix of people at the event. People have travelled far and wide to attend NWAS and many made a weekend of it and I think the fact that it is free and with loads of free parking makes this doable for more people. Special mention must go to Dave and his team on the Facebook group  Audiophiles UK. Hi-Fi and Music. who have done a fantastic job of helping create a feeling that this was always going to be the show of the year to attend. Now I may be biased, but I genuinely do think that of all the UK shows this one has a special vibe to it and we at Hifi Pig are so proud to be associated with the event.
Good to see lots of couples at the show and a special mention to Derek who made the show after we bumped into him at Charles De Gaulle in Paris.
We've also made a conscious effort to be much more organised with our coverage this year and the whole event has been planned like a military exercise that seems to have gone, so far at least, without a hitch, though the bar did get in the way a couple of times.

So, let us walk you through the North West Audio Show 2019…but before we do can we say a huge thank you to our main sponsors Music First Audio and to all the brands that bought small adverts on the coverage including Ovation High Fidelity, KEF, Audio Counsel, BrianandTrevors, Kudos, Lateral Audio Stands, Electromod, Fanthorpes, Henley Audio and Puresound. We really do rely on their support to make attendance at these shows possible and so please do click through to the banners and take a more in-depth look at what they have to offer.

Finally, and I think it is often forgotten in the maelstrom before, during and after a show to mention just how much effort the exhibitors put into the shows they attend. Every room at Cranage felt as if each team had really gone the extra mile to ensure their rooms were welcoming, sounded good and had something special to offer visitors. Many of the exhibitors travelled great distances (some internationally) to attend the show and it must be exhausting for them to be "on" from set-up, through the show and right down to take-down and the drive back home, but each and everyone welcomed us and other visitors to their rooms with a smile and a hello and so hats off to the oft' forgotten heroes of the Hifi show scene.

The purpose of this report is not really to make comment on the sound of each and every room, though I will comment on some, the idea is more to walk people through the show and give them an impression of what the show was like for the visitors and to encourage those who didn't attend to attend and those who did attend to book for next year – same venue (De Vere Cranage Estate, Holmes Chapel, Cheshire) and the dates for your diary are 20th and 21st June.

SOURCE AND FOUR MASTERS
Even before you actually get into the wonderful surroundings of the Cranage Hall building itself you have the guys from Source Sound and Four Masters displaying what can be done by way of music playback in your car. People often forget how much time we spend in our cars and how important it is to have good reproduction in our cars – which reminds me I ought to get ours sorted.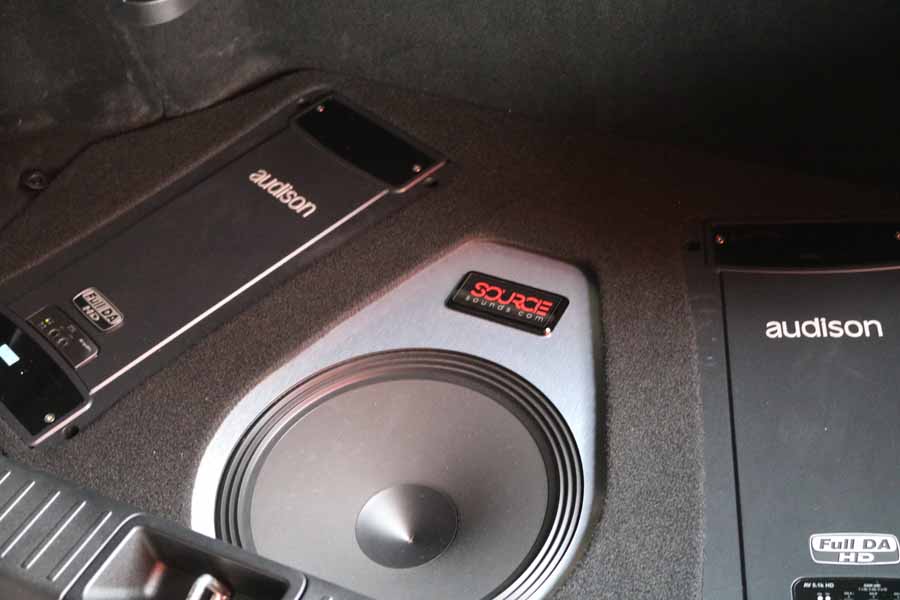 ENTRANCE
DIVINE AUDIO 
Divine Audio had a whole host of products on show and looked to be doing good trade.
AMMONITE AUDIO
Ammonite Audio were showing off their own range of improved mounting collars and spacers for Jelco tonearms and their modular machined alloy armboards for Technics SL-1200 turntables. They were also showing tonearms from Jelco, Timestep and Glanz with stereo and mono cartridges from Ortofon SPU, Miyajima and Phasemation, complemented by turntable setup accessories from Jelco and Ortofon.  Every model of Ortofon SPU was available including the limited edition SPU Century and as one of these is on my shortlist I took a few snaps, said hello and walked away before getting my wallet out. The stand seemed to be constantly busy and doing good trade which was brilliant to see.
TITAN AUDIO
Titan Audio, the UK manufacturer of cables and mains distributors had a static stand in the lovely lounge area of the show just after the entrance and being manned by Gary who did a splendid job of attracting folk to the stand – which was proudly showing off their Hifi Pig award for their mains cables.
Titan used NWAS to announce their new Helios block that has five mains sockets as well as an IEC in, so you can use any of their high current mains cables to power the block. It also features new legs which are a bonded foam, aluminium and perspex sandwich which Titan says creates a very strong and rigid foot while decoupling the block from the floor.
The Helios block is internally wired with OFC long grain copper cable with no busbars.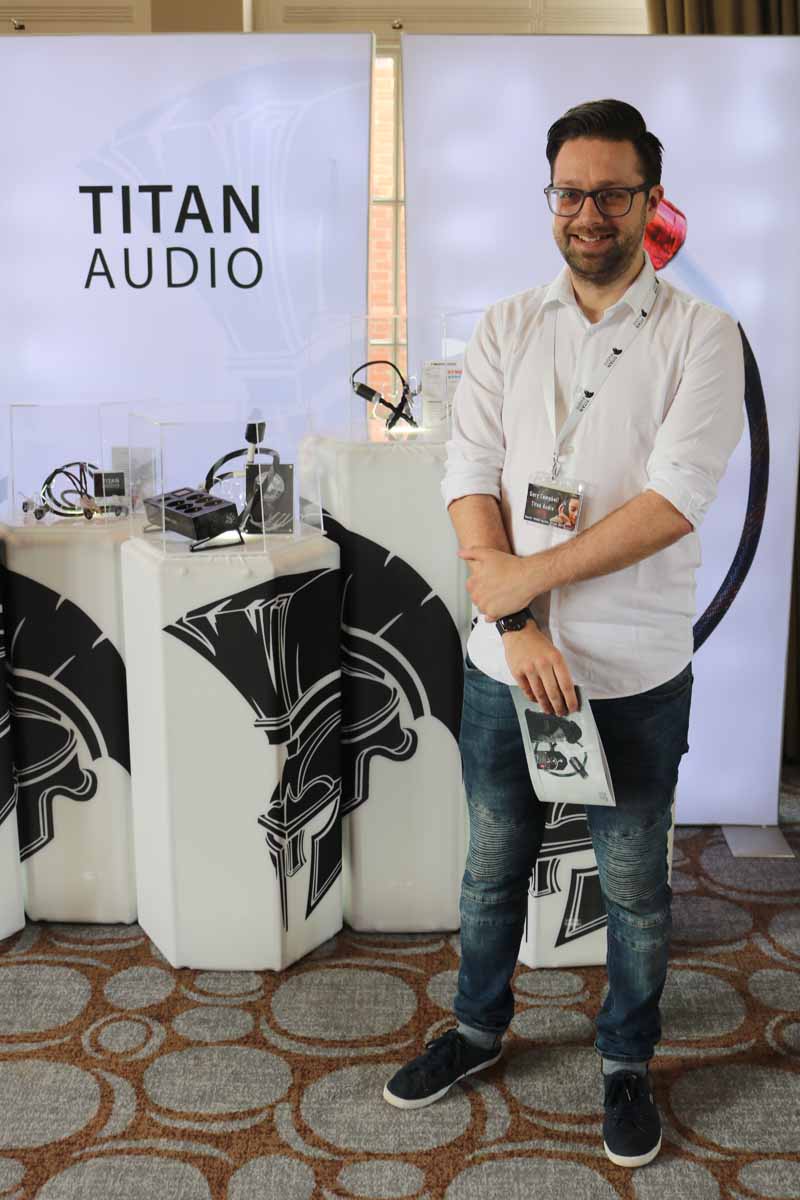 CORRIDOR
SUPRA CABLES
Supra Cables, that are designed and manufactured in Sweden, have, if my memory serves me correctly, attended the North West Audio Show from the very first year and always seem to do good business selling their huge range of audio cables, DC blockers, USB cables, Cat 8 cables and mains distribution units.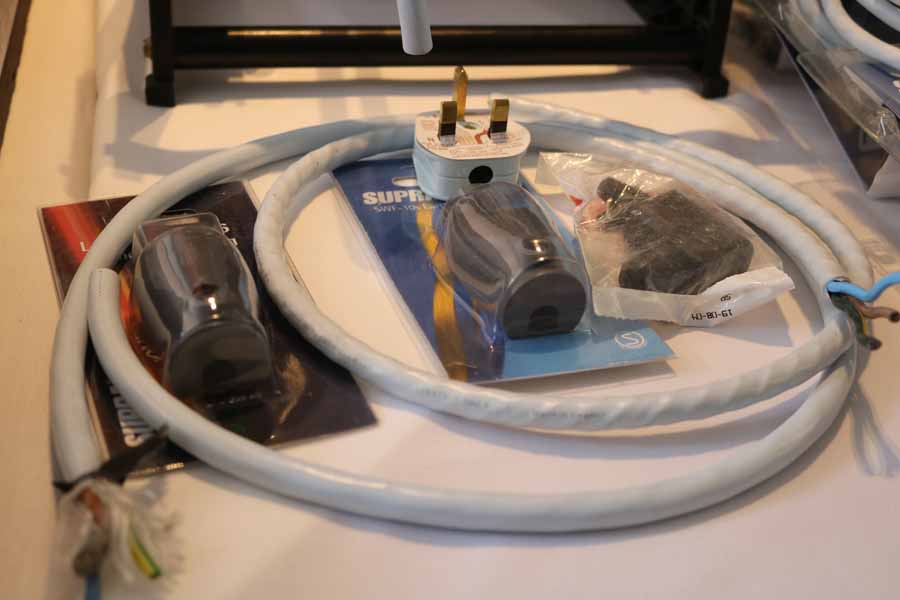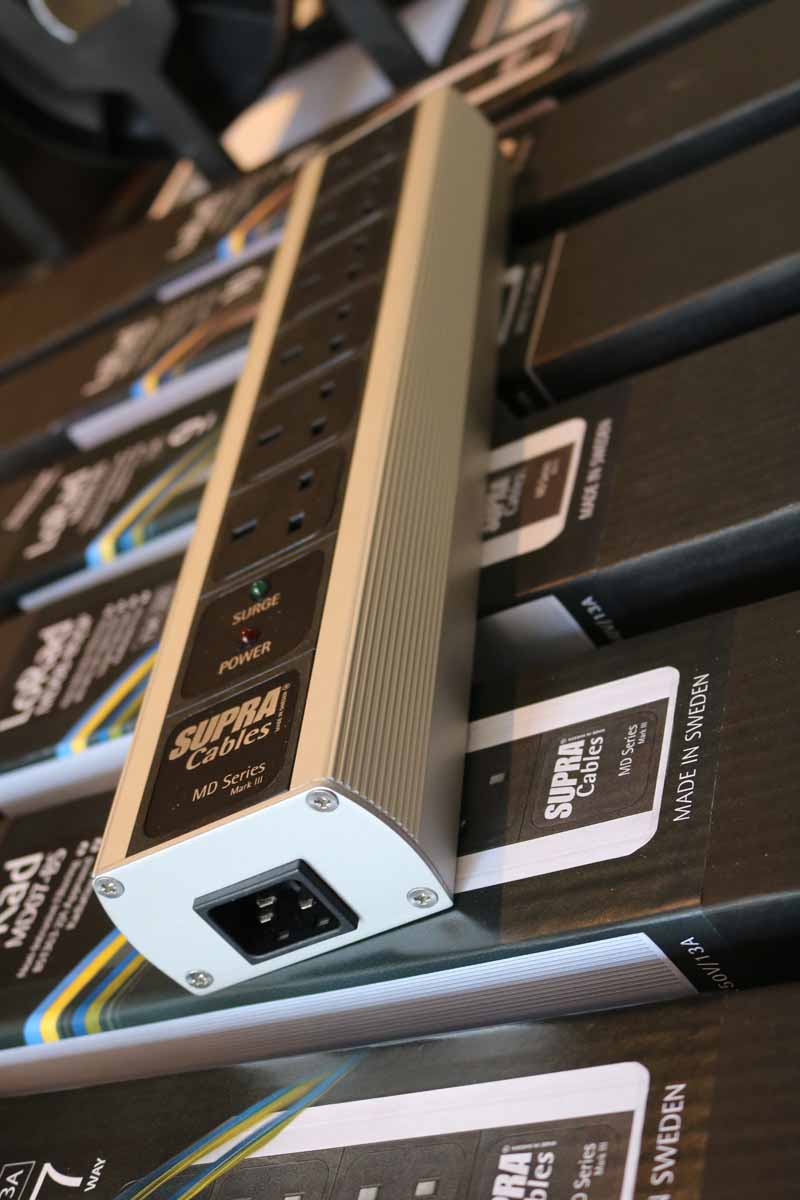 RUSS ANDREWS
Russ Andrews make a massive selection of tweaks, cables and much more and wherever we see them around the world at Hifi shows they always seem to be doing brisk business, with NWAS being no exception.
This year they were showcasing Kimber cables as it is their 40th anniversary with John, Simon and Peter doing a great job at engaging with visitors in a great location. I also couldn't help having a bit of a pose with Linette at this stand sporting a pair of cans powered by Axios cables and a Rupert Neve-designed headphone amplifier.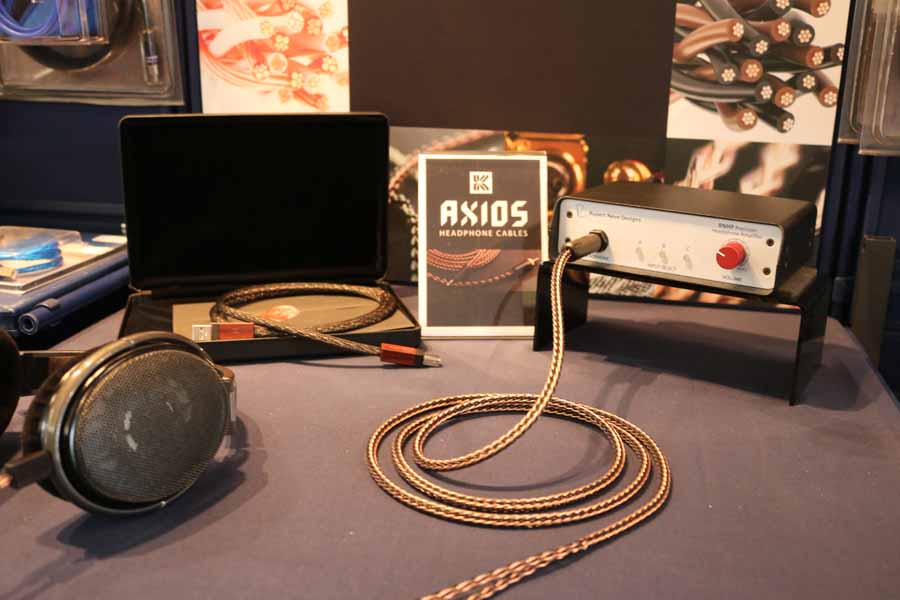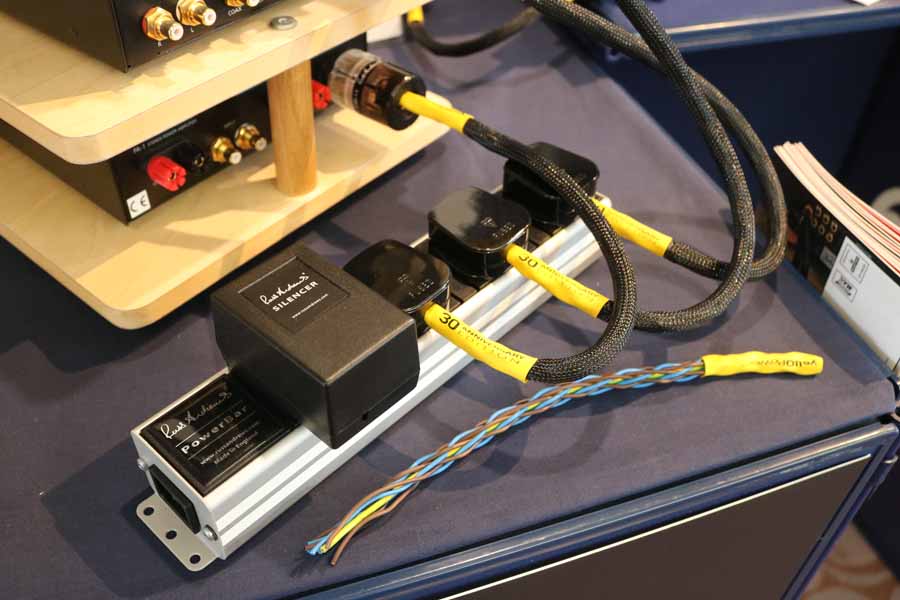 TOWNSHEND AUDIO
Townshend Audio are stalwarts of the NWAS and it's always good to catch up with the gang, and great to see Harriet again. Whether it's a super tweeter, isolation platform or passive preamplifier Townshend have a product for you. We were so busy chatting to Sue Townshend (pictured here on the right with Anne from Nu Nu) we forgot to take product shote – sorry guys.
KIRMUSS AUDIO
If you don't know the Kirmuss ultra-sonic record cleaning machine then you really ought to have it on your shortlist if you are in the market for an RCM. It's a little more involved than conventional machines but the process is thorough and gets your vinyl spankingly clean. In fact, Kirmuss don't actually call it a record cleaning machine, preferring to use "Ultrasonic Vinyl Restoration System". When we tried it out here and we ended up buying it.
ACOUSTAND
Acoustand makes a whole range of products ranging from plinths for Technics SP10s, isolation platforms, tonearm boards and more, but what drew my attention and got mentioned in my esoterica article and Ian Ringstead's report was this turntable. Acoustand is based in Gainsborough and run by engineer Lee Drage. The record player is superbly engineered and has been the twitter of facebook in the last couple of days. It has the ability to house four tonearms, has options on platters and costs from £5995, which for a product that is machined on traditional lathes is a bit of a bargain. I hope that Lee finds the right distribution networks across the globe and then we will see this turntable become one of the classics of its time, though I guess the real world price would be higher if this is what happened rather than him selling direct.
PURITAN AUDIO LABS
There was a good deal of traffic around Puritan Audio Labs stand and their range of mains products and I got a chance to hear them in use in the BrianandTrevors room too.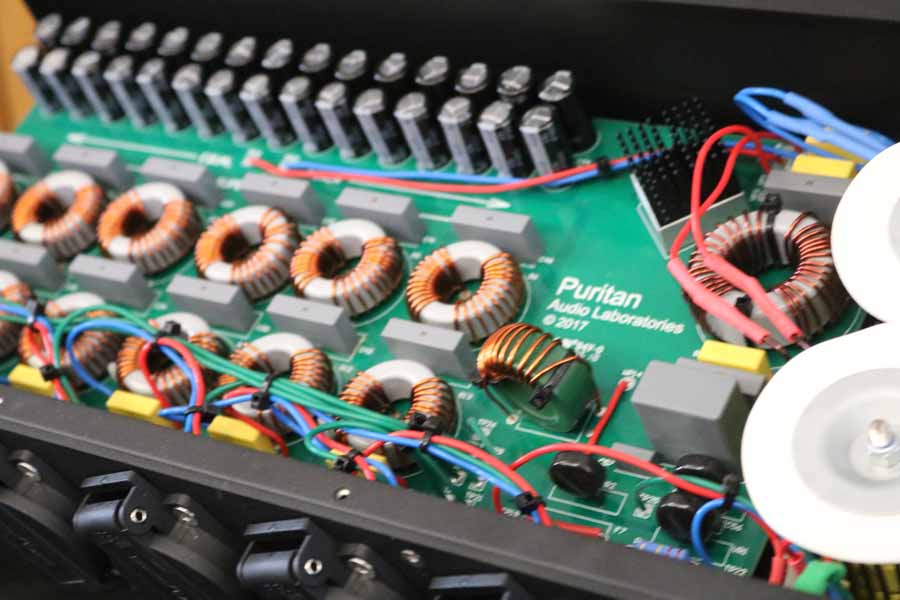 GROUND FLOOR
SOUND FOWNDATIOINS
Understatement was the order of the day in this room and it was all the better for it. The room is perhaps the nicest in itself and Chris made good use of the space. The Larsen speakers (from Sweden) throw a great image and I was especially interested in the DS Audio optical cartridge and anti-static device which we saw first at Munich. Also on show were products from Furutech and Clearaudio. A lovely sounding room that really made great use of the space.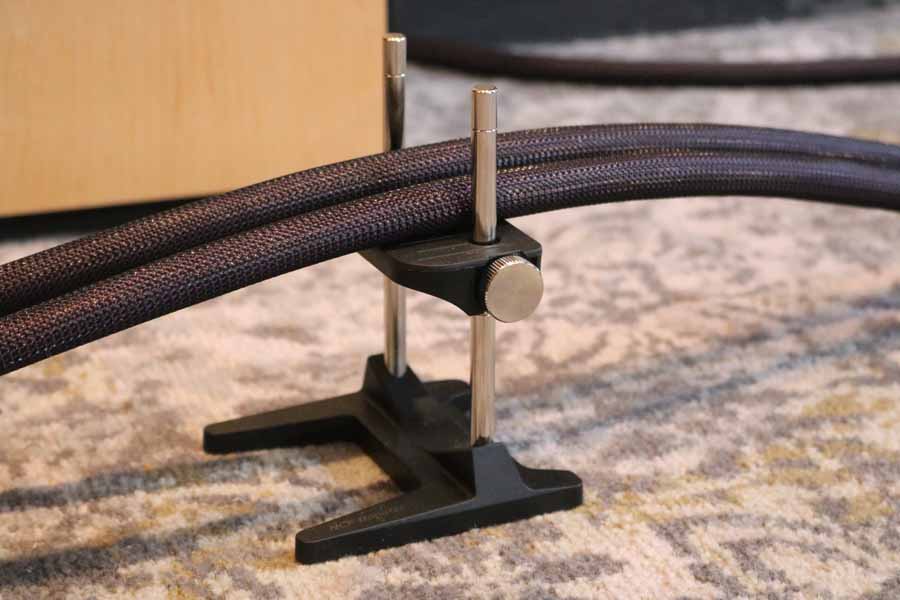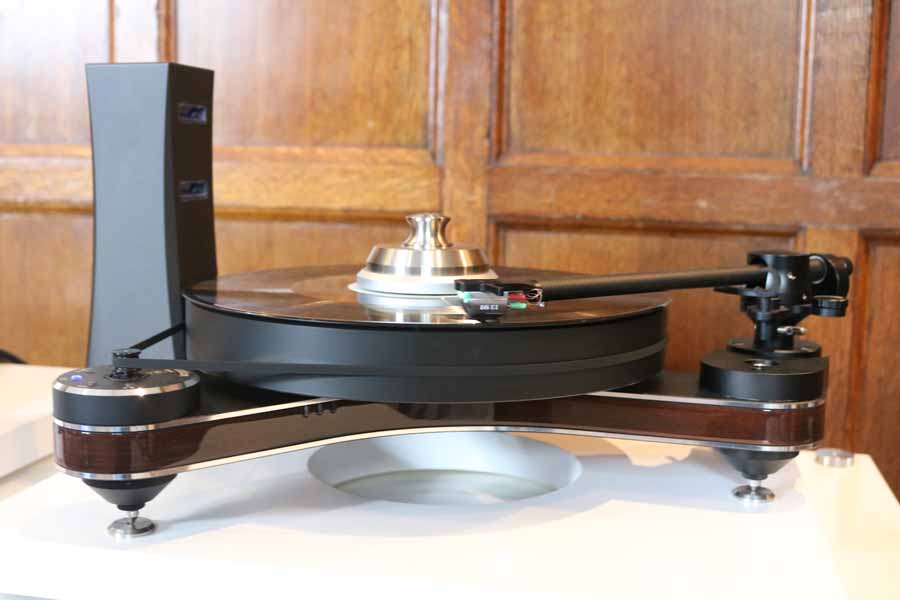 G-POINT AUDIO
Greg at G-Point Audio goes to great efforts in his rooms at all the shows he does and NWAS was no exception. Greg launched his business around about the same time as Hifi Pig and it has been a real pleasure to see his efforts being rewarded with a growing customer and portfolio base. When Greg first started the business, he concentrated on artisanal audio primarily from Poland but he has taken on other brands from around the world too.
The room at Cranage is always well attended and always sounds very good, with G-Point receiving our Hifi Pig Loves You Award in previous years.
Streaming duties for the show were handled by the Luke Domansky Music Server which was feeding an Ideon Absolute DAC which was making its UK premiere controlled by an Ideon 3R Master re-clocker.
However, it wasn't all digital and I do like that G-Point managed to mix the analogue and digital worlds up a bit and for the analogue system (and making its UK premiere) Greg had a J Sikora Standard turntable and KV12 tonearm (also a UK premiere) feeding a J Sikora Basic phonstage. Pretty much everything in this room seemed to be a premiere in the UK and that included the Audio Technica SUT 1000 and the Riviera Audio APL-10SE pre. The cartridge used on the day was the frankly stunning Audio Technica ART 1000MC.
Not content with having just one set of amp and speakers G-Point offered visitors to the show a couple of options to listen to. One was the Riviera Audio Labs AFM-25 monos (yet another UK premiere) feeding ECO Joe speakers from JoSound. These are an interesting speaker using the AER full range driver with an active bass unit. The second speaker/amp partnership is the more conventional looking Acoustic Quality Passion loudspeakers (guess what, another UK premiere) with the KR Audio Kronzilla SX power amp. I enjoyed both the JoSound and AQ speakers when visiting Munich High End and interesting that Greg has them on his books.
Another interesting product we highlighted at Munich has also been picked up by G-Point and that's the Mind-Pop Revolution Presslift, that combines a record stabilizer and tonearm pick up system…clever.
Big news from G-Point is that they have been awarded the Italian brand Diapason who make some rather nice loudspeakers.
Highlight in this room was Greg and his team playing Donna Summer's "I Feel Love" through the JoSound speakers which were effortless and clearly high-end in their presentation. Probably one of the top 2 sounds of the show for me.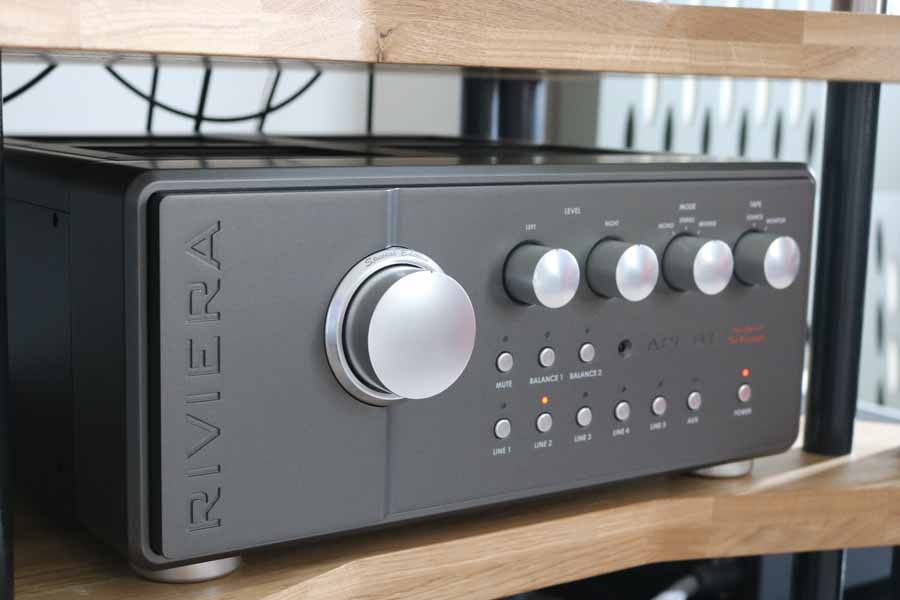 THE MISSING LINK/VINYL PASSION
Mark from Vinyl Passion was keen to show off the new speakers from Kralk at the show and played us the canons from the 1812. This was their first public appearance and they have claimed frequency response of 28Hz to 22 kHz with a cost of £3000.
However, for me, the main news of the show for Vinyl Passion as I know how much they have invested in the product in terms of time and resources is their new power supply for the Linn LP12 turntable. It's been a five-year project, is microprocessor controlled and is due to go on sale in Autumn of this year…we wish them every success with this product.
As well as their VP-12 turntable (a heavily modified Linn LP 12) kit on the day that we heard was a Vincent 237MK Integrated Amp with the affordable Audio Detail NV-06 MM/MC Nu-Vista all valve Phono Stage and the Vincent PHO-701 Phono Stage, along with the loudspeakers from Kralk.
Needless to say, all cables were Missing Link.
AUDIO EMOTION
I've mentioned Audio Emotion in the article I wrote about esoterica at the North West Audio Show but as well as the Cayin (electronics), Acoustic Signature (turntable) and Tannoy (loudspeakers) system I mentioned the Scottish contingent also had a whole range of kit on show including an Aurender digital front end and of course the MBL C15 mono pres.
Sound in the room was "majestic" and whilst I know Tannoys have their detractors I loved them in this room. I also loved the huge Perspex Tannoy in the corner that drew a good deal of attention.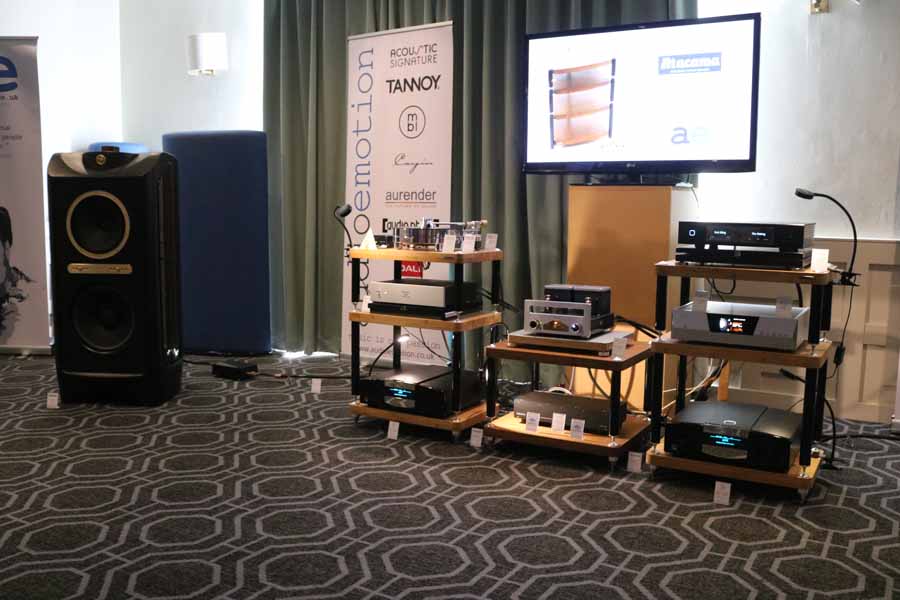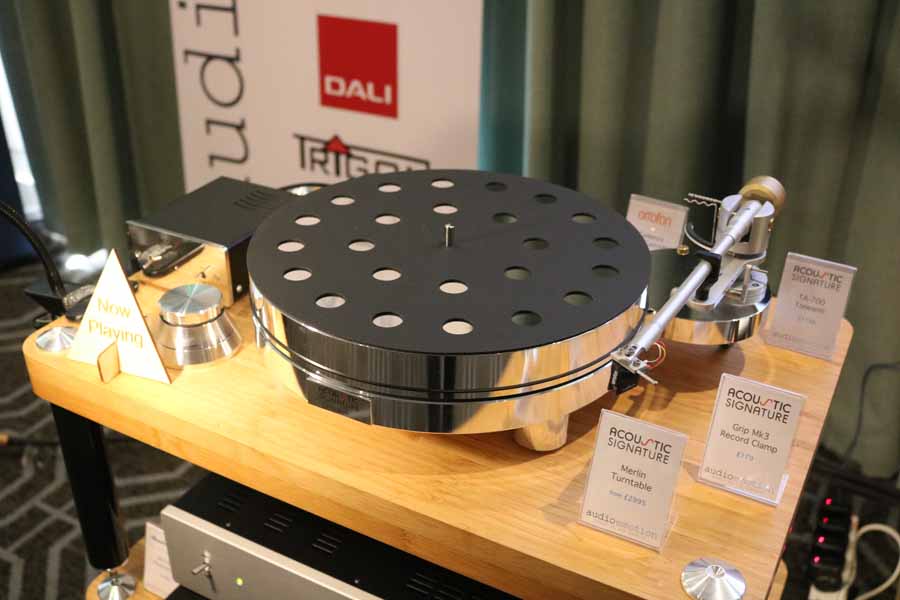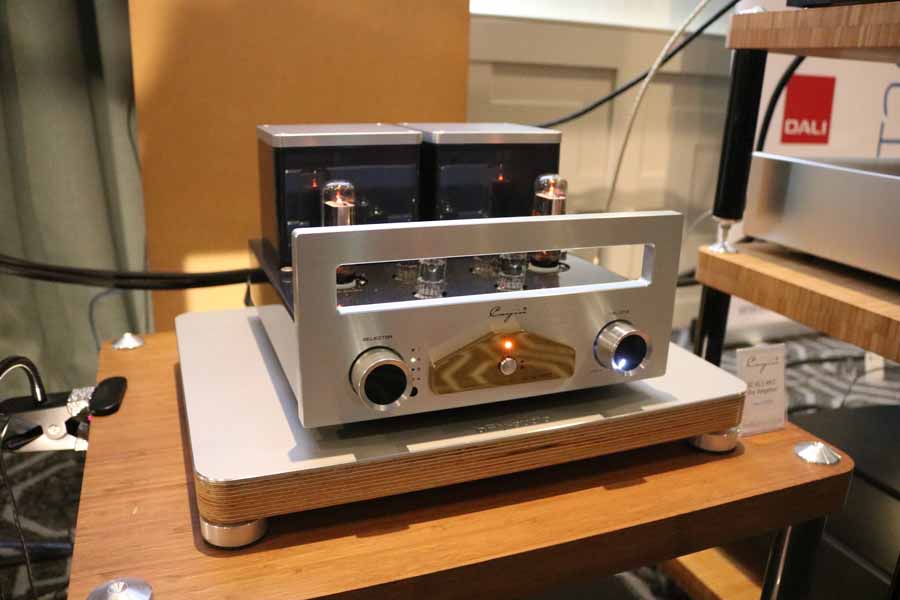 CHASING THE DRAGON
Again, I've covered this in my Esoteric Audio At North West Audio Show article but thought the sound through the big ATCs and using the Studer reel to reel and one of Mike Valentine's recordings was simply sublime. As I've said before, I see studio kit becoming more prevalent in the home in the coming years. Mike's also one of the great characters of audio and we need more characters to my mind.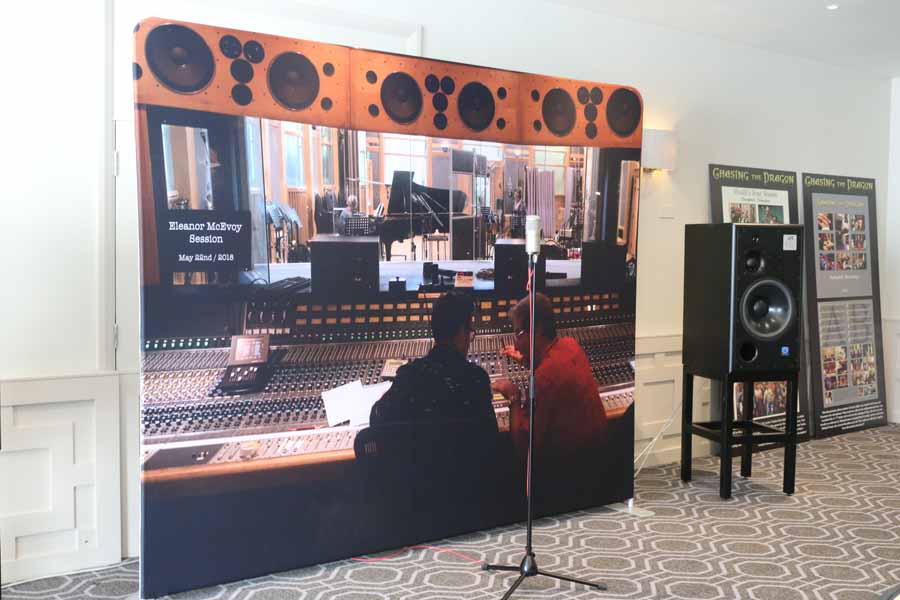 ABSOLUTE SOUNDS
Great to see such a well-respected distributor as Absolute Sounds at North West Audio Show and whilst much of their product line is eye-wateringly expensive, at NWAS they chose to focus on some of their more affordable products. Line up for the show was the Metronome Technologie Le Player 2S CD player/DAC (who says CD is dead?), an EAT Prelude turntable, EAT's E-Glo Petite valve phono stage, the Copland CTA408 integrated valve amplifier which was all being fed through Sonus faber Sonetto floorstanders.
It was great to meet Pedro (another great character in the business) and I thought the sound in the room was very good indeed and showing that great sound is achievable on products that don't fall into the uber-high-end scale of things, though this kit was far from inexpensive!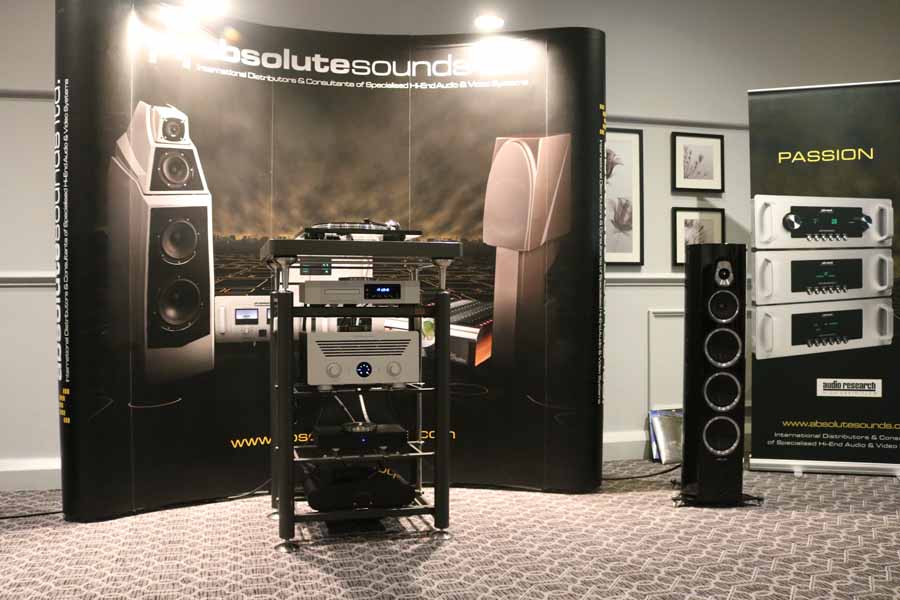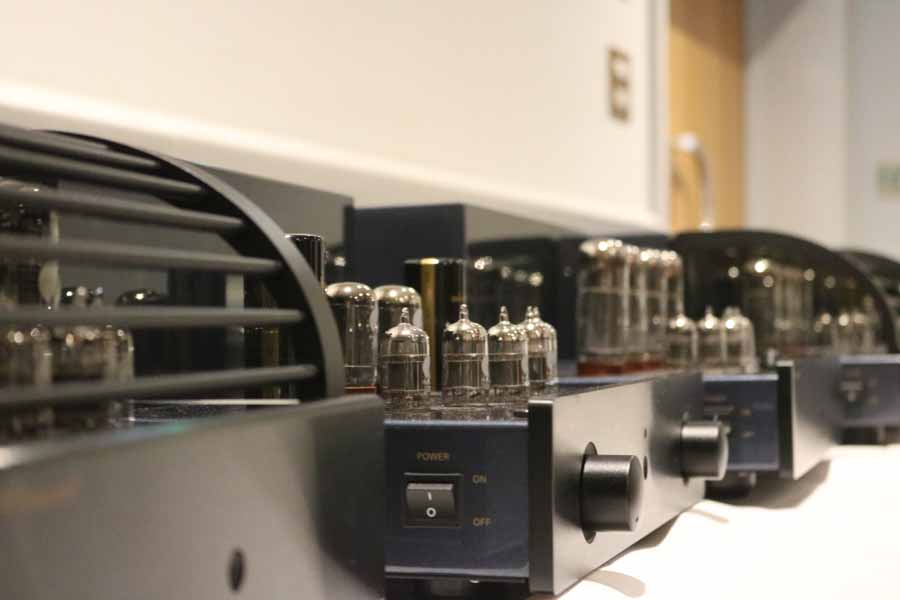 NU NU DISTRIBUTION
Tony and Anne are stalwarts of the North West Audio Show and always go to great efforts to make sure their rooms sound great. I say it at every show we go to where the brand is represented, but the Quadral speakers Nu Nu distribute offer fantastic value for money and again this room sounded great. Amps in the smaller of the rooms were of Tony's own design, as were the grounding with other electronics being from Oracle. The actual speakers were Quadral Aurum Sedan 9s with a Qube 10 sub which all integrated very nicely. Nice and cool too.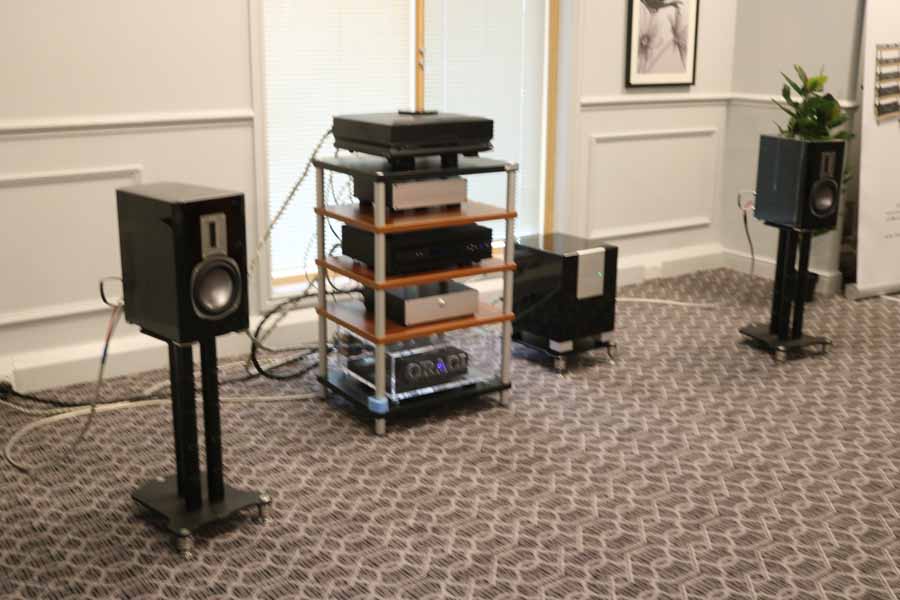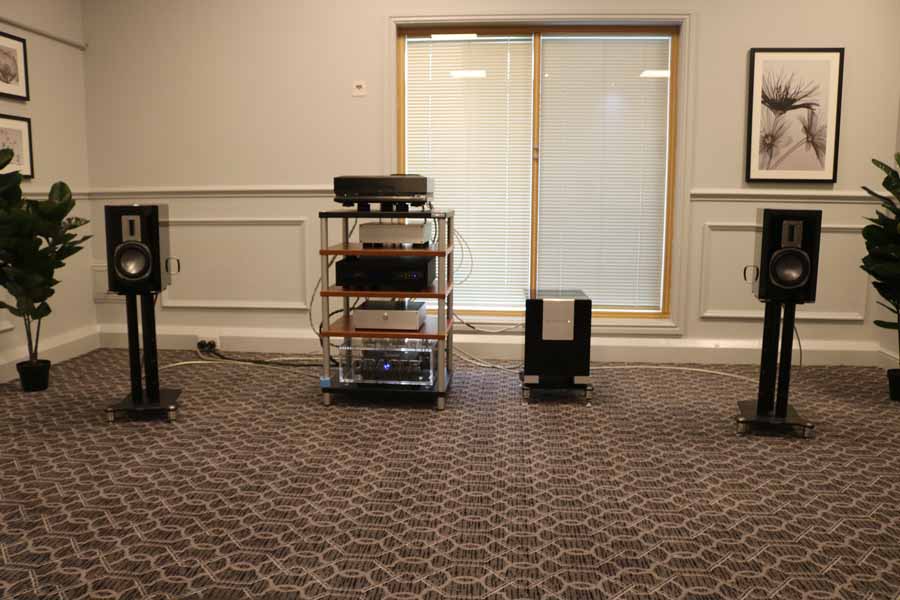 ICON AUDIO
Icon Audio had a new 300B based amplifier and upgraded versions of their Stereo 40 and Stereo 60 integrated amps. They also showed off a new headphone amplifier based around the Western Electric 205D valves which date back to the 1920s.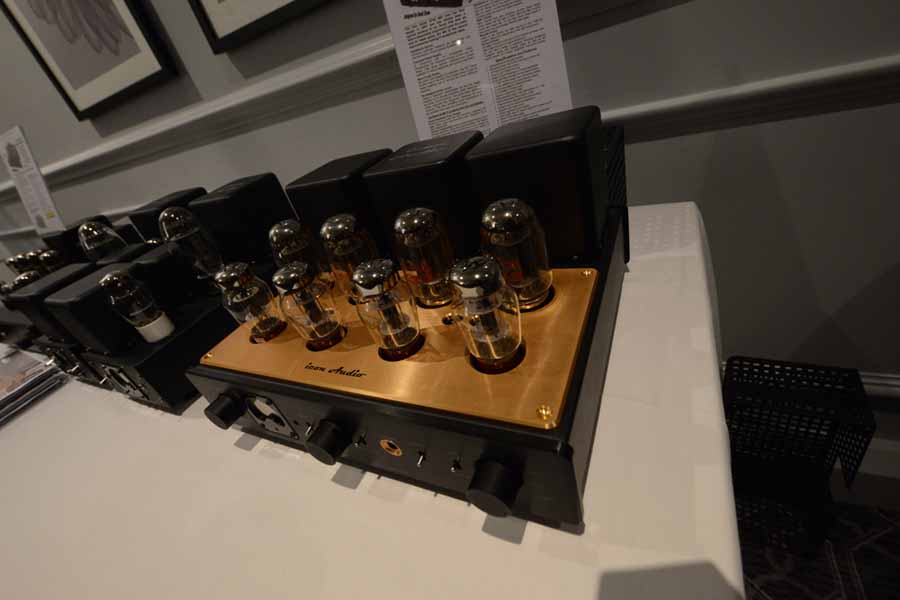 BRIAN AND TREVORS
Brian And Trevors is always a bit of a highlight for us and the guys always make us feel welcome. This year they were playing both analogue and digital front-ends. Linn obviously featured large as they also own The House Of Linn. Speakers were by Kudos, cables by Chord Cables and racks by Quadraspire.
Brian and Trevor are again great characters and they go to great efforts to ensure that the people in the room feel welcome and well informed. Sounded great and proves that a system doesn't need to have a million and one boxes to achieve a really great sound. I suppose the way to describe this kind of audio is "real-world" in that it offers fantastic performance in a package that is home-friendly.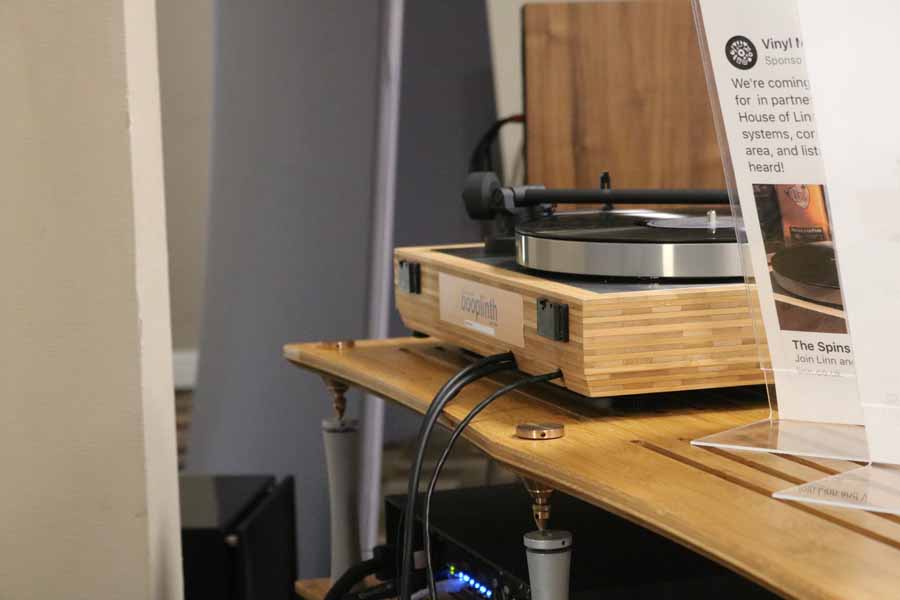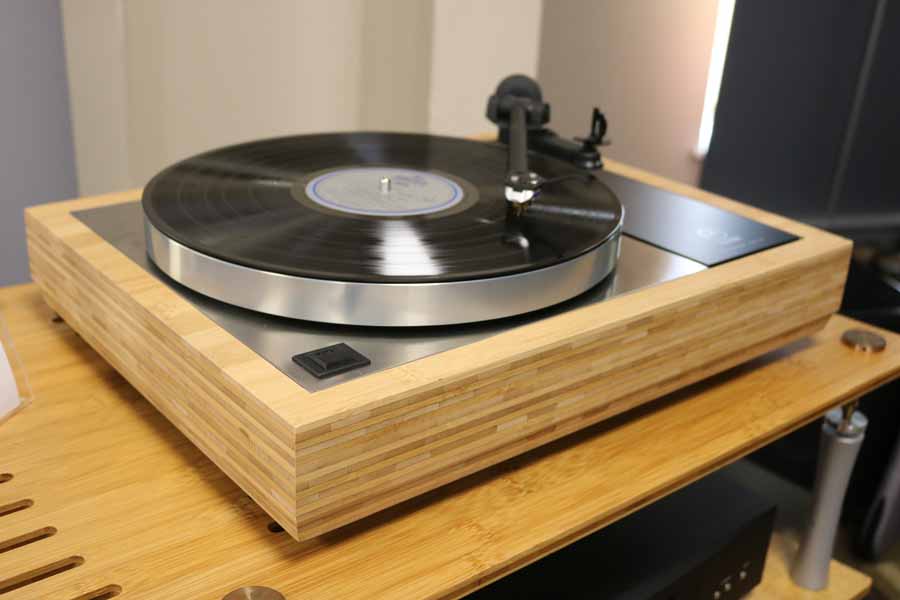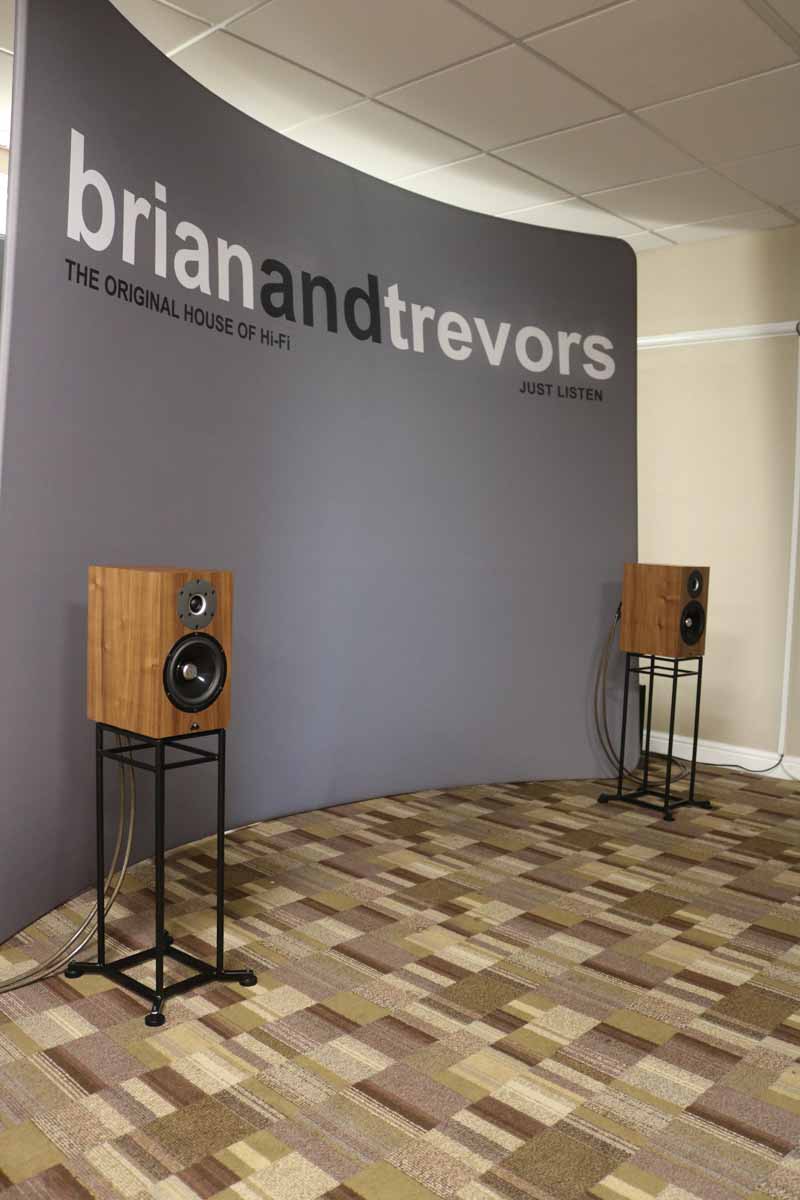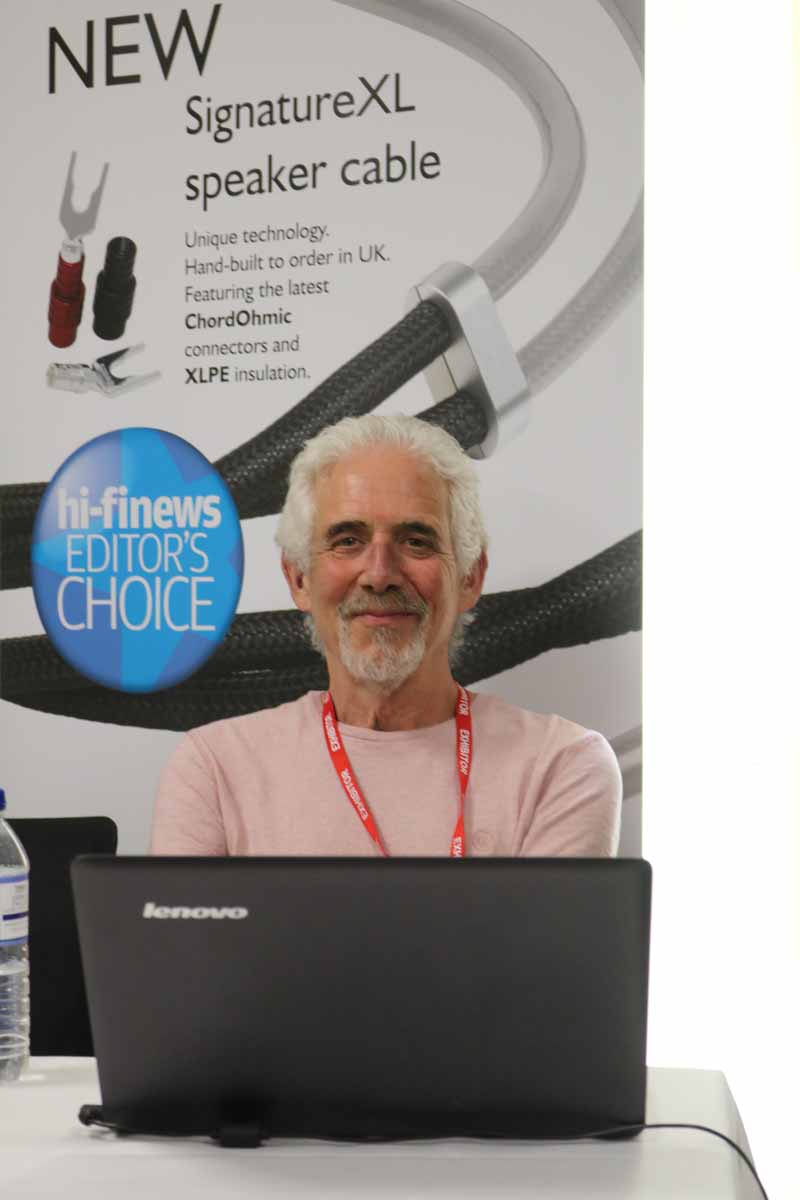 AUDIO COUNSEL
Audio Counsel are based in Manchester and have been supporting NWAS from the off and always put on a good show and this year was no exception. This year they had a couple of systems playing with the split being morning and afternoon.
The first system comprised of Heco Direkt Einklang loudspeakers, Audion Sterling EL34 amplifier, Puresound P10 Phono Stage, The new Audio Note TT3 with a PSU1 power supply, Audio Note DAC 2.1x Signature and Audio Note CDT Zero/ii Transport.
Their second system was the new Audio Note TT3 with a PSU1 power supply, Audio Note M1 Pre-Amp, Audio Note Conqueror Silver – featuring the new Audio Note 300B valves, Audio Note AN-J loudspeakers, Audio Note DAC 2.1xSignature and Audio Note CDT Zero/ii Transport.
I got to hear the system using the NA-J speakers and very good it was too. I am growing to be a big fan of the Audio Note UK sound and Audio Counsel do a great job of presenting their products.
THE AUDIOWORKS
Based in the Einstein room The Audioworks room featured Accuphase electronics which are always a firm favourite and have been mentioned in others' reports on North West Audio Show. For the folk that must know electronics were the E-270 integrated, E-650 Class A integrated and the DP-560 CD/SACD player and DAC.
Making its UK debut at the NWAS was the Lumin X1 Network Player. Released late last year, LUMIN X1 is claimed to be the first player to feature optical fibre networking for noise suppression. In addition, it features a chassis and matching separate dual-toroidal PSU hewn from solid billets of aluminium, LUMIN X1 contains a world-first SFP fibre-network connection, Dual SABRE32 ES9038Pro DAC chips, LUNDAHL LL7401 output transformers, Femto Clock System with precision FPGA distribution and more. All LUMIN music players are Roon Ready and support OpenHome, TIDAL, MQA, Qobuz, Spotify Connect and Apple AirPlay for effortless playback from a wide range of sources.
Accuphase products are always popular and I for one have always loved their styling and sound and wasn't disappointed at Cranage when paired with the Lumin device.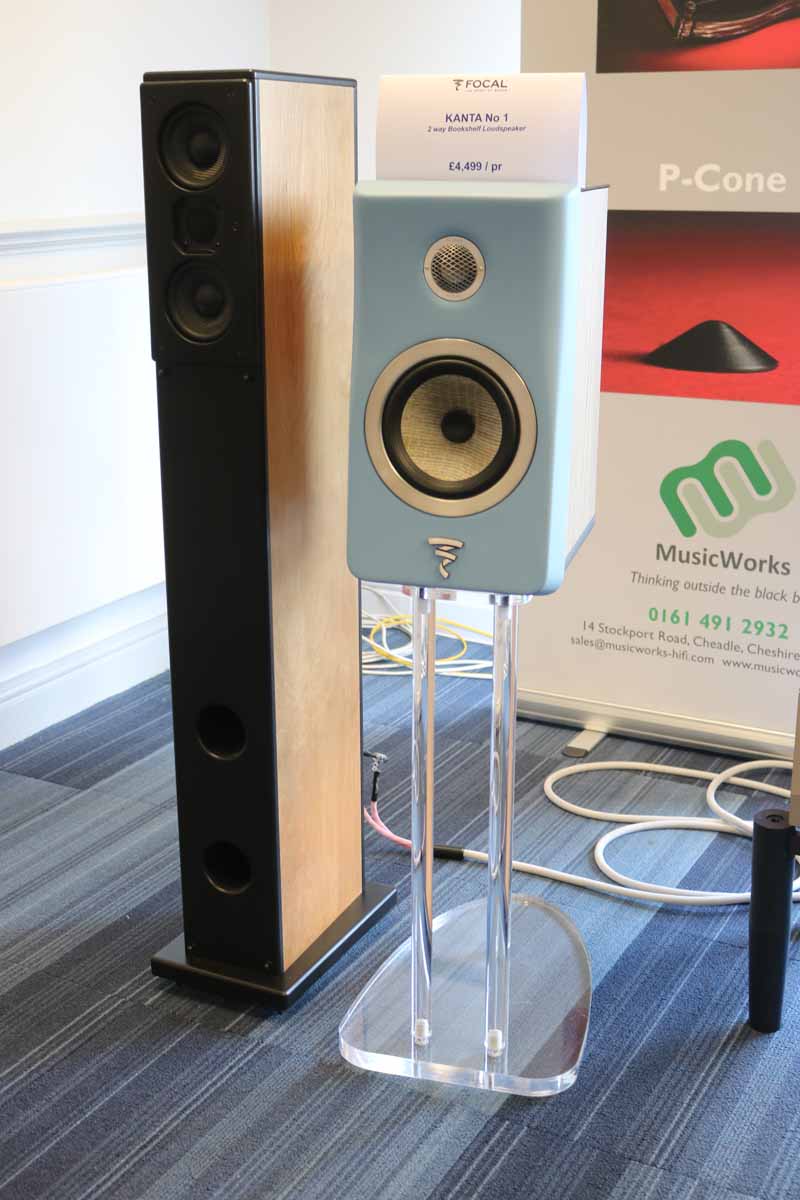 3 SQUARE AUDIO
I've always enjoyed 3 Square Audio speakers and very much like the simple ply designs they employ and so was looking forward to hearing their new Ayal standmounters – previous 3 Square speakers have all been floorstanding models. The new Ayals are a two-way design using a 1st order crossover and an interesting arrangement of drivers, presumably for time alignment.
I was not disappointed at all in this room with the sound being coherent and pin-point accurate in its staging.
There is something really special about a standmount done well and this is one done very well. The speakers and system were complimented by the use of Wire On Wire cables throughout. If you haven't come across these cables before then they use an interesting geometry that is tuneable by the user – naysayers use your ears, they do have an effect on the overall sound!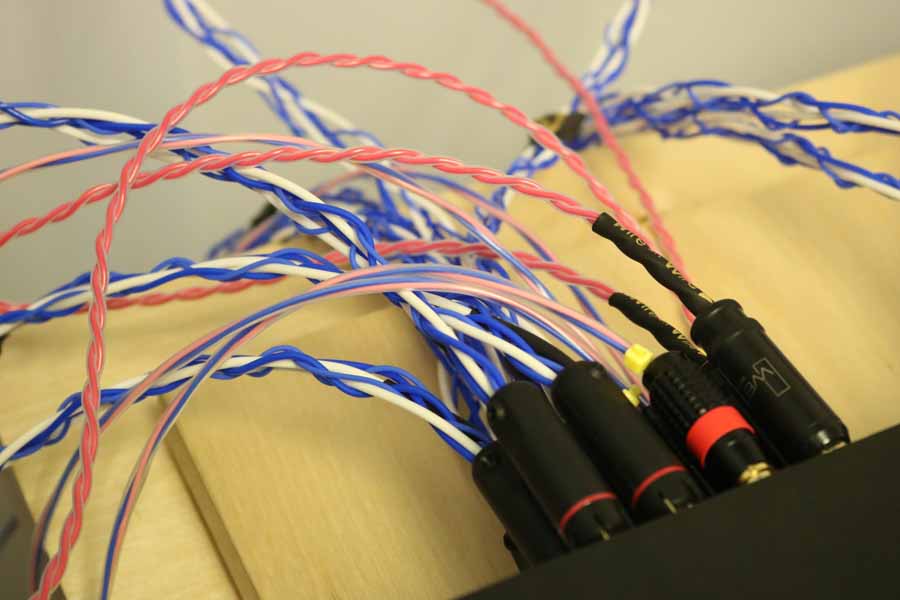 MARKAUDIO 
Mark Audio make a range of wideband drivers and at Cranage they had both the drivers on display and a number of loudspeakers that they are used in. Members of the DIY audio community will be well aware of Mark Audio as they have a bit of a cult following. were I to be in the market, as I have been on the verge of being for longer than I care to remember, a pair of widebanders for a single driver (or other) speakers, Mark Audio would definitely be on my very shortlist.
CHORD ELECTRONICS & KEF

KEF partnered with Chord Electronics at this year's show and like a few other rooms, the pairing demonstrated that you don't need to have a million and one boxes for a great sounding system. KEF showcased their R11 speakers which make up the flagship from their R Series as well as their LSX wireless music system. Basically, the latter connects via Apple Airplay 2 and away you go. It's a great sounding and highly convenient package that was getting a good deal of attention and has been mentioned elsewhere in Hifi Pig's reports from North West Audio Show.
Moz from Chord Electronics had their Hugo M Scaler playing, the wonderful DAVE DAC/headphone amp and all feeding the Etude stereo power amps.
A great sounding room to my ears and brilliantly presented by the teams in the rooms.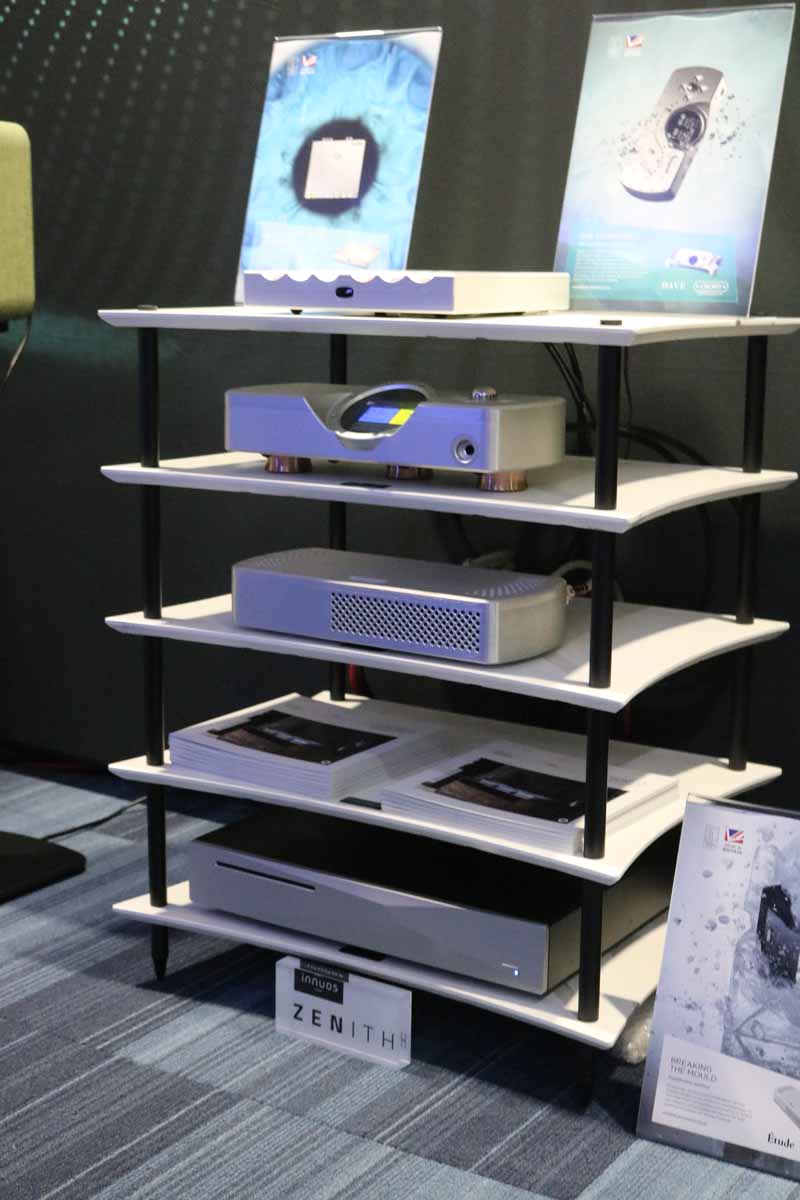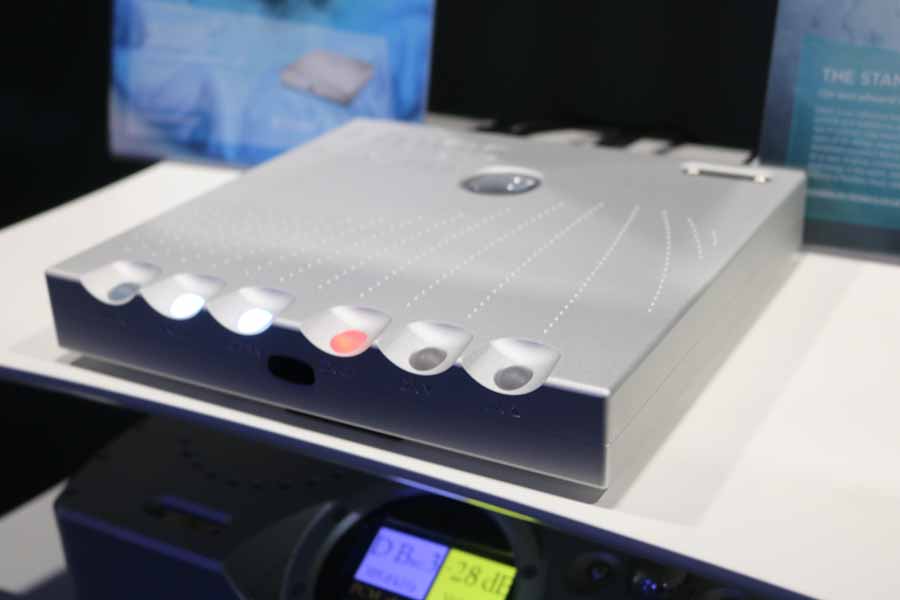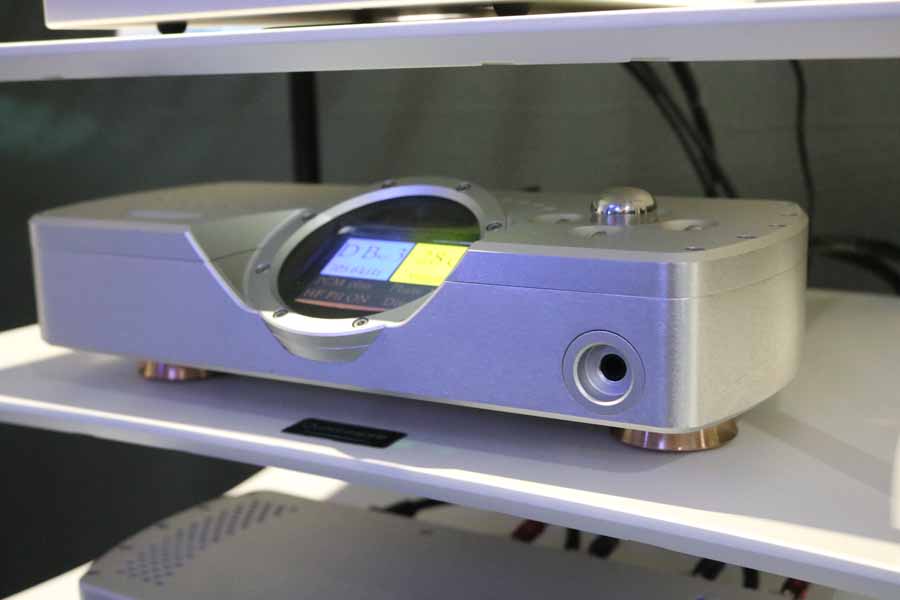 MUSIC FIRST AUDIO

Music First Audio had a lovely sounding room and were using a Vinyl Passion VP 12 turntable through Music First phonostage, SUT and preamplifier. I know Jonathan at Music first has also produced his own amplifiers but interestingly the amp being used in the room when we went in was a John Howes modded Leak Stereo 20, which, despite its age and modest price, and in its unmodded form, some have called the best sounding amp ever produced. I don't know about that but the sound on the day was wonderfully clear and unforced. Paul Messenger was in the room at the same time as us and I later asked him if he enjoyed it and he gave an emphatic YES!
The room was also brilliantly hosted by Harry Smith who I know sold a good few items over the weekend but then I'm a tad biased as he's our youngest son who (Blatent Plug Alert) is looking for a job in the industry and given his performance at the show, it won't be long before he's travelling the world representing some lucky brand.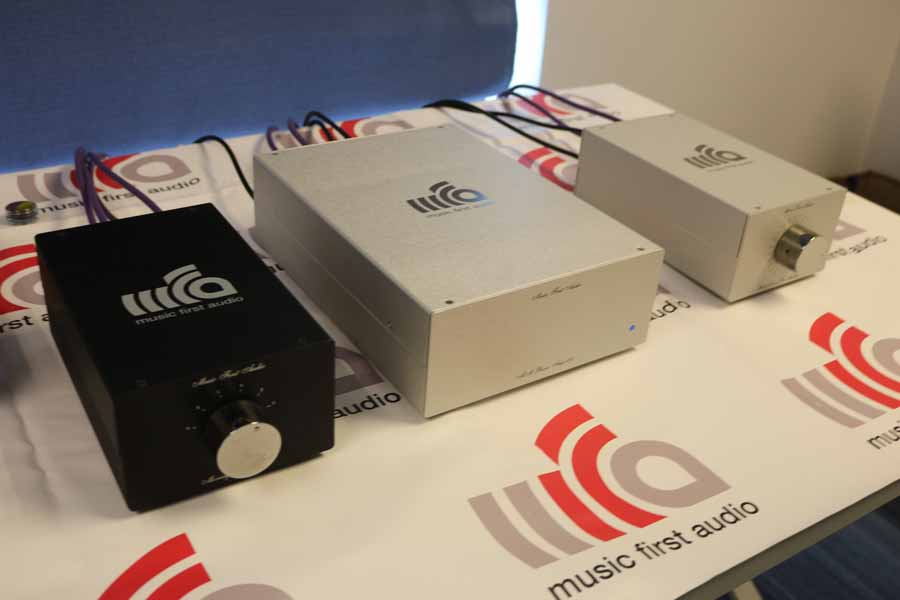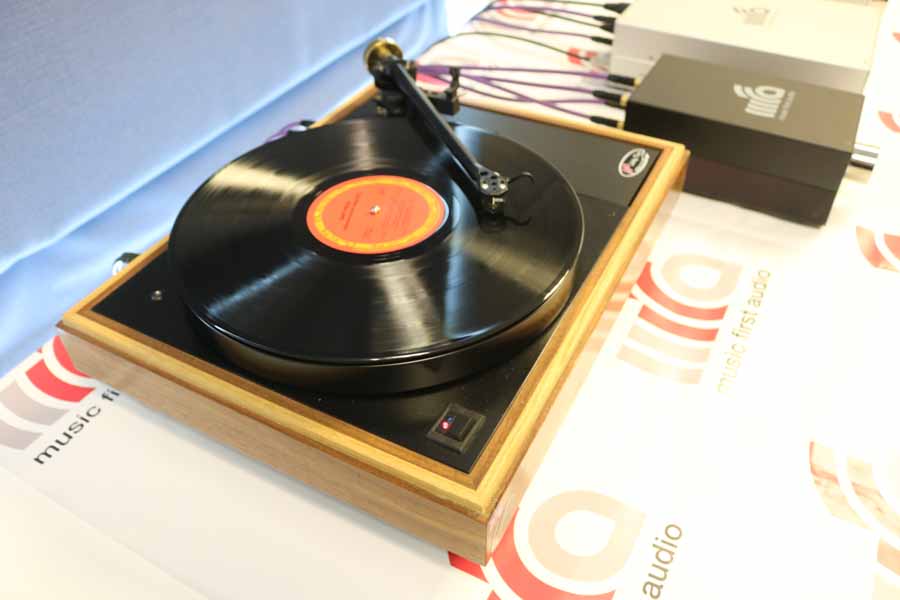 AVID HIFI
Conrad Mas always puts on a great room and this was certainly the case at the North West Audio Show. He's always innovating and bringing new products to market, and whilst many will immediately think AVID Hifi is strictly high-end and expensive, it has to be emphasised that Conrad also produces some fantastically (relatively) affordable products. Case in point is the Ingenium plug and play turntable seen on the right-hand stand. The speakers playing when we were in the room were a new model launched at Munich and with several models in the range. Conrad tells us that the EVO loudspeakers are developed from their Reference models but instead of being machined from Aluminium they use more conventional materials. They are efficient and easy to drive and come with real wood veneers, low-Iron glass and military grade Aluminium finishes. All the designs use downward firing ports. There are three speakers in the range; Evo Two (a 3-way), Evo Three (A 2.5-way) and Evo Four a 2-way stand-mounter. The floorstander we are lucky enough to hear comes in at a "not silly" £15000 and has a lot of the qualities of their more expensive offerings.
Conrad also showed off his new Integra integrated amplifier to good effect.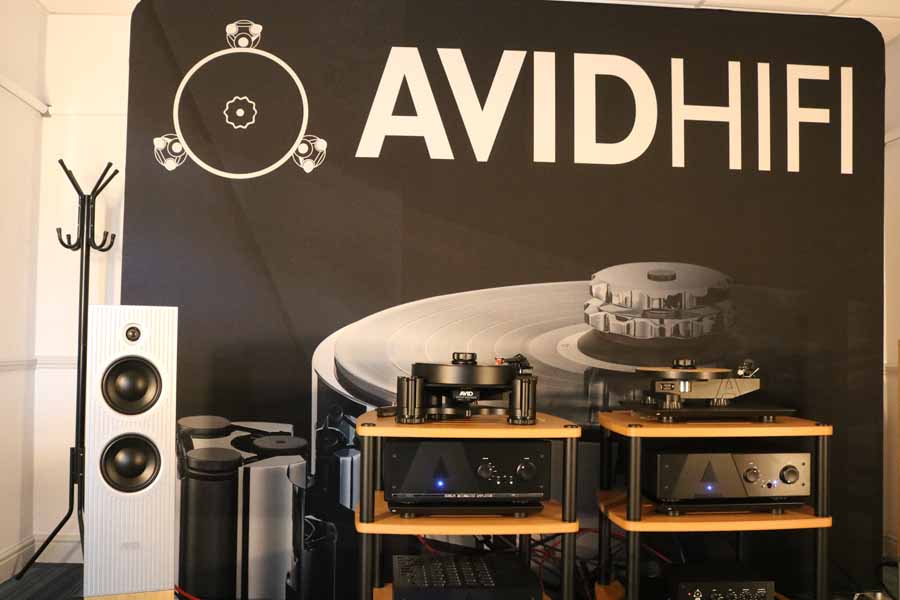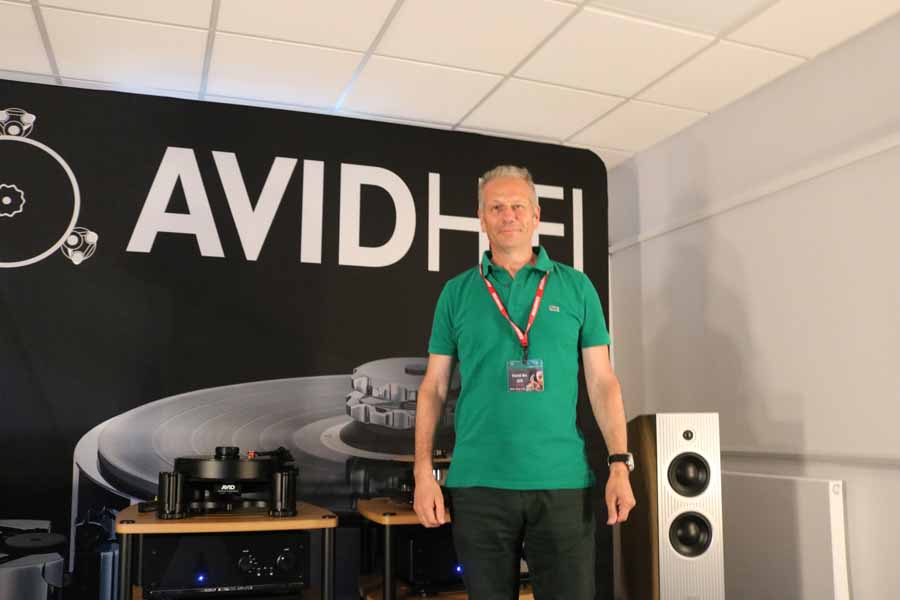 BROOK AUDIO & KONDO
Kondo at North West Audio Show, who would have thunk it. Hats really must go off to David Brook of Brook Audio, a bricks and mortar audio shop in the West Yorkshire town of Huddersfield and the distributor Select Audio for getting such a legendary name to the show – they'd even managed to get the president of Kondo, Masaki Ashizawa to the show. A superb sounding system that I covered in my Esoteric piece and will echo here…
There's been a bit of chatter on social media about this room and it seems to have divided opinion a bit, but I for one loved it. The Kondo team played the Miles Showells half-speed master of the last Elles Springs record and specifically her tune Two Months, Eight Weeks. Long story short, it made me cry and I think the naysayers of this system forget that, in my opinion, music is essentially an emotional experience and if you have connected with the music the system has done its job.
Yes, this is a very expensive and esoteric system but get beyond that and let yourself melt into what is undeniably a very high-end sounding room. Definitely a highlight of the show for me.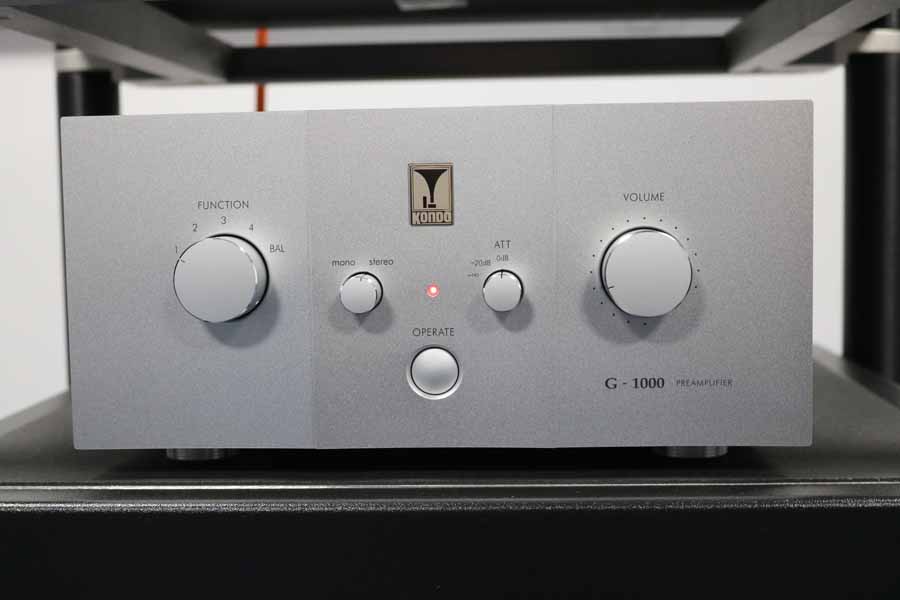 PURESOUND
The North West audio show was the first UK outing for Heco's fabulous Direkt Dreiklang (3 way) loudspeakers coming in at £9499. Their high sensitivity was well matched to a pair of Pure Sound M845 SET mono amplifiers (£7499). Sources used were the STST Motus II direct drive turntable (£6399) with STST's own 10″ Vertex tonearm (£3399) and the rare & beautiful Etsuro Urushi MC cartridge. Original 4 track stereo tapes were played via a restored TEAC X3R reel to reel player and CD's through Pure Sound's A8500 CD player. Phono equalisation was via Aurorasound's Vida (£3299) and the pre-amp was Aurorasound's Preda (£10999).
Guy from PureSound is the consummate professional and always puts on a great show at NWAS.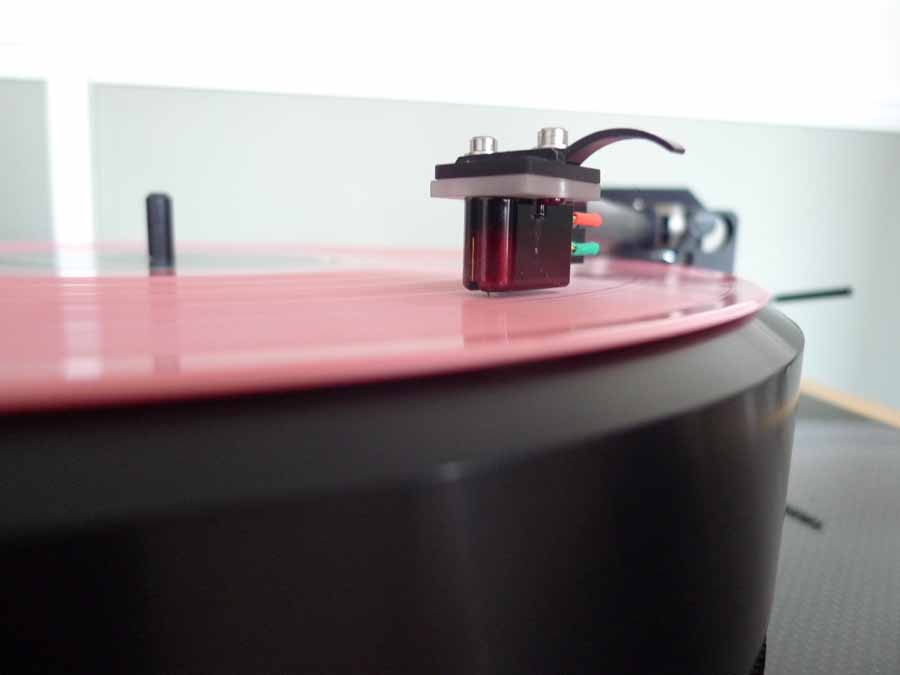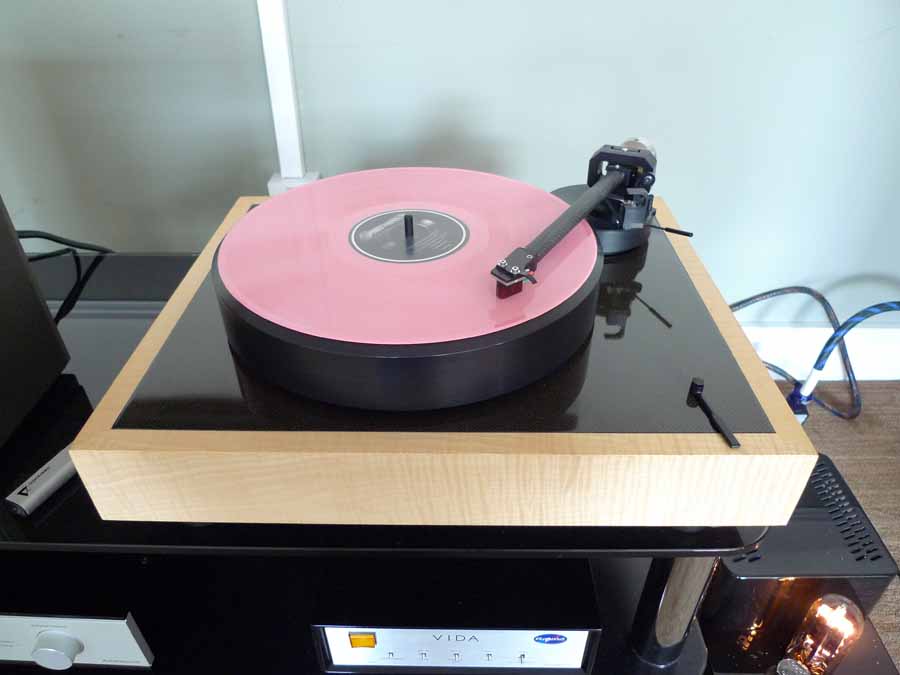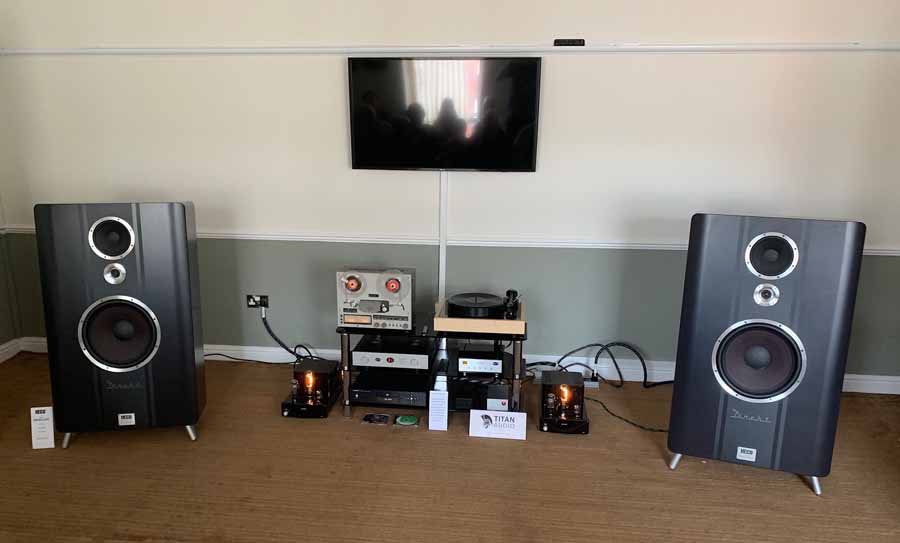 KARMA AV
This was just one of the two rooms Karma had booked and what a brilliantly simple, and relatively inexpensive system it was hosted by the wonderful Terry Medalen (pictured), who does a great job at representing the Swedish brand Primare. Speakers on the day were the Falcon LS3/5as which are true to the BBC originals.
Again this is proof that you do not need to reach for the upper echelons of high-end audio to get a really brilliant sound. It also went to show you don't need huge speakers to produce a full and engaging sound. I know that Karma AV are actively marketing Primare and Falcon as a complete system and personally, I believe this makes a lot of sense – it works, it looks great and, in the grand scheme of things, it's affordable. Nice one Karma AV a top system from top people!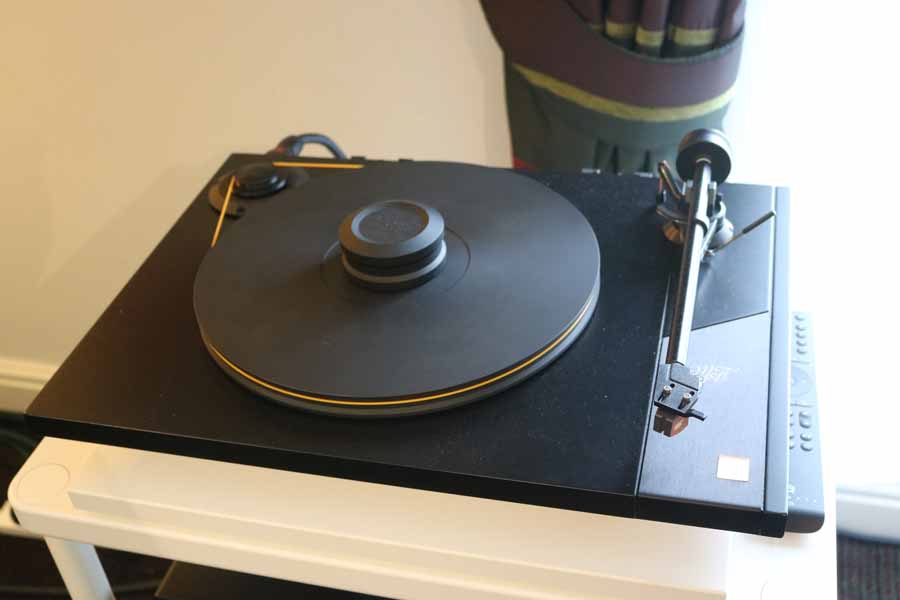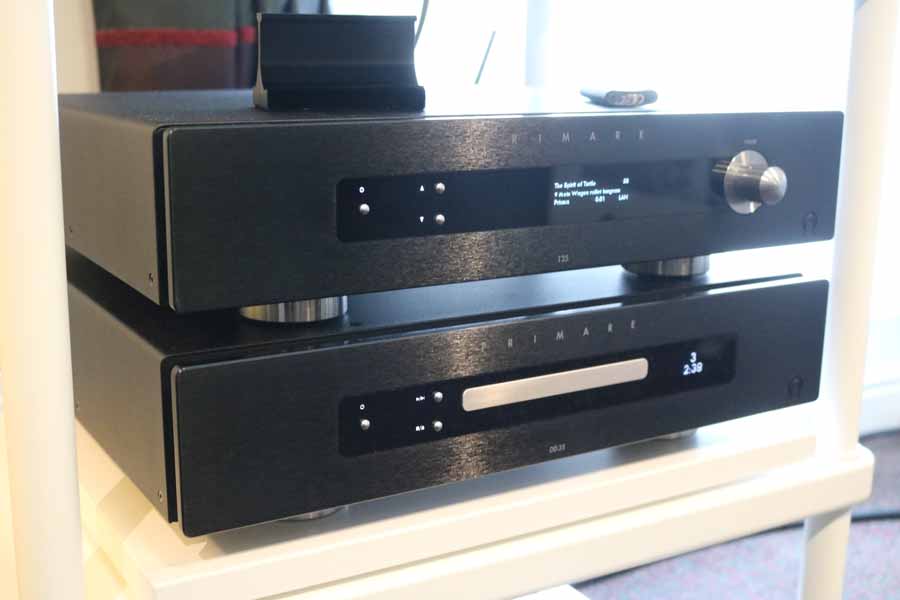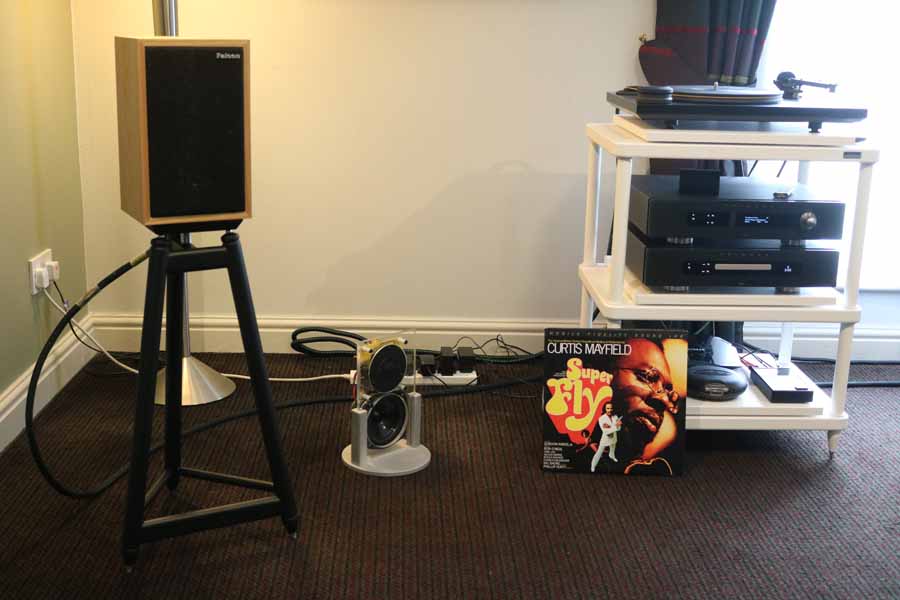 RUSSELL K & MELCO
Russel K and Melco partnered at this year's North West Show and it was a very good partnership indeed with Russel's K120s were sounding particularly good at the show. Thanks for the wonderful pose too, Russel. This room was getting good social media comment in the immediate aftermath of the show and it was well deserved.
Melco used NWAS to introduce its new search and metadata tool, Melco Intelligent Music Library, plus its new black-finish compact-chassis. The new black option also extends to the D100  CD loader/transport and the E100 3TB audiophile digital storage drive (modular expansion unit), both of which are designed to complement the N10 and N100 models, which were launched in 2018. Alan Ainslee of Melco was great to meet and we have an upcoming and in-depth interview with him coming up very shortly.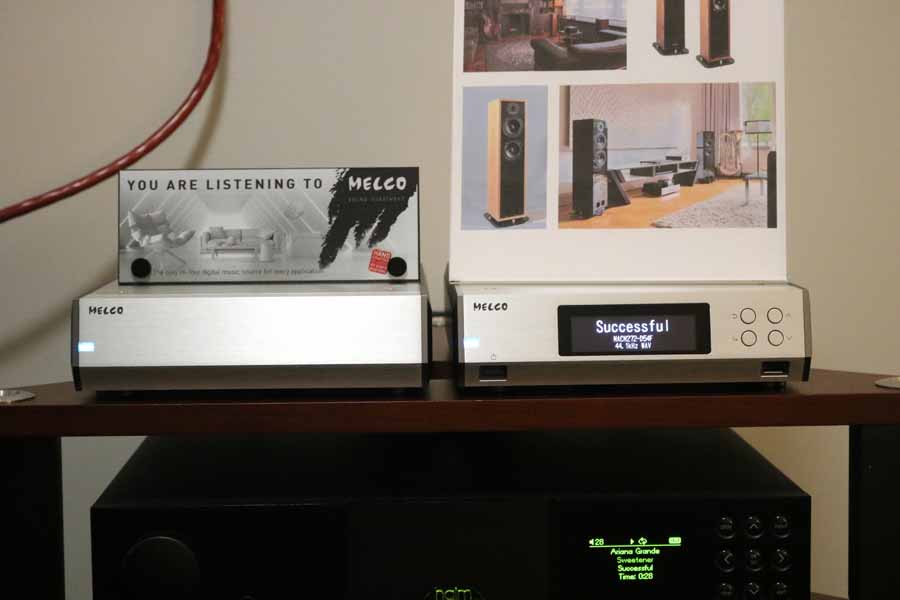 STRICTLY STEREO
Strictly Stereo is an independent dealer based in Mellor in Cheshire and so the show was a bit of a hop and a skip for Lee the owner. The system for NWAS featured a pair of Dutch and Dutch 8C Active loudspeakers being fed by a system that included a Well Tempered Lab Simplex 2 turntable, Dynavector 20X2 Low cartridge and P75 MkIV phono stage, Innuos Zen Mk3 running Roon and MiniDSP SHD audio processor. Furniture in the room was Solid Sounds.
I do feel we are going to see many more active loudspeakers come to market in the coming months and years as they can offer advantages over passive designs. I really enjoyed the sound in this room.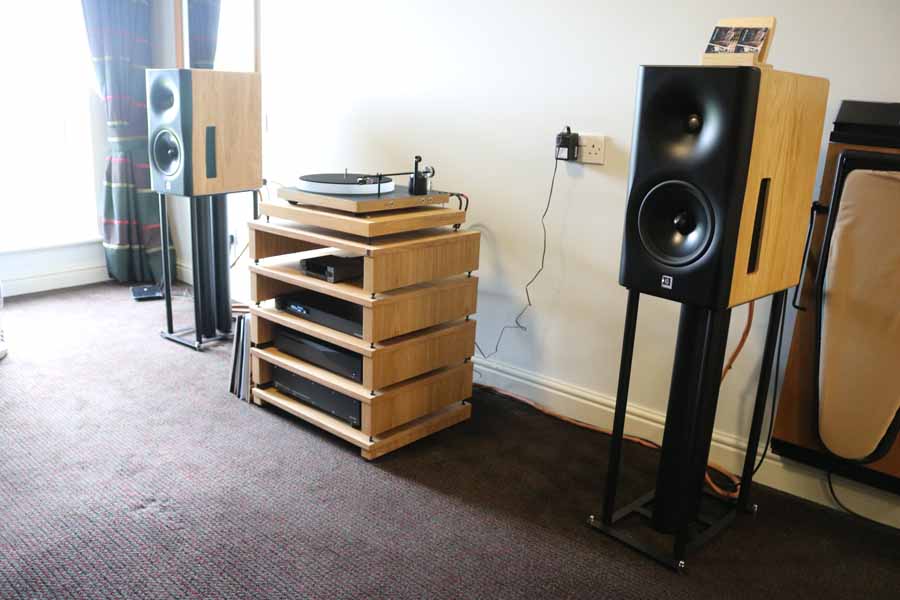 AUDIO DREAMS
Ophidian Audio P1 Evolution with an EAM lab Studio 100 amp and Isotek power conditioner/cables were all in use in this excellent sounding room. The full system comprised EAM lab Studio M100 balanced phonostage, Studio C 100 Balanced/Unbalanced line preamplifier, Studio 100 Power amp delivering 2 x 220 Watts and the Element C 201 fully balanced line preamplifier – all handmade in Italy.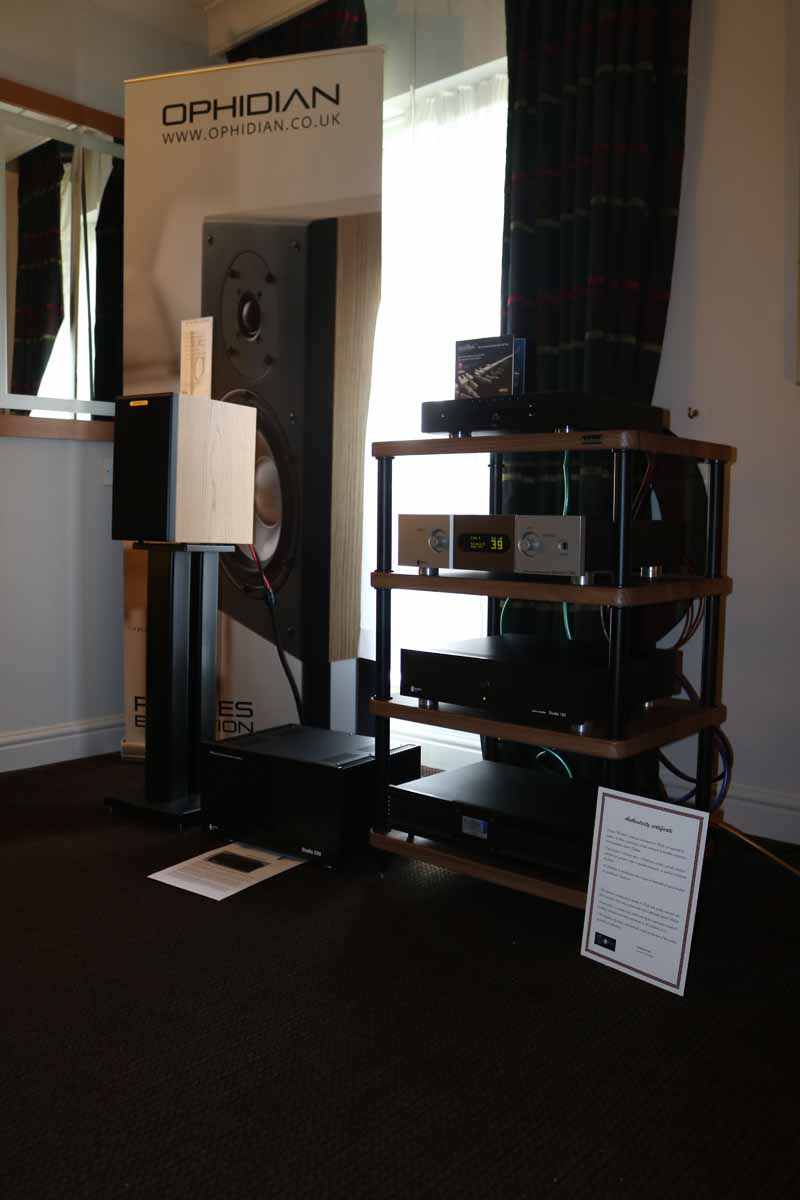 ELECTROMOD
Mark Dolbear from Electromod is a great guy who certainly knows his onions when it comes to putting great sounding systems together and at this year's NWAS he brought along new products from Synergistic Research, Schiit Audio, MrSpeakers and Dekoni Audio for visitors to experience.
The main system was a speaker-based system compromising of Synergistic Research Core cables with Powercell 8 mains products along with Synergistic Research UEF technology room acoustic products running through a pair of Kudos X2 loudspeaker with Schiit Audio Aegir, Saga Plus and Bifrost all direct from an Innuos Zenmini.
Electromod are well known for their headfi too and had an area where visitors could experience a range of systems that included Schiit Lyr3, Jotunheim, Magni, Loki, Modi3 and Fulla2 all running MrSpeaker Headphones Ether2, Ether Flow and Aeon's. The MrSpeakers Voce electrostatic headphones were running from IFI's iCan and iEsl. Sadly I missed out on giving the headphones a listen, much to my consternation now.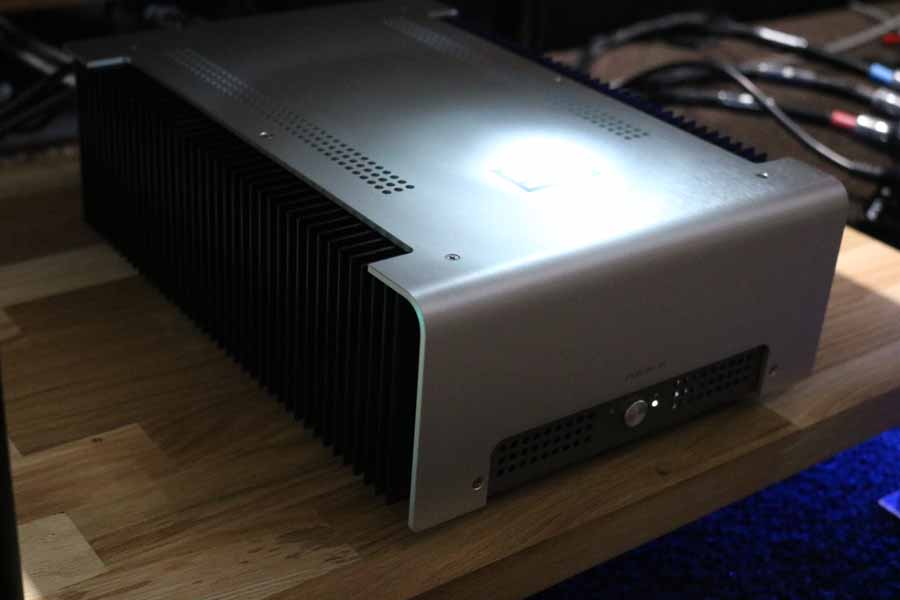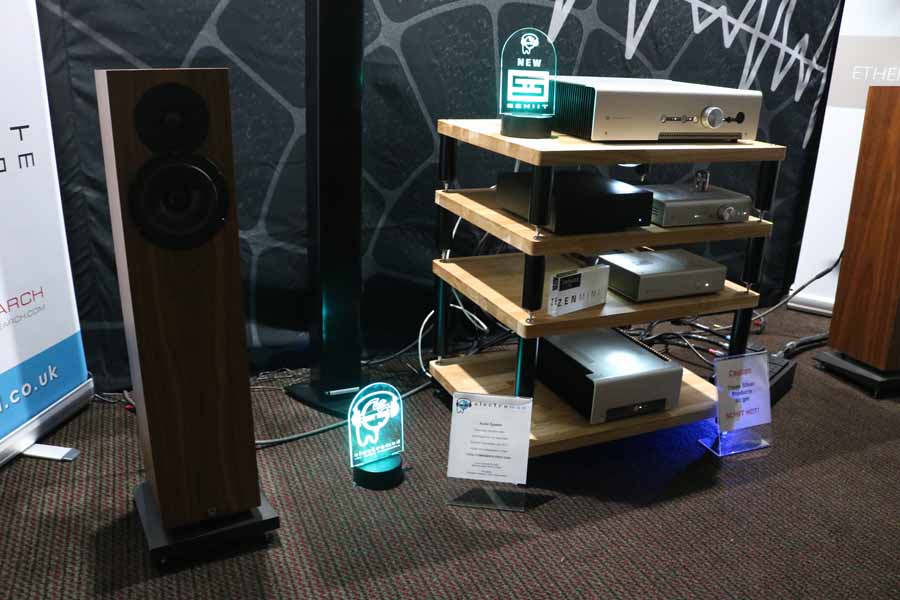 WILLOW TREE AUDIO
Willow Tree's system comprised of the following: Jays audio CDT3 Mk2 CD transport, Denafrips Terminator DAC, Denafrips Hestia Preamp, Denafrips Hyperion power amp and Horning Hybrid Zeus loudspeakers. Due to technical problems their room was closed in the morning we passed and we never got the opportunity to go back and so thank them for the use of their images.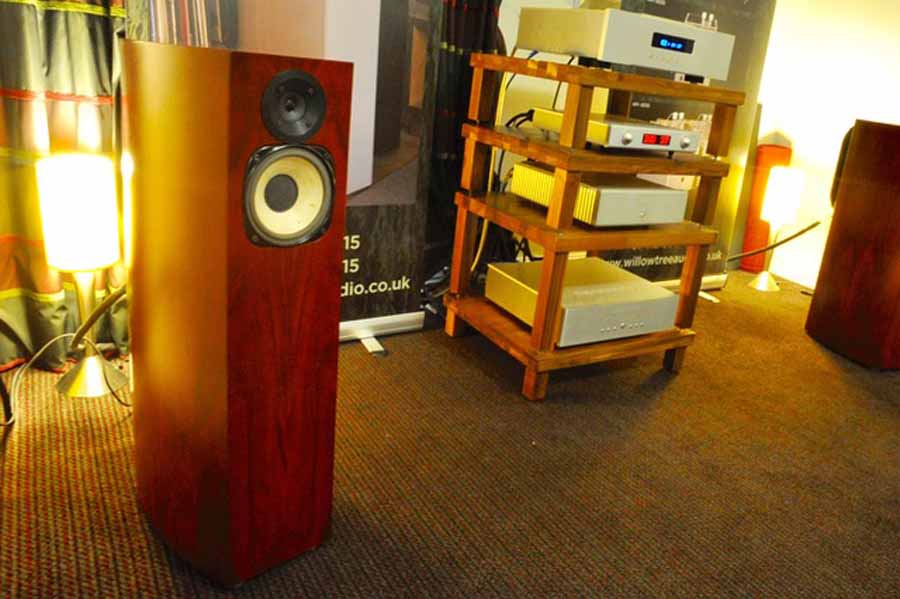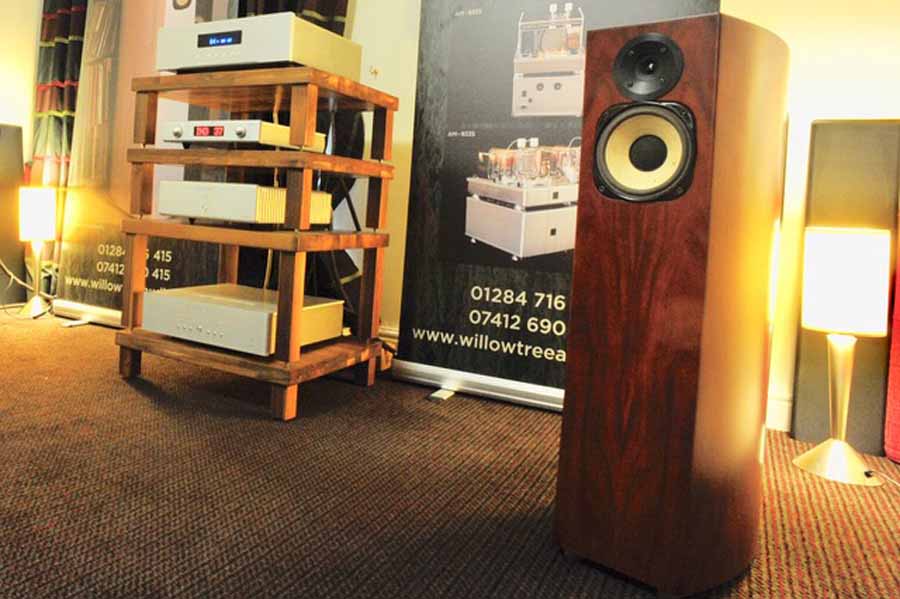 AERON AUDIO
Lawrence Lau who is the bossman at Areon flew in from Hong Kong especially for the North West Audio Show and it has to be said he is the life and the soul of the party. He also managed to fly in with all his demonstration kit, it is just so small – but don't let that put you off as it sounds absolutely brilliant, and not just for the money. Aeron says that this is the smallest Hifi system in the world comprising the Aeron C101 pre-amplifier/ headphone amplifier and Aeron P101 Class D Stereo Amplifier.
The C-101 pre-amplifier/ headphone amplifier is just 115 x 117 x 49mm and 586g (approx.) It has USB, SPDIF, AUX, Line and MM/MC inputs, with Headphone, SPDIF, Bass and line outputs. Supports DSD 2.8/5.6MHz, PCM 384kHz/32bit and DSD native or DoP playback. It works with Apple and Android devices and can drive headphones in the range of 16 – 600ohm. It also features a SABRE9018Q2C DAC and 12AU7 tube amplifier. The P-101 class D amp is just 115 x 136 x 39mm and weighs 567g.  It features a 3.5mm line in with Stereo Speaker, Pre, and two headphone outputs. Maximum output power is 50W+50W(4ohm), 30W+30W(8ohm), Headphones: 270mW / 16ohm , 450mW / 32ohm at 1kHz.
The new speakers are the BlackRosa HY-1s which are tiny too, but being made of aluminium feel and look solid. Also on the stand was the HDP-1 wireless audio adapter acts as a wireless/Bluetooth receiver.
MCRU
David Brook is a busy fella and I really don't know how he has time to run both his Huddersfield based Brook Audio Shop and his online venture MCRU…plus Vinyl Adventure. MCRU is always busy and David is always selling products to an eager audience. Products range from DIY cable kits to made up cables, accessories and beyond. Online you can buy a whole lot more including cables, accessories and Hifi components.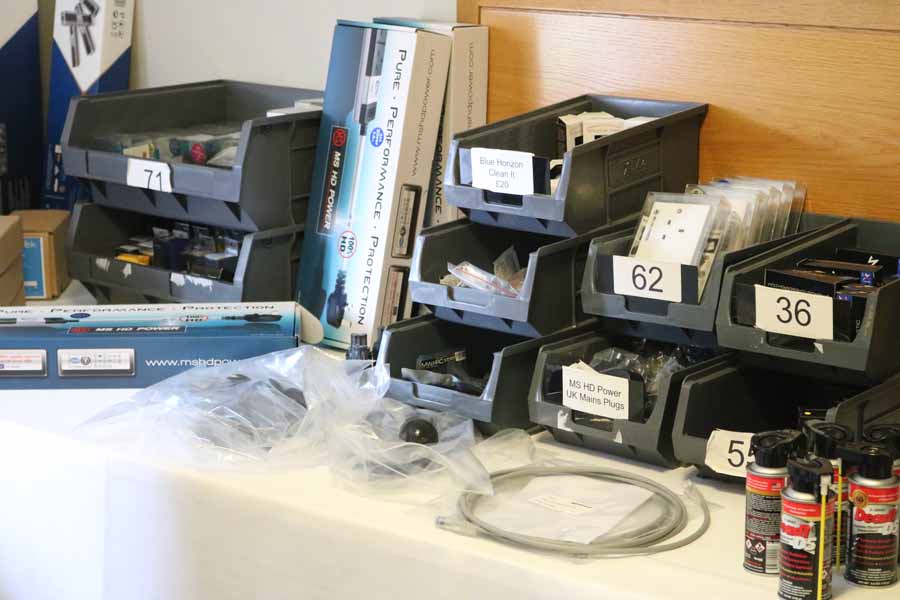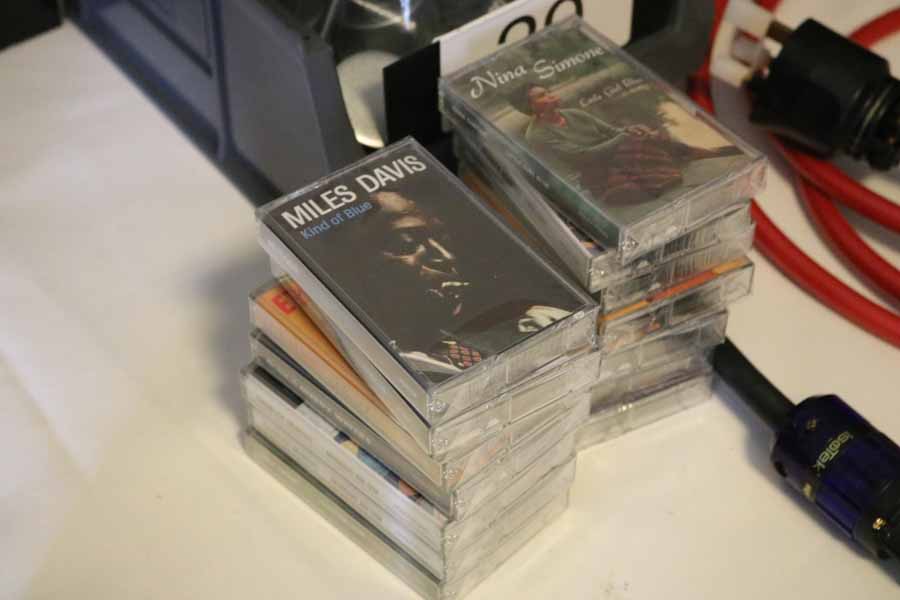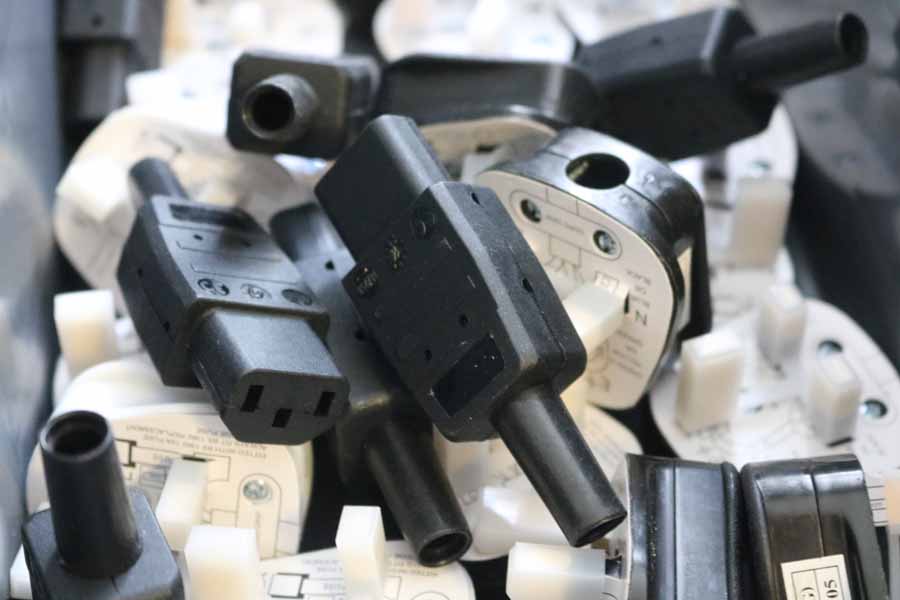 VINYL ADVENTURE
David's third venture is Viny Adventure that sells not only vinyl but also all the products you need to keep your vinyl in great condition. As I said he's a busy guy and so a well deserved cooling beverage was more than in order for him!
LONGDOG AUDIO
Longdog Audio hail from Halifax in the UK.
In the room and playing was a Clarity Dual turntable by Claro being controlled by Longdog's own turntable power supply and into Longdog's own phonostage. A Pass preamp fed Class D amplification.
They were using the Kerr Acoustic K300 MkII standmount speakers, these are a just-shy-of £3k two-way speaker, featuring the Kerr Acoustic transmission line, and have a wood-fibre cone low-frequency driver and a ribbon tweeter.
There really was an excellent sound in this small room, a great pairing of Kerr and LDA that I would like to hear again.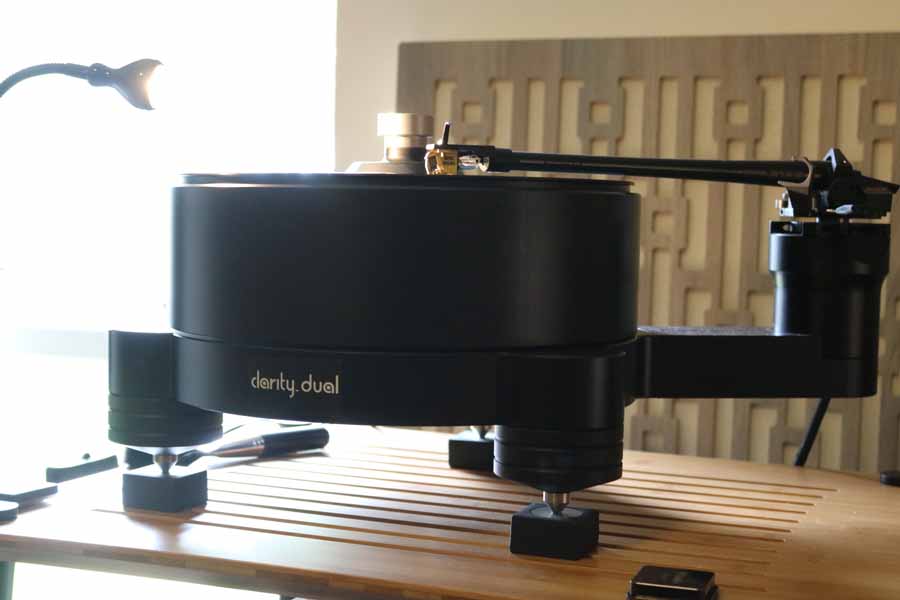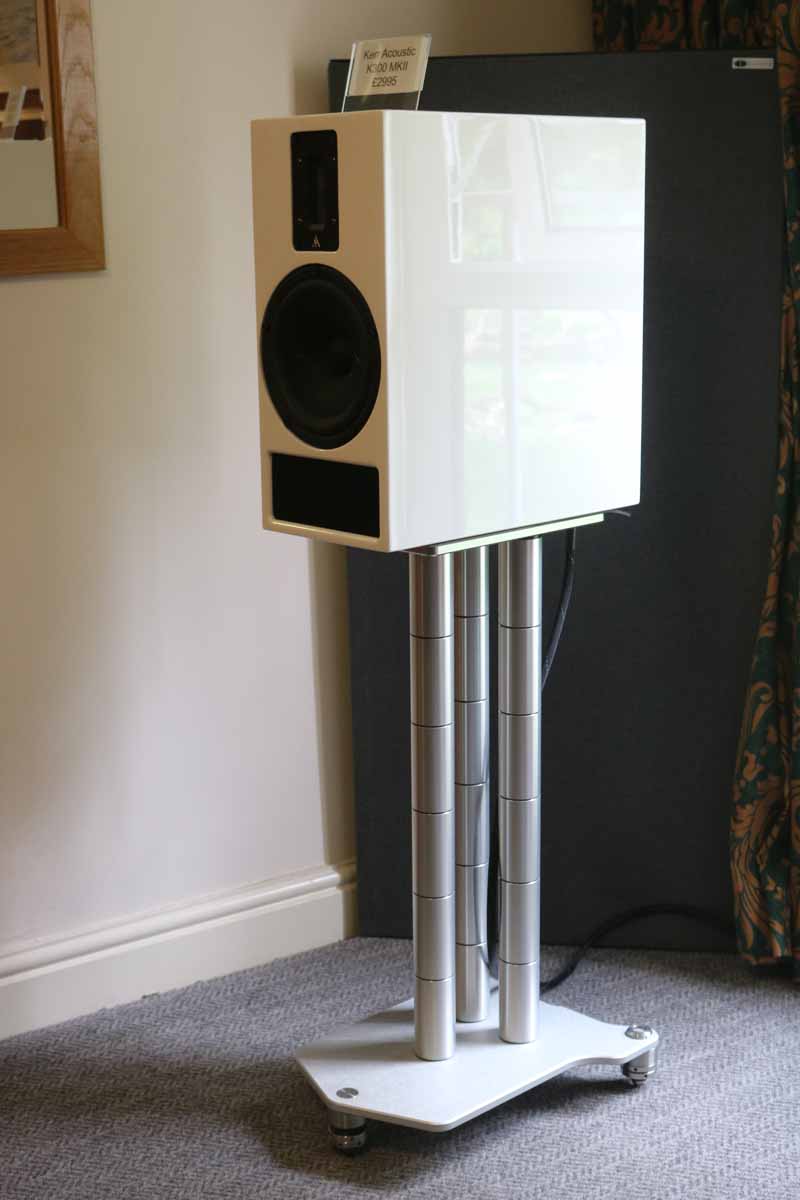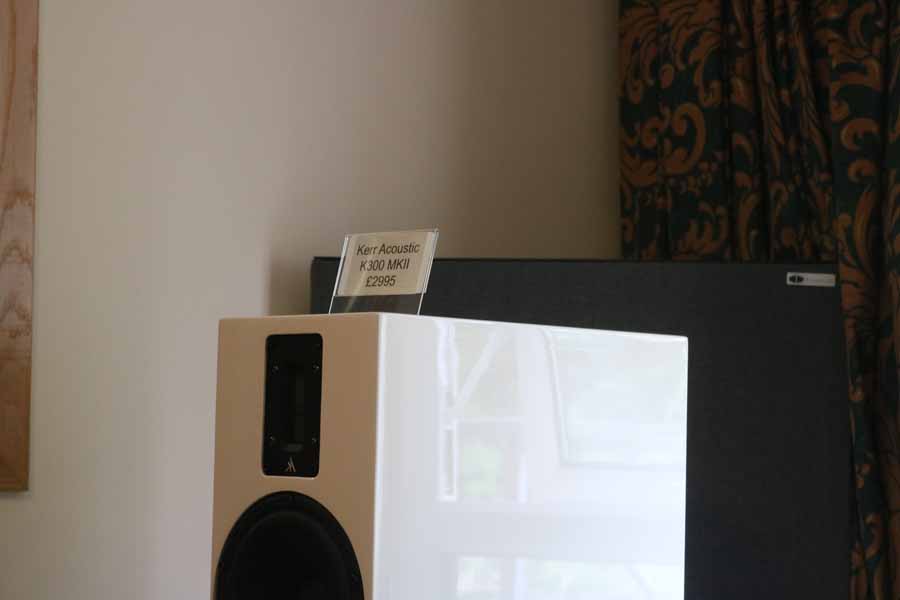 TITAN AUDIO & KRONOS
This was a fabulous sounding room with a whole load of GoldNote electronics and turntables plus Audiovector loudspeakers which I have never found to be anything less than fabulous sounding.
As well as the GoldNote turntable, arm and cartridge combo the North West Audio Show was used to launch their new DS-10 headphone amp and DAC and the PST10 turntable power supply.
Kronos also had the Valore 425, Pianosa and Mediterraneo turntables from GoldNote as well as the B5 arm and Gold Note MM and MC cartridges. The IS-1000 integrated amplifier with built-in DAC and streamer was the mainstay for the show but also on demonstration was the P1000 preamp with matching 1006 valve output stage along with the PA1175 Power amplifier.
Titan Audio provided the cabling (Mains Cables, Interconnect Cables, Speaker Cables, Mains Blocks, and Digital Cables) and the range of Audiovector speakers included the SR6 Avantegarde, SR3 Avantegarde Arrette, SR3 Signature as well as examples from the QR Series QR 3 & QR 1.
I've already mentioned that Titan used the show to launch their Helios mains bloc but they used this room to launch their Helios interconnects, speaker cables with the Northern Ireland based company saying "With the Helios Speaker and interconnect cables, we really wanted to push the boundaries of what was possible in terms of reducing interference. To this end, the Helios cables are constructed from stranded long grain copper, insulated in PVC. These are then twisted and further coated in a polyester foil which is then protected with a tinned copper braid, which is further sealed again in a PVC extrusion jacket." say the company, adding "After this process, a 30 micron EMI/RFI adhesive foil shield is wrapped around the cable completely by hand before finally being placed inside a thick outer extrusion which helps the foil reflect EMI/RFI from exterior interference"
MACKENZIE HIFI
Mackenzie Hifi are based in Stoke On Trent and had a two system set up at NWAS.
Saturday's system had an Art Audio's Composer One Turntable with Ortofon Cadenza Black Cartridge, Bel Canto's CD transport, DAC 2.7 Pre-Amp (with PAD's galvanic isolator) and Audio Details NV-06 Phono Stage. Bel Canto's REF 600M Mono-Block Amplifiers, connecting cabling by Purist Audio Designs "FLUID FILLED" Neptune range and Snake River Audio's Boomslang Digital Interconnect. Speakers by Quadral and mains filtration by Puritan Audio Labs.
Sunday's system had the same Composer One Turntable from Art Audio with Ortofon Cadenza Black cartridge, Townshend Audio Allegri Plus Pre-Amp, Audio Detail NV06 Phono Stage, Bel Canto's CD transport, DAC 2.7 (with PAD's galvanic isolator) and Ming Da MD150 Mono-Block Valve Amplifiers with connecting cabling by VooDoo Audio Stradivarius Amati range. Speakers were by Quadral and mains filtration by Puritan Audio Labs.
OPHIDIAN AUDIO
I like Ophidian loudspeakers a lot and they really did it for me at NWAS being powered by Marantz electronics.
This was a simple and no fuss set up that would be typical of what a music enthusiast may aspire to and it was set up accordingly on a small rack.
Gareth James had the new P3 Evolution speakers at the show and very good they were too with tight and controlled bass particularly worthy of note.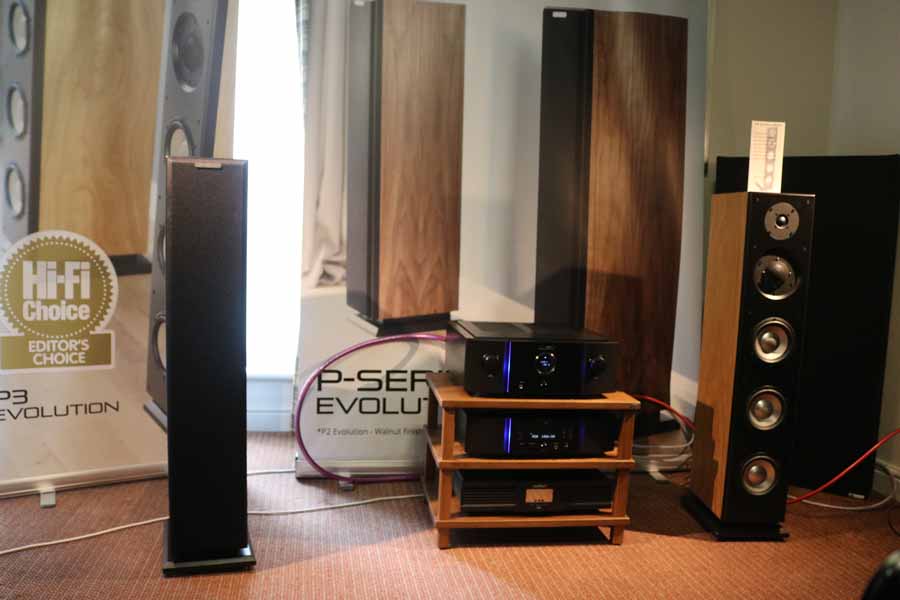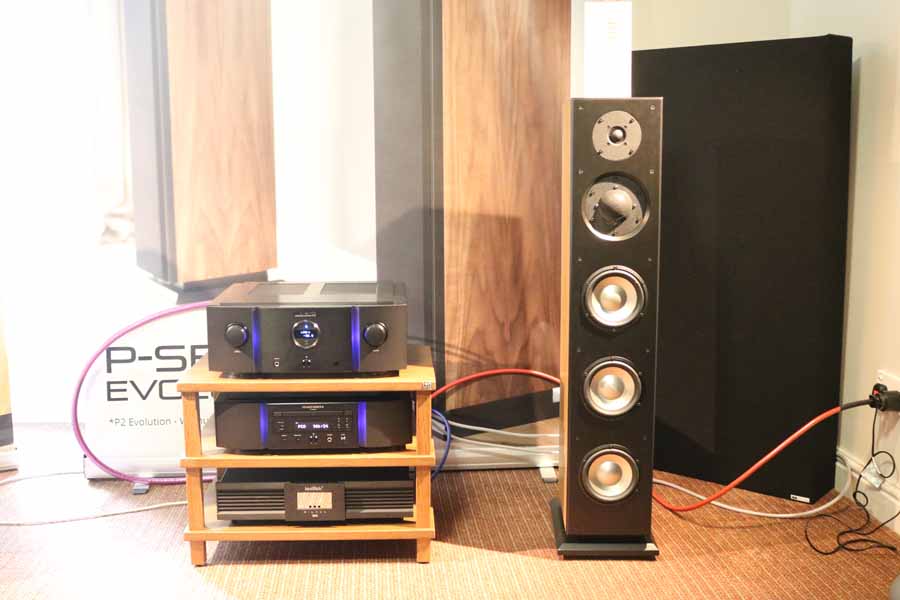 MIAN DISTRIBUTION
Although MIAN are a fairly new name in UK distribution, they have swiftly acquired an excellent portfolio of brands and have years of industry experience behind them.
For Cranage, they brought Leema Acoustics from Wales plus Brigadier Mu2 by Serhan & Swift stand mount loudspeakers which were perched atop Solidsteel stands. Turntables were from Pear Audio. Acoustic Energy, Les Davis and Mitchell & Johnson were also in the system.
When we arrived for a listen, Andy Moore was in the middle of a demo, but even with a short listen we were impressed. He was using the Pear Audio Little John turntable with the Leema Acoustics Elements Ultra Phono Stage which is based upon Leema's own Agena and Essentials (formerly Elements) phono stage. The Elements Ultra Phono features electrical matching for both moving coil and moving magnet cartridge types. This includes the unusual, but the much-requested, option of 100k loading for MM cartridges. The Leema Tucana II Anniversary integrated amplifier, which is a significantly upgraded version of the original Tucana, updated by Leema's Lee Taylor; was used for amplification. Andy was showing the effectiveness of the Les Davis Audio turntable mats…it sounded great even though we didn't catch the whole dem.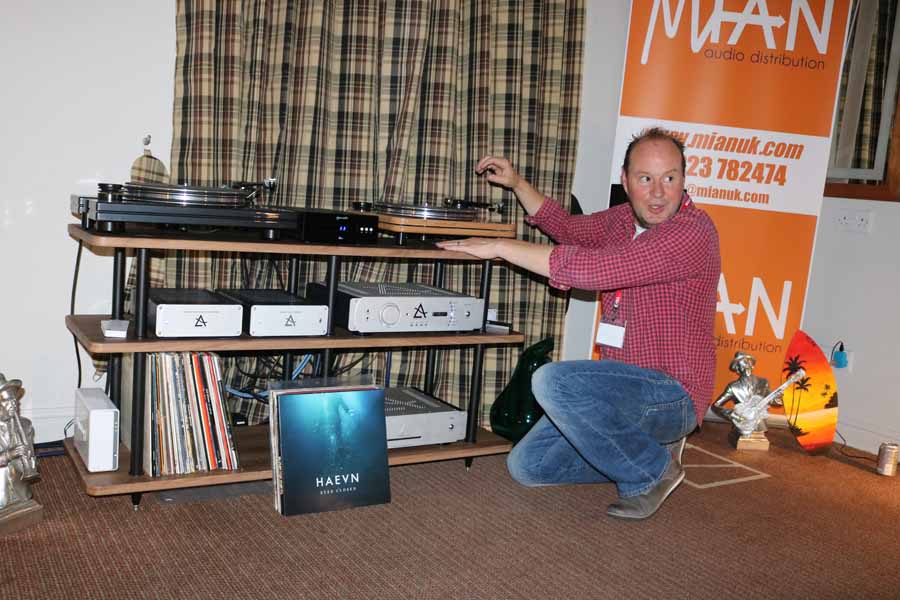 AUDIO NOTE UK
We missed it but Audio Note UK were doing live/versus recorded comparisons of French Canadian cellist Vincent Belanger whose records you could buy on the day.
The system playing when we were in the room was based around the lovely Meishu integrated amplifier that is based around a pair of 300B output tubes and runs pure class A to deliver the expected 8 Watts a channel. The turntable was their new TT3 and very good sounding it was too.
What I love about Audio Note UK is that whilst you expect them to be playing classical or Jazz, the reality is they are often playing metal and rock-oriented material which is somewhat refreshing.
A great sounding room which whilst being aspirational is relatively affordable when compared to some more esoteric offerings.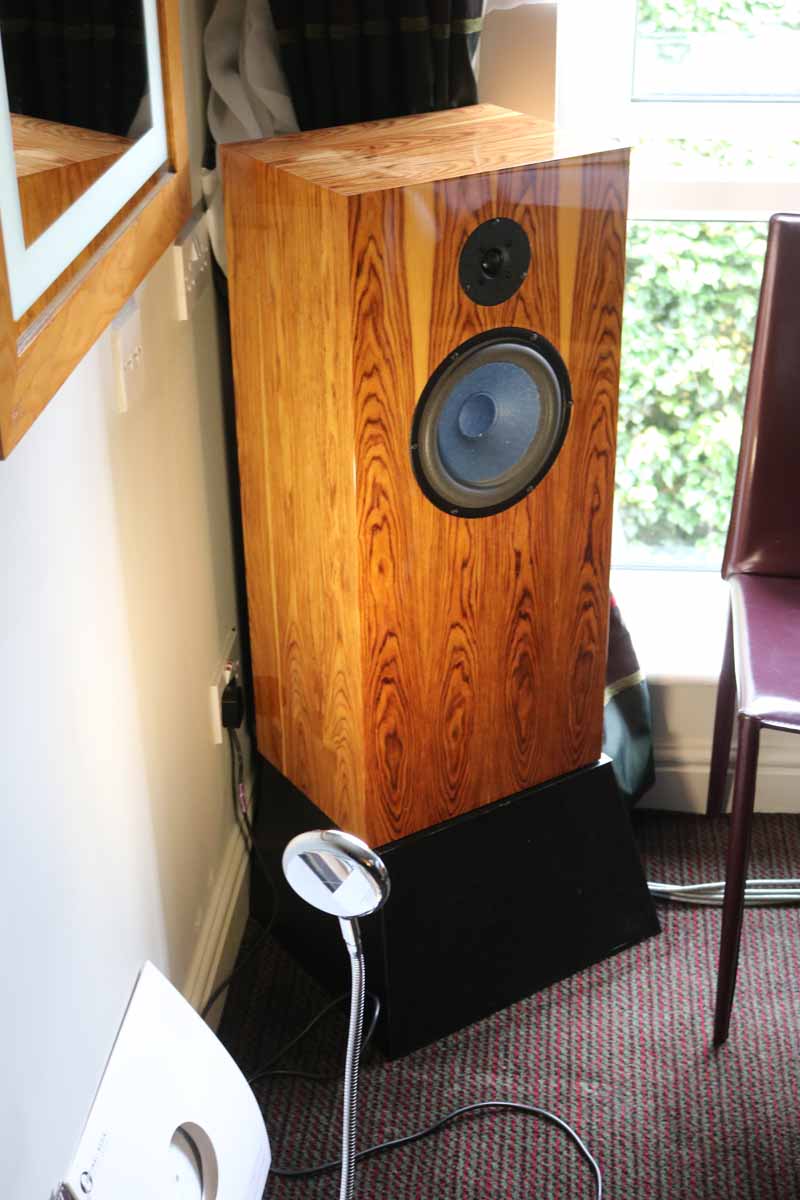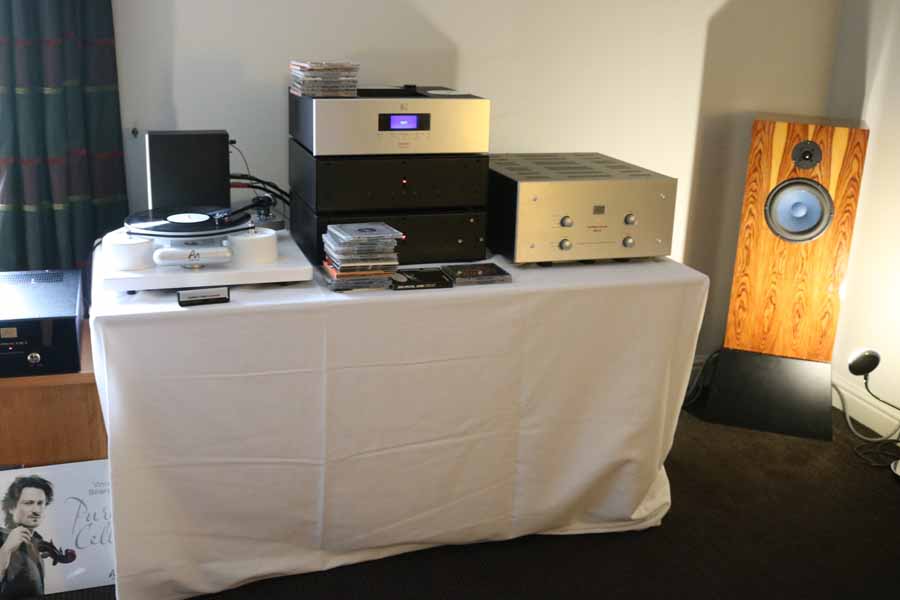 DIVINE AUDIO
Divine Audio are a husband and wife team with their shop in the Midlands, they pride themselves on superb customer service and, they say, if they don't love it they don't sell it…a great basis to run a business on.
They brought the Electricbeach Blackwoods compact floorstanding loudspeakers, which are a very elegant Birch Plywood construction made in Southend, UK. They feature a Mark Audio wideband driver, with a ribbon tweeter on the top of the cabinet, which is rear-ported. They look stunning, a very well designed and 'home friendly' look but still very distinctive. We were treated to a very open and clean sound, I could have spent much longer in this room in all honesty. I was surprised that they retail at only £1000. They also really impressed our reviewer Ian, when he had them at home earlier this year.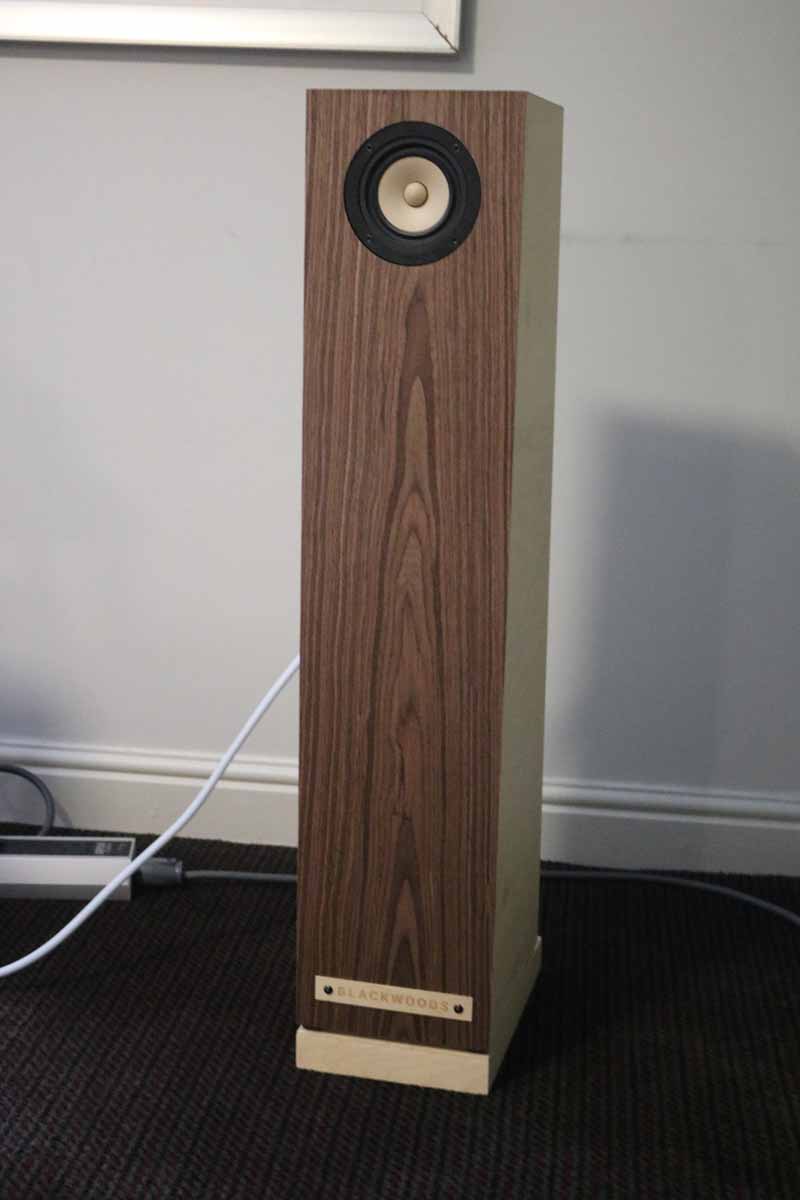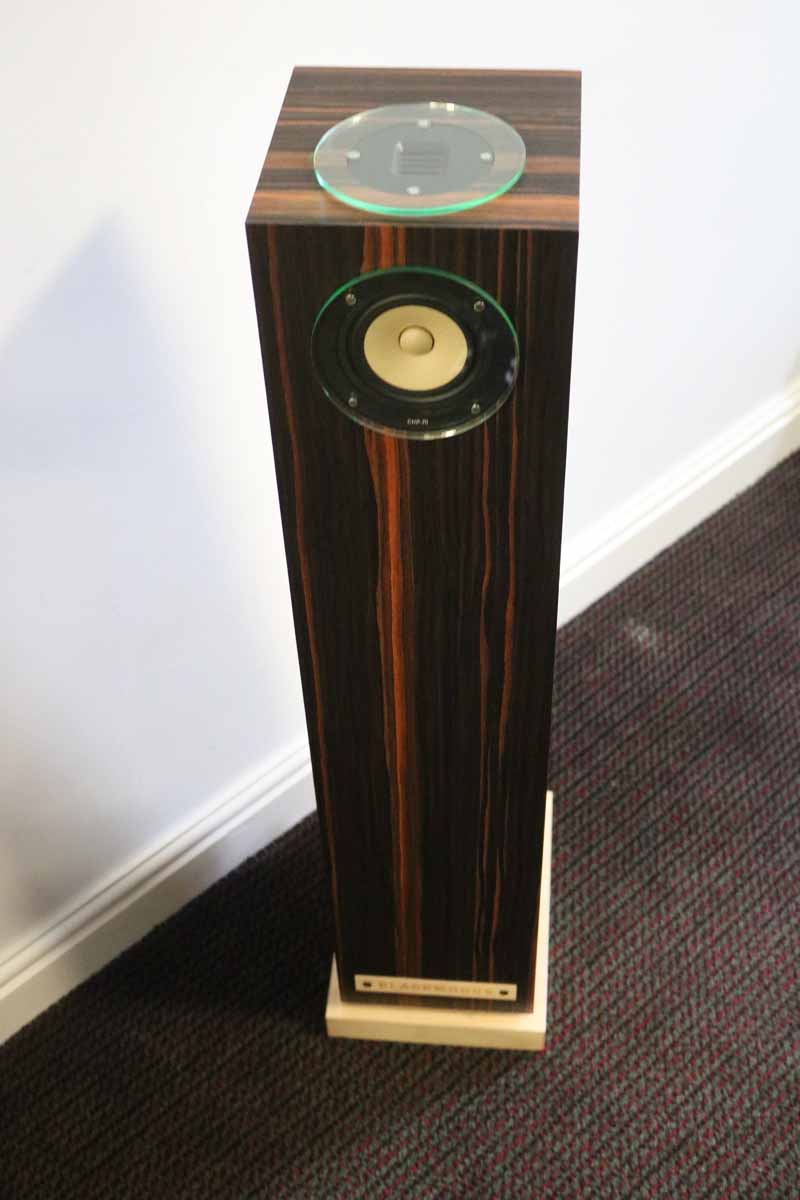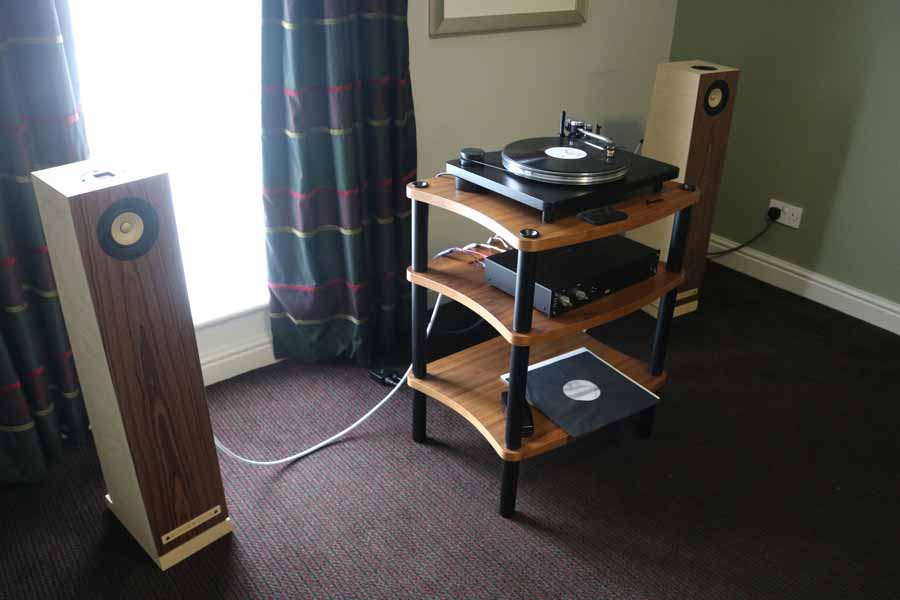 OVATION HIGH FIDELITY
Andrew Russell and Brian Welch of Ovation High Fidelity used NWAS to introduce their new Model 1707, 110 Watt per channel Integrated Amplifier to visitors. It has 4 line inputs, an onboard phono stage and it also has a built-in rumble filter which is something of a novelty in this day and age – but it is good to see a company, and I see this becoming more common, including a phonostage on an integrated amp, doing away with the need for extra boxes.
They also showed off their Model 1547 MM/MC phono preamplifier which has user-selectable gain and loading on both MM and MC inputs making for a very flexible offering.
The Model 1721 240 Watt per channel power amplifier and Model 1501 Line level + phono preamplifier are currently the company's top of the range offering and were also being shown.
Speakers in the room were the new Graham Audio's LS5/9F floor standers. This was the first UK outing for these speakers and I'm pleased say the partnership of Ovation and Graham Audio is a good one.
A Michel Gyrodec turntable using a Hana MC cartridge provided the vinyl front end, whilst the whole was sat on Quadraspire racks.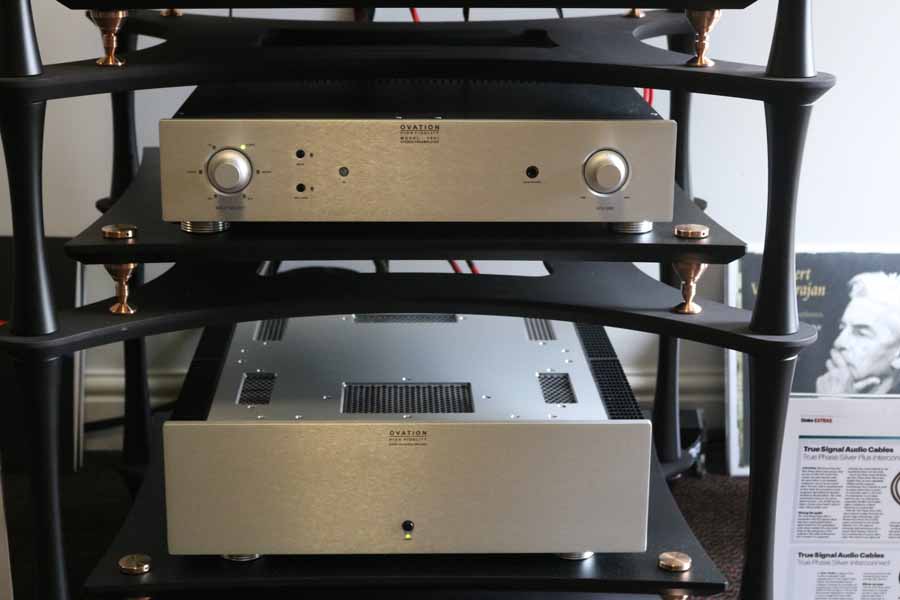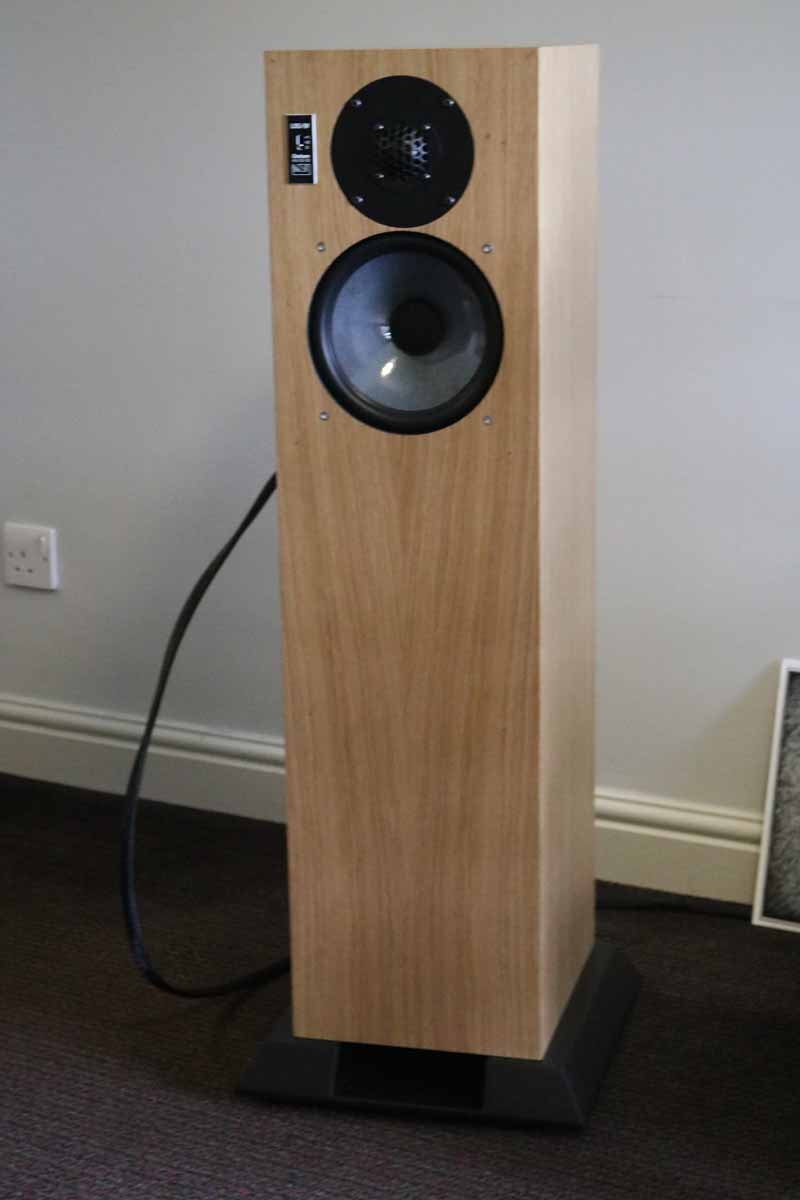 PS EXCELLENCE
Now, this was a room a little out of the ordinary and Danny Baty who runs PS Excellence really must be applauded for his efforts, showing that you don't need to spend a King's ransom to get a great sound.
Danny modifies the original Playstations from Sony, the very first ones and gets them to a standard of audio that is very good. He was using his own DAC made from military grade components wherever possible and featuring a 6n2 valve.
Danny was also using a Music First pre, a Nord amplifier (Class D) and a couple of different pairs of speakers – Frugel Lite and Lemma XOne.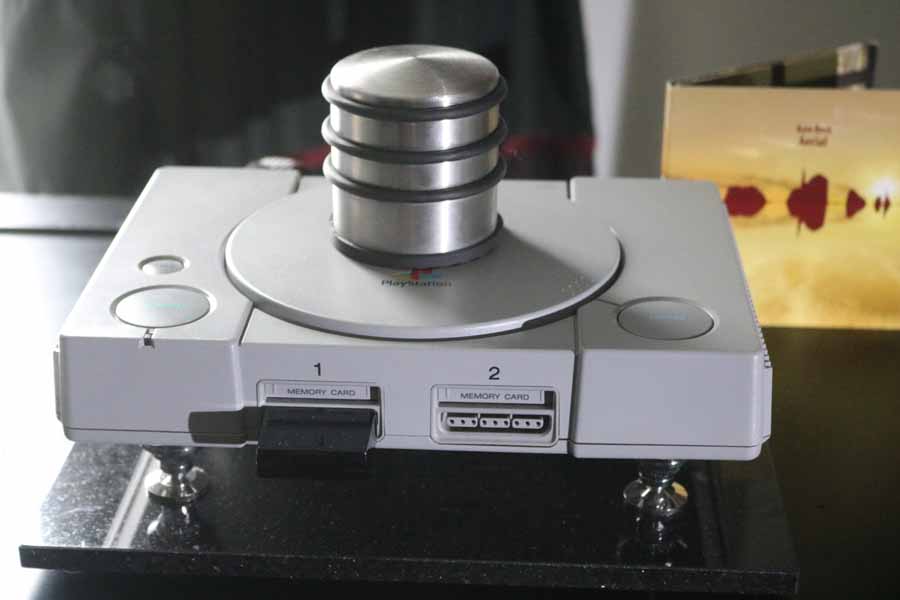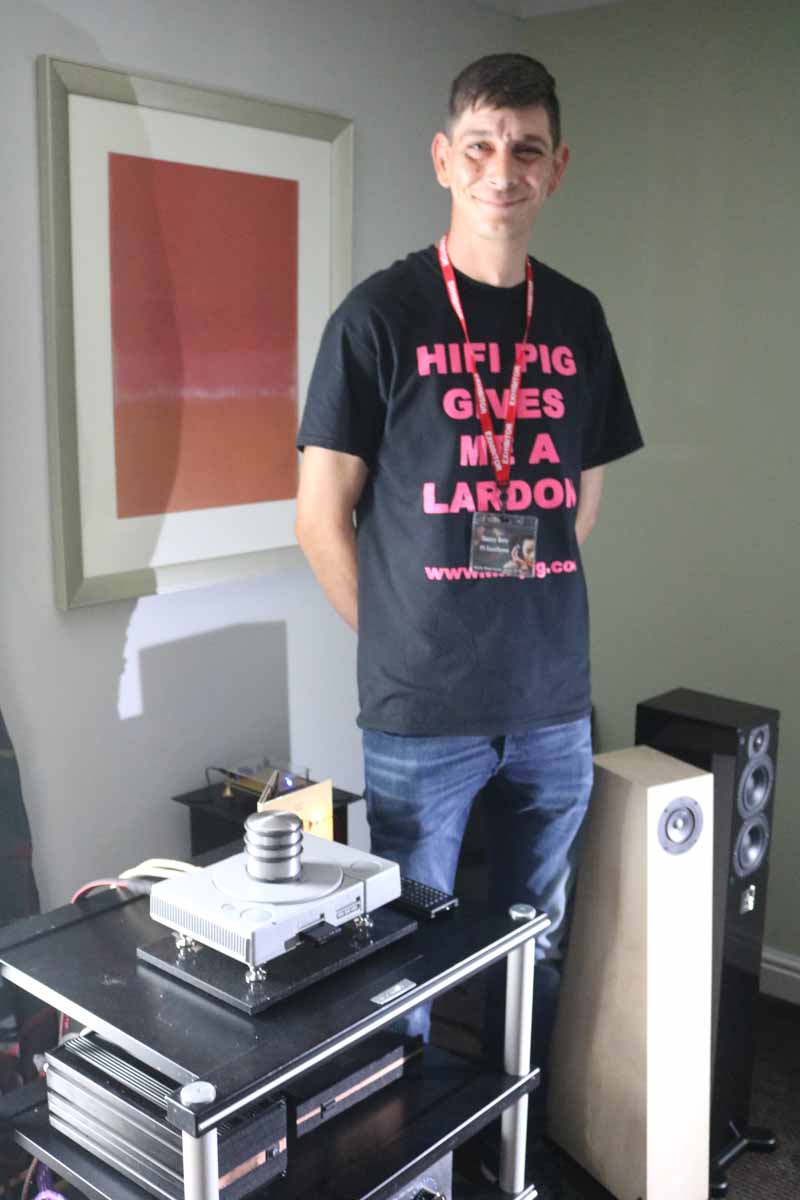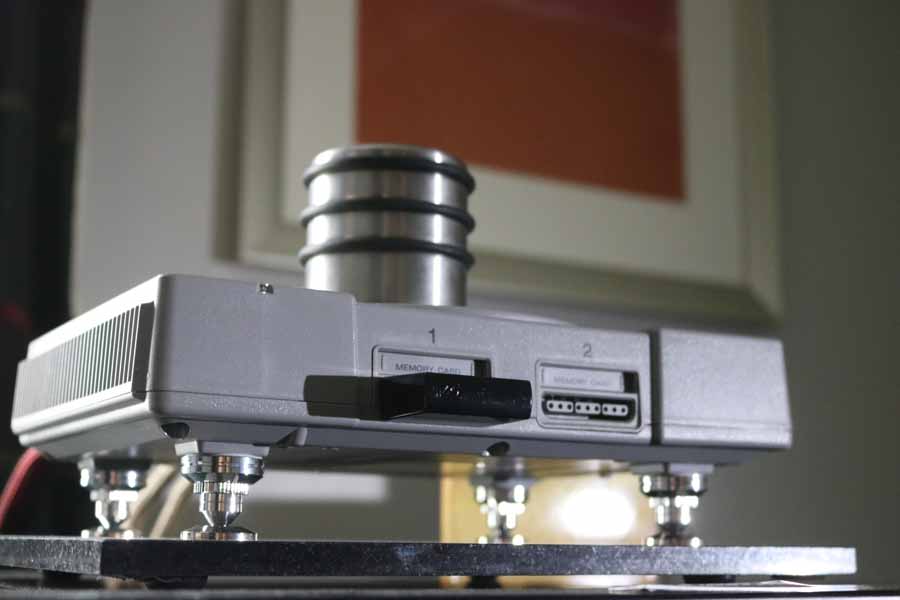 NEAT ACOUSTICS
Bob at Neat Acoustics is a lovely fella and a keen musician who clearly knows his music and this shines through with his new EKSTRA loudspeakers. The top section of these speakers is sealed off from the bottom section and has a ribbon type tweeter and a bass/mid drive unit used in the Neat Motive and Iota Alpha models. It has a treated paper cone with a flared profile. The lower, ported, section of the EKSTRA has two of the 134mm bass drive units. One unit is located on the bottom panel, facing the floor, whilst the second is located internally, directly above the first, in a sealed iso-baric arrangement that takes care of the lowest frequencies and acts essentially as a sub.
This room was really nicely put together to have a cool feel and sounded very good too.
I also spotted a Raspberry Pi in the room which was presumably being used as a streamer.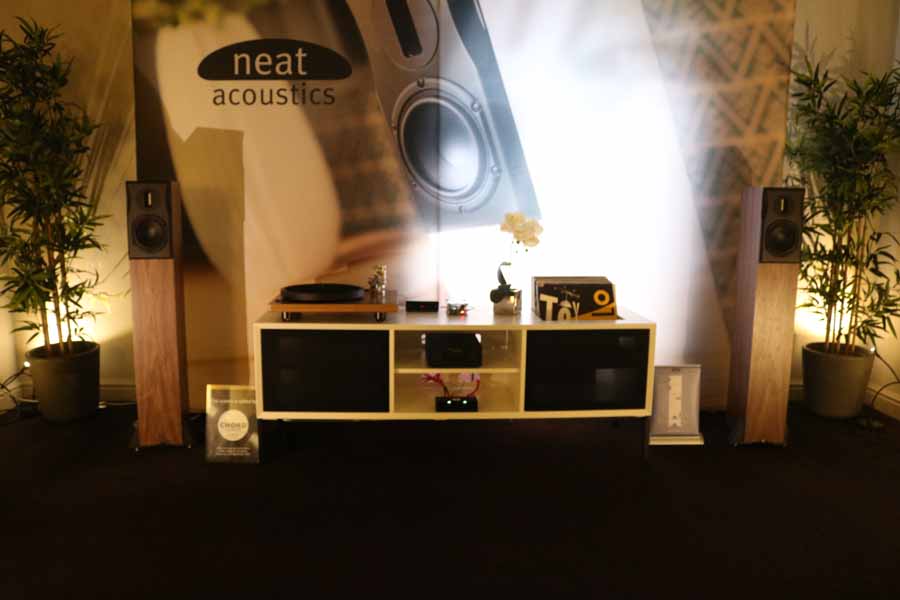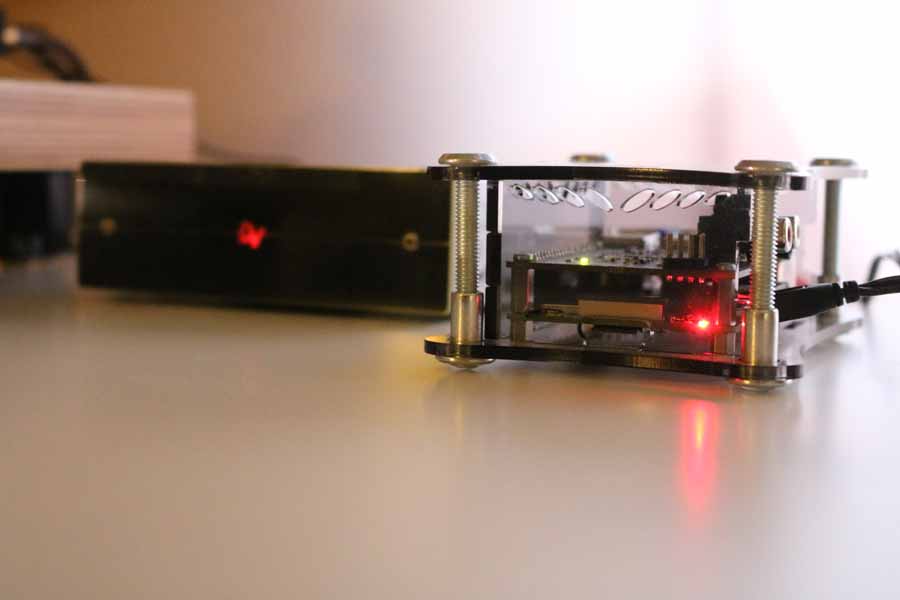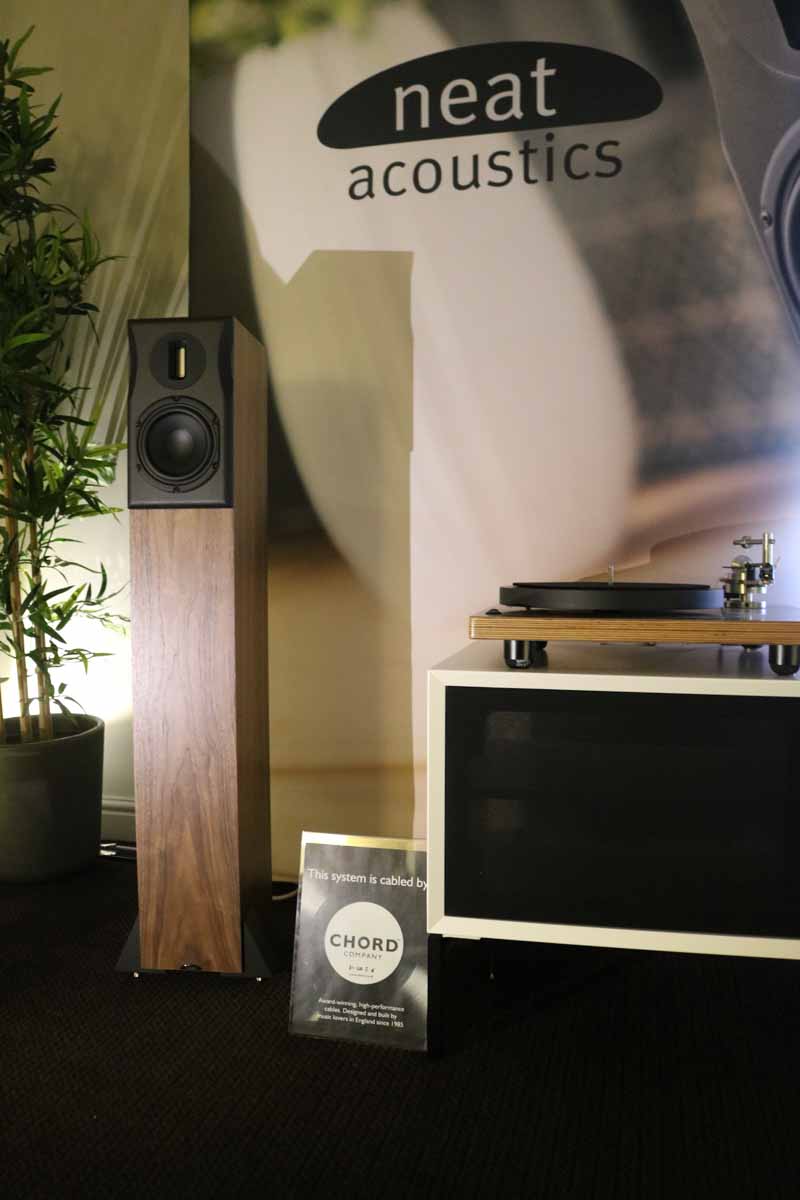 NORMA AUDIO & AURALIC
We're fans of Auralic and have ordered a G1 for streaming duties having been suitably impressed in demonstrations by Steve Hellicker at Ultimate stream in the past. For North West Audio Show Richard Bates (another very nice guy with years of experience in the industry and now the EU distributor for Auralic) had partnered with Norma Audio and with loudspeakers from NEAT in the form of a pair of prototype EKSTRA standmounters – I've mentioned the floorstanders earlier.
Kit being used for dems was Auralic Aries G1 Wireless Streaming Transport, and then Aries G2 with internal SSD drive, connected to the Auralic Vega G2 DAC. Norma audio 70 and 140 integrated amplifiers were driving the NEATS with stands by Lateral Audio Stands.
This was a really "banging" room and made noise that I really enjoyed…a lot!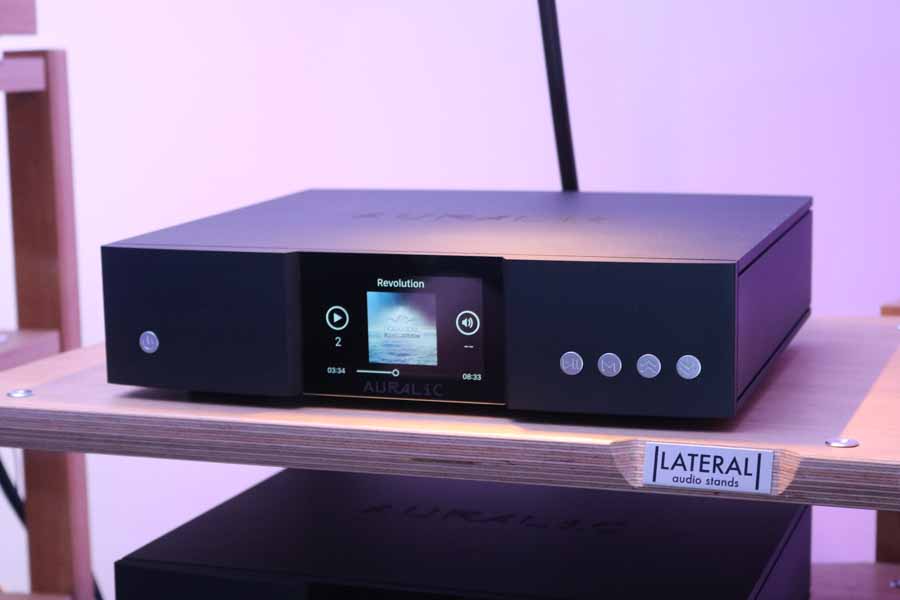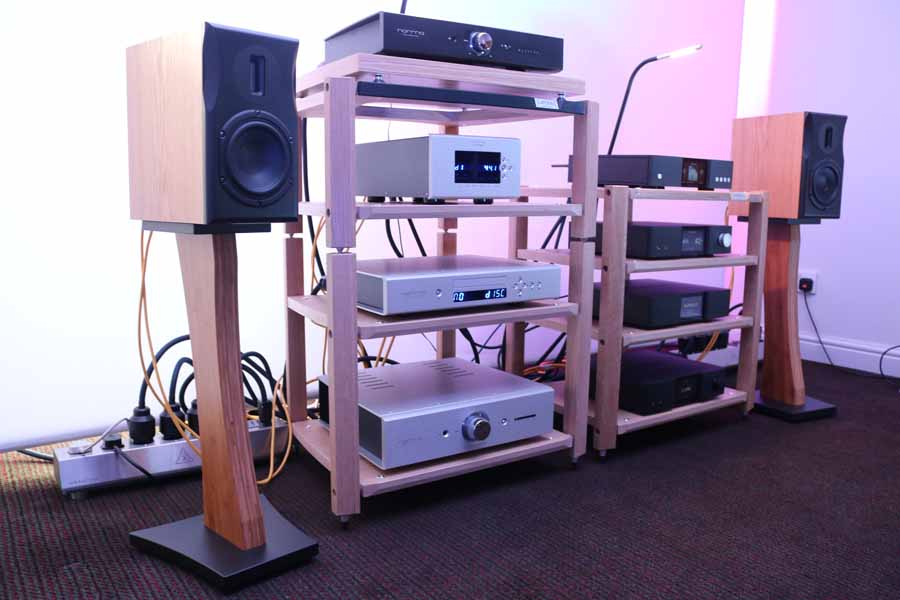 WAVE HIGH FIDELITY
This was a very interesting demonstration of a pair of BNC cables that have been specifically designed to link the Chord Blu MkII MScaler to the Chord Dave DAC. They are made by a guy called Nick who happens to be an architect whilst making these cables in the utility room of their home in central England.
The cables come in three varieties: Stone (£495), Stream (£895) and Storm Reference at £1410.
Nick played us a piece of music for about 20 seconds and then switched the cables with the effect being immediately recognisable. A clever bit of kit for a very specific purpose.
DOUG BRADY HIFI
Doug Brady Hifi are one of the longest standing UK Hifi dealers having been trading since 1960, and originally from the Liverpool area. We were immediately drawn to their room as they were playing Biggie Smalls, Rap being a genre that you don't necessarily hear that much at Hifi Shows, it, of course, caught our ears!
Doug Brady were presenting something new for them, the Sugden ANV 50 integrated amplifier paired with some ProAc K3 loudspeakers. The Sugden Masterclass ANV-50 is a new integrated amplifier released to celebrate Sugden Audio's fiftieth anniversary. It is a unique design with many innovative features and specially developed audio circuits. The ProAc K3 Speakers retail a bit under £10k and the 'K' is for Kevlar, which is used in the drivers, they also feature a ribbon tweeter and the combination with Sugden was both powerful and detailed, coping easily with the bassy track, without being over-blown or boomy. The Turntable was a Michell Gyro SE, very nice choice indeed from the iconic British brand. A dynamic sounding room with a great choice of music.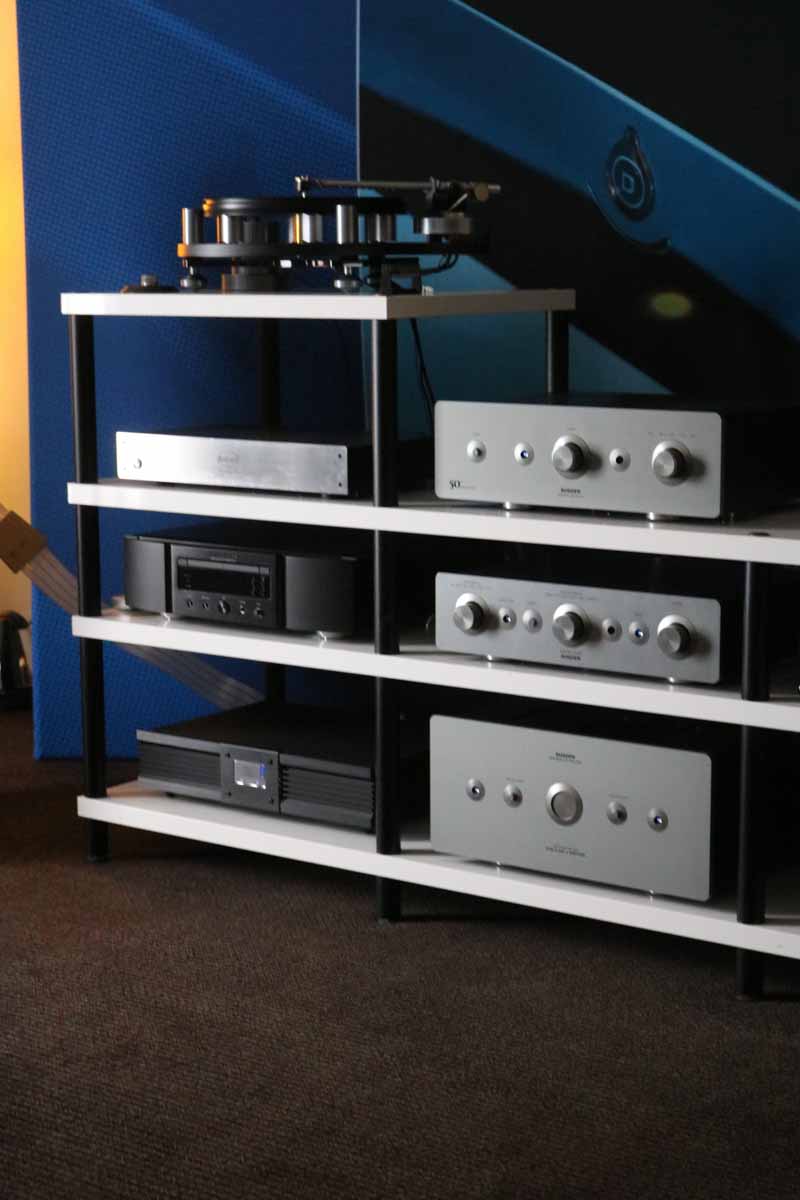 LOWER GROUND FLOOR
AUDEN DISTRIBUTION
Bill at Auden Distribution is another of the exhibitors who is always friendly and always has a very well laid out room. It has to be said that whenever we see an Auden room it always sounds excellent, with this year's Cranage show being no exception.
The system just worked in a beautifully synergistic way that was reflected by the clean and uncluttered layout of the room. Amphions Krypton 3 with side-mounted sub-bass units pushed the air into the room and were being powered by a Hegel H590 amplifier. Many will remember the Hegel brand and it is great to see it making something of a renaissance. Last but not least in this system was the excellent Innuos Statement music server which I've always been very impressed with  – if you get a chance to hear the dem by Ant Bunn at a show against other Innuos products, which are already very good, is a bit of an eye-opener.  Connecting all this was Audiomica cables with MusicWorks isolation and mains products.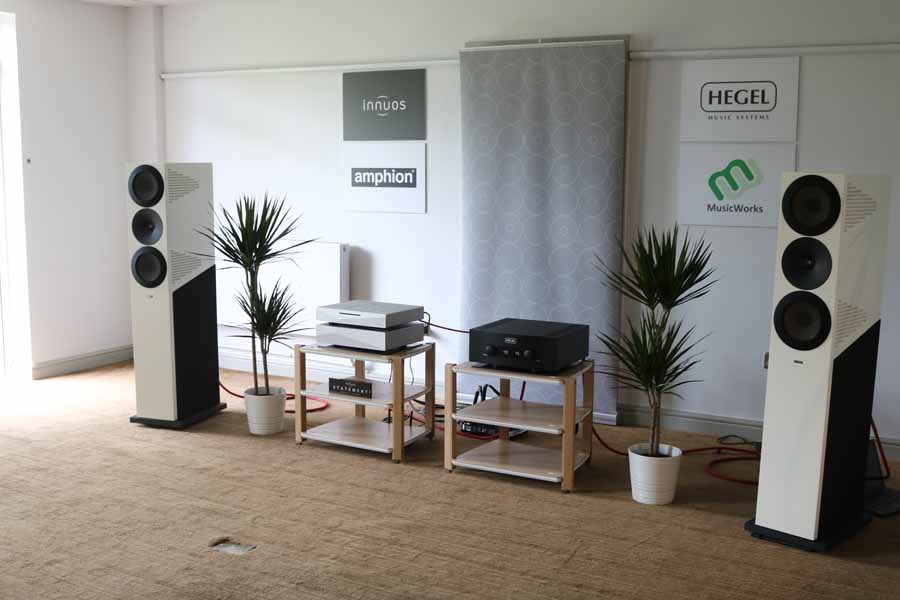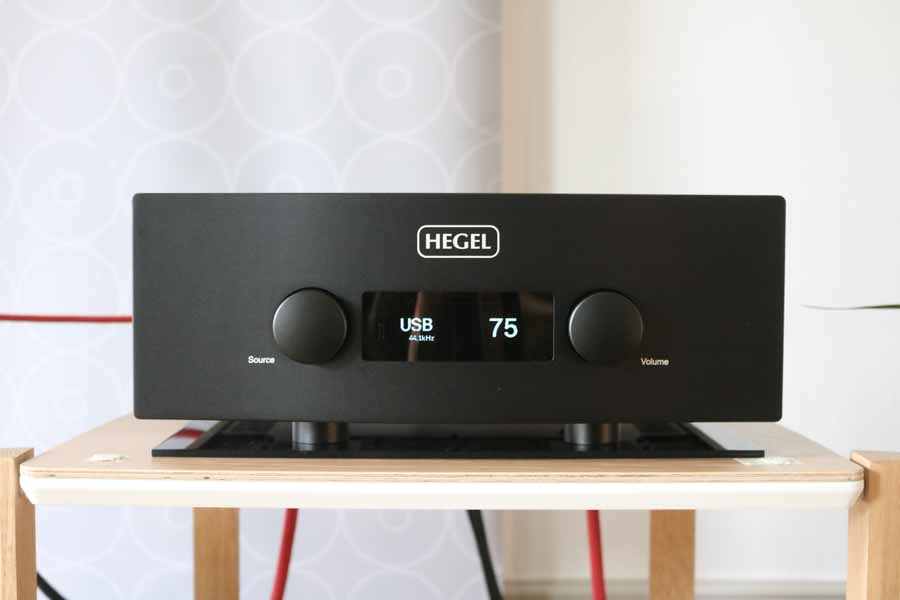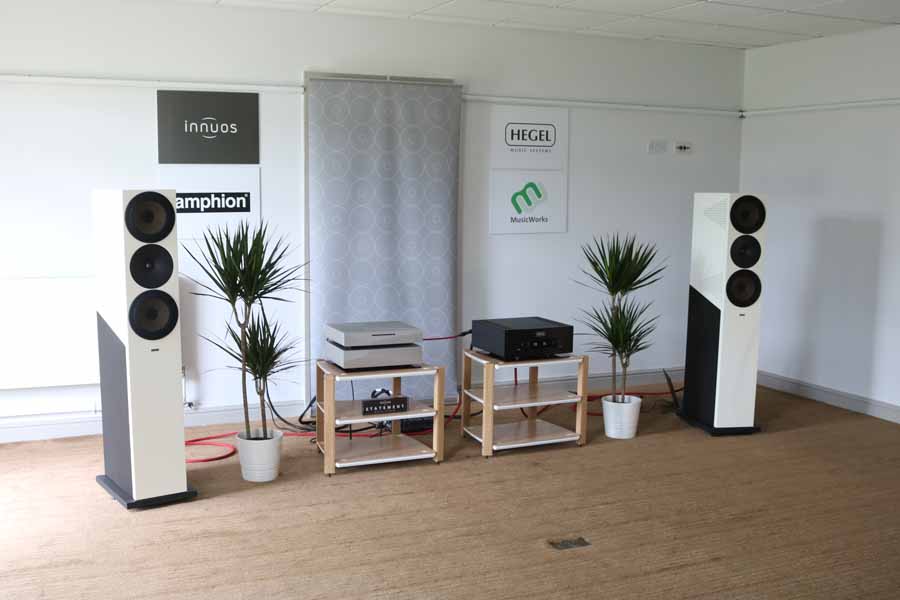 KARMA AV
Karma AV are a York based distributor, well known on the UK Hifi show calendar. This was their second room of the show, being much larger than the Karma/Primare one. Ian Severs was doing a great job running this room, using Emotiva and Primare electronics, and a MoFi deck.Theyplayed us some Willie Nelson and itreally did sound wonderful.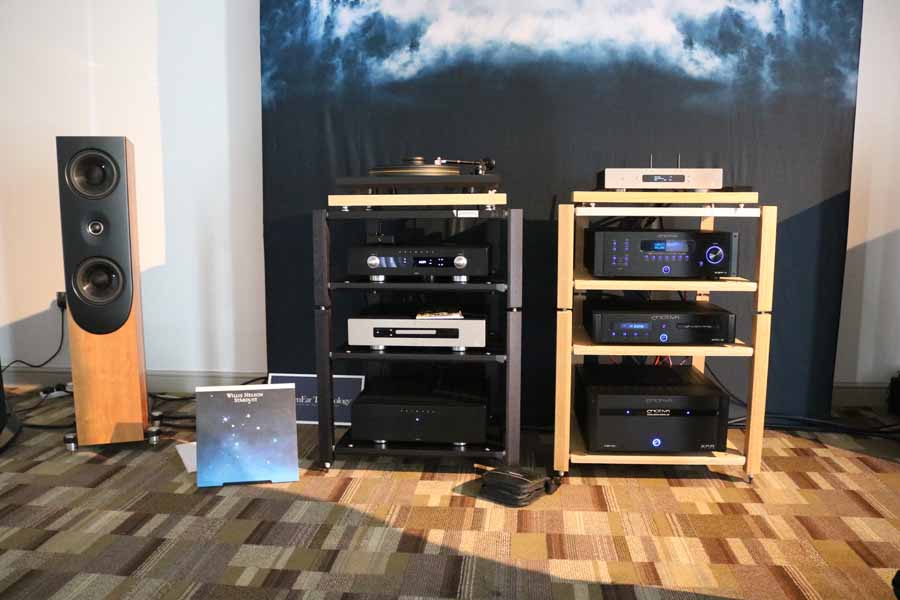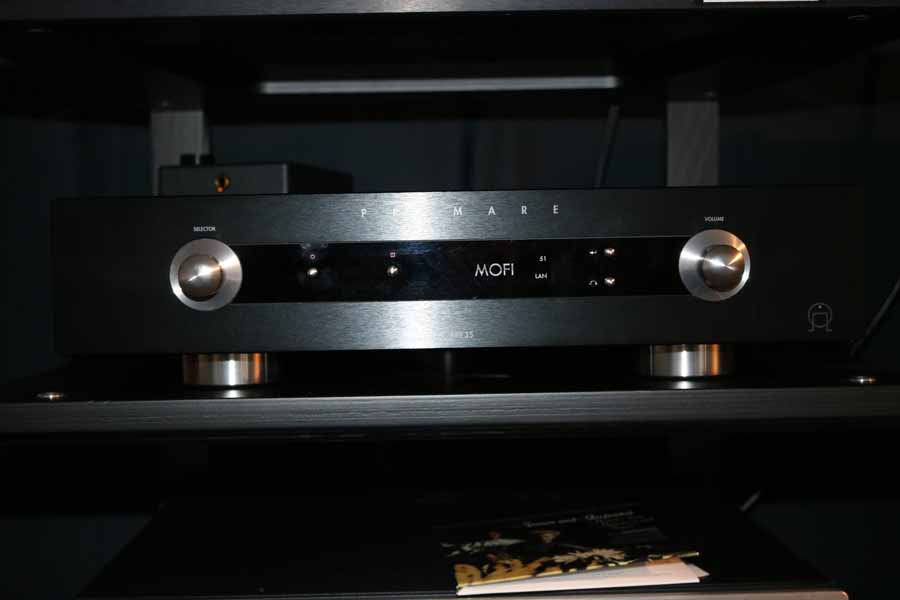 DIVERSE VINYL
Diverse Vinyl had a great spot in the bar this year and looked to be doing a roaring trade. I always try and buy some vinyl whenever we can store it on our journeys from these guys and simply said to Paul "Pick me out five albums that you recommend and think I'll enjoy" – I've not had a chance to listen to them yet but I'm sure they will be great. They also have a very well laid out website where you can order your tuneage.
One of the highlights of the show was having a drink with Paul, his wife and their son Arthur in the bar where my favourite picture of the show was taken as I'm reading an Origin Live turntable catalogue to Arthur.
DANISH AUDIO COMPANY
Steve Webber started the Danish Audio Company in 2015 after 14 years in the industry, both in retail and, prior to starting Danish Audio Company, as part of the UK distribution team for Steinway Lyngdorf, Lyngdorf Audio and MK Sound speakers.
Danish Audio Company supply the following brands: Steinway Lyngdorf, Lyngdorf Audio, M&K Sound, Innuos Music Servers, AudioQuest and Clic Furniture with the system at NWAS being made up of: Lyngdorf 2.2 Stereo TDAI-3400 / CD-2 / MH-2 / BW-2, Lyngdorf TDAI-2170, Lyngdorf SDA -2400 along with Lyngdorf speakers.
As you would expect, the kit in this room looked fabulous and sounded great too and whilst, to me anyway, Danish Audio Company is a relatively new name, I'm sure it is a name about which we are going to hear a good deal more in the very near future.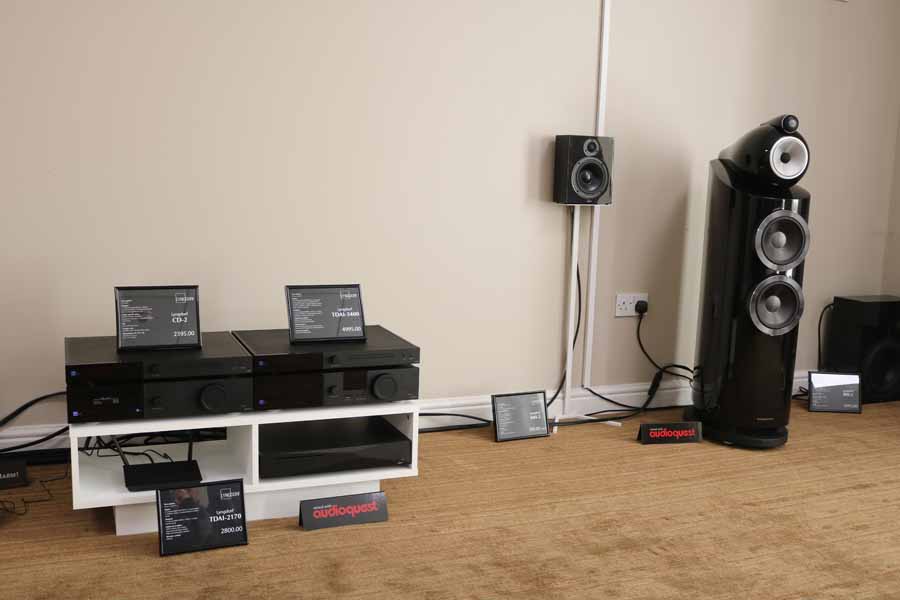 ORIGIN LIVE
Origin Live build very good turntables (we use one in the main system) and at North West they were demonstrating their Resolution Mark IV turntable which was fitted with their Light Speed control, a nifty feedback controller that keeps the turntables speed constant – it works very well.
Big news from Origin Live was the launch of The Agile tonearm costing £9750 and uses high strength alloys and carbon fibre in its construction.
Mark at Origin Live has in the past used VERY modest ancillary components at shows to demonstrate the importance of the front end in the overall sound of a system.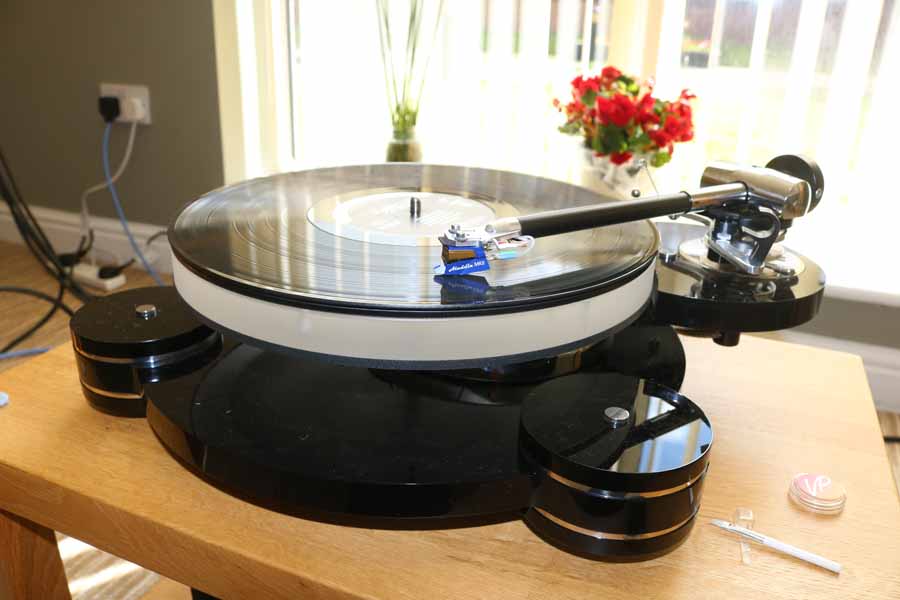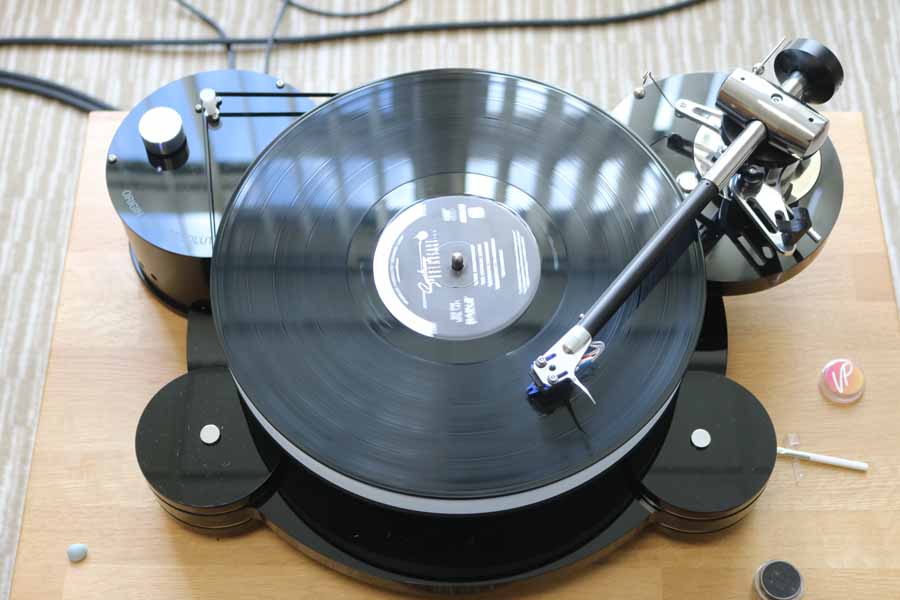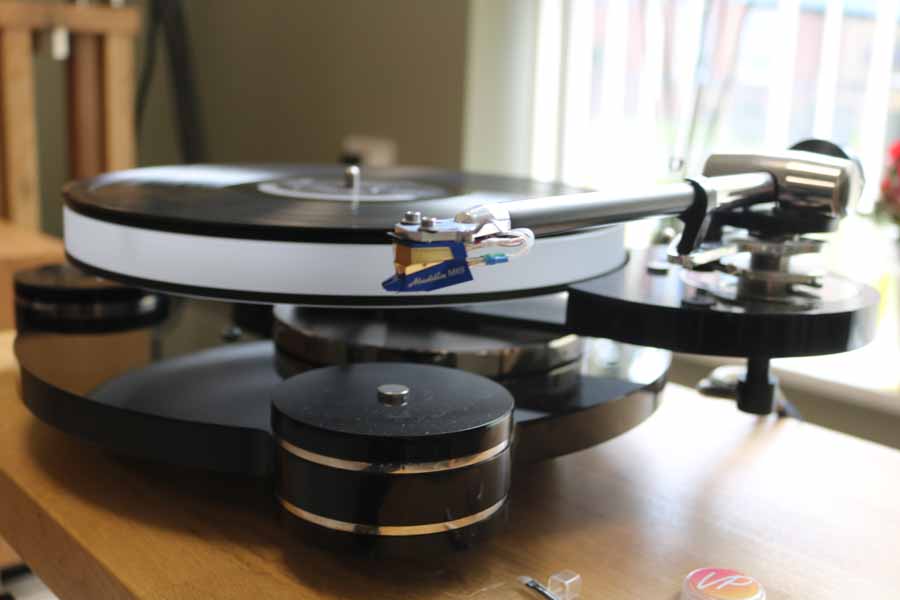 MALVERN AUDIO
One of the top two sounding rooms for me this year and covered in my Esoteric piece. To echo the esoteric piece…
Last year at North West Audio Show we were treated to a sneak peek of Mark from Audio Detail's Mono amps that were heard driving a pair of hORNS Universum loudspeakers. This year he presented the full system including a matching preamplifier based on 101 DHT valve tech and driving hORN Symphony loudspeakers.
LATERAL AUDIO STANDS
Lateral Audio had a great position at the bottom of the stairs as you went into the bar so you couldn't help but see them. Lateral used NWAS to launch their new LAS-4 Concert Anniversary stand and had their products in a number of other rooms too.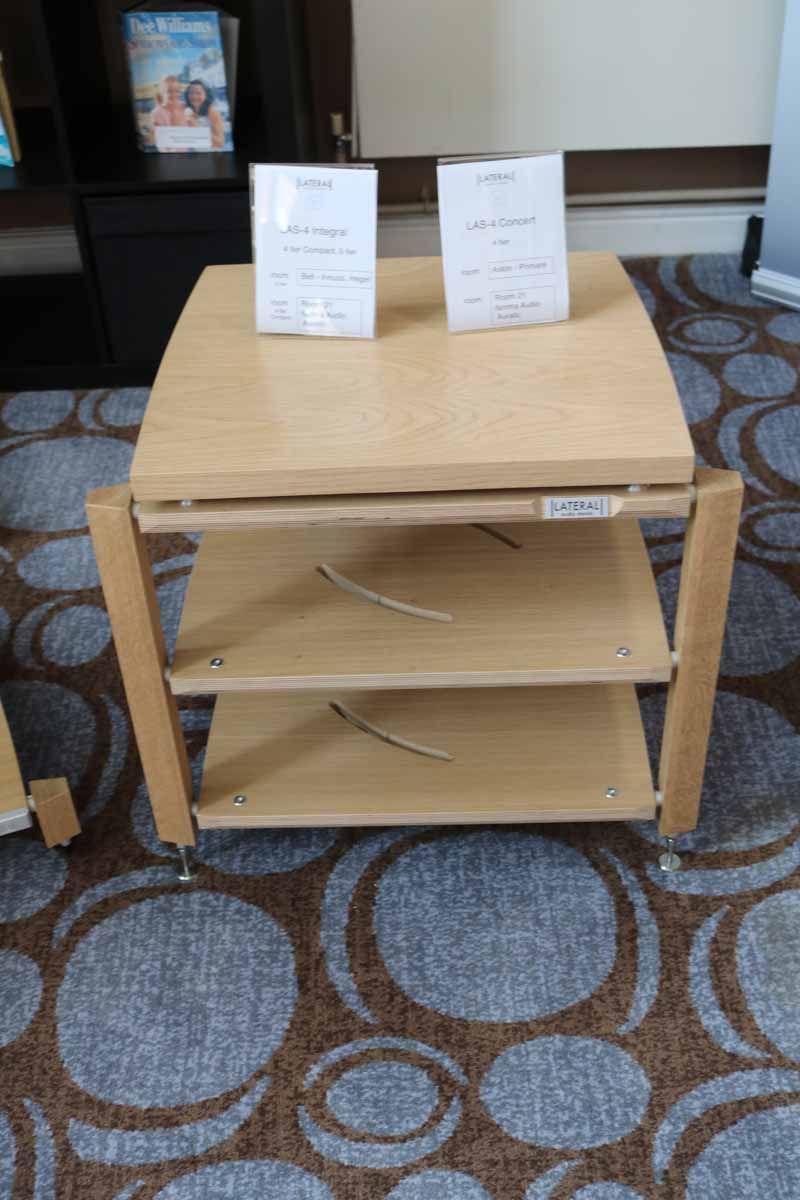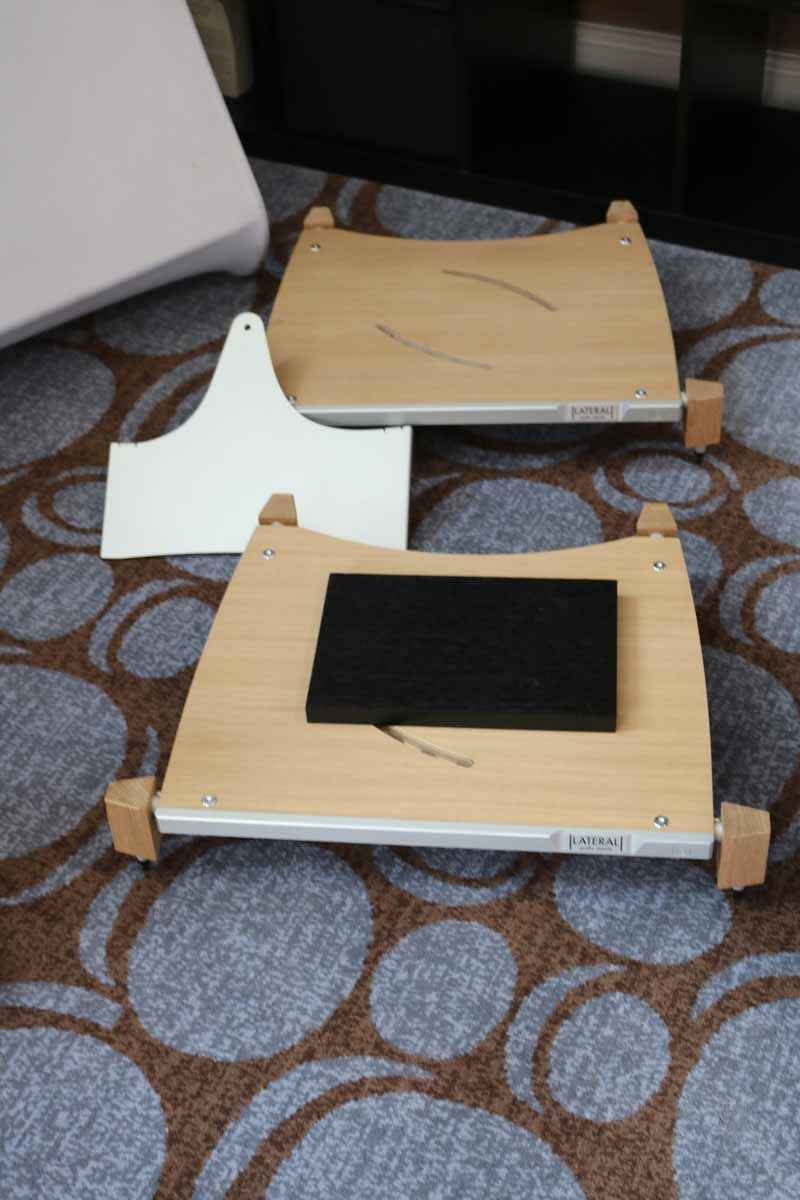 FIRST FLOOR
HENLEY AUDIO
Henley ran two rooms over the weekend. In the first, they used the Musical Fidelity Pre and PRX to drive the Klipsch Forte speakers. The analogue front end was the new Project Classic Evo and Lehmann Decade phono stage while the digital side was looked after by the Roon Nucleus and Stream Box S2 Ultra. They used the Project Wall Mount IT 1 to mount the turntable to the wall and Custom Design Cuba stands for the remainder of the system.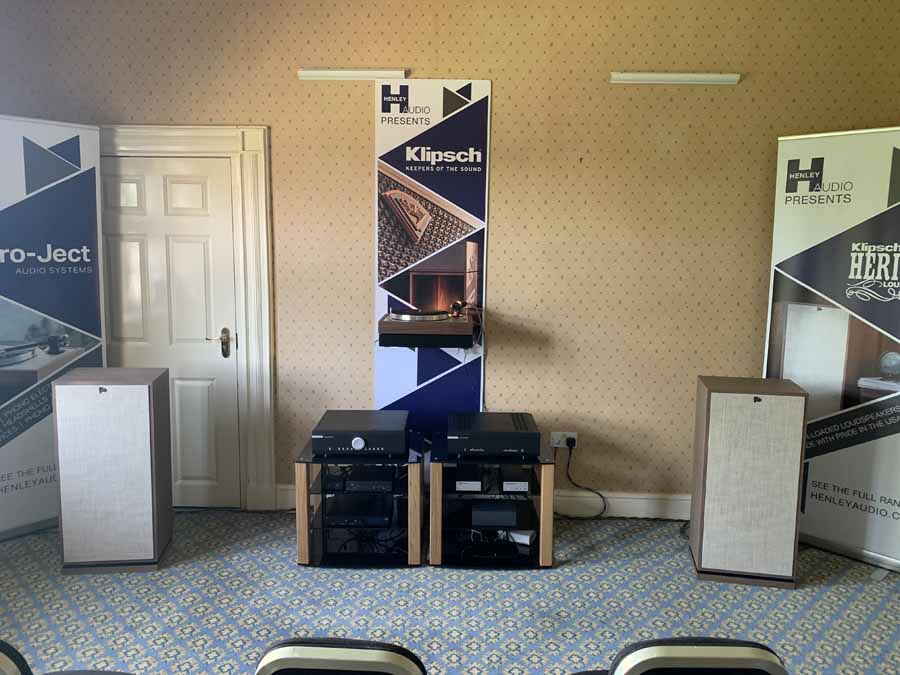 In the second room, they ran three systems to suit different room sizes, budgets and requirements. This is an excellent idea for a show, allowing visitors to easily see and hear a 'real world' Hifi setup and be able to visualise it in their own home.
For the main analogue front end, Henley used the new Project X2 turntable, fitted with the Project DS2 cartridge with the Lehmann Black Cube SE2 phono stage, into the Musical Fidelity M2Si amplifier and Klipsch RP8000F. They also used another Project Stream Box S2 Ultra combined with the Project Pre Box S2 Digital and Amp Box S2 along with Klipsch RP500M speakers to demonstrate a compact and affordable streaming based system. Finally, they combined the new Project T1 Phono SB turntable with Klipsch The Sixes. It all worked very well indeed.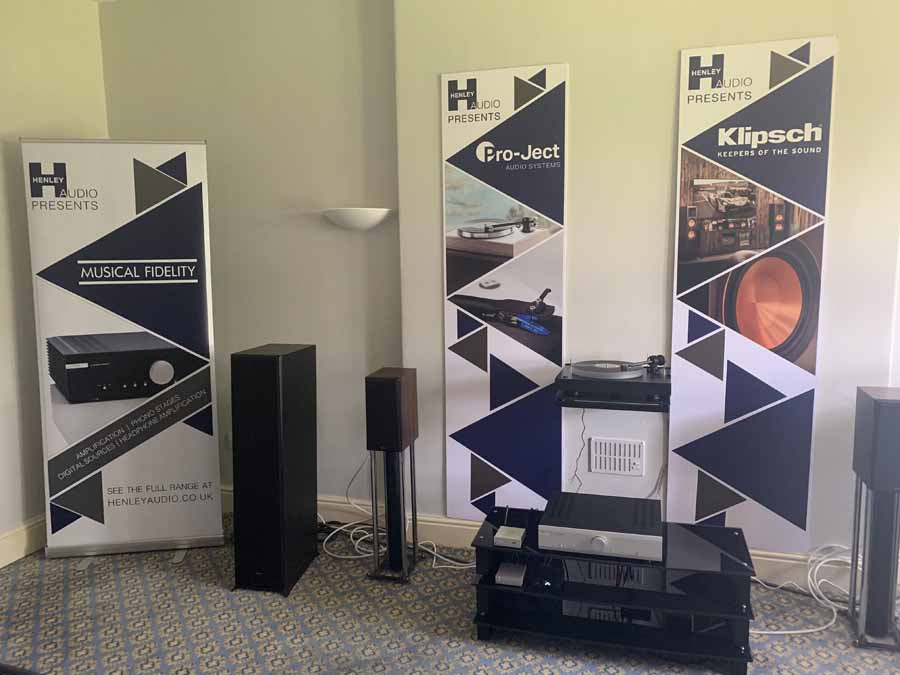 FANTHORPES HIFI

Fanthorpes is a family owned Hifi retailer based in Hull and they are regulars at North West Audio Show. The company has been trading in Hulls Hepworth's Arcade since 1948 making it one of the most easily recognisable names in the North of England with regards to hifi retailing.
Fanthorpes had the fabulous PMC Fact 12 Signature Speakers on demonstration at the North West Audio Show which were being fed by a Luxman L-509X amplifier. For the systems digital source Fanthorpes were using the brilliant Innuos Zenith Statement which we have heard several times and never fails to impress. Fanthorpes had Anthony Bunn from Innuos with them to answer any technical questions for visitors to the room too which was a good touch. The Zenith Statement was feeding a Chord Electronics DAVE DAC (regular readers will already know the high regard I hold this DAC in) and BLU MK2 Upscaling CD Transport.
On the analogue front Fanthorpes were using a Pro-Ject Signature 10 turntable with the Ortofon Cadenza Black cartridge going into the Musical Fidelity NU-Vista Vinyl Phono Stage.
We missed them but there were also demos of Ortofon Cartridges over the weekend with Kieran Pickaver from Henley Audio. Missing these was somewhat remiss of me as I'm on the lookout for a new cartridge and Ortofon are definitely on my short list.
COMPUTER AUDIO DESIGN
This was a fabulous sounding room and one of the most photogenic to boot – not you Al. A Lavardin amp was being fed by CAD streamer and DAC but of particular interest is the effect of the company's grounding products. I have no idea of what they do or how they work but work they most certainly do.
Speakers in the room were the tiny offerings from Boenicke and the sound that was coming out of them was phenomenal.
Racks in the room were from Quadraspire and I got a sneak peek of a new product Al is working on but I have had to sign the Official Secrets act and so Mum's the word.
This really is a great system that just seems to work together and a system I'd definitely be happy to live with – stylish looking too.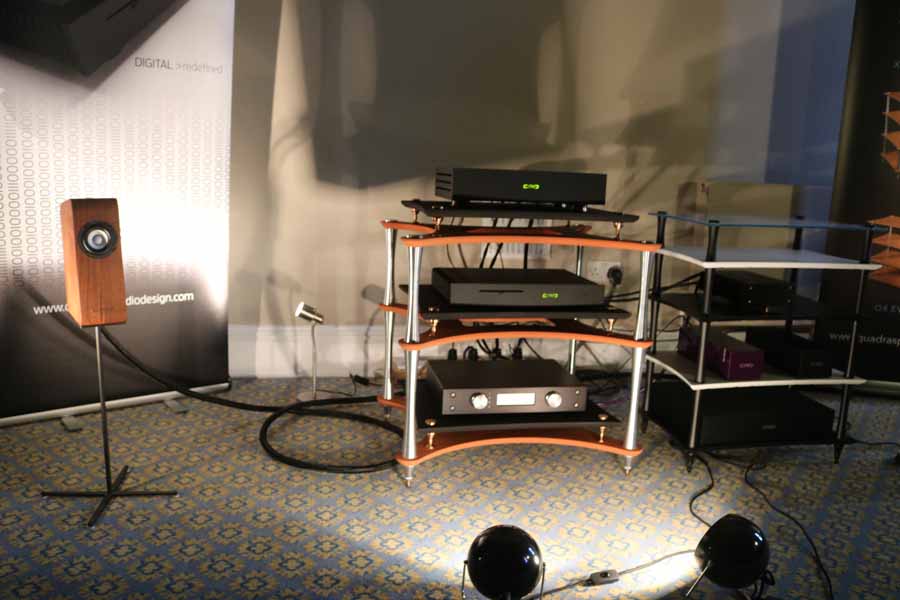 ACOUSTICA & ATC
Another brilliant room that just played lovely music was the Acoustica, a Hifi dealer based in Chester, and ATC room. I think I may well be developing a bit of a "thing" for ATC's loudspeakers as I always enjoy rooms that use them (Chasing the Dragon was another case in point at NWAS). They are developed from studio loudspeakers and are used extensively for monitoring in studios and I suppose that is justification enough for me with the thought that if we are trying to reproduce what is heard at the mixdown then logic may dictate it makes sense to use similar equipment – though tastes and preferences may well affect buying decisions, of course.
ATC were showcasing their new CDA2 DAC and preamplifier fed straight into active ATCs with the digital signals coming straight from a Melco library.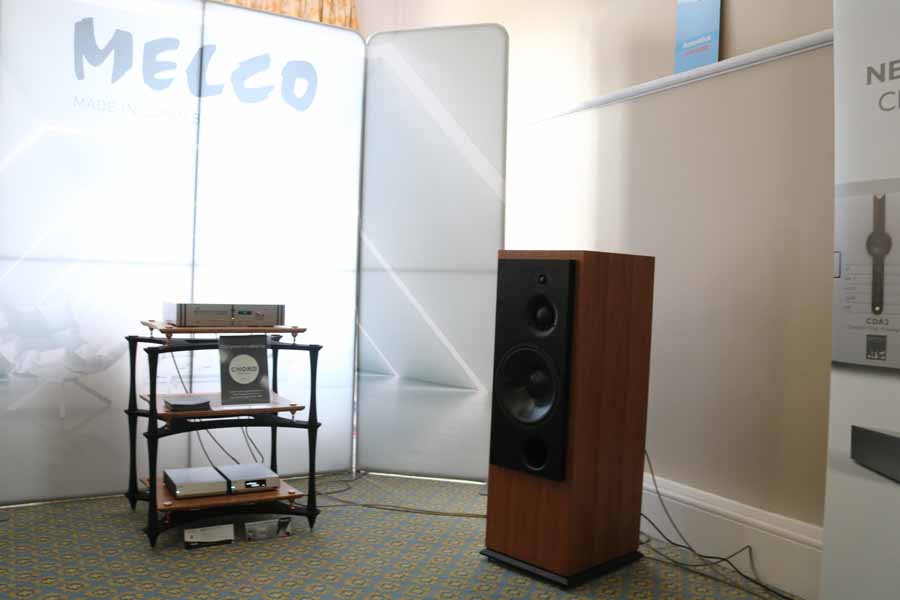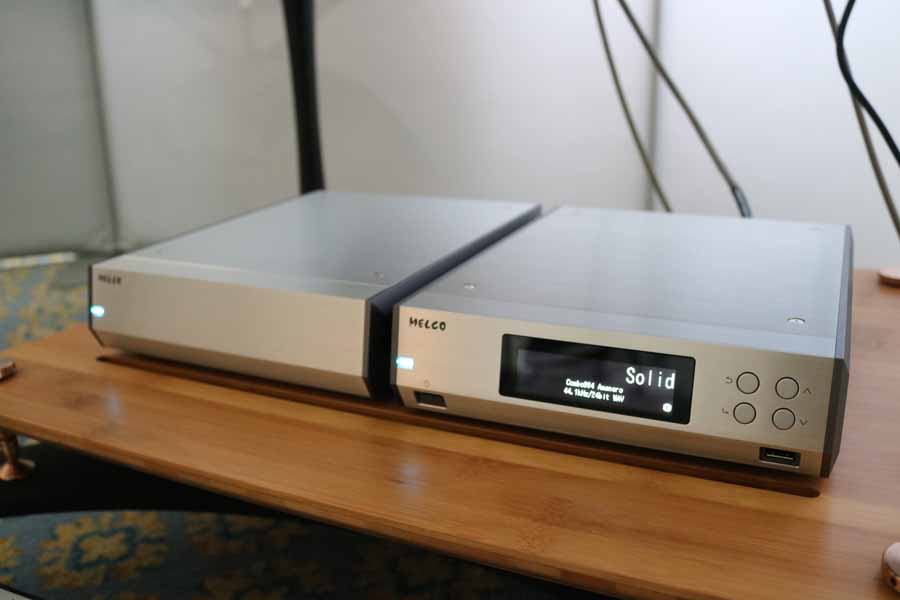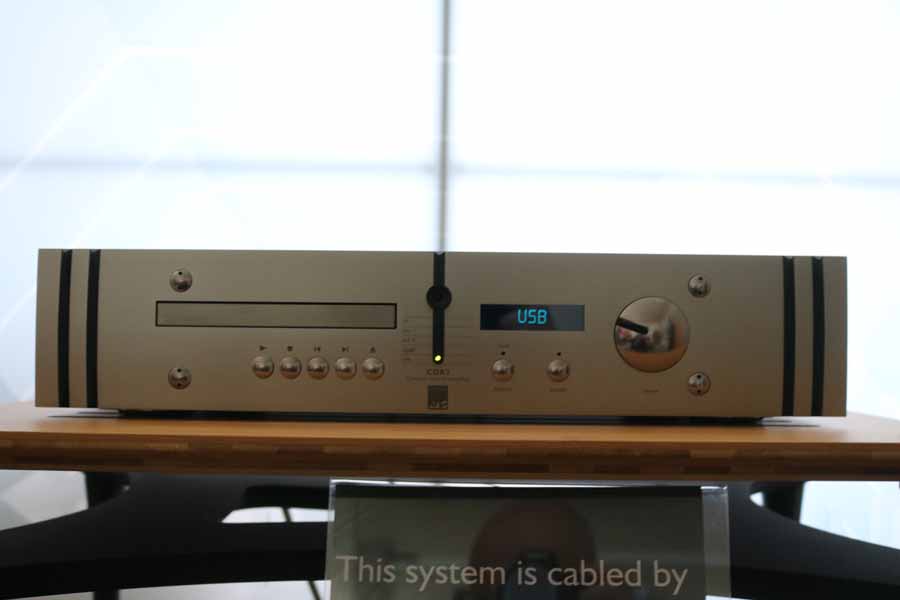 KUDOS & AUDIOQUEST

This was a very nice sounding room using Naim electronics and AudioQuest cabling with me turning to Linette and saying I could definitely live with this system. Definitely one of my top picks of the show.
The company had the flagship Titan 707 reference loudspeakers in attendance but it was a more modest set of standmounters that we got to hear. Very, very impressive and as you can see by the pic, it almost floored Linette.
Digital signals were made by the Innuos Zen.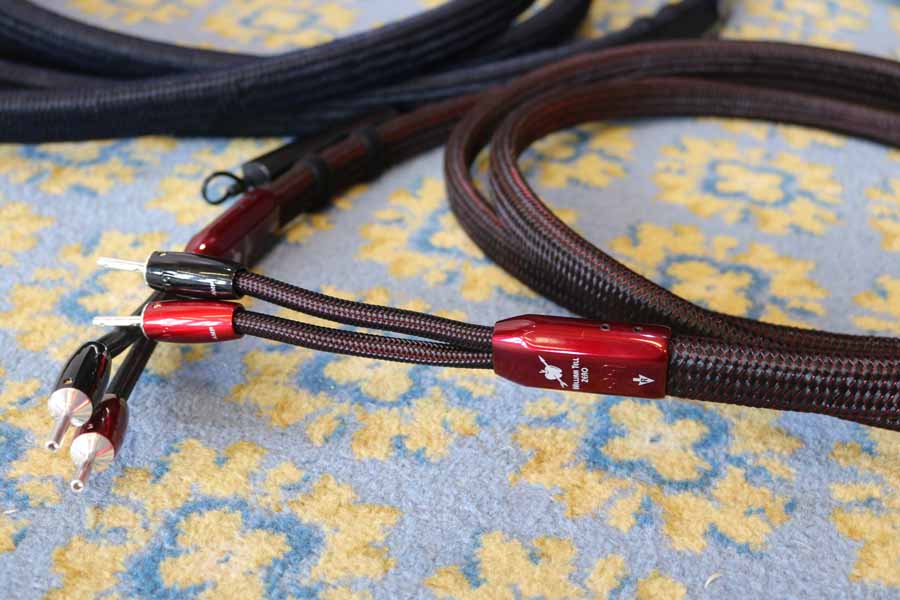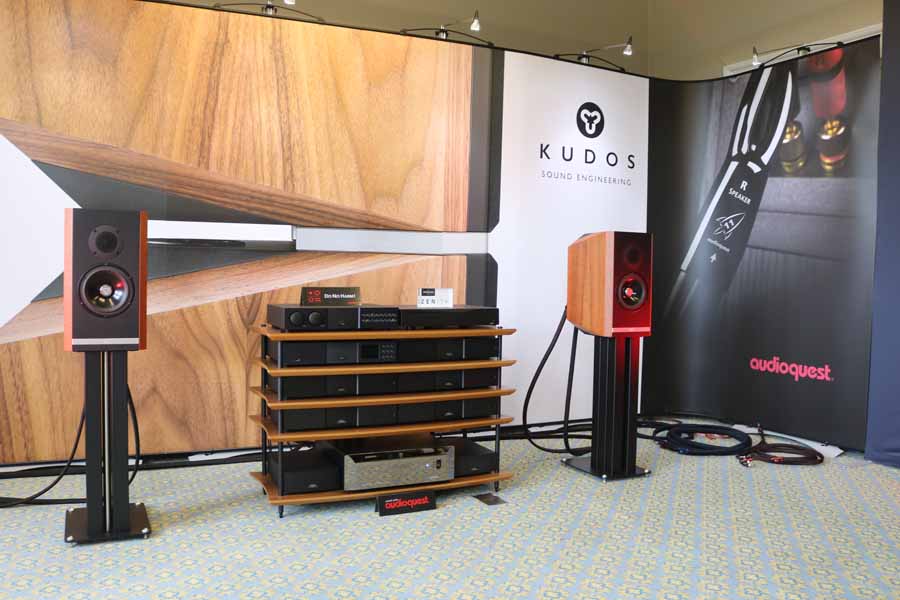 KRALK AUDIO
Kralk had their TDB12 loudspeakers playing when we popped into their room being powered by Yaqin monoblocs. These speakers are getting a bit of a cult following and sounded very good whilst we were in the room. I know that Ian Ringstead highlighted the Kralk room and the TDB12s in his report where he sat and listened to a load of rock classics on Saturday afternoon.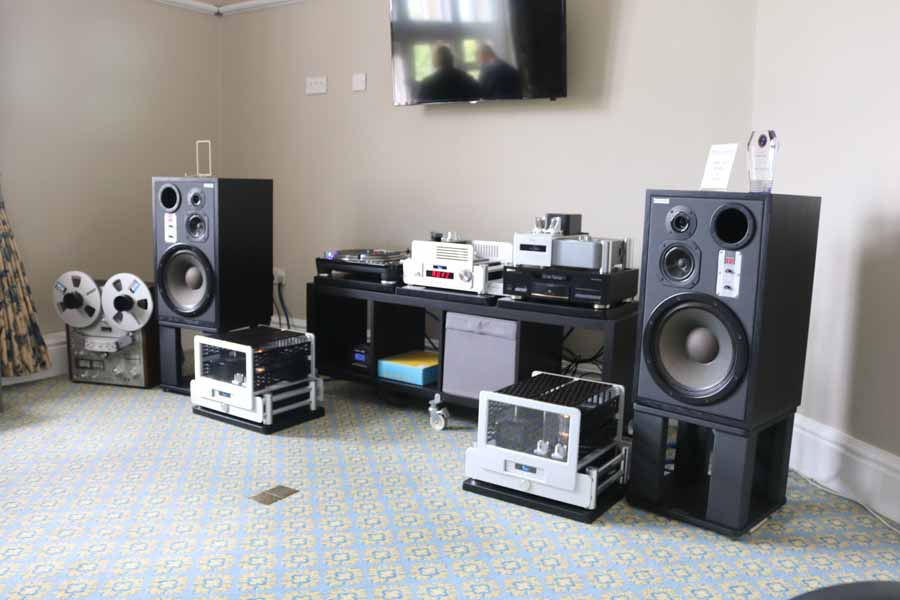 FALCON ACOUSTICS
Owing to the fact that the lovely Jerry of Falcon had been taken ill just before the show, his distributor, Karma AV, helped out with their room, Edison, and it effectively became the third Karma room, with more Primare electronics and MoFi deck. The partnership with Falcon and Primare is excellent, they work so well together. This room featured the Falcon RAM Studio Series of speakers. We wish Jerry a speedy recovery and hope to see him soon, take it easy Jerry!
CONCLUSIONS
To my mind, North West Audio Show is the UK's best audio show in terms of feel and vibe and we at Hifi Pig are so proud to be a part of it as exclusive media partner.
A huge thank you goes out to Kris and his team who organise the show, the people who attend the show as visitors and, of course, all the exhibitors who put so much effort into the show.
The dates, by way of reminder, for the 2020 show are Saturday 20th and Sunday 21st June at the same De Vere Cranage Estate in Cheshire. We will be there and we'd love to meet you.
I'll leave the parting comment about the show to Richard Bates of Auralic who sent us a really nice message after the show – "Kris is a thoroughly decent guy trying to do the 'right thing' for manufacturers and consumers alike, growing the show organically. He and the show deserve to succeed – he works hard at it. The 'feel good' factor permeated through the event"
SEE YOU NEXT JUNE! 
Stuart Smith
More From North West Audio Show 2019