Sygnifi, known for its Cocktail Audio CD-ripper/streaming devices, is launching the NOVAFiDELITY brand. The high-tech name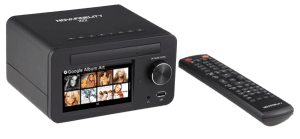 marks a new era for the Sevenoaks, Kent based company, as it launches the first of its second generation products, the NOVAFiDELITY X12.
Comments Peter Cooke, MD at Sygnifi, "We have enjoyed tremendous success with the original Cocktail Audio X10 and more recently the Cocktail Audio X30, which will remain in the range. For our second generation products we wanted to establish a unique, high-tech brand name that embodies the strengths of our products as we go forward. The name has been created from 'Nova', from our cutting-edge Korean manufacturing partner, Novatron, and 'Fidelity' to underline our commitment to sound quality as well as features and convenience."
The first product to bear the new name and logo is the NOVAFiDELITY X12. The X12 builds on X10 with improved audio components, larger screen, slicker interface and drawer-loading CD mechanism. The compact unit comes with a 1TB hard drive as standard and can rip CDs to the drive in a range of formats including Flac, WAV, ALAC and MP3. In addition to CD metadata and artwork look-up, app control and inputs for recording from external analogue devices, the X12 boasts internet radio, uPnP/DNLA streaming, Shareplay for iOS devices and 24bit/192KHz file compatibility.
Other key upgrades for the X12 include a new DAC with wider dynamic range (112dB), a passive cooling system for near silent operation and a front control knob for direct control. Digital volume control on both analogue and digital outputs allows the X12 to be used as a pre-amplifier and the HDD bay now accepts 3.5in, 2.5in and SSD drives. The X12 also has a built-in 30wpc amplifier.
The NOVAFiDELITY X12 with 1TB HDD retails at £529 (Naked version £420).