California based NuForce have introduced a direct-digital integrated amplifier that they claim marks a new juncture in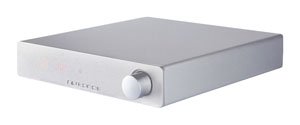 digital sound. The new design converts the digital audio signal into analogue form at the last possible stage—the PWM amplifier output. "The DDA-100's  low distortion and noise floor remain in the digital domain from beginning to end, to give a wide dynamic range."
The DDA-100 doesn't require a DAC stage, rather, its PWM power amplifier stage is modulated directly by the incoming signal, and the digital-to-analogue conversion takes place at the speaker outputs. In effect, the PWM power amplifier stage operates as a power DAC.
It accepts four digital sources via one USB and with the included remote control, you can control inputs and volume from  your listening chair.
The DDA-100 will drive your loudspeakers via a robust 75-Watt RMS and 250-watt peak capability per channel for "superb dynamics and transparency."
The NuForce DDA-100 is available worldwide for a suggested retail price of US $549.00 and will be shipping Aug 1, 2012.