I must admit that usually inner-earphones don't do much for me. Either they are too bright or the bass is so pronounced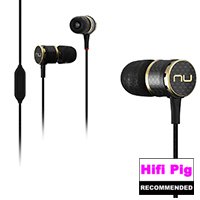 that my head feels like it's exploding from the inside. Yet, like most humans travelling in the Class 319 EMU out of Farringdon, I needed that musical security to wile away the boring trip home after work. Luckily I don't travel on trains anymore, but if I choose to listen to inner ear cans then I still find the sound still far from being realistic. Indeed my chosen pair are modified, aged Sony MDR A34s, which sit at an angle to my ears meaning sound enters more naturally and have a headband to hold it all in place. Whilst they originally took a bit of getting used to, these earphones were far more natural than the OTT bass and unrealistic soundstage often found in those inner ear vices.
Then, having visited the Bristol Show this year, 2015, I got a chance to listen to the brand new NuForce NE800M and really liked what I heard, so I asked the company to review this model, and their cheaper NE750M. Priced at £129.99 and £79.99 respectively, they both sit at the mid-top end of the market, though they have a 4-motor Primo8 at a whacking £399.99 available very soon. Having been familiar with their now aged metallic orange Reference 9 Class-D monoblocks, they spread their wings into avenues new over the years, much as some other companies, including B&W, MacIntosh, Musical Fidelity, or Furutech, who I reviewed recently, to name but a few. The headphone and earphone market is now the audio gold of the industry and whilst sound quality has improved not only with better armatures and wiring, there are also now many more less-desirables out there than there were before. These new NuForce models follow on from the NE700M, all under the umbrella of the video projector manufacturer Optoma, itself established in 2002 and who took over the company in November 2014.
The two earphones under review here are both16Ω, beautifully packaged including a cute zipped pouch to put them in. The NE800M 'pouch' is indicated to be leather though I found no difference between the two. Whatever animal or chemical made it, it looks good. The earphones both have a built in microphone and controls to move through the source playlist. There are three sets of single flange ear tips, and the NE800M includes an additional two pairs of comply™ soft silicone earbuds, which allow for a better fit inside your lugholes. I preferred these to the normal ear tips which for my ears felt a little too solid. I like really thin ear tips, like those provided by Sony and Apple. These earphones felt uncomfortable at first, though I soon got used to them. Much of my discomfort was the extra weight of the units in my lugholes rather than the material itself. Both the NuForce inner-ear speakers have a lovely looking rubberised cable which, whilst preventing it from getting caught up like so many earphones do to me, it does tend to cause friction with my clothes rather than hanging loose against them. Most won't find that a problem as the fact they don't get caught up far outweighs this little niggle. What they do offer is a clip band to allow you fix the cable to your front lapel, though this might cause a problem if you turn your head to one side! I listened to them both with similar and identical music through both my Fiio X5 and Apple iPod Classic players. Both earphones have been reviewed together in this piece, and whilst I have identified differences between them, this is not intended as a comparison.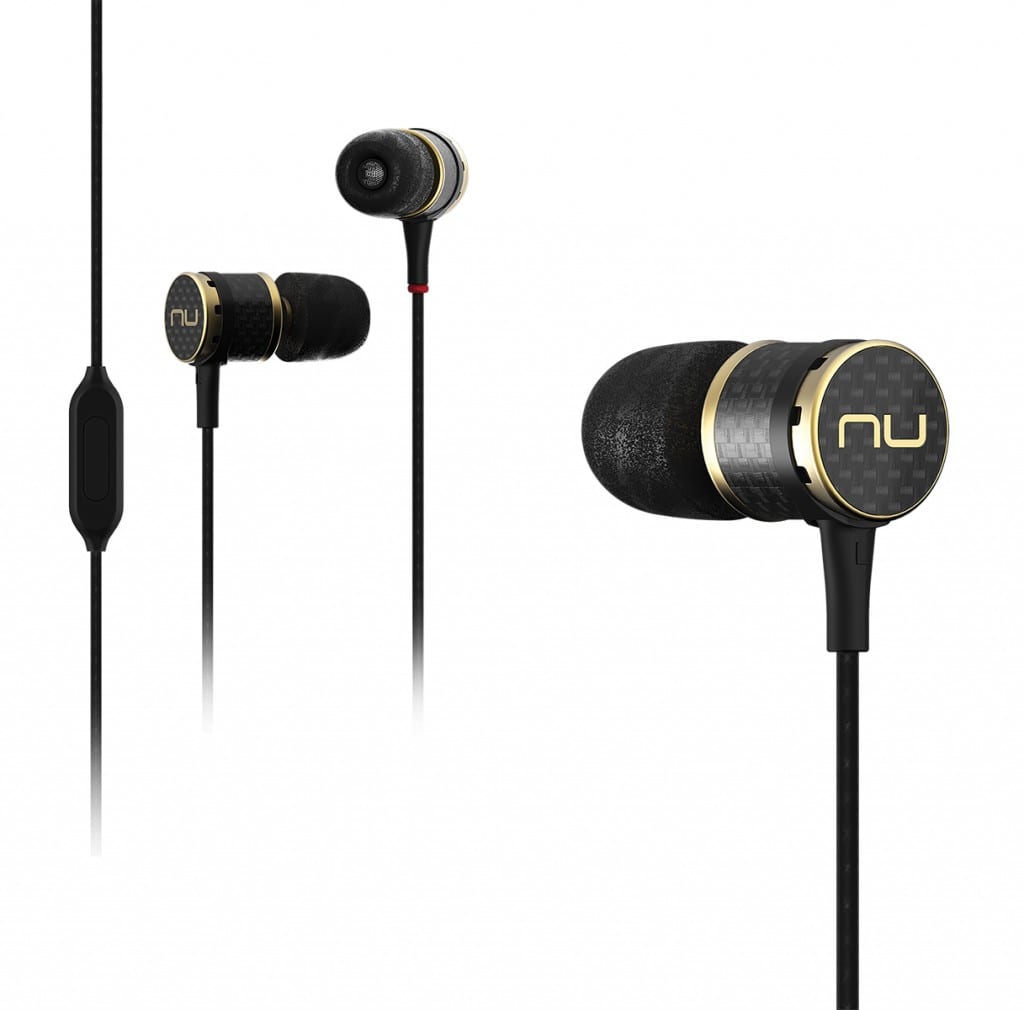 The NE750M is the companies new starter model, though is certainly built with considerable precision and care. Made from aircraft grade aluminium they feel like quality and are still lightweight. The more expensive NE800M is engineered from carbon fibre, which has one of the highest strength-to-weight ratios and with its strength is of the most acoustically inert materials, as witnessed by its wide use by companies such as Wilson Benesch.  The nozzle is machined from solid brass to, as the company stress, prevent micro-dynamic vibrations and to achieve the ultimate musical reproduction. Interestingly, brass also offers potent anti-microbial properties, in case you like to share your earphones with your friends. (Yuk – ed) The whole is 4g heavier than the NE750M, coming in at 18g. According to their brochure, the new Primo8 model will be a massive 0.193kg, or 193g once it arrives. Actually your ears will be relieved to hear it is only 19.3g. Phew. Bear in mind most cheap earphones tend to be around 5-10g so these pairs on test are both on the heavier side. Both models reviewed here use a single 8.6mm driver titanium-coated Brilliance™ diaphragm incorporating two acoustic chambers, each with aperiodic bass loading which claims to reduce ear pressure for extended wearing comfort, as it tries to simulate an open-back headphone design. Its design attempts to give an 'open' soundstage whilst still trying to maintain excellent isolation from the outside. In my listening tests, I found external noise was still being well isolated, and whilst bass was noticeably improved in speed and depth in the NE800M than its cheaper sister, I did not find my ears were blowing up like they do with JVC XX Xtreme Xplosive bass blasters, for example. I was highly relieved, as were my eardrums, and there was no listening fatigue at long listening times. 8.6mm drivers are not large by todays' standards, but being this size does allow them to deliver more grunt than many. The sound from both was far more musical than many others I have heard at their respective price points, and the care attended to in their design was apparent in the end results. These are good.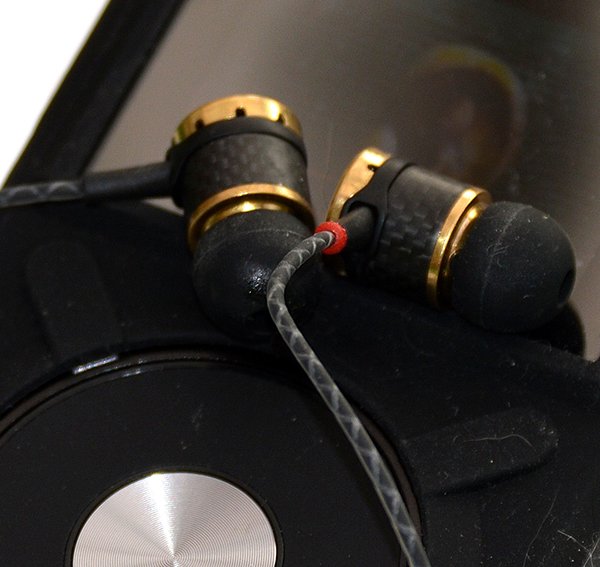 I was immediately impressed with the sensitivity (largely as a result of the lower impedance) and the maximum SPL. It enabled me to play music with force without the need to worry about sound breakup. At the other end, and much better for my ears, low level listening was both full range and musical. I did, however, find the NE750M had both an enlarged bass and a tad mid-band emphasis, especially when pushed, meaning vocals were slightly forward. The NE800M was much more controlled in both musicality and in the frequency response, allowing my ears to be able to listen for longer than I would usually permit them to. Nothing shouted out to me, meaning that the music was controlled and the soundstage was as real as it can be inside my skull. 24bit/192kHz Souvenir de Florence Op 70.1 Allegro con spirit (Tchaikovsky, Trondheimsolistene) certainly had spirit. The violins were as clear as the 'bits' would allow and the music shone through with spirit and musicality. All frequencies were as they should be. Only in the NE750M did the violins seem a little too loud and the bass slightly too animated.
My favourite Linn track 'Almost Like Being In Love' (Joe Stilgoe, 24 Bits of Christmas, Linn Records) played with passion in all frequencies from lowest bass, and probably all the way to 40,000Hz on the NE800M's. There was speed and detail from the lowest bass to the highs of the ride cymbals. This was admirable on these inner-cans, and really showed the difference between the two products. The NE800M's had the much flatter soundstage, with an exceptionally wide frequency band. The brochure states 10Hz to 40kHz, I will take their word for it, though the top end was far crisper and quicker than on their cheaper sibling. The cheaper model quotes 20-20,000Hz. Both quote sensitivity of 113dB±3dB.
Chopin's Op28 24 Preludes (in Db, no15, 'Raindrop'; Linn) were brilliantly played by Ingrid Fliter on the NE800M's, with the 2740mm Steinway grand sounding as big as the 8.5mm driver would allow. I really did like what I heard, even the breath from the pianist as she played with passion. Even recordings I have produced with me playing my grand piano sounded as realistic as my own living room itself. Mozart Requiem in D played by the Gunedin Consort under John Butt's played with as much finesse and authenticity as could be from any earphone. This final work from Mozart was largely to be assumed to be completed by the composer Franz Xaver Süssmayr.   These cans worked well with whatever I threw at it, whether orchestral, instrumental, jazz or pop. Pat Metheny Group "The Way Up" was as near to realism as earphones could get. The speed and detail of sound was superb as was picking out each individual instrument in the array of sounds. In all that I played vocals were vociferous, bursts from bass drums bellowed without any hint of struggle, and cymbals were sizzlingly good; not OTT, just everything there in the right proportion, like that perfect restaurant food. The NE750M's weren't far behind, but this food was stodgier and made me feel that there was just too much of some of the ingredients.
CONCLUSION
The NE800M's are a stonkingly good pair of earphones if you can put up with being on the heavy side. The dynamic range and frequency response is excellent courtesy of the powerful "N50" neodymium motor structure that allows the deepest and most authoritative bass, and I have to say that I really did enjoy listening to these. The NE750M's were very good, but I felt that at the price point penny short of £80 I should get a flatter sound quality.
NE800M
Sound Quality – 8.7/10
Value for Money – 8.2/10
Build Quality – 8.55/10
Overall – 8.48/10
NE750M
Sound Quality – 8.1/10
Value for Money – 8.1/10
Build Quality – 8.45/10
Overall – 8.22/10
Janine Elliot