NuNu Distribution got in touch with us to tell us about the winner of the raffle they held at the recent Bristol Show. They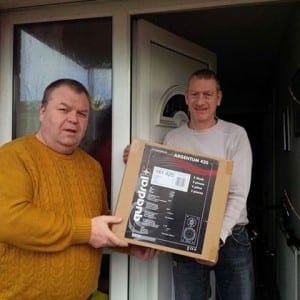 were giving away a pair of  Quadral AREGENTUM 420 speakers and the winner was Mark from Nailsea who you can see in the picture on the right,  accepting his prize from Tony of NuNu.
NuNu will be at the North West Audio Show – Cranage Hall in Cheshire where entry and parking are FREE and all you need to do is register at www.audioshow.co.uk . Hifi Pig are proud to be the exclusive media partners for this event.
It will be a fantastic show and you will have the chance to see and hear all the brands in NuNu's portfolio as they will be demonstrating in 6 rooms.