Onkyo announce the release of the new DS-A5 iPod/iPhone/iPad Dock, adding AirPlay functionality to Onkyo A/V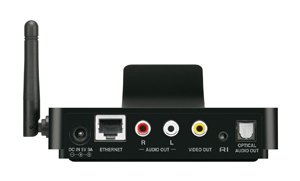 receiver models and other selected audio products from within its range.With a DS-A5, owners of current-model Onkyo A/V receivers – as well as older models lacking a USB port or an ethernet connection – can enjoy AirPlay wireless streaming as well as a digital-to-digital docking connection to iOS devices.
As well as streaming from portable iOS devices, AirPlay also enables high fidelity wireless streaming of audio files from iTunes-equipped personal computers.
When the device is docked, a digital audio output can be employed to deliver signals directly to the receiver's DACs and a composite video output allows viewing of photos and video on the big screen with cinema sound.
When the DS-A5 is linked to an Onkyo A/V or stereo receiver via the supplied RI (Remote Interactive) cable, the user may power up the system 'from cold' by selecting content on their iOS device, and tapping the AirPlay icon. RI has the added advantage of incorporating DS-A5 functionality into the main system remote controller.
The unit can be used to add AirPlay capability to non-Onkyo hi-fi and AV systems, standalone DACs etc minus, of course, the above stated benefits of RI connectivity.
Price £150.