Ian Ringstead tries out the £3200 Ophidian Audio Prophet P2 Loudspeakers. 
Readers of Hifi Pig will be aware that I am no stranger to Ophidian Audio loudspeakers having reviewed two previous models in the M series range, the Minimo and Mojo. Gareth James the designer and owner of Ophidian had expressed his desire to create a more upmarket range last year when we had met and earlier this year at the Bristol show he showed the fruits of his labours. The smaller P1, a stand mount model was demoed and showed great promise. Then at the North West Audio show in June I saw and heard the P2 on review here. They sounded great and Gareth promised me the first option to try them out.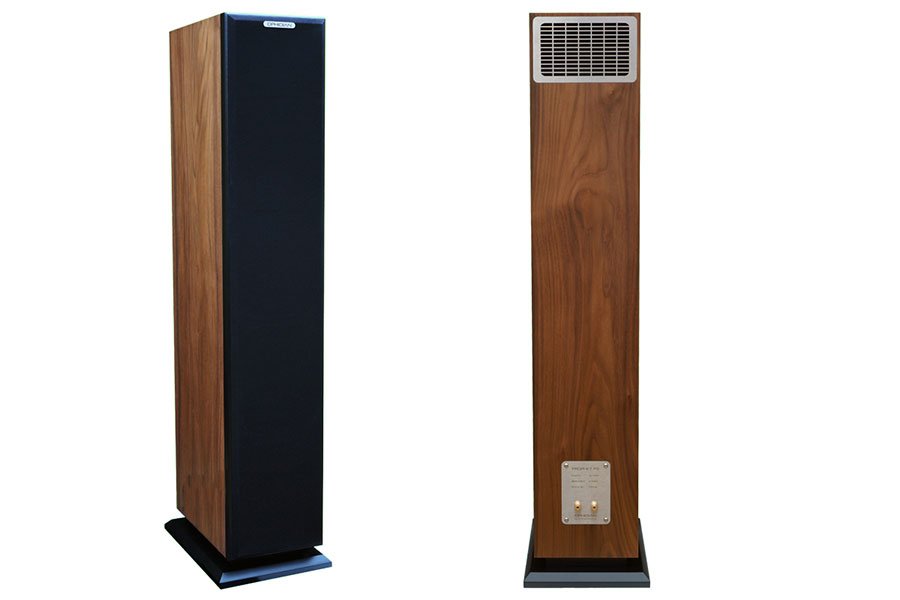 If you look on Ophidian's website below is what they say about the philosophy of the design.
"The English word Prophet comes from the Greek Profetes meaning Advocate or Speaker. It was our aim with the PROPHET series to produce a range of loudspeakers based on this principle – to recreate music faithfully without artificially enhancing any aspect."
What sets the Prophet loudspeakers apart is the combination of a cabinet structure built from plywood rather than the more common MDF and a floating front baffle arrangement. I know designers differ on their ideas about what materials to use and the preferences they have, so it is very much down to suck it and see when developing their ideas. In my experience there isn't one correct way and as long as it sounds good that's all that matters.
Plywood is both stronger and lighter than MDF and along with Gareth's unique AEROFLEX technology this allows the P2 to produce a smoothly controlled and extended bass performance.
The thick floating front baffle is mounted to the chassis via a flexible gasket which allows much less of the vibrational force generated by the drive units to transfer directly to the cabinet walls.

Sound waves travel much faster and more easily with solid contact and so by acoustically isolating the drive unit's cabinet, colouration is suggested to be significantly reduced.
The Prophet P2 is a 2.5-way floorstander featuring dual 180mm aluminium midbass drivers and a 28mm silk domed tweeter.
The midbass units feature deep rubber surrounds, stiff aluminium diaphragms and solid alloy phase plugs.
The P2 uses an optimised AEROFLEX bass loaded design built directly into the cabinet structure in order to brace and strengthen the cabinet walls.
The 28mm tweeter features a solid aluminium faceplate and lightweight silk diaphragm.
As you can see a lot of clever design work and thought has gone into this model and Gareth's many hours of research and development seem to have paid off. I only had a short time with the P2 so I made the most of my listening sessions and crammed in as many hours as possible. Fortunately, the P2's didn't need any running in as they had been used a fair bit before I got them.
My immediate concern was that their low bass output might interact with the room. I needn't have worried. They blended seamlessly into my room and immediately impressed with their top to bottom coverage that was very natural and easy on the ear. This was the quality I had noted from my short listen at the North West show and filled me with confidence. As I work full time my listening time at home is precious and often limited by life's pressures and demands, so I was conscious to give the P2's as much time as possible. This wasn't a chore as I enjoyed them so much that missing tv programmes and other activities was immaterial.
When reviewing products, you often find yourself subconsciously analysing the sound and dissecting it, which is not always helpful. The P2's never once had me trying to analyse the sound, I just sat and immersed myself in musical pleasure. I've had several floorstanders in my listening room over the years and not all have worked successfully for various reasons, but on this occasion it was not an issue as the AEROFLEX technology in the cabinets was really doing its stuff. Gareth said I could place the P2's near to my back wall. I gave them about 18" (45cm). When I placed my hand behind the rear port, playing some loud and bassy music, there was very little air exiting, a testament to the technology.
The design aim for low, accurate bass was certainly achieved and I had forgotten what a good floorstander can bring to the party when music with great bass on it is played. Not only was the sound controlled (I hate loose, boomy bass), the sheer impact of low end notes was brilliant. It wasn't just on test tracks I know work well, albums that I hadn't played for some time suddenly surprised me with the detail and low end content I hadn't noticed or heard before. A favourite album of mine is Joan Armatrading's "Shouting Stage" and apart from the sublime musicianship the songs really move me, even though it was released in 1988, and I bought it then. Good music never dies. The title track on the album (last one on side1for vinyl fans) has Mark Knopfler on guitar and Pino Palladino on bass. There is a marvellous bass line throughout the track and on a good system it just rumbles out of the speakers and creeps across the floor towards the listener. I never fail to be moved by this track, superb. The P2's didn't let me down here.
The mid and top end were equally as impressive with very clear articulate vocals and instruments and silky highs. The P2's never once offended me or made me think that wasn't very good. Anybody after a speaker that they want to keep for a long time need look no further. I thoroughly enjoyed them and wished I could have kept them. I can't say any more than that. Ophidian now have several dealers, so if you are interested look them up. Well worth auditioning.

AT A GLANCE
Build Quality: Excellent fit and finish in oak or walnut real wood veneers. I had the walnut on trial. Floor spikes are included to aid isolation.
Sound Quality: Superb natural sounding design that excels across the whole frequency range with a good deep soundstage.
Value For Money: Very good. Although in a competitive price area these speakers really perform and are a serious contender.
Pros:
Excellent voicing and natural un-forced sound across the whole frequency range.
Fabulous controlled bass that works well in many rooms.
Elegant classic slim floor stander beautifully made worthy of the asking price.
Cons: None really. They sound so good and blend in well to the surroundings.
Price: £3200 a pair
Ian Ringstead
Features
• Dual 180mm aluminium midbass with solid alloy phase plugs and dual shorting rings for extremely low distortion
• Braced and optimised plywood cabinet structure with a floating front baffle arrangement
• 4th order crossover between upper midbass and tweeter allowing each drive unit to perform optimally
• 28mm reference quality high frequency unit with a lightweight silk diaphragm
• AEROFLEX port system for a precisely controlled bass performance
Specifications
• Frequency response – 29hz to 25khz
• Sensitivity – 91dB (2.83v)
• Recommended power – 50 to 150 watts
• Impedance – 4 ohms
• Dimensions – 1024mm H x 192mm W x 315mm D
• Plinth dimensions – 232mm W x 320mm D
• Weight – 21kg
Available finishes
All cabinets come with satin black front baffle and plinth with the following options available for the main cabinet:
• Real wood veneers – Oak, Walnut