The Peak PT1 turntable has a natural slate plinth and comes complete with an arm for £599. Ian Ringstead takes it for a spin for Hifi Pig.
Peak Hifi who make this new turntable have been around a few years and was formed in 2004 by owner Shaun Daniels. I recently went to see Shaun in order to collect the PT1 to review as they are only based forty minutes drive from me near Barnsley, on the edge of the beautiful Peak District. I always like to talk to the manufacturers/designers at length if possible about any product I review, and if I can do it face to face then that's even better. I spent a very pleasant couple of hours talking to Shaun and his wife at their beautiful home which also doubles up as their business premises. Shaun does a wide range of quality hifi components from the budget to the serious audiophile enthusiast kit to suit all tastes and pockets.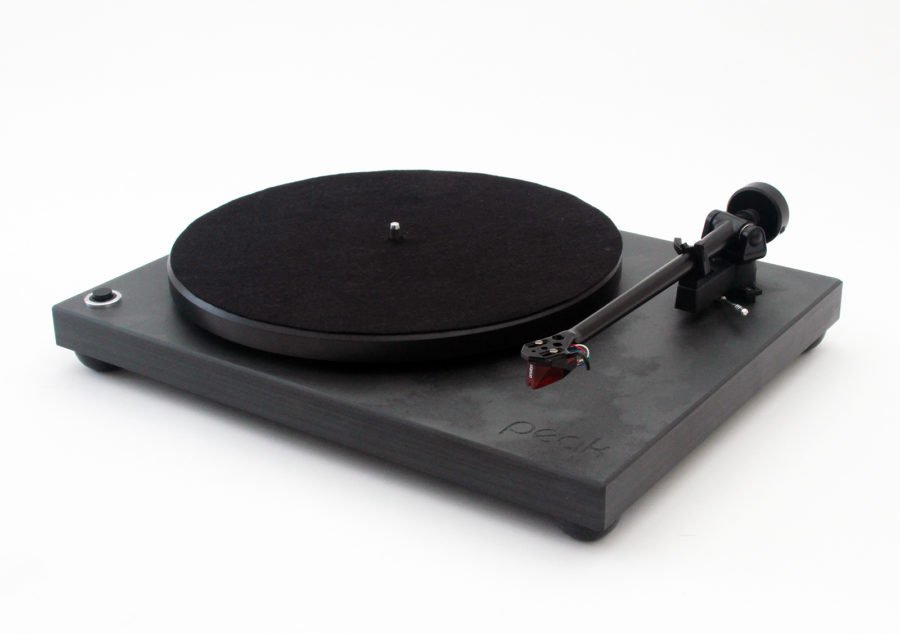 Shaun's background was originally and for many years in high quality engineering in Sheffield and when the opportunity arose for him to change direction and semi-retire he was only too glad to pursue his passion for music (he has a great collection of electric guitars on the wall of one of the dem rooms) and start a bespoke hifi business from his home. As an engineer Shaun wasn't content to just sell other manufacturers products, he inevitably wanted to produce his own and turntables were an area where his expertise could come to the fore.
The resurgence of vinyl in recent years has seen a plethora of new turntables arrive on the market from the budget to the eye wateringly expensive super models. Shaun is involved in SMD Acoustics who make superb idler drive turntables costing from £5900 for the real enthusiasts with deeper pockets, but the PT1 came about as a serious attempt to provide a quality budget and easy to use turntable for the wider market of newcomers to hifi or those with limited funds.
DESIGN
The PT1 benefits from a superbly machined real slate plinth. Back in the seventies I had a JBE slate turntable which at the time was unique in having a slate plinth and was highly regarded. (What let the JBE turntable down was that the finish wasn't half as good as the Peak PT1, but cnc machining wasn't around then). Slate is a natural material and every plinth has its own unique markings. Slate is also a great audiophile choice for a plinth as it is high mass and naturally damped due to its multiple layers.  The Peak PA1 tonearm is a hand assembled, precision made component with low friction levels and minimum mass and performs well above its price point (note the PA1 not available separately and is only available on the PT1). Four genuine Sorbothane feet for improved decoupling. The motor has an advanced decoupling system to minimise transmitted vibrations and the main bearings and motor all benefit from oversized aluminium mounts to provide stability in the drive system. All the electronics are bespoke Peak Turntable components and hand assembled and soldered in the UK.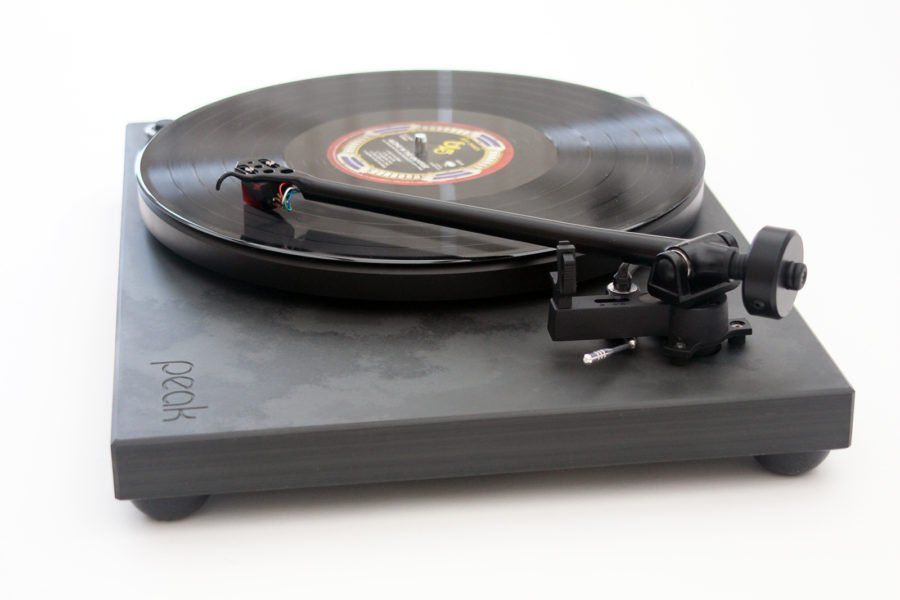 The bespoke switch is an attractive feature of this British made turntable and the high quality dust cover (optional extra) is made from 4mm thick acrylic, with high quality cnc machined hinge sockets. I have to say I don't normally get excited about the look of budget end products, realising that manufacturers have a tough job when budgets are limited to provide quality, but Peak have done a fabulous job of manufacturing an elegant design. The fit and finish is first class with the cnc machined slate plinth a work of art with a faultless finish. The optional lid is well worth buying as not only will it protect the PT1 from dust and possible little fingers, but is superbly made and with the Peak name proudly embellished on top and really sets the deck off with nice friction hinges.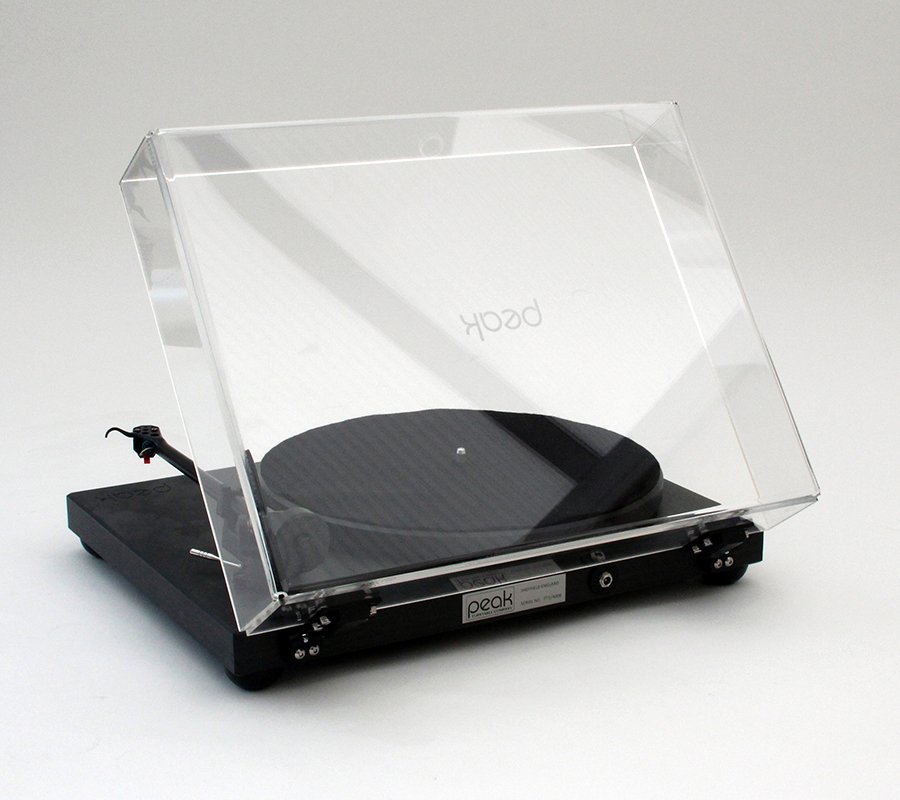 The PA1 arm is an OEM design (based on a Rega RB250 I reckon) made to high tolerances and worked flawlessly. Shaun kindly supplied it with an Ortofon 2M red, a great little budget moving magnet cartridge that sells for £89.
The PT1 sits on four sorbothane feet that along with the natural dampening properties of the slate do an admirable job of suppressing vibration. The deck is compact and with its clean simple design looked very smart on my wooden equipment rack. The setup is extremely quick and easy, and I had music playing in minutes of unpacking. (as slate is a heavy and fragile material if dropped, Shaun has designed superb strong packaging to protect the PT1 fully whilst in transit. A nice touch and not to be underestimated).
A good easy to understand instruction manual and cartridge alignment protractor are supplied just in case you need to make any adjustments or change the cartridge. Mains is supplied by a plug in DC wall wart of good quality and speed change is manually done by lifting the outer platter off the subplatter and moving the belt on the stepped motor pulley for 33 or 45. Operation was very easy and quiet with the power switch feeling assuredly smooth, and the noise level from the PT1 whilst rotating was very quiet. (a sign of good motor isolation and the slates damping ability).
The PT1 comes with a simple felt mat that worked well and although I would have liked to experiment with other mat types, the fixed height of the PA1 arm meant this wasn't really possible without affecting the cartridge's stylus rake angle too much, so I kept it simple with the supplied mat.
SOUND
So how did it sound? Once I had let the Ortofon 2M red run in for a few hours I set about some serious listening. What really impressed straight away was the noise floor of the PT1 was very quiet. Of course you had the records surface noise, but with a good quality pressing the results were surprisingly good for a sub one-thousand-pound package. Music had great detail and all the musicians could easily be picked out in the sound stage.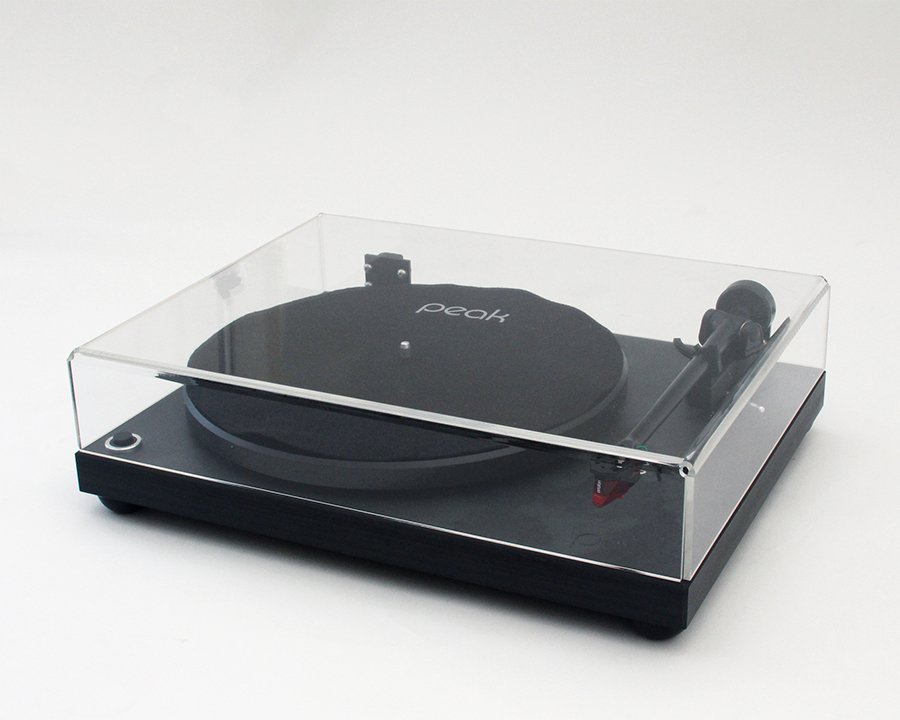 Nils Lofgren's "Keith don't go" from his Night after night double live album was portrayed really well and showed what a superb guitarist he is. I saw him do this live at the City Hall in Sheffield back in the seventies and I was taken back to that time.
Jazz, progressive rock, classical, female vocal all sounded vibrant without being wearing on one's ears. I spent a whole day auditioning the PT1 through some Ophidian P2 floorstanders at £4000, and the PT1 did not disgrace itself. My resident Pro-ject Extension nine deck with Ortofon Quintet black moving coil definitely has the edge in performance with better detail and depth of sound stage, but given that as a package this is three times the price of the PT1 one cannot help but admire the PT1's performance. As the PT1 can be upgraded with the aluminium platter and a moving coil cartridge the results would have been even closer.
CONCLUSION
I could go on and on about the different records I tried, but that would be boring and I played so many on the PT1. What we have here is a cracking budget turntable that deserves to be auditioned by anyone interested in a new sub thousand-pound turntable, or who want to dip their toes into the water to find out the magic of vinyl.
Build Quality:  Superb fit and finish with quality parts throughout.
Sound Quality:  Detailed and well controlled sound that for the money is excellent
Value For Money:  Excellent and strong competition for turntables up to £1500
 Pros:
A simple to use quality product that looks great
Clear musical sound with a good low noise floor thanks to the slate plinth
Can be upgraded with the aluminium platter and a moving coil cartridge
Cons:
Fixed arm height makes cartridge choice a little limited, but spacers can overcome this issue.
Price:
£599 without lid or cartridge
Optional Extras
Dust Cover £60
High Mass Aluminium Platter extra £150
Cartridge (choice from £35 upward).
Ian Ringstead
Key Features:
Real solid slate plinth
12″ platter (choice of steel or aluminium)
High quality tonearm
Quality motor with suspension system
Rounded drive belt for reduced resonance
Robust motor and bearing mountings.
British Made
Technical Data:
Speed: 33,45 RPM (Manual Speed Change)
Wow & Flutter: +/- 0.12%
Speed Drift: +/- 0.80%
Signal to Noise: – 65dB
Effective Arm Length: 9″
Power Consumption: 2W
Outboard Power Suppy: 16V/500mA AC
Dimensions (WxHxD): 415 x 120 x 320mm – Optional Lid Closed
Weight: 12.5kg
Notes:
If using a moving coil cartridge Peak Hifi recommend that the aluminium platter is selected.
The PA1 does not have adjustable VTA and is designed to work with cartridges having a dimension from stylus tip to the top of the cartridge mounting of 18 – 20mm (virtually all Ortofons) if your cartridge varies significantly from these dimensions you may need to use a spacer.