The Philips Fidelio NC1s "have been designed to bring the enjoyment back to executive travel" says th'e company's latest press release.
The initial design of the NC1 started with a modified version of the internal architecture of the Fidelio M1BT headphone. The press release coninues "Extensive research was made into the ideal combination of memory cushion, cavity design, clamping force and manufacturing tolerance so that the NC1s could off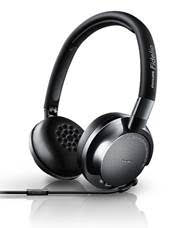 er the convenience of a light-weight on-ear model but could still offer truly exceptional noise isolation.
The NC1 headphones are unusual in adopting a hybrid ANC approach with four microphones – two outside and two inside the enclosure. The two 'FeedForward' microphones are positioned on the outside of the headphone and provide strong noise cancellation at critical lower frequencies, while the two 'FeedBackward' microphones are positioned inside, next to the headphone drivers and extend the bandwidth of noise cancellation into the mid and high frequencies .
Having detected the ambient sounds the NC1 adds a precise inverted copy of the noise signal, effectively canceling it out and converting background noise to silence.
Key features:
40mm high definition drivers
Best-in-class noise cancellation
Consistent high fidelity sound
Zero hiss
Smart power solution
Multi-way compact folding
Mic with pick-up button
Elegant hard travel case
Air flight adaptor
The Philips Fidelio NC1s will be available for £249 in January