For my first review on HifiPig I really thought 'Excellent – they'll send me something entirely straightforward like a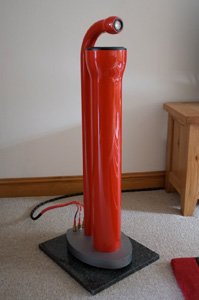 phonostage, or a small & cheap integrated amplifier' but no. What I actually ended up with was a pair of omni-directional loudspeakers in gloss red that look as though they're built from drainpipes. In at the deep end? Possibly, but nothing wrong with a challenge.

I'm not new to omnis, having had the chance to try some NVA Cubes a few years ago, and really falling for them, so was rather excited to hear the Pluto Ultimates.

The PU's are an active speaker, but as opposed to having the power amp(s) built-in, the whole system arrives as a package with its own multi-input integrated amplifier with crossovers contained within. It's also fully controllable via a solid, aluminium remote. About as plug & play as it's possible to get in other words – even down to being supplied with speaker cables (which are also very neatly made).

The finish on the speakers is impeccable, and the gloss lacquer flawless. Their bases are made from a single piece of aluminium, machined from billet into which the adjustable floor spikes are screwed. Setting up, and having them working, is but a matter of a few short minutes' work – no more than any other conventional amp/speaker combination in fact. However, setting up the speakers' position within the room takes a lot more time and care although, as with the Cubes, this can be part of the fun. They're extremely sensitive to position but will reward the listener's time and effort by telling him/her when it's exactly right – everything clicks into focus quite beautifully. Worth mentioning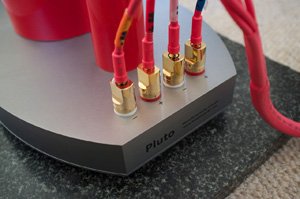 though that the owner's manual is very specific, and extremely helpful with its guidance on set-up. Follow it closely and you really won't go too far wrong.

Anyway, enough of all that – how do they sound?

I'll start off by saying that I've had a lot of fun with these – it's not all been plain-sailing but that's purely down to me having to think outside the box somewhat (if you'll excuse the pun). They sound best when used in a near-field setting, with the distance between them a good deal greater than that to the listener. They will sound excellent wherever one sits/stands in the room but the true sweet-spot will be obvious.

In terms of balance, they're fairly neutral with strong bass output which goes remarkably deep considering the size of the driver. The strength of it is probably just about the only criticism I can level, and of course different rooms will react differently – our room is quite reactive. The up side of this though is that because the PU's are effectively a sealed box the bass is fast, with extremely well-defined pitch, and even throughout the range. The final few bars of Vaughan Williams Symphony No.5 (1st mov't) have two low notes played against eachother – a D & E – which I've rarely heard as separate entities so naturally – they sound clouded on lesser speakers. Another good example is 'Song for Claire' from Dave Weckl's 'Rhythm of the Soul' album – the closing bars have a bass line, mostly on one
note, made up of synchopated patterns which keeps the track alive with musical colour until fade-out. This really needs a speaker with both great timing, and the dynamic clarity to pull it off. On so many other speakers the track just dies away and as a result the listener misses out. Such a shame when there's more to come!

I've spent quite a few hours listening to symphonic wind music, one example being particularly tricky to sound convincing, namely Holst Prelude & Scherzo: 'Hammersmith'. Not only does the piece contain huge dynamic contrasts, but at the start the Tubas/low brass are playing in D minor, but are soon joined by French Horns playing against them in E Major (you'd think it was a recipe for chaos – but Holst is too clever for that). Each of these keys has a very different colour – the Minor is dark, brooding, sinister, yet the Major is much lighter and 'floats' across the top. The Plutos pull this off, keeping the colours separate yet not stripping the sound bare, or artificially detaching them – there's a natural interaction between the tonalities.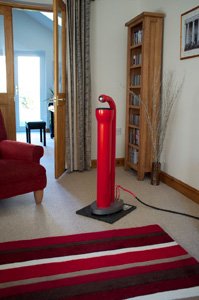 I'll lay my cards on the table here by stating I'm not really a soundstage or stereo imagery freak – it's not one of the major aspects I look for when listening to music through a hifi system. However, it should still sound natural. Now, I'm not sure if it's down to the Pluto's up-firing main driver (or just a consequence of the design of an onmi in general – the Cubes were the same) but I've really enjoyed – refreshingly so – how instruments which do 'project' (ie some brass instruments) do just that, as of course they should. However, those which don't (eg strings/woodwind) are allowed to breathe in their own space rather than being hurled at the listener – a Violin isn't a Trumpet after all (and vice verse).

In summary, I'll be honest the Plutos had me worried to start with. They look different, some would even say 'challenging', and will definitely need some user-input to get them singing at their best. However, I've had so much fun with them and as a result provided many hours of listening pleasure. They've also (as did the Cubes) opened my eyes to something that whilst different in so many ways, is a speaker which goes about its business in a very natural way and therefore gets a definite thumbs-up from me.
Price – £2950 (Currently £2450 with offer)

Author – Richard Joyce
Equipment used:

Pioneer PL-71 turntable/Benz Micro ACE SL
NVA Phono 2 + 2xPSU
MacBook Pro using Decibel Music Player
Sony X303ES CD Player (as transport)
TEAC UD-H01 DAC

Music List  (*denotes vinyl):

Vaughan Williams Symphony No.5 (Hickox/LSO)
Shostakovich Symphony No.11 (Haitink/Concertgebouw)*
Holst: Hammersmith (Kosei Wind Orchestra)
Richard Rodney Bennett: Reflections on a 16th Century Tune (Central Band of the RAF)
Bernstein: Prelude, Fugue & Riffs (Central Band of the RAF)
Dave Weckl: Rhythm of the Soul
Fleetwood Mac: Tusk*
AC/DC: Back in Black*
The Kings' Singers: Landscape & Time
GRP All-Stars Big Band: 'Live'