Hifi Pig has already broken the news about PMC taking on the iconic Martin Logan brand but Paul Messenger attended the launch event held earlier this week and here's his short report.
Martin Logan and PMC are getting into bed together, in the UK at least. After some years distributing Bryston and AVM, PMC has recently formalised its UK Distribution operation as a separate division within PMC, and its first task will be to take on the much larger range of Martin Logan loudspeakers. These very much complement PMC's own ranges, offering hybrid electrostatic loudspeakers at the top end, plus lots of smaller and specialist niche models lower down the price ladder.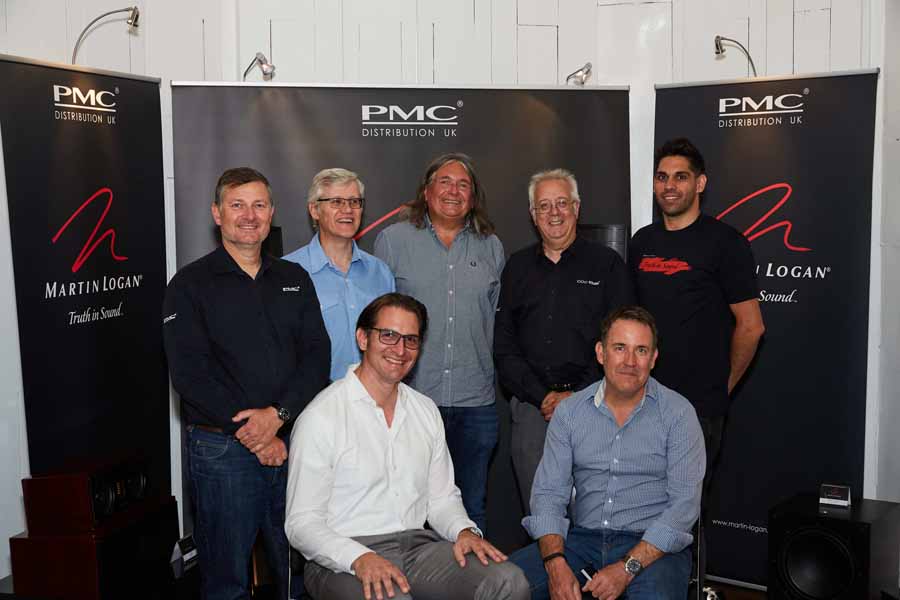 Founded at around the same time as PMC, Martin Logan is the larger of the two companies by a comfortable margin. Its name actually derives from the middle Christian names of the two founders: Gayle Martin Sanders and Ron Logan Sutherland, who first met at a hi-fi store in Kansas City. They started working together in 1979, founding the company in 1984.
Kansas City still has around 30 people currently working in R&D, but the bulk of the employees – more than 200 today – now carry out production in Toronto, Canada, since Martin Logan was purchased by Canadian speaker company Paradigm in 2009.
PMC patron Peter Thomas has always had a sneaking regard for electrostatic loudspeakers, and the UK Distribution operation intends to start off with the Masterpiece hybrids which sit above PMC's own models. The company will then move onto the Custom Installation (where many models complement PMC's own Wafer models) and the SLM 'lifestyle' models; the third phase will deal primarily with Martin Logan's dramatic ARC room optimisation technology, plus the Motion series.
A new PMC website is being prepared, with links to UK-oriented sites for each of the distributed brands. (These will be used alongside a second password-protected site, aimed towards dealers and including a load of backup material.)
Just what will happen as a result of this new initiative is difficult to predict, as a UK speaker company distributing an overseas rival is unprecedented. That said, the two companies do have very different philosophies and product portfolios, so hopefully the partnership will work on this occasion, helping Martin Logan to become as successful in the UK as it has been in other European territories.