For the last 10 days Hifi Pig's Linette and Stuart have been fortunate enough to have been privy to what its makers are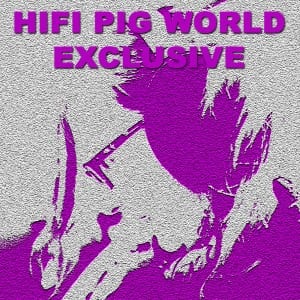 claiming to be the "game changer" in portable personal audio technology. Whilst we have not been permitted to perform an all out review of the item in question we have managed to gain exclusive access to the man behind the project and get a sneak peek at the finished item.
Prof. Ilyich S. Kerfunteun, up until three years ago, was working as "Head of Miniaturisation" at CERN is Switzerland where he was responsible for a small team tasked with, as the name would suggest, making some parts of the SHC (Super Hadron Collider) as tiny as feasibly possible. Needless to say in his work Professor Kerfunteun has used current cutting edge nano technology and has to come up with some pretty radical solutions to the problems faced by the scientists at CERN.
"When we are making things smaller in size we are coming head on to a lot of issues with regards the way individual particles interact not only with their surroundings but also with their neighbouring particles" says Prof. Kerfunteun in perfect English with a pronounced Czech twang.
"It is for these reasons that we had to build on what was already understood and construct new ways of developing the tiny machines we were designing on paper" he continues.
One of the more interesting processes, and most relevant to this story, is the teams' use of nano-soldering techniques which allow point to point wiring of circuits so small that each wire is narrower than a human hair.
"It occurred to me and my partners that what we had in our hands was something whose use had much wider implications than in the laboratory and my love of music naturally moved me down the street of exploring how the techniques we were learning could be replicated to improve musical playback" says the professor.
Prof. Kerfunteun left CERN three years ago and launched his start-up business "Small Fact Hunt" with backing from a number of well known names in the audio industry. His labours were to come to nothing when none of the names could decide on a standard format for the files that needed to be used in the resulting prototype product. At this point the professor claims he became disenchanted with the politics involved and resolved to strike out on his own with a new company and a new brand taking the name of "iS".
"Whilst working with individual particles at the nano scale I had what you would call a Eureka moment when I realised that in actual fact everything around us, even at the very minutest scale, is producing its own musical vibration – even if we are not able to hear it in a conventional sense. The name is also my first initials" the professor snickers.
The "iS TOTE" is Born 
The first product developed by iS is the product we have here and it can broadly be described as a very small digital musical play back system with an incredible storage capacity given its diminutive proportions. The iS TOTE is clearly aimed at the high-end audio marketplace and this is born out in everything from the packaging to the actual fit an finish on the player itself.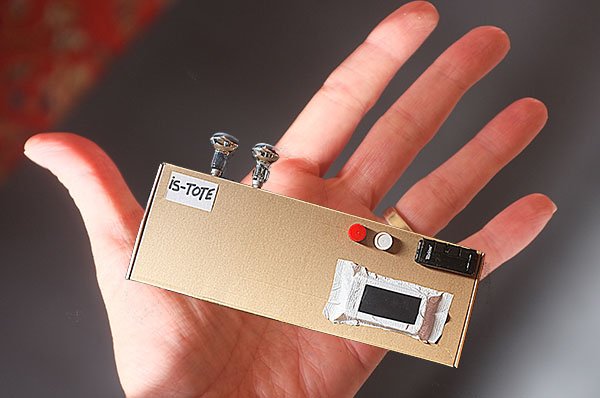 Whilst we are not at liberty to show the packaging (the final box has not been finalised) what we can say is that if the finished item is ninety percent of what we saw then prepare to be dazzled. What we were presented with was a small box made of high tech looking metals with a name plate made from an actual plate used in the LHC experiments – you can actually see the faint traces of the patterns made when particles have hit each other and the recording plate. Impressive enough.
However, what we are really interested in is what is inside the box and carefully lifting the iS out of its protective cover we have what can only be described as quite beautiful. Again some of the case work used has come from actual materials used inside the LHC and whilst it may seem that these are there only for aesthetic reasons the professor is keen to point out that these products have been specifically used for their inertness in the presence of "micro-vibrations at the particle level".
Readers will notice that the iS TOTE is a valve based item, but so small are the valves that the team had to have them specially fabricated in Czechoslovakia by a team working in absolutely sterile conditions. Likewise the nano-soldering employed needed specially designed labs to be constructed and needless to say all this has come at a price which will need to be passed on to whomever it is that buys the iS TOTE.
Not only will those buying the iS TOTE need to lay out a not inconsiderable sum on the player itself but they will also need to purchase a whole new library of files using the proprietary AP/ONE system to work in conjunction with the system's innovative STOAT DRIVE.
But what does it sound like? 
We listened to the iS TOTE with a number of high-end brands including Audeze, Oppo and Beyerdynamic and the overriding feeling was one of incredulity at the level of definition we were hearing. The micro detail is there in spades with even the smallest of nuances being heard in the music. Even using lesser headphones the difference in resolution with the iS is palpable. There is a real sense that you are becoming one with the music with both of us feeling that this is perhaps the pinnacle of what is possible in audio playback. Brave words indeed, but there comes a point when you feel you can take something no further and both of us feel that the iS TOTE achieves this!
Going Forward 
The iS TOTE will be available from mid April at an introductory price of $142015 and with a limited first run of just fifty pieces. Each of the fifty pieces will be individually laser etched with the image of Prof. Kerfunteun and will carry his signature.
A trickle down version will be available in precisely one years time that has the working title of iS HIT/uNOTe and will be available for $16. It will of course use many of the techniques developed for its bigger brother the iS TOTE.
An app will be available shortly.
Indeed, a real game changer in portable audio technology. Well done Professor Kerfunteun.