Pro-Ject Audio Systems has collaborated with George Harrison's family and UMC on a new turntable. Pro-ject say; "It was always our aim to offer class-leading sound quality for budget and high-end turntables. This and our passion for music is driving our productivity. We are very proud to introduce our newest collaboration with one of the most influencing artists of modern history, George Harrison".
This special collaboration between Pro-Ject Audio Systems and the Universal Music Group features one of the most influencing artists of modern history, former Beatles member George Harrison! The turntable used is Essential III, the evolution of a milestone. It features audiophile components, such as an Ortofon OM10 cartridge, a precision diamond cut aluminium pulley, MDF chassis, an acrylic platter and a completely redesigned motor control. Pro-Ject go on to say; "Its sound is both lively and relaxing, musical and detailed just like the music from George Harrison, therefore they are the perfect partners in crime".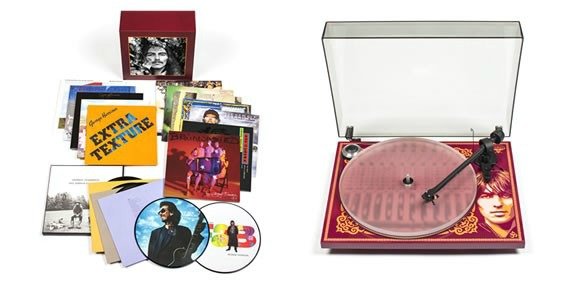 The artwork on the turntable was created by Studio Number One. The original artwork was designed by Shepard Fairey, one of the best known street artists around, for the Harrison family. It features a distinctive portrait of George Harrison and forms together with the Indian patterns and the analogue mastering machine (below the acrylic platter) a very unique look.
This one of a kind masterpiece is limited to 2500 pieces worldwide. The turntable will come together with a complete LP collection of George Harrison's solo carreer. His entire twelve studio albums have been reprinted on 180g heavy weight vinyl. Only the pure source, the analogue master tapes, of his music was used to recreate this collection to ensure the best possible sound. It is the first time that his complete work has been put together in a collector's box set.
Pro-Ject George Harrison Recordplayer including George Harrison Vinyl Collection Box Set SRP 799€
Wonderwall Music (1968) | 1 LP
Electronic Sound (1969) | 1 LP
All Things Must Pass (1970) | 3 LP *limited edition piece
Living In The Material World (1973) | 1 LP
Dark Horse (1974) | 1 LP
Extra Texture (1975) | 1 LP
Thirty Three & 1/3 (1976) | 1LP
George Harrison (1979) | 1 LP
Somewhere in England (1981) | 1 LP
Gone Troppo (1982) | 1 LP
Cloud Nine (1987) | 1 LP
Live In Japan (1992) | 2 LP
Brainwashed (2002) | 1 LP