PRO-JECT DEBUT PRO 30TH ANNIVERSARY TURNTABLE LAUNCHED
Pro-Ject Audio has released the Pro-Ject Debut PRO, they have designed not only a new turntable but also a completely new cartridge for their 30th anniversary.
PRO-JECT DEBUT PRO 30TH ANNIVERSARY TURNTABLE
The new Pro-Ject Debut PRO is constructed from precision CNC milled aluminium parts which give a modern simple design. The nickel finish of these components results in a hard, resistant surface. The speed is electronically controlled and you can change between speeds easily with the toggle switch. With the supplied round belt for 78 rpm, you can also listen to your shellac records.
PRO-JECT PICK IT PRO
The new Pick it PRO MM cartridge delivers, says Pro-Ject, "a more lively and robust sound". It is manufactured by Ortofon and voiced by the design team at Pro-Ject. It is equipped with a special elliptical stylus tip. Attached to a strong cantilever, used in DJ cartridges, it is designed to be strong.
HYBRID TONEARM
The new Pro-Ject Debut PRO features a one-piece carbon-aluminium sandwich tonearm. The carbon layer gives the tonearm a high degree of rigidity, while the inner aluminium tube takes over the damping of the tonearm.
AZIMUTH & VTA ADJUSTMENT
The new designed tonearm allows you to adjust, both the azimuth and the vertical tracking angle (VTA). The tonearm height can be continuously adjusted by loosening the two grub screws. These settings give you the option of adapting the tonearm to height changes allowing the use of different turntable mats or other cartridges to achieve the best sound quality.
SPECIAL PLATTER
The heavy aluminium platter has a ring made of TPE (thermoplastic elastomer) on the inside that helps to dampen all resonances and thus minimize wow and flutter.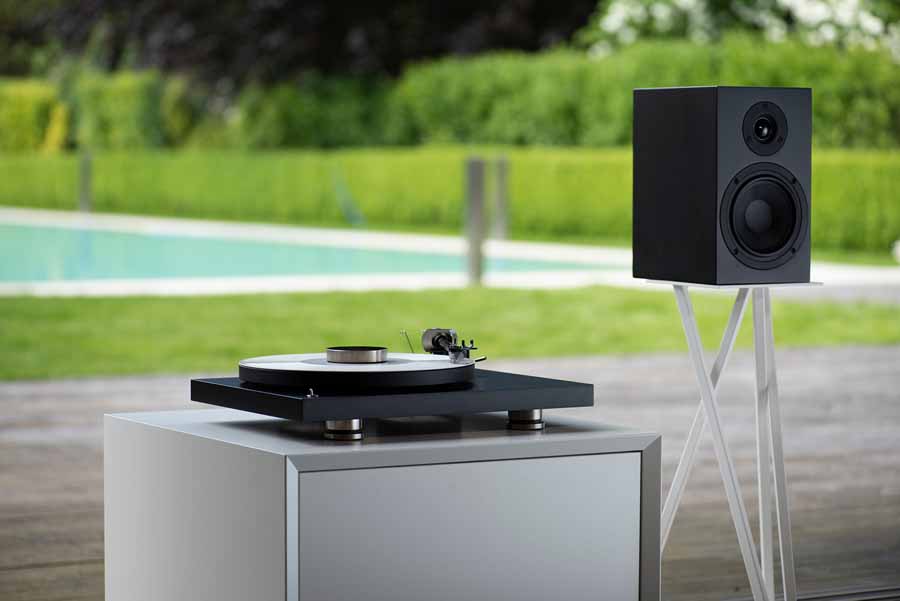 METAL FEET
The three height-adjustable damped aluminium feet guarantee the perfect stand and reduce risk of acoustical feedback.
PRO-JECT DEBUT PRO SPECIFICATIONS
Speed:   33, 45/(78) (electronic speed change)
Drive principle:  belt drive with electronic speed control
Platter:  300mm, die cast aluminium platter with TPE damping and felt mat
Platter bearing:         high precision stainless steel axle in bronze bushing
Wow & flutter:           33: +/-0,16%; 45: +/-0,14%
Speed drift:    33: +/-0,40%; 45: +/-0,50%
Signal to noise: 68dB
Tonearm:  8,6" one-piece carbon-aluminium tonearm
Effective arm length/mass:  218,5 mm / 10,0 g
Overhang: 18,5mm
Included accessories:  15V DC / 0,8A power supply, dust cover, 78 RPM round belt, 7'' single adapter
Power consumption:  4W / 0W standby
Dimensions: 415 x 113 x 320mm (WxHxD)
Weight:  6 kg net
PRICE
£699